---
Friday, 07 December 2007, 9:23 pm
Dexter Bierhorst Price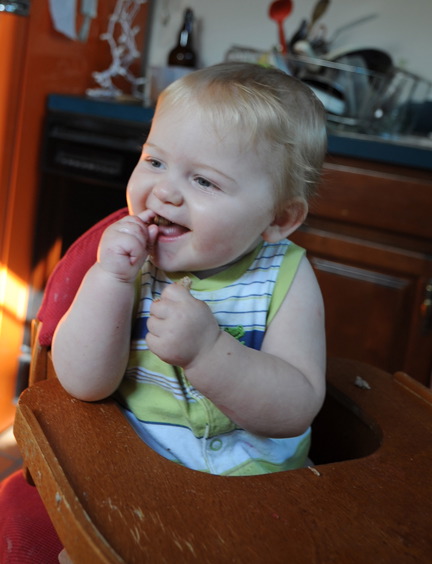 ---
The twenty-eighth Soundtrack of the Week is two for the price of one, both composed by David Shire: 1975's Farewell, My Lovely and 1988's Monkey Shines.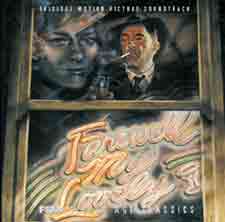 Farewell, My Lovely has a haunting jazz score, with a main theme that reminds me of John Barry's "My Love Has Two Faces", from the movie Deadfall. Most of the music is along these lines, though there is some excellent dramatic scoring also.
Monkey Shines benefits from virtuoso microtonal flute playing and African percussion improvising with an orchestra. I was surprised by how much I enjoyed these two scores.
I saw Monkey Shines when it first came out and remember it as being ludicrously bad. I should probably give it another chance. My tastes have changed a bit in the last twenty years.
I can't remember if I've seen the Robert Mitchum Farewell, My Lovely and/or the Robert Mitchum The Big Sleep, which followed it. I have this theory that anything with Robert Mitchum in it is worth watching, which is why the other night Alice and I tried to watch Agency, a probably really bad movie from 1980 which starred Robert Mitchum and Lee Majors.
I was really excited to see these two together, but the DVD I borrowed from the Brooklyn Public Library had serious technical difficulties and we were only able to watch the first five minutes.
---
Some people are saying that "Another Way To Die", the Jack White/Alicia Keys song for the upcoming James Bond movie Quantum of Solace, is the worst Bond theme ever. I'm a little out of touch with the themes for the last half a dozen or so movies. According to some who are more up to date, Madonna's "Die Another Day" is "Another Way To Die"'s only serious competition.
I've just listened to both of them. They're both really bad but it seems to me that "Die Another Day" is much, much worse than "Another Way To Die". I listened to "Another Way To Die" first and thought it was pretty awful, but then I checked out "Die Another Day" and got a whole new perspective on the thing. (Is "Another Way To Die" the first big pop single to feature the Zvex Fuzz Factory? I'm pretty sure I hear it in there.)
The only interesting thing about Quantum of Solace is the title. It's the title of an Ian Fleming short story, a very close relative to Somerset Maugham's "Ashenden" secret agent stories. "Quantum of Solace" has always been a favorite of mine.
What's interesting about the title is that I can remember when The Licence Revoked was changed to Licence To Kill because the film's producers worried that Americans wouldn't understand "revoked" in this context. Americans presumably either wouldn't know what it meant or would assume that it referred to James Bond's driver's license.
This is one thing that's different now. If they can call a Bond movie Quantum of Solace, they can obviously call a Bond movie anything. Nobody cares. As long as it's clearly a Bond movie, you can go ahead and call it something like "James Bond returns in: The Metonymic Accidie".
---
Here's one of the best books I've ever read, Fantastic Tales: Visionary and Everyday, a collection of nineteenth-century fantastic fiction, edited by Italo Calvino.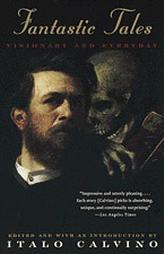 A quick look at the table of contents is enough to recall my favorites. "The Story of the Demoniac Pacheco" is not a short story, but an excerpt from Jan Potocki's The Manuscript Found in Saragossa. This is the first tale in the collection, and Calvino endeared himself to me by confessing that he was immediately breaking one of his own editorial rules — only complete works.
There's no better story to begin this collection, though, and it stands alone quite well. It's basically about a guy who has a night of wild sex with two women, then wakes up to find that he's been consorting with the rotting corpses of two hanged men. Things get much worse from there.
Nathaniel Hawthorne's "Young Goodman Brown" is a cynical and atmospheric tale about the discovery of widespread corruption in a seemingly virtuous community. Gogol's "The Nose", about an official who loses his nose and goes in search of it — at one point he's convinced that he sees it mingling at a party — is a masterpiece of absurdity. Théophile Gautier's "The Beautiful Vampire" aniticipates scenes from countless vampire movies and is an absorbing story of obsessive love.
The final word on obsessive love, however, is Vernon (Violetta) Lee's "A Lasting Love", in which research into a small town's history awakens an evil spirit that has been dormant for centuries. Prosper Mérimé's "The Venus of Ille", about the residual power of a pagan idol, has one punch to swing and places it squarely on the reader's jaw. Hans Christian Andersen's "The Shadow" is about a man who loses his own shadow, finds it again and wishes he hadn't. It's similar to "The Nose" in some ways, but does not go as far over the border into satire.
Ambrose Bierce's "Chickamauga" is fantastic in its imagery if not in its content, presenting a detailed and terrible portrait of the horrors of war. The first paragraph begins "One sunny autumn afternoon" and turns out to be cruelly and horrifyingly ironic. On a different note, Robert Louis Stevenson's "The Bottle Imp" is a light and entertaining "Monkey's Paw" kind of story.
Finally, H. G. Wells's "The Country of the Blind", the last story in the book, isdevastating. I found myself thinking about it for days after I read it. The premise is that the one-eyed man, or even the two-eyed man, might not actually be king in the country of the blind.
Each story has an erudite and informative introduction by Calvino, who also wrote an introduction for the collection as a whole. He appears to know and to have read everything. One question I had was whether he read these stories in English or Italian or both. At least one story here has an English translation that is copyrighted some years after Calvino's death, so it seems he could not have read the exact same words printed here.
Andersen's "The Shadow" appears here in an English translation by M. R. James, a fact which is curiously unremarked by Calvino. James was one of the masters of fantastic fiction, whose "Casting the Runes" was filmed by Jacques Tourneur as Curse of the Demon, a.k.a. Night of the Demon. Since Calvino makes no comment about James, I assume that either he did not read this translation or (less likely) he was unaware of the translator's identity.
---
The twenty-seventh Soundtrack of the Week is this new CD, released in Japan last month and presenting scores from three Nikkatsu movies directed, I think, by Yukihiro Sawada. The CD is called Yukihiro Sawada's World, anyway. As of this writing, the three films whose scores are included appear not to be mentioned on Sawada's imdb page, but that doesn't mean much.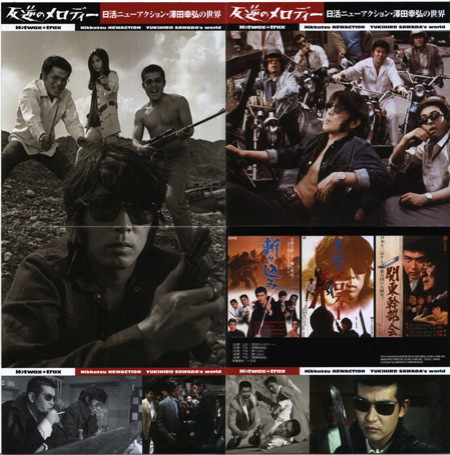 That's what the booklet looks like when you unfold it. These Nikkatsu CDs are so cool! The music is very good, too, in all the familiar crime jazz and funk and swing and mood music ways.
According to google's translation of the Amazon.co.jp page, most of the music is by Hiroki Tamaki.
It includes The Mops and their song "I'm a Mops", which I've heard on a few other compilations. The booklet has the complete lyrics. Here's the first verse:
When I'm walking the street
Everybody says, he is a mad
But I don't care of them
So I'm just a mops
---
The upcoming movie Quarantine is a remake of a good Spanish movie called [REC]. The preview I saw suggests it's a shot-for-shot remake. Despite this, or perhaps because of it, Quarantine looks really bad.
---
The other day I saw some new DVD collection of Star Trek, a.k.a. Star Trek: The Original Series, boasting "enhanced visual effects".
No, no, a thousand times no!
Time to start stockpiling the previously released, "unenhanced" Star Trek DVDs.
In a related story, I wish I still had the videotapes of The Fugitive that a friend of mine gave me years ago. This is why.
---
The twenty-sixth Soundtrack of the Week is the newest release from Tribute Film Classics, re-recordings of two Bernard Herrmann scores, complete on one CD.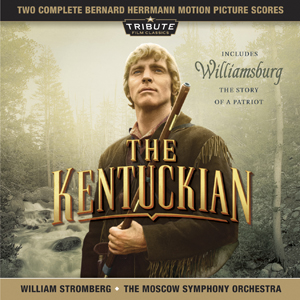 The Kentuckian starred and was directed by Burt Lancaster. Walter Matthau makes his feature-film debut in it as well, playing a sadistic, drunken tavern keeper who is very, very good with a bullwhip. The scene where he thrashes Lancaster to a bloody pulp is still disturbingly violent, even more than half a century later.
It's typical of Herrmann that he doesn't write any music for this sequence. He lets the violence speak for itself and then the music comes in when it's over. In this way his writing parallels the way the characters feel — shock at first (not feeling anything), and then a flood of emotions after the horror. (There is a bit of music in the middle of the scene, but it's for a character on the sidelines, not for the two principals.)
It's a good movie. I watched it a few months ago and enjoyed it quite a bit. The score is great and beautifully performed and recorded.
I haven't seen Williamsburg: Story of a Patriot and its inclusion here is certainly welcome though not especially exciting for me. It's an impressive composition but one that isn't much to my taste, relying more on Americana ("Yankee Doodle" is referenced) than Herrmann's famous brooding, obsessive and romantic writing.
---
Here's another book I bought mostly for the cover. $6 at Skyline Books on West 18th Street.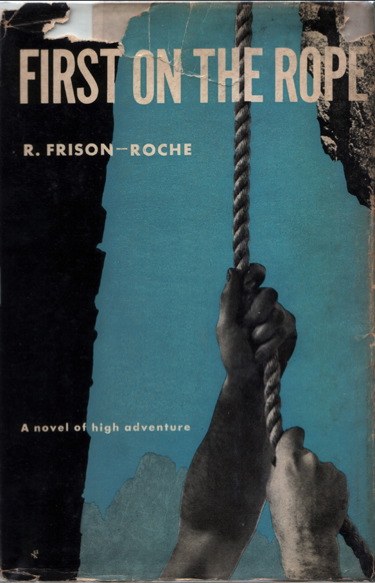 I was also impressed by the jacket copy: "This novel of high adventure in the French Alps has become a modern classic. First published in France in 1941 (under the title Premier de Cordée), it has sold more than 700,000 copies in that country. Translated into English last year by Janet Adam Smith, it was an instant success upon publication in Great Britain. This first American edition of a great international bestseller brings to readers here a story of men and mountains which they will long remember."
---
Coming soon from Network: all of Edwin Astley's music from the half-hour Danger Man series. If they follow this with a collection of the music from the one-hour series, that will be even better!
---
Again I bought a book for its cover. Five dollars at The Strand.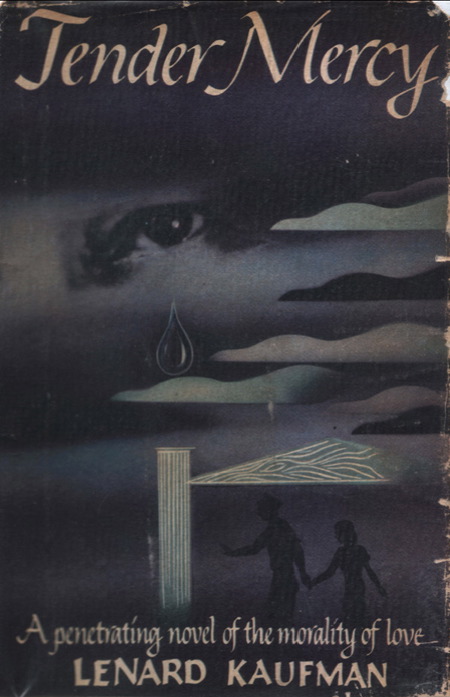 The book itself looks readable and I'll give it a shot one of these days. The back cover has a very serious photo of the author, "who lives in New York with his wife, Ann, and his Siamese cat, Oedipus".
---
The first record I played in our new Brooklyn home was this LP of Mireille Mathieu singing Ennio Morricone's music.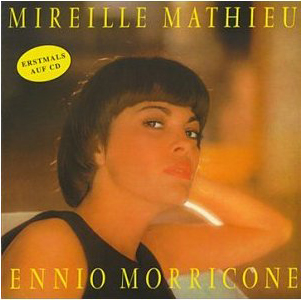 That image is of a German CD release. I have a Japanese LP.
I think it was our second day here when it arrived in the mail. I had hooked up the stereo before doing any other unpacking as I knew that everything would be easier if we could listen to music. The first track on Side A is Morricone's gorgeous theme from Once Upon a Time in the West with French lyrics. It made me feel at home in our new place.
In the same package was this Dorothy Ashby CD, The Rubaiyat of Dorothy Ashby.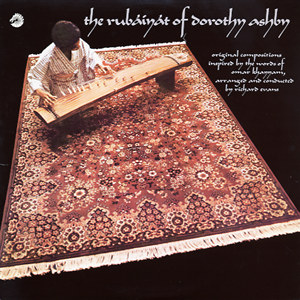 This was the second record I played at our new address. It's an excellent concept album, inspired by the famous Persian poetry of Omar Khayyam. Ashby plays harp and koto and sings as well. You can get it new for only $10.99 from Dusty Groove America. They also have a few other Dorothy Ashby albums. I'm curious about these records on which she's a sideperson: Chocolate Jam Co.'s Spread of the Future, Flora Purim's Nothing Will Be as It Was Tomorrow, Michael Wycoff's On the Line, etc.
---
Orson Welles's famous radio broadcast of The War of the Worlds has just been released for the zillionth time. This time, though, it's one of two CDs, the second CD being Welles's radio broadcast of Dracula, which has an excellent score by Bernard Herrmann.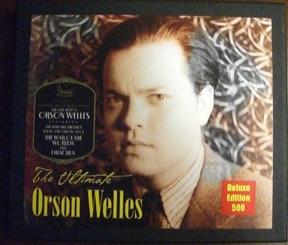 Also included are a sticker and a pin.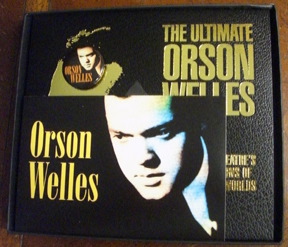 ---
The twenty-fifth Soundtrack of the Week is two for the price of one: Claudine and Pipe Dreams, both performed by Gladys Knight & The Pips.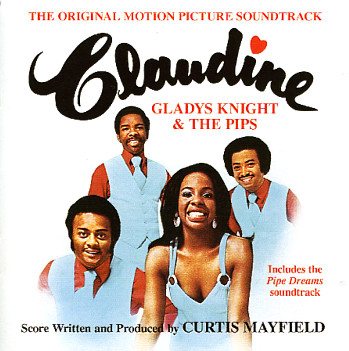 A quick glance at the CD cover will reveal that the Claudine score is written and produced by Curtis Mayfield. Not only is his Superfly one of the greatest soundtracks of all time, but much of his non-soundtrack work would have to accompany me to any desert island.
Claudine is no Superfly but it's an engaging soul record with great songwriting animated by Knight's beautiful soaring voice.
Pipe Dreams was a movie which apparently starred Knight and her then-husband Barry Hankerson. According to the liner notes for this CD, "the movie and its soundtrack were unfortunately both flops" and "Gladys doesn't mention either in her autobiography Between Each Line of Pain and Glory".
I like it, even if nobody else does. "So Sad the Song" is moving and was apparently a Top 20 Hot Soul Single. A lot of different composers and songwriters contributed to the music. "Pot of Jazz" was co-written by Dominic Frontiere!
---
From the Gutbrain archives, here is the Saturday Evening Post from January 24, 1914.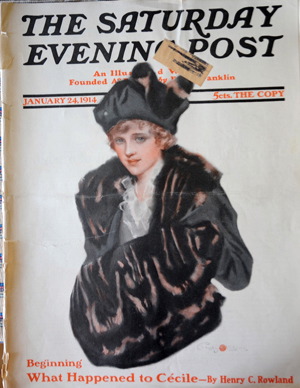 In those days, car ads dragged in the Czar of Russia.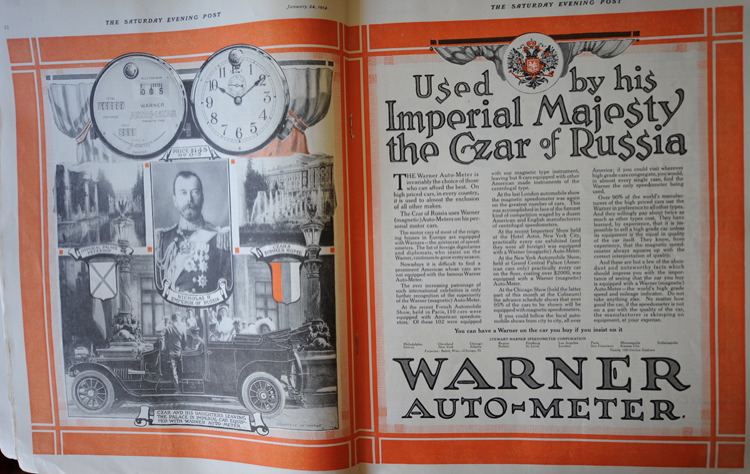 ---
Friday, 05 September 2008
---
While we were going through the month-long struggle to get DSL, I was not much comforted by the fact that the DSL router configuration screen managed to misspell "router".

The twenty-fourth Soundtrack of the Week is My Cousin Rachel by Franz Waxman.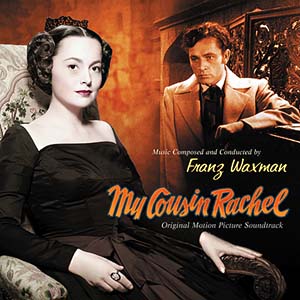 My Cousin Rachel is an adaptation of a novel by Daphne du Maurier, a writer whose work I enjoy quite a bit. She also wrote two novels and a short story that became Hitchcock films: Rebecca, Jamaica Inn and The Birds. Waxman did the music for Rebecca as well.
Before the Hitchcock film of Rebecca, Orson Welles adapted the novel for radio with music by Bernard Herrmann. (The radio adaptation is better than the movie but not as good as the book.) The Birds had no score at all but some electronically-generated noises for the birds themselves. Nonetheless, Herrmann receives credit as a "sound consultant" for The Birds, whatever that means.
When asked in an interview with Sight and Sound whether his work on The Birds was an innovation in music, Herrmann replied, "It wasn't music at all. Remi Gassmann … devised a form of sound effects. I just worked with him simply on matching it with Hitchcock, but there was no attempt to create a score by electronic means. We developed the noise of birds electronically because it wasn't possible to get a thousand birds to make that sound. I guess you could if you went to Africa and waited for the proper day." (See James Wierzbicki's article "Shrieks, Flutters, and Vocal Curtains: Electronic Sound/Electronic Music in Hitchcock's The Birds" in Music and the Moving Image Volume 1 Issue 2.)
Anyway, listening to this CD of Franz Waxman's sweeping and exciting score for My Cousin Rachel is a satisfying dramatic experience all by itself.
---