---
Monday, 01 September 2008
While we were going through the month-long struggle to get DSL, I was not much comforted by the fact that the DSL router configuration screen managed to misspell "router".

The twenty-fourth Soundtrack of the Week is My Cousin Rachel by Franz Waxman.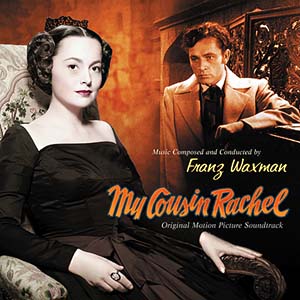 My Cousin Rachel is an adaptation of a novel by Daphne du Maurier, a writer whose work I enjoy quite a bit. She also wrote two novels and a short story that became Hitchcock films: Rebecca, Jamaica Inn and The Birds. Waxman did the music for Rebecca as well.
Before the Hitchcock film of Rebecca, Orson Welles adapted the novel for radio with music by Bernard Herrmann. (The radio adaptation is better than the movie but not as good as the book.) The Birds had no score at all but some electronically-generated noises for the birds themselves. Nonetheless, Herrmann receives credit as a "sound consultant" for The Birds, whatever that means.
When asked in an interview with Sight and Sound whether his work on The Birds was an innovation in music, Herrmann replied, "It wasn't music at all. Remi Gassmann … devised a form of sound effects. I just worked with him simply on matching it with Hitchcock, but there was no attempt to create a score by electronic means. We developed the noise of birds electronically because it wasn't possible to get a thousand birds to make that sound. I guess you could if you went to Africa and waited for the proper day." (See James Wierzbicki's article "Shrieks, Flutters, and Vocal Curtains: Electronic Sound/Electronic Music in Hitchcock's The Birds" in Music and the Moving Image Volume 1 Issue 2.)
Anyway, listening to this CD of Franz Waxman's sweeping and exciting score for My Cousin Rachel is a satisfying dramatic experience all by itself.
---