---
Monday, 22 September 2008
The twenty-seventh Soundtrack of the Week is this new CD, released in Japan last month and presenting scores from three Nikkatsu movies directed, I think, by Yukihiro Sawada. The CD is called Yukihiro Sawada's World, anyway. As of this writing, the three films whose scores are included appear not to be mentioned on Sawada's imdb page, but that doesn't mean much.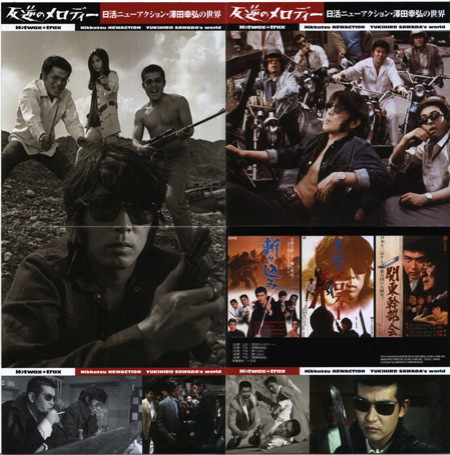 That's what the booklet looks like when you unfold it. These Nikkatsu CDs are so cool! The music is very good, too, in all the familiar crime jazz and funk and swing and mood music ways.
According to google's translation of the Amazon.co.jp page, most of the music is by Hiroki Tamaki.
It includes The Mops and their song "I'm a Mops", which I've heard on a few other compilations. The booklet has the complete lyrics. Here's the first verse:
When I'm walking the street
Everybody says, he is a mad
But I don't care of them
So I'm just a mops
---