---
Monday, 08 September 2008
The twenty-fifth Soundtrack of the Week is two for the price of one: Claudine and Pipe Dreams, both performed by Gladys Knight & The Pips.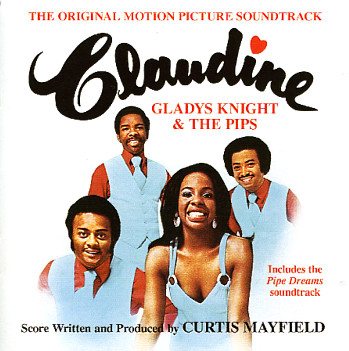 A quick glance at the CD cover will reveal that the Claudine score is written and produced by Curtis Mayfield. Not only is his Superfly one of the greatest soundtracks of all time, but much of his non-soundtrack work would have to accompany me to any desert island.
Claudine is no Superfly but it's an engaging soul record with great songwriting animated by Knight's beautiful soaring voice.
Pipe Dreams was a movie which apparently starred Knight and her then-husband Barry Hankerson. According to the liner notes for this CD, "the movie and its soundtrack were unfortunately both flops" and "Gladys doesn't mention either in her autobiography Between Each Line of Pain and Glory".
I like it, even if nobody else does. "So Sad the Song" is moving and was apparently a Top 20 Hot Soul Single. A lot of different composers and songwriters contributed to the music. "Pot of Jazz" was co-written by Dominic Frontiere!
---