---
Monday, 15 September 2008
The twenty-sixth Soundtrack of the Week is the newest release from Tribute Film Classics, re-recordings of two Bernard Herrmann scores, complete on one CD.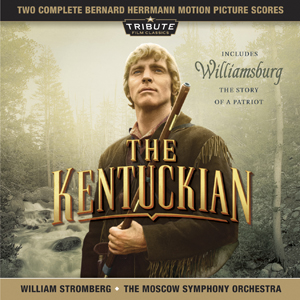 The Kentuckian starred and was directed by Burt Lancaster. Walter Matthau makes his feature-film debut in it as well, playing a sadistic, drunken tavern keeper who is very, very good with a bullwhip. The scene where he thrashes Lancaster to a bloody pulp is still disturbingly violent, even more than half a century later.
It's typical of Herrmann that he doesn't write any music for this sequence. He lets the violence speak for itself and then the music comes in when it's over. In this way his writing parallels the way the characters feel — shock at first (not feeling anything), and then a flood of emotions after the horror. (There is a bit of music in the middle of the scene, but it's for a character on the sidelines, not for the two principals.)
It's a good movie. I watched it a few months ago and enjoyed it quite a bit. The score is great and beautifully performed and recorded.
I haven't seen Williamsburg: Story of a Patriot and its inclusion here is certainly welcome though not especially exciting for me. It's an impressive composition but one that isn't much to my taste, relying more on Americana ("Yankee Doodle" is referenced) than Herrmann's famous brooding, obsessive and romantic writing.
---