---
Friday, 07 December 2007, 9:23 pm
Dexter Bierhorst Price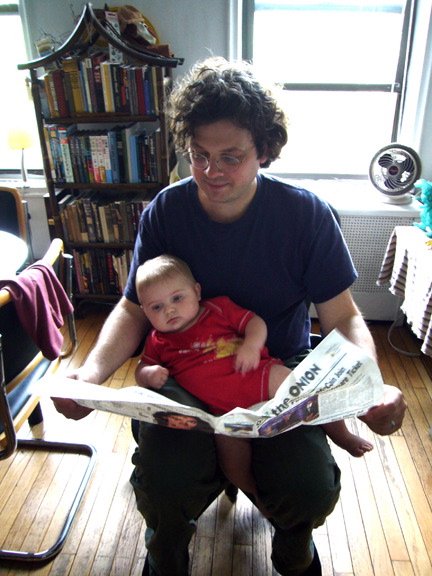 (photo by Alice Bierhorst)

---
The fifteenth Soundtrack of the Week is the great Tribute Film Classics re-recording of the Mysterious Island score by Bernard Herrmann, my favorite composer of all time.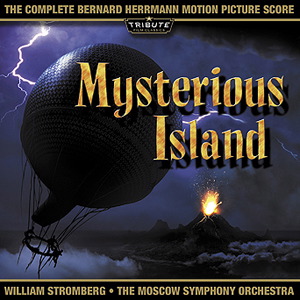 The movie is not one of my favorites, even though I love Ray Harryhausen. Mysterious Island isn't bad, but I'd rather watch one of Harryhausen's Sinbad movies — or just listen to this superb CD. The music is brilliant and beautifully recorded. There's also one bonus track, a re-recording of a cue from Herrmann's King of the Khyber Rifles score.
I just found out that yesterday was the anniversary of Herrmann's birth (June 29, 1911).
---
I request — no, demand — an English-subtitled DVD of this movie, whatever the hell it is. (Thank you, Mikael H., for bringing it to my attention!)
---
Saturday, June 21st, was Lalo Schifrin's 76th birthday. He will always be famous as the composer of the Mission: Impossible theme — his autobiography, coming in July from Scarecrow Press, is called Mission Impossible: My Life in Music — but he composed a great deal more, including our fourteenth Soundtrack of the Week, Kelly's Heroes.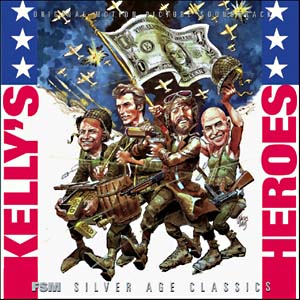 This is yet another great release from Film Score Monthly. The CD has both the original album version of the score as well as the music in the film, including unreleased cues. Total time = 79:02.
It's an exciting mixture of stuff: marches, lounge, funk, pop, middle eastern, fuzz guitar, country (Hank Williams, Jr., is on here). You can hear some samples here. My favorite cue is "Quick Draw Kelly", Schifrin's tribute to Ennio Morricone's famous music for Sergio Leone's spaghetti westerns. (Clint Eastwood plays Kelly, so this makes sense while it amuses.)
I watched Kelly's Heroes a few months ago. It's a good Sunday-afternoon movie, the kind I hope to find when I'm bored and switching channels. It's not art or anything, but its cast is impressive: Clint Eastwood, Telly Savalas, Don Rickles, Carroll O'Connor, Donald Sutherland, Gavin MacLeod and Harry Dean Stanton! (No women in this movie. George Savalas shows up, though, which won't surprise Telly Savalas fans.)
---
Here's a publicity still from the TV show Staccato, which was basically a Peter Gunn imitation that starred John Cassavetes, whose autograph is at the bottom of the photo.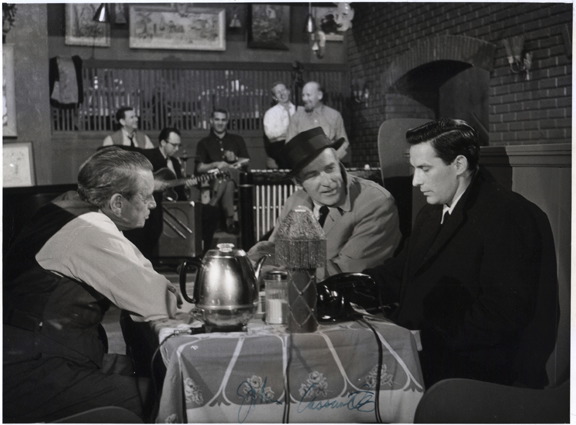 Personally I think Peter Gunn is boring and Staccato is a much better show. Cassavetes directed several episodes himself and Gena Rowlands was among the guest stars.
That's Eduardo Ciannelli on the left, a great character actor who was in every episode. He was also in tons of movies. Last year Alice and I watched a Bette Davis/Humphrey Bogart vehicle called Marked Woman. It's not a great movie but the first ten minutes are fantastic because of Ciannelli's performance as a mob boss.
Peter Gunn and Staccato both had great music, the former by Henry Mancini and the latter by Elmer Bernstein. Bernstein's Staccato score borrowed a lot from his music for The Man with the Golden Arm.
Both shows featured West Coast jazz luminaries in cameos as themselves. In fact, in this photo you can see Shelly Manne sitting behind the drums in the background. I suppose that's probably Barney Kessel on guitar, Red Mitchell on bass and Richie Kamuca (sitting) on tenor. Maybe that's Victor Feldman on vibes. [It's Red Norvo.]
---
Happy birthday, Lalo Schifrin!
Here's a photo of the MPG performance at BEMF3. Photo by Corkscrew Photography.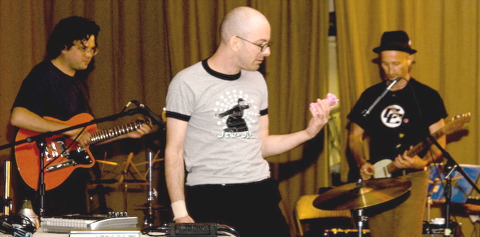 David is getting into it with My Little Pony. I'm playing my new Reverend guitar. Lucio has his trusty Fender.
---
The thirteenth Soundtrack of the Week is Hiko Shojo Yoko (Delinquent Girl Yoko) by Masao Yagi.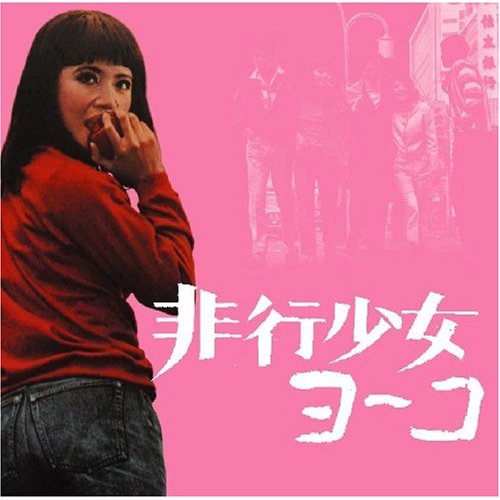 The music is a mix of different styles, mostly jazz. You get some bop, some free jazz, some cocktail jazz. Some stuff sounds like free improv, some sounds like typical Japanese film music of the period.
I'd love to see the movie sometime. I don't know anything about it other than that it's the first film by director Yasuo Furuhata.
---
Remember that movie Saturday the 14th? No, of course not. Why should you? I never saw it but Jeffrey Tambor is in it and he's always good.
Last Thursday I went to MagMa Studios (great place!) and recorded a CD with genius musicians Reuben Radding and Matt Moran. It was a lot of fun!
Jokes about the famous Red Norvo-Tal Farlow-Charles Mingus trio were made. For about a minute I considered giving the record a name that's an anagram of "Red Norvo Tal Farlow Charles Mingus" — "A Declarative Frog Mulls Worn Horns" or "Gross Horror a Willful Advancement" — but decided against it.
(I didn't figure out those anagrams myself. That's what the Internet Anagram Server is for.)
Anyway here's an mp3 of one of the pieces.
---
Dex and I watched that John Wyndham thing on YouTube last night. There's some interesting information but I thought that it was kind of cheesy. They kept cutting to some actor dressed as Wyndham, sitting behind a typewriter, smoking and staring into space. What's the point of that?
Perhaps this documentary on Nigel Kneale will be better.
---
Recently I've had so many new CDs, mostly soundtracks, to listen to that I almost never check out things like YouTube or mp3s of whatever on line. As everybody knows, there's no end of fascinating material out there. The hard part is finding time for it all.
I found time for these things, though, and I'm glad I did!
First, a video of Ellery Eskelin and Gerry Hemingway at a recent Hell's Kitchen festival. Part one and part two. It's a great performance and I wish I'd been there!
Second, a couple of live recordings of Chris Cawthray, solo drums at Toronto's Somewhere There. (I played there once with Chris and Ed Zankowski. It's a very cool place.) I really like the "whales" piece.
Here's something I haven't found time for yet but I'll recommend it anyway: a 6-part BBC Four documentary on author John Wyndham. Wyndham is famous for the books The Day of the Triffids and The Midwich Cuckoos (filmed as Village of the Damned) but my favorite is The Kraken Wakes.
---
The twelfth Soundtrack of the Week is this 5-CD set of music from the British TV show Man in a Suitcase.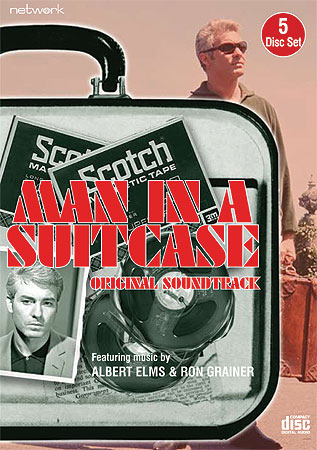 This is courtesy of the freaks at Network DVD, who also released 3-CD sets of music from The Prisoner and music from Randall & Hopkirk (Deceased).
The same people responsible for the music from The Prisoner did the music for Man in a Suitcase, and if you like the Prisoner music, you will like this.
I think my favorite cues are those for the "Brainwash" episode: crazy, psychedelic ensemble playing. "The Bridge" has some great cues for various "hooligans". "Castle in the Clouds" seems to quote "Fly Me to the Moon" here and there.
---
Mr. Dorgon has released 3 new recordings, two single CDs and one double CD, on his Jumbo label. This is truly extreme music. I'm pretty sure everything is created electronically and the result makes me think of "industrial music" — the name of the genre more than examples of the genre.
Here and there you may find yourself surprised to be lulled and soothed by some of the Dorgonix grooves. A lot of the music made me think of hurricanes and gale-force winds but then there are tracks like "Abogado" on "Manjusri" which are quite pleasant.
Check them out! Limited editions with excellent packaging. You won't want to download these; you'll want to own them.
---
Now that Alexander Courage has passed away, I may as well reveal that I tipped my hat to him a few years ago. The first few notes of Ellery's part in "1600 Hours", the first piece on the At Sunset CD, were meant to echo the first few notes of Courage's Star Trek theme; not the fanfare but the very first notes.
(The title "1600 Hours" is meant as a dedication to Paul Motian. 1600 hours = 4:00 pm or "For P. M.".)
The arrangement of "The Crab" which Jim Reil played on his radio show contained a "Bo Diddley" section. Alice played maracas on that part to give it the real Bo Diddley flavor and Joey played with both sticks and brushes, one of each in each hand.
That recording will probably never be officially released as it couldn't be mixed. The tape machine at the studio broke down and we recorded it directly to CD. Only the rough headphone mix survives and the sound quality doesn't compare favorably with the other recordings.
---
I just found out, just this minute, that Alexander Courage died last month. He was a great composer, arranger and conductor. For me and most people he will be forever associated with the theme music for Star Trek. When I say Star Trek I mean the real Star Trek, the television series from the '60s.
The news came from the Film Music Society's website. Right below it is the news of the passing of Earle Hagen, another great composer. He wrote the theme music to I Spy, among other TV shows.
On Monday Bo Diddley died. He is one of my heroes and the reason I own a Gretsch guitar.
In other gloomy news, Pete Galub informed me last week that the inventor of the Echoplex died in April.
---
Yesterday or the day before I was thinking about how Tatsuya Nakadai would be the first name I'd put on a list of greatest film actors of all time.
Today I discovered that the Film Forum here in NYC is doing a series of Tatsuya Nakadai films!
Harakiri, The Face of Another, Sword of Doom, Goyokin, Yojimbo, High and Low, When a Woman Ascends the Stairs, Samurai Rebellion,Tenchu and Kill! are all great.
Kagemusha, Ran, Kwaidan, Sanjuro and The Human Condition are also worth seeing. (Admirers of Full Metal Jacket may be surprised to discover how much of that film appears to have come from the second film in the Human Condition trilogy. The suicide scene in the Kobayashi film has a horrifying twist that I've never been able to forget.)
I hope I'll be able to see, for the first time, Onimasa, Age of Assassins, Black River, Solar Eclipse, Untamed, Immortal Love, Odd Obsession and Conflagration.
---
So what about the Miles Per Gallon mini-tour? MPG stands for Menegon Price Grollman and also for Miles Per Gallon, the unofficial name of our free-improv trio. We spent a lot of time tut-tutting about the price of gas, well over $4 at many gas stations.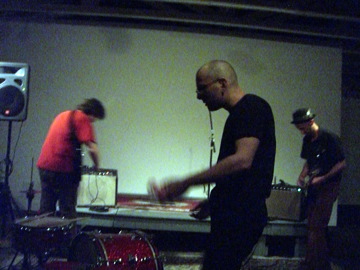 Mr. Dorgon took this photo of our performance in Sacramento, at a cool place called 21 Grand. I was honored that dear friends and great artists Vivienne Flesher and Ward Schumaker attended.
The show was a good one and featured the first of a few guest appearances by My Little Pony. (You had to be there.) There's an mp3 of a bit of this show on Lucio's site. (Some photos, too.)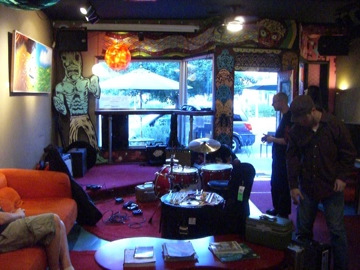 The second show was at the Java Lounge in Sacramento, a great coffee shop and, I suspect, the coolest place in town. Certainly the people who work there were as nice as they come. This was a good show.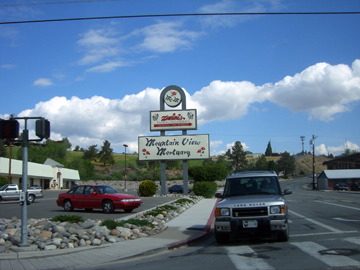 We spent the night at a Motel 6 in Reno which was conveniently located near Mountain View Mortuary. We switched to The Sands (where else?) when we found out it was cheaper.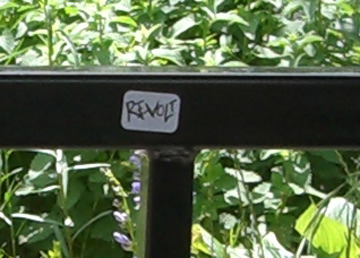 At Java Jungle, a Reno coffeeshop, I noticed this extremely modest call for revolution. Not only is it tiny, there isn't even an exclamation mark!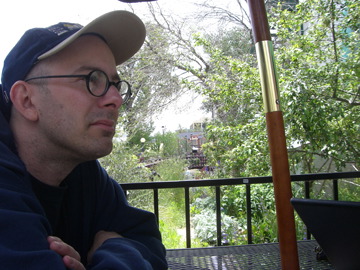 That's David with the "REVOLT" sticker in the background. See it?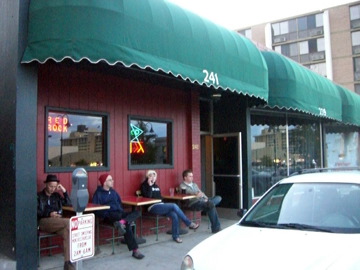 In Reno we played in the basement of this bar, Red Rock. I really liked the opening band, MegaBear. A good show, even though the acoustics were somewhat unfriendly.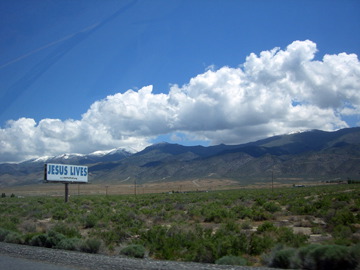 FYI.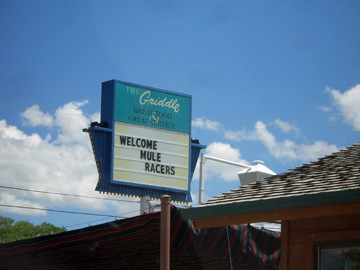 Jesus rode a donkey, right? Does this have something to do with the "Jesus Lives" sign?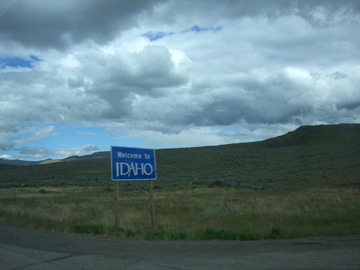 Nearing our last stop, the 3rd Annual Boise Experimental Music Festival.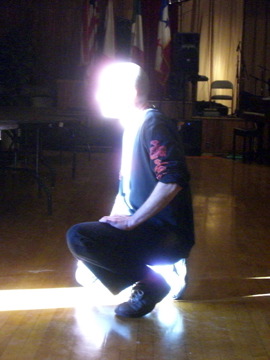 We almost missed our set when space aliens tried to abduct David.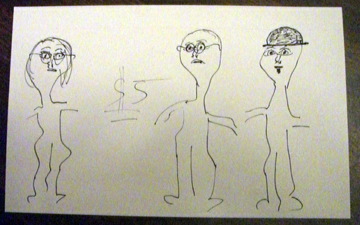 We played, sold a CD and took off. I recommend Idaho microbrew Dogzilla, a Black IPA from Laughing Dog Brewing.
---
The eleventh Soundtrack of the Week is Ennio Morricone's Giornata Nera Per L'Ariete (English title: The Fifth Cord).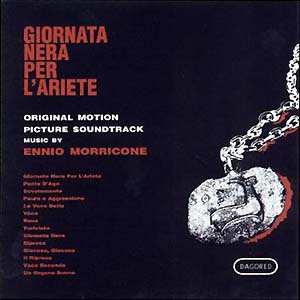 It's similar to Morricone's other giallo soundtracks: dissonant strings, menacing electric bass and drums, heavy breathing. I bought it at Amoeba in San Francisco and Lucio, David and I listened to it while driving around Nevada. We all loved it. Sounds good in the desert.
---
I'm back from a stimulating series of improv shows with David Grollman and Lucio Menegon. (Steady as she goes, guys.)
Hi, Mr. Dorgon! It was great to see you!
Here's last week's soundtrack selection. Our internet connection went down the day before I left, so it's a week late.
The tenth Soundtrack of the Week is a classic Hollywood orchestral score, Max Steiner's Pursued.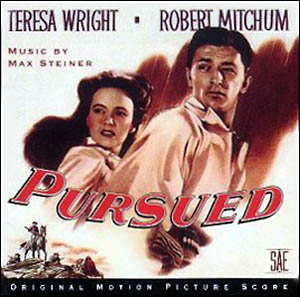 It's a great movie, a mixture of western, film noir and Greek tragedy, and essential viewing for any admirer of Robert Mitchum.
In the Music for the Movies documentary on Bernard Herrmann, Elmer Bernstein credits Max Steiner with creating much of the basic vocabulary of film scoring. Check out the Steiner Wikipedia entry. Steiner was a student of Brahms and Mahler, a collaborator with George Gershwin and Jerome Kern and the composer of hundreds of films scores, including King Kong, Gone with the Wind, A Summer Place and many other famous movies. (Steiner's theme from A Summer Place is more famous than the movie itself.)
Listening to the CD of Pursued is a dramatic experience itself, musical storytelling at its finest; it feels like watching a movie. In addition to this superlative music, Pursued has great performances from actors Mitchum, Teresa Wright and Judith Anderson (Mrs. Danvers in Rebecca), as well as brilliant cinematography by James Wong Howe. Any movie he photographed is worth watching.
---