---
Sunday, 22 June 2008
Here's a publicity still from the TV show Staccato, which was basically a Peter Gunn imitation that starred John Cassavetes, whose autograph is at the bottom of the photo.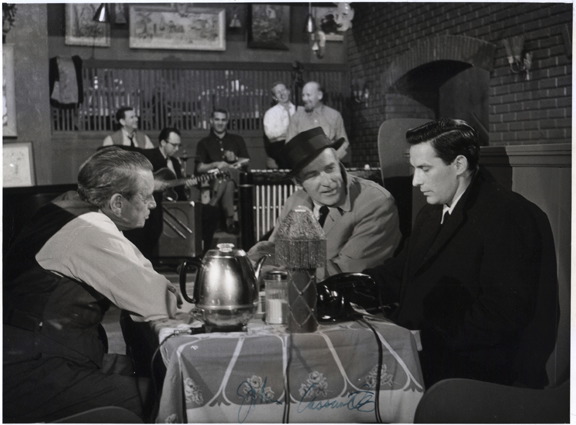 Personally I think Peter Gunn is boring and Staccato is a much better show. Cassavetes directed several episodes himself and Gena Rowlands was among the guest stars.
That's Eduardo Ciannelli on the left, a great character actor who was in every episode. He was also in tons of movies. Last year Alice and I watched a Bette Davis/Humphrey Bogart vehicle called Marked Woman. It's not a great movie but the first ten minutes are fantastic because of Ciannelli's performance as a mob boss.
Peter Gunn and Staccato both had great music, the former by Henry Mancini and the latter by Elmer Bernstein. Bernstein's Staccato score borrowed a lot from his music for The Man with the Golden Arm.
Both shows featured West Coast jazz luminaries in cameos as themselves. In fact, in this photo you can see Shelly Manne sitting behind the drums in the background. I suppose that's probably Barney Kessel on guitar, Red Mitchell on bass and Richie Kamuca (sitting) on tenor. Maybe that's Victor Feldman on vibes. [It's Red Norvo.]
---