Rob Price
Gutbrain Records
rob + gutbrain.com = email
---
Here's another relic of bygone days: The Bench Saw Jointer and Shaper: Their Use and Application. Similar such publications no doubt still exist, probably found more online than in paper form, but they're not likely to have such an elegant design as this one, from the 1930s.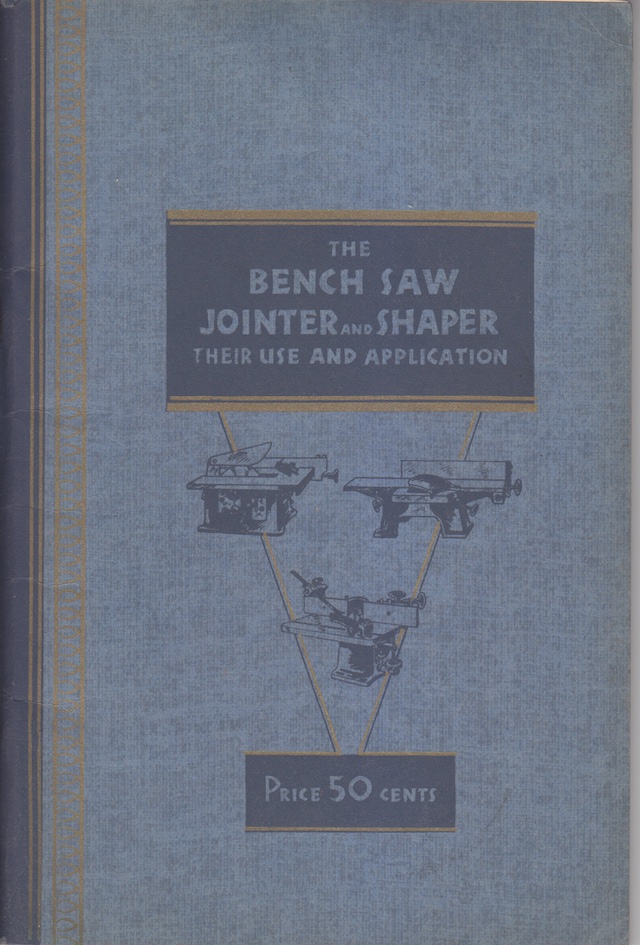 Inside is all the relevant technical information about what to do with these things. The layout of the interior pages is also pleasing.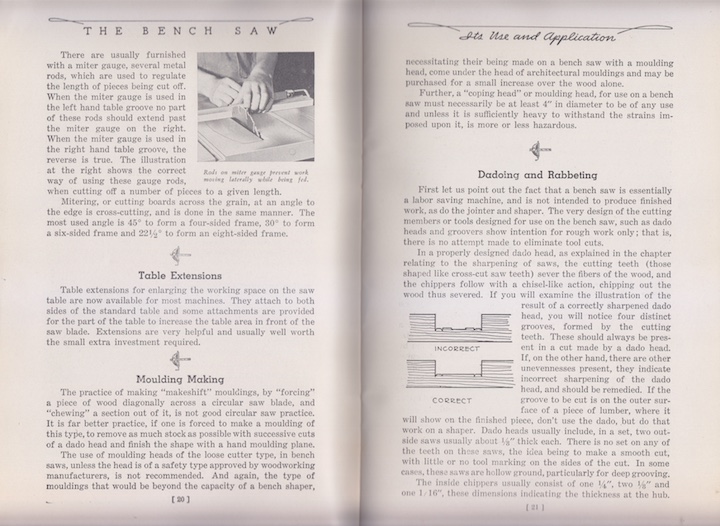 ---
2018 November 28 • Wednesday
This horse-racing magazine from June 1970 has a stunning cover.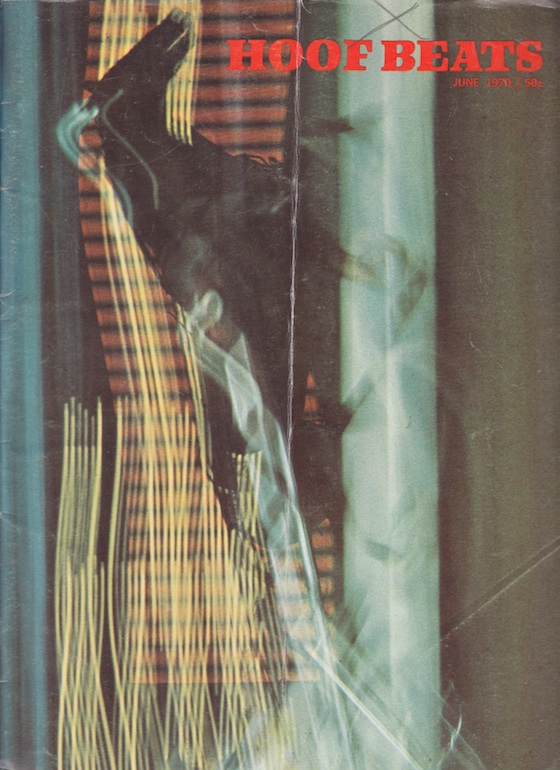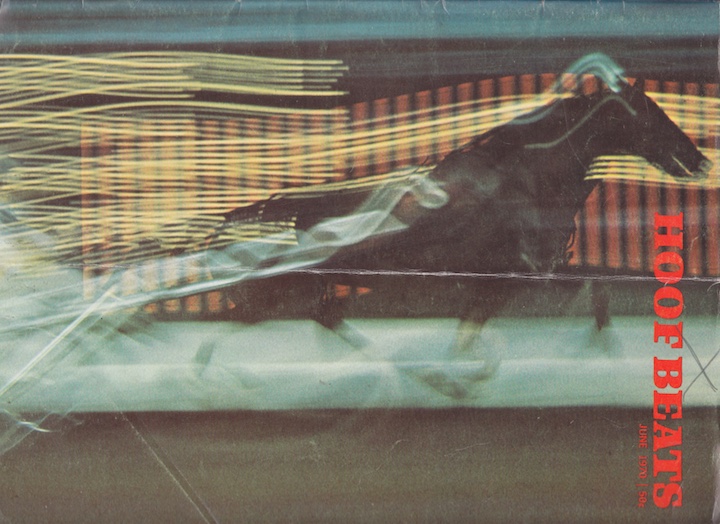 The contents are all about horse racing and related matters. There's also this amusing photograph.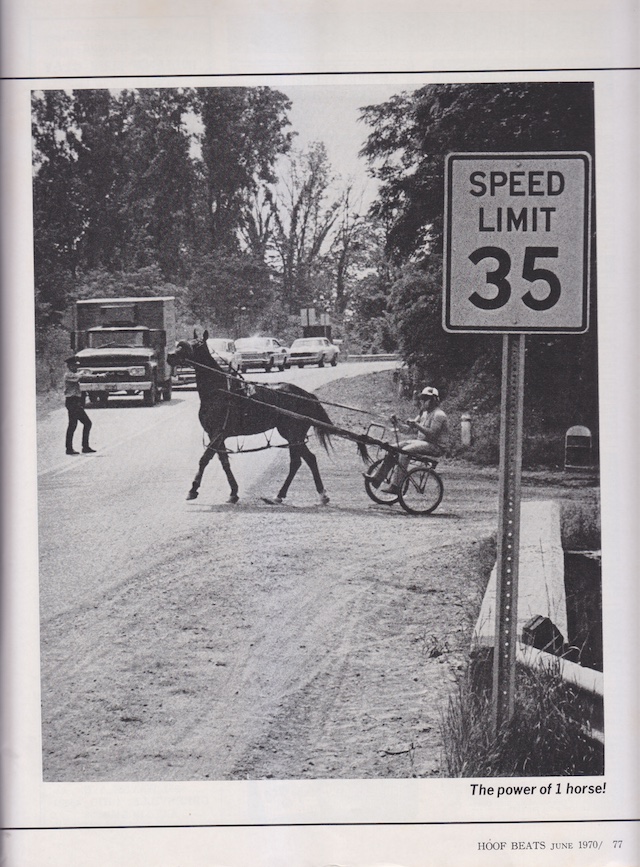 ---
2018 November 26 • Monday
For the 545th Soundtrack of the Week we're listening to Susan Justin's score for Forbidden World (a.k.a. Mutant), and it's on groovy translucent grey vinyl!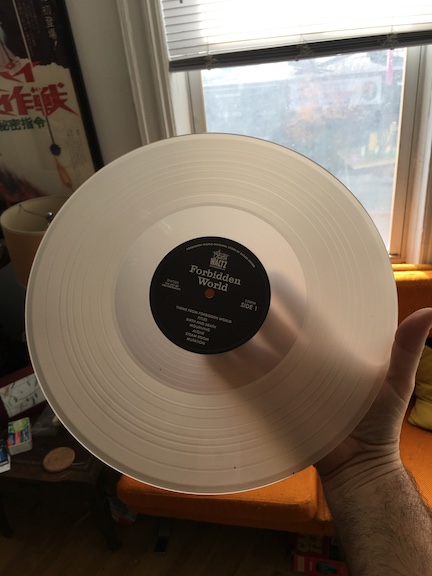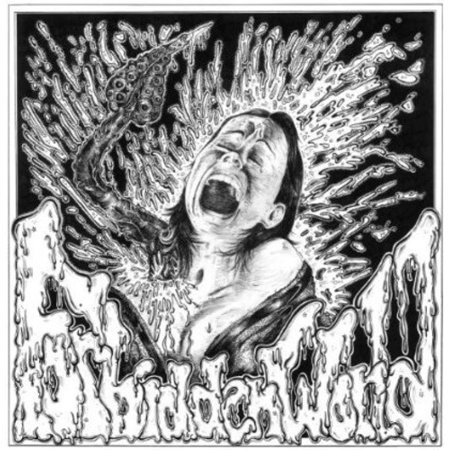 The record begins with "Theme from Forbidden World", an intriguing blend of what sounds like both electric and acoustic instruments with a pleadant harmonic movement and inexorable drive. There's a brief synth solo in the middle whose particular sonority clashes with the rest of the track, but otherwise this is a splendid opening theme.

The "Titles" track is a simple, haunting and mesmerizing piece for synthesizer, spare and ghostly.

What are possibly synth horn sounds make a s trong declaration and sound almost triumphant for "Birth and Death". Again, both the melodic and harmonic shapes of the music seem just right.

"Mourning" begins with a single low-note pulse. It moves up a step and then an eerie but beautiful electric single note line, something you can imagine a theremin doing, floats above it. After that comes an unexpectedly forceful keyboard entrance, playing strong chords, followed by a delicately melancholy acoustic piano part.

For this score Justin got Craig Huxley to play his famous "Blaster Beam" instrument, as well as a Jupiter 8 synthesizer, and I reckon that these are providing most of the otherworldly electronic soundscape of "Alone", which builds to surprisingly rhythmically driven climax.

"Steam Room" is another hypnotically pulsating synth-driven cue with very satisfying shape and structure, a mixture of beauty and tension.

The first side ends with "Mutation", which is the closest thing to a conventional song on here. Nobody sings anything but there's a definite melodic voice taking the spotlight and a pounding beat pushing everything forward.

The second side begins with "Xarbia", a somewhat menacing and pensive track, with different atmospheres, textures and feels and a few dramatic stings. There's also the same element of lyrcism that runs throughout this score and makes it one of the best electronic- and synth-centered scores I've heard.

"The Hole" begins almost completely textural and atmospheric, yielding eventually to a rhythmic and lyrical passage that develops into something that suggests a peak of action and suspense.

Acoustic piano with the sustain pedal employed creates the lonely and sad world of "The Doctor Returns", with only very subtle synth strings accompaniment in the background.

Dialogue from the movie ("cognitive retribution") occupies "The Laser Shower", presumably the movie's famous and infamous shower scene, and perhaps the synth tones you can hear under the voices only exist in the finished film itself, which would explain why we're hearing a dialogue track. "Communication" begins as a series of ascending lines with some notes sustained, like building chords out of blocks and giving the impression of a sonic pyramid. Then the blaster beam comes in and transports the listener to a darker and more expansive space, very effectively suggesting terror and peril. After which we come to "The End", a short electronic cue with some of the weirder sounds on this record, no doubt from the blaster beam again. And then the record concludes with a reprise of the theme. This is really a wonderful record and I'm really glad somebody released it.
---
2018 November 23 • Friday
It's been a while since I've seen one of my favorite headlines in a movie.
But a newspaper briefly appeared during a dissolve and I saw old standbys PRIESTS BATTLE SEMINARY BLAZE; 8 FIREMEN HURT and STATE BUREAUS MUST PAY RENT IN NEW OFFICES.
And below those, only half visible, is our old friend LIMITED FARM BILL FAVORED.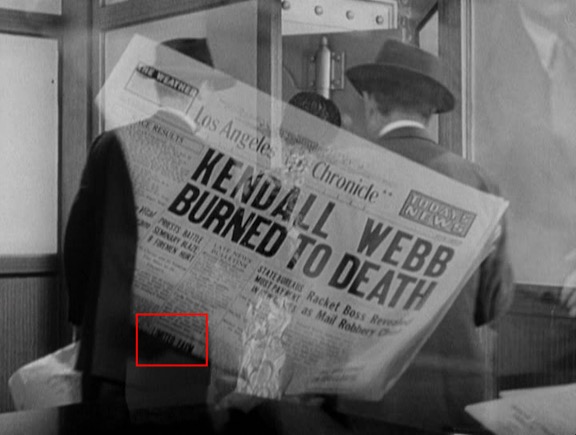 Roadblock (1951)
---
2018 November 21 • Wednesday
Just in time for Thanksgiving, another 45 rpm comic book from Coin-Op! It's charming and delightful and has just the right amount of social commentary! The title should give you an idea: Karl Marx Bolan (Spaceball Ricochet alt. take).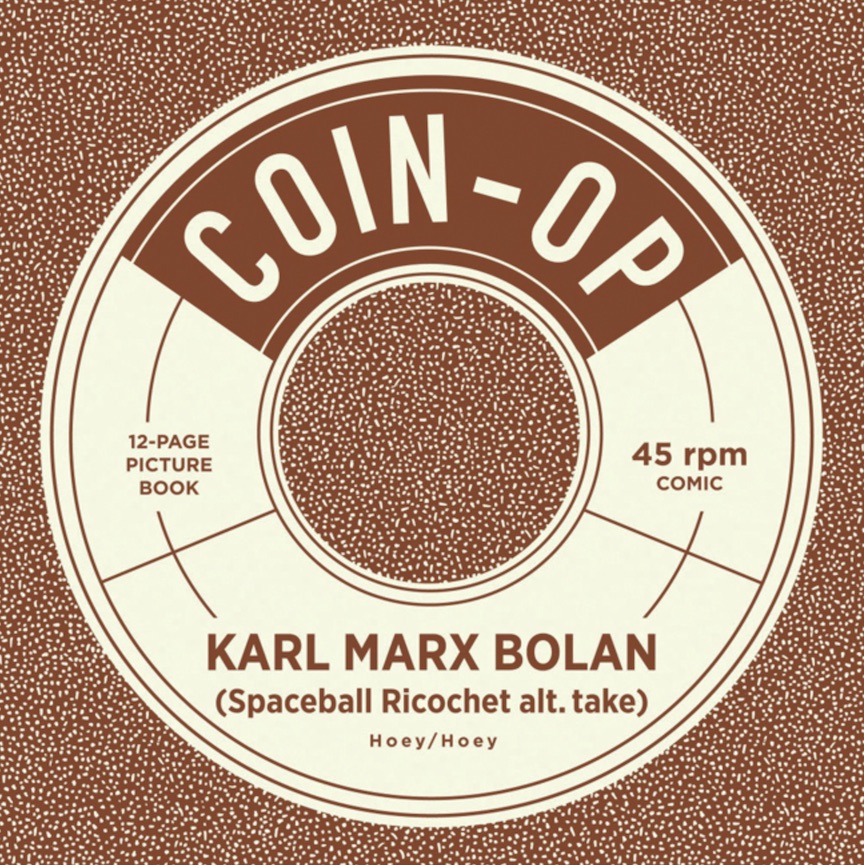 When Elvis Presley dies, he joins the ghosts of Eddie Cochran and Gene Vincent "in a bar underneath heaven". The bartender is Karl Marx, who knows that back on Earth, Marc Bolan is only four weeks away death.
Marx notes that three dead rock and roll stars in his bar all had working class backgrounds and no interest whatsoever in "class struggle". Maybe Marc Bolan, if saved from his early death, could effect massive political change that would benefit the masses!
And so Cochran and Vincent hop in a speed boat and zip up the Styx to the Thames in an effort to find Bolan and launch his political career.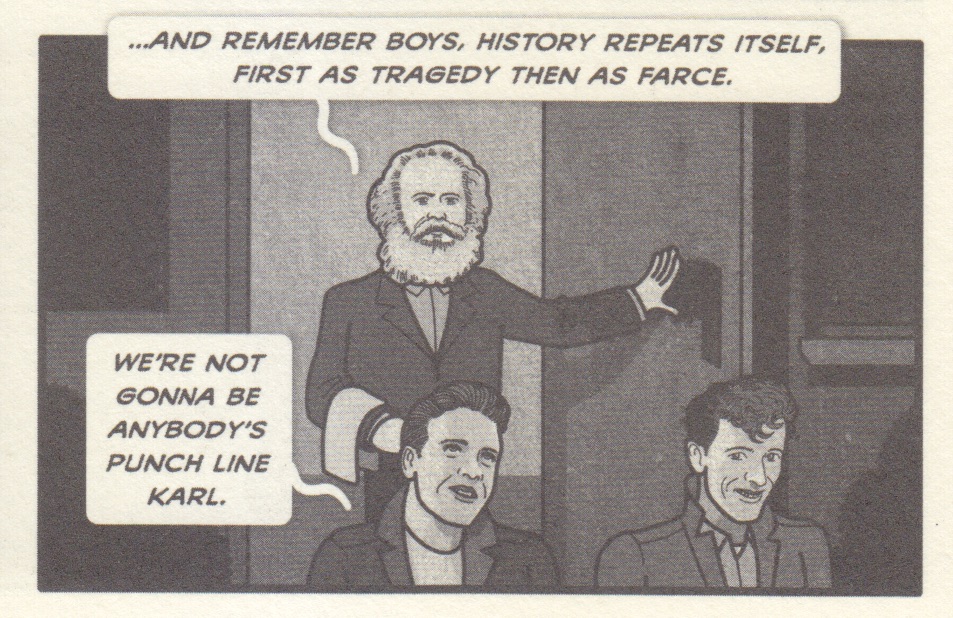 That's all you're going to hear about it from me. Buy it and read it! It won't take long and I'm sure you won't be disappointed!

Coin-Op is consistently inventive and idiosyncratic as well as being one of the strongest examples of the powers specific to the comics medium.
---
2018 November 19 • Monday
The 544th Soundtrack of the Week is Melba Liston's music for Smile Orange, and it's on groovy orange vinyl!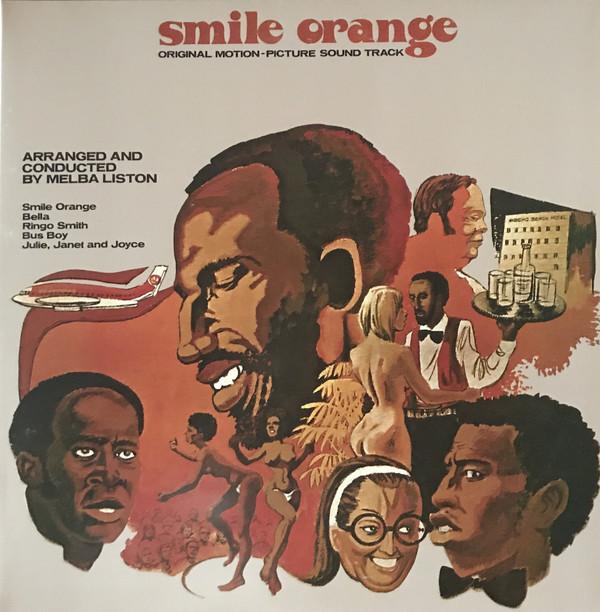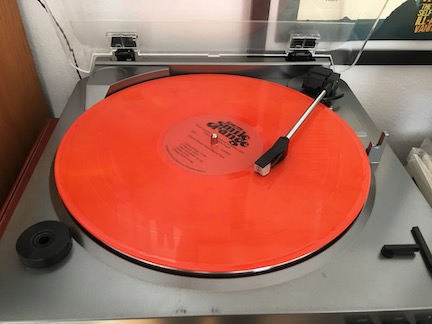 The first side of the record starts with the main title theme, a sunny reggae tune with great saxophone and trombone playing.
After this comes "Peacock", which somehow manages to merge a reggae groove with some almost Glenn Miller-style horn parts and interesting guitar and bass lines that give the piece an unusual rhythmic complexity.
"Blue & Green" keeps the reggae feel going and throws organ into the mix. It sounds a bit like Jackie Mittoo. It's a short piece that sounds like something that might have been in the background.
Things take a turn for the heavier, the more rocking, the acid-tinged in "Bella", where the reggae guitar and drums veer into more backbeat territory at times and an overdriven guitar trades lines with the organ. There's a grave and possibly menacing tone to this track, which is one of the strongest on the album.
The side closes with the only vocal number, ""Ringo Smith", which is sung by Marilyn Curtis. It's basically the same tune as "Bella" but with Curtis's reverb-drenched voice calling out "Ringo" in a haunting and ethereal way.
The B side opens with the aptly titled "Jamaican Organ Solo", though the main voice at first is, what, melodica maybe, with organ backing and some strange sound effects.
After that, another sunny reggae tune bursts out of the speakers. "Bus Boy" has another killer groove and a cool melodic line for the horns with some tasty organ playing.
The opening of "Michelle" sounds like it's going to be a really cool take on "Night and Day" but then it goes into a fairly typical jazz guitar piece with walking bass line and, in a nice touch, what sounds like only congas and a cymbal as the percussion.
Next up is "Rhumba" which might be a rhumba. It sounds like calypso to me but I'm no expert. The percussion is another highlight and the electric guitar has a nice sound. It's a light and lively tune.
"Julie Janet and Joyce" is a startling change of pace and mood, an aggressive and punchy 9/4 composition with sharp staccato tones and energy. (Maybe this is 9/8 instead of 9/4. I can't really tell. It seems to me like it could go either way.)
The record ends with a very pretty tune, "Jamaica", the only one to feature flutes, which almost sound like a heavenly choir. They float above another deep reggae groove and it's a lovely and enchanting combination.
---
2018 November 16 • Friday
Andrew Rostan has written the story of what seems like a lonely and alienated childhood, adolescence and young adulthood in a graphic novel memoir called Form of a Question, which has fluid and engaging artwork by Kate Kasenow, who might deserve to be considered a co-author, as is often the case in writer/artist collaborations.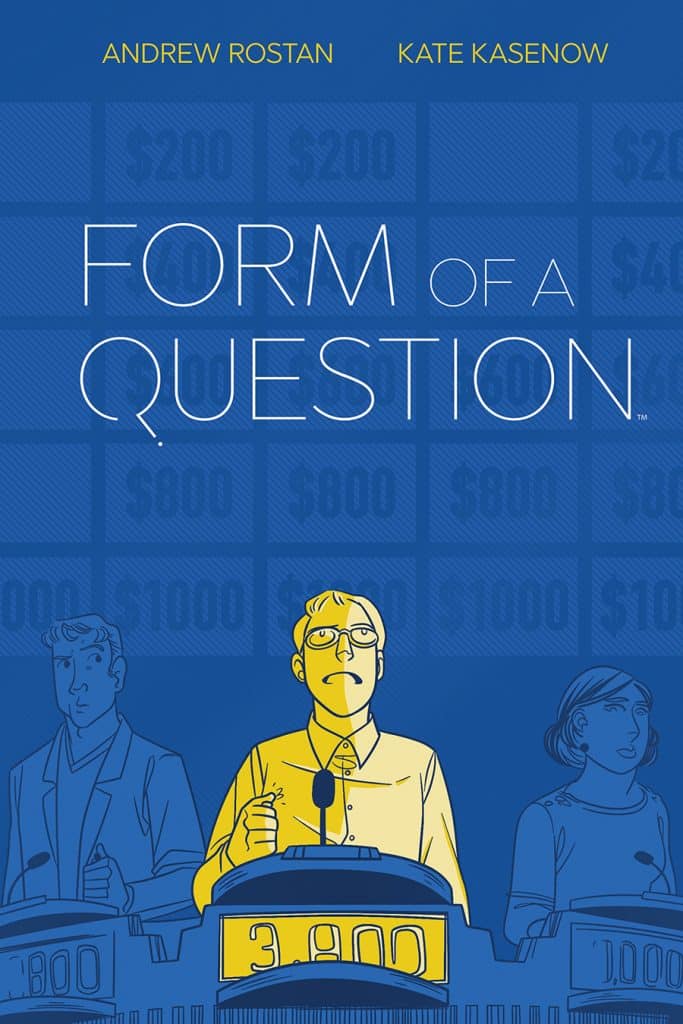 The action jumps around in time and considers two of Rostan's quests, one to be a contestant on Jeopardy! and the other to build meaningful and intimate relationships with people he finds himself drawn to.
He tells you upfront not to expect a triumphant climax in which he's an undefeated champion on his favorite game show. The point of the book is more about struggle, confusion fear, uncertainty and the ups and downs of human existence.
It's a quick read but there are lots of details to admire, particularly Kasenow's renderings of Boston.
---
2018 November 14 • Wednesday
A few years ago Lucio Menegon (a.k.a. Reverend Screaming Fingers) and I co-wrote music for a preview for a comic book called Argent Starr. It was basically scoring a movie trailer but the movie was a comic book.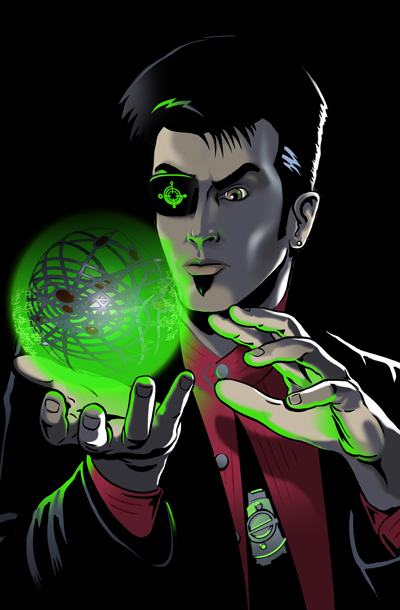 We didn't discuss it at all but when we got together we had both written out an idea and picked F# minor as the key. So it was fairly easy for us to join our two pieces, smooth it out, make sure it fit the trailer, and then record the thing at Lucio's studio with Chris Cawthray on drums.
You can hear this, and buy it, along with another piece, "The Outside Groove", that Lucio wrote to go along with, I think, a trailer for an ebook.
Check it out here, and after that go take a look at his latest release, Music For Driving and Film, Vol. III (The Desert Years), also in a groovy, guitar-driven instrumental zone.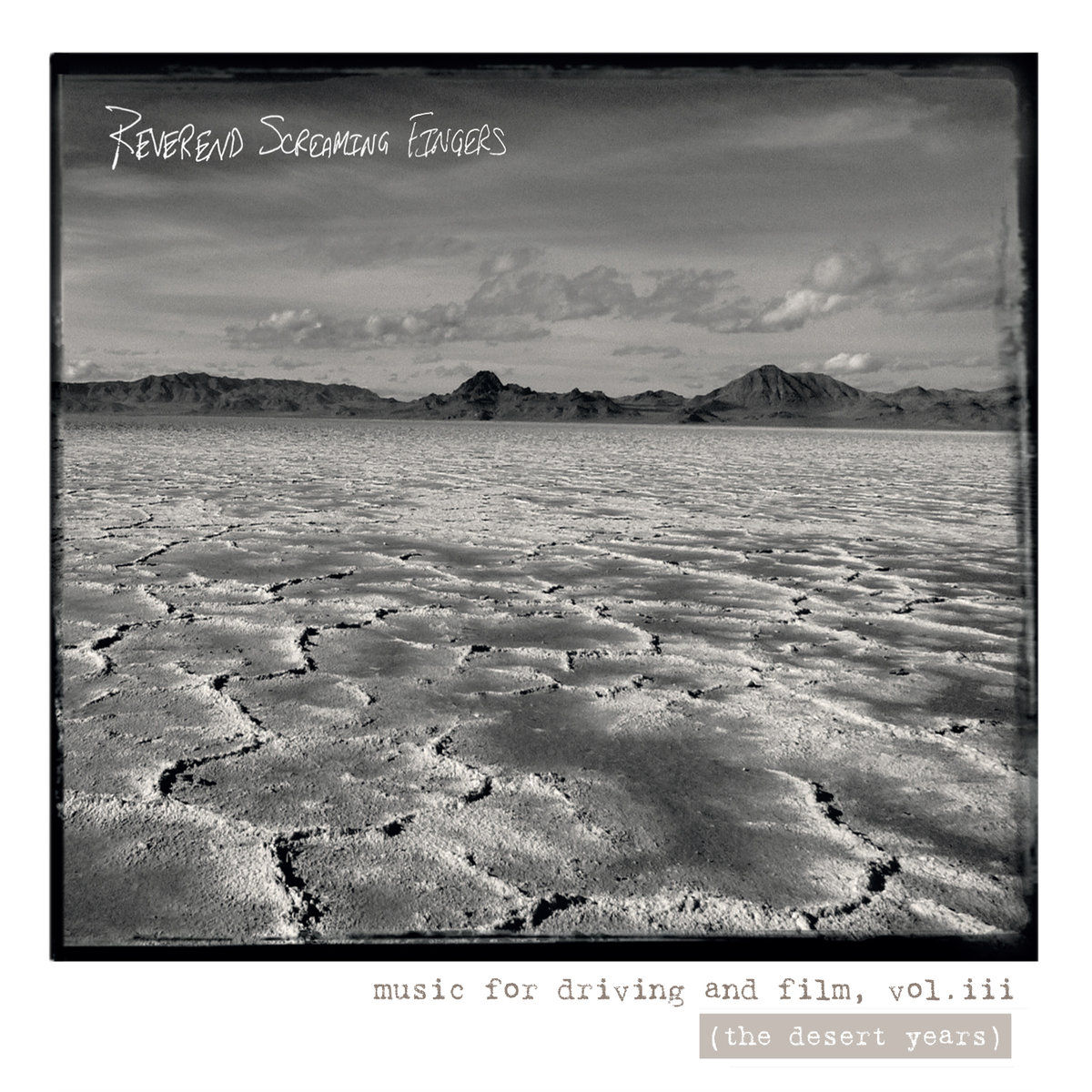 ---
2018 November 12 • Monday
For the 543rd Soundtrack of the Week we just wanted to do something different. And so here we have what is probably most of the score for a movie called Here at the Waters' Edge and it's more or less by Leo Hurwitz and Charles Pratt. The score doesn't really have a composer per se, as it consists of field recordings of sounds "in and around the Port of New York". Before you get agitated, let me assure you that I'm aware of and even sympathetic to the ideas of found or ready-made art and improvisation and chance operations as a form of composition. Nevertheless, whatever "composition" content might be contained herein must be minimal, it seems to me.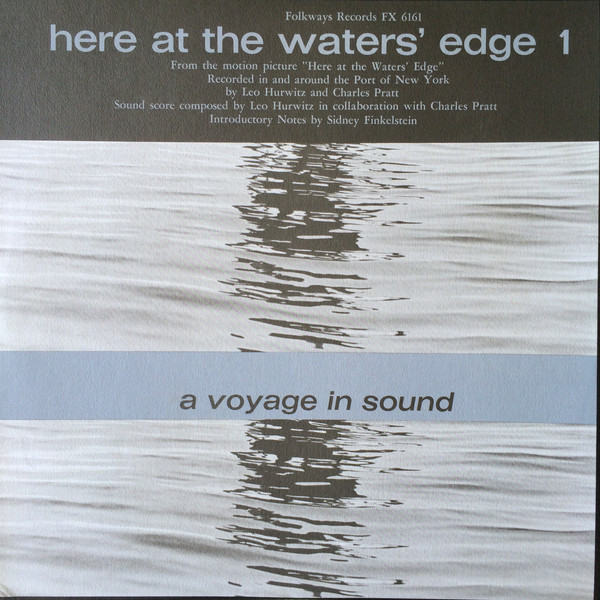 So what will you hear? Not much in the way of music, except in a John Cage sort of way. The closest things to musical instruments are rather magnificent foghorns and deep-throated ships' whistles, as well as what sounds like trolley bells (though I believe that NYC's streetcars were already gone by the time of this recording).
You'll also hear the sounds of waves, trains, industrial machinery, birds, children's voices, airplanes and such. It's described on the back of the record as an "abstract symphony", which seems fair enough, though it could certainly be more abstract and more symphonic. The liner notes also assert that it will "affect you deeply", which simply wasn't at all true in my case, though I did appreciate it as an interesting document.
---
2018 November 09 • Friday
Light in the Attic has released this incredible lost album of surf instrumentals by Lee Hazlewood: Cruising' for Surf Bunnies by The Woodchucks.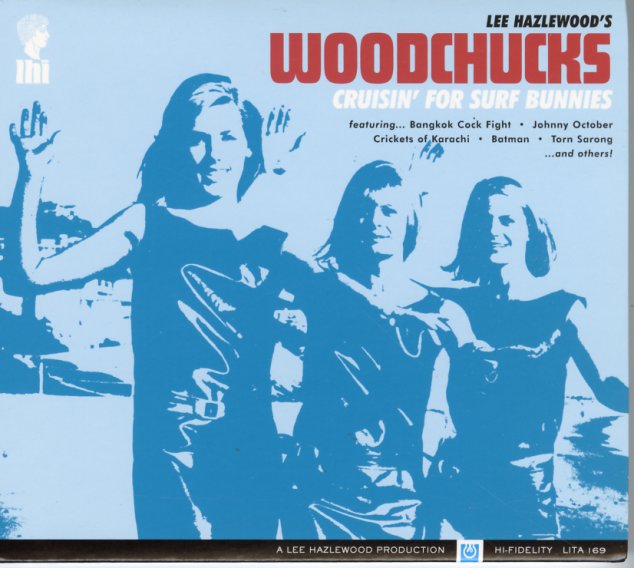 The only thing that anybody seems to know for sure about this music is that it was recorded in October 1964 in Studio E of United Recorders in Los Angeles, CA.
Nobody knows who played on it, though Al Casey is nominated as the likely lead guitarist. Apparently The Woodchucks was a band name that Hazlewood used for several recordings of instrumentals executed by session musicians of the day, ienvitably referred to now as The Wrecking Crew.
Almost all of the tunes are by Hazlewood and several will be familiar to fans of surf music.
The immortal "Baja" is here, split into two parts with half on each album side. It's interesting to note how slowly the band takes this song. It might be half the speed of the famous recording by The Astronauts.
"Movin'" is also taken much more slowly than probably every other recording of it you've heard. These performances don't sound sluggish, though, more atmospheric.
This possible emphasis on atmosphere might explain why there are three versions of Les Baxter pieces here, the singature "Quiet Village" and the lesser known "Bangkok Cock Fight" and "Cricketds of Karachi".
Quiet Village is taken at a similar tempo as "Baja" and "Movin'" but only the B section is really recognizable as the Baxter tune. The "Bangkok Cock Fight" is an uptempo, driving surf raver that doesn't really sound, to my ears, much like the Baxter piece at all.
"Crickets of Karachi" is a fairly straightforward interpretation of Baxter's original, midtempo and a nice piece.
The exotica theme presumably includes "Torn Sarong", credited on this CD to "Y. Roche". I don't know who that is or what the original of this might be. But it's another cute kind of singsongy tune, very similar to "Crickets of Karachi".
Going back to Hazlewood's own pieces, "Johnny October", is a genuinely haunting piece, suggesting the theme for a surf western, if only such a thing existed.
"The Nomads", with "D. Cole" as co-author, is another surf gem, also somewhat haunting in both its sonic feel as well as its chords and melody.
We get another rare uptempo, driving number with "The Man", which sounds as much like a hot rod piece as it does a surf piece. Those two flavors are often mixed together.
Next is a very Link Wray sort of tune, "Angry Generation", a slinky and sneaky sort of "Rumble" like tune. The bass player really shines on this one.
Finally there's "Batman", another much covered Hazlewood piece. As played here it sounds like most other takes on it that I've heard.
This band is great, whoever's actually in it. Cruisin' for Surf Bunnies is one of my favorite surf albums. And it only took 54 years for it to come out!
---
2018 November 07 • Wednesday
Ace Records continues to put out amazing compilations of old rock and roll, pop, blues, etc. This new release is one of their best and perhaps most obscure: She Came from Hungary!: 1960s Beat Girls from the Eastern Bloc.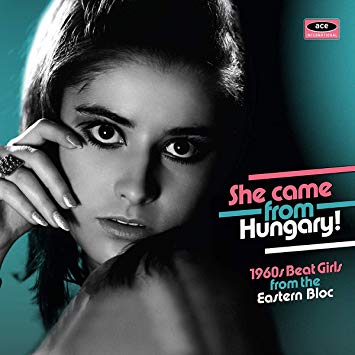 The liner notes give an interesting overview of what the political and cultural situations were in Hungary in the 1960s. A governemtnal resolution called the Use and Practical Spending of Leisure Time by Young People basically gave permission for teenagers to form rock bands and many of those bands had female singers. And now we can hear some of them!
All of it is my kind of sing, swinging and stomping sixties rock/pop with cool keyboard and guitar sounds.
Márta Bencze's "Csak Fiataloknak" borrows a big chunk of Henry Mancini's Peter Gunn theme and her strong and soaring voice makes you wish she's recorded the actual theme. (It ended up with words. Sarah Vaughan recorded a vocal version.) According to the liner notes, the title means "Only For Young People".
More in the acid rock vein is "Ha Csak Egy Fokkal Szebb Az Ördögnél" by Gabi Fenyvesi. The fuzz guitar is definitely an asset here.
A lilting 6/8 rhythm and jangly electric guitars, one of them possibly a 12-string, gives Zsuzsa Koncz's "Keresem A Szót" a Byrds feel, while parts of the melody might remind you of "Hey Joe".
"Könyörögni Nem Fogok" by Zsuzsa Mátray sounds like a blend of The Rolling Stones with Booker T. & The MG's on acid. As impressive as the organ and guitars and drums are, it's definitely her voice that's making this happen. Some nice soloing from the guitar and keyboards, though.
Sarolta Zalatnay's "Zöld Borostyán" has perhaps the most interesting arrangement and some very unusual phrasing of the vocal lines in places. There's an acid wah-wah guitar freak-out at one point and a driving breakbeat drum part throughout.
If you were wondering where the harpsichord and strings are in all this, then skip ahead to the minor key and anxious-sounding "Most Kéne Abbahagyni" by Kati Kovács. This song comes close to recapturing the symphonic bombast that used to be the delivery vehicle for teen pop.
And that's just a sample! There are 24 songs on this CD and they're all great!
---
2018 November 05 • Monday
The 542nd Soundtrack of the Week is a lovely score we found on viny at Chicago's redoubtable Dusty Groove record shop: Ustad Vilayat Khan's music for The Guru.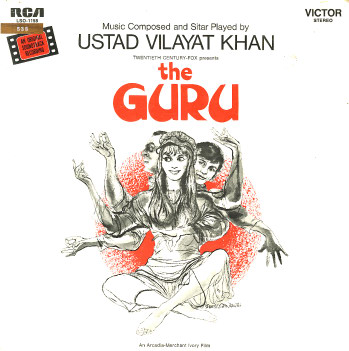 It starts with a main title theme that uses both Indian instruments as well as electric guitar and a drum kit supplying a grooving backbeat. The theme itself is delightful and jaunty, similar in some ways to the "Ode to Joy".

You'll hear it several times on this record, in different arrangements. The second track, "Jenny's Theme", is a more syncopated arrangement of it with the melody played on flute.

"The Haunted Palace" is a suite of four different cues played on traditional Indian classical instruments and is by turns tuneful and textural, atmospheric and intense. There's some incredible tabla playing here, courtesy of Pandit Shanta Prasad.

Khan himself plays sitar while Ustad Imrat Khan, Vilayat Khan's younger brother, is on both surbahar and sitar and Ustad Shakoor Khan plays sarangi.

There are also two vocalists, for the two ragas that close the record, "Rag Malkauns" and "Rag Yanani". There's also an instrumental "Rag Bilawal". All three sound like other Indian clasical music pieces I've heard, as I believe they're intended to.

"Rag Bilawal" is based on the main theme. "Rag Malkauns" is a short number with powerful vocal and violin contributions. "Rag Yanani" is almost thirteen minutes long and closes out the record. It might be based partly on "Tom's Boat Song", which Michael York sings on Side A.

The singers for the ragas are Ustad Zinda Hasan Khan and Ustad Fayez Ahmed Khan.

It's an excellent record, very different from the Bollywood soundtracks I've listened to. I'd like to hear more like this.
---
2018 November 02 • Friday
Just in time for this Halloween I managed to read a book that I bought last Halloween: the two William Sloane novels To Walk the Night and The Edge of Running Water presented in one volume as The Rim of Morning by New York Review Books.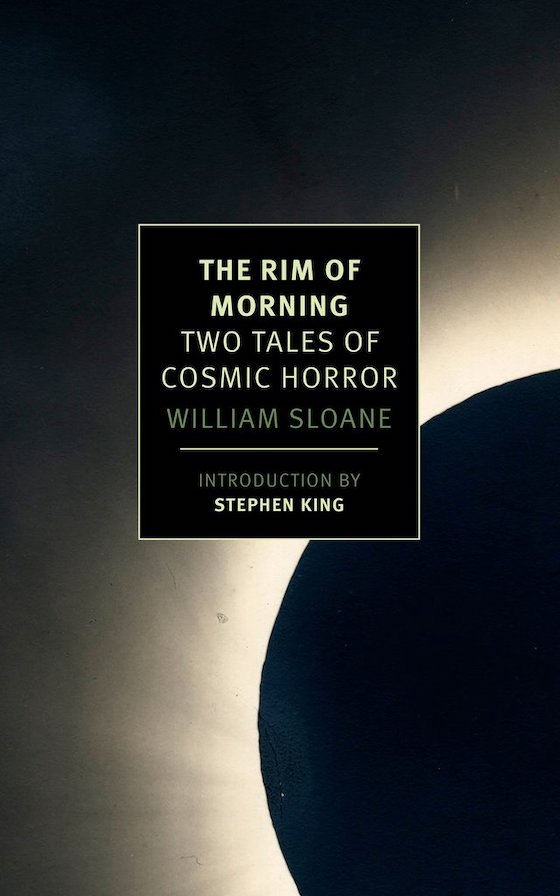 Both of these novels were written in the 1930s and provide a certain kind of reading satisfaction that seems to come almost exclusively from novels of that time. The writing and pacing are perfectly modulated, the tone is always even, everything is constructed with perfect deliberation and solidity; the feeling is like being drawn forward inexorably and smoothly on a perfectly natural current. Nothing is out of place or sloppy; nothing seems contrived or a product of authorial laziness or desperation.

Also typical is the intensely atmospheric nature of both books. Sloane appears to do this effortlessly, which makes it all the more effective, but the reader can also be aware of how well crafted and exciting it is, while reading, which is a perfect combination.

To Walk the Night has as its framing device storytelling itself. "Bark" Jones has to explain to his best friend's father all the events leading to and surrounding the suicide of the recently deceased young man.

The two sit outside the father's house on Long Island and talk all through the night and Sloane is excellent at balancing the story with its telling, as well as describing the passage of time through delicate observations of the light on the bay.

The story centers around a strange woman and an even stranger death, practically a locked room murder mystery, though technically not. Ingeniously, Sloane gives the reader vital information about how this first death (not the suicide) occurs, but it's cleverly disguised and presented so up front and center stage that it's hiding in plain sight and I expect most people will simply note it with curiosity and forget about it, as I did, even though Sloane makes a point of bringing it to our attention.

The story builds and moves forward inexorably and has a wonderful climax. While To Walk the Night has less action and more ambiguity, it was my favorite of the two.

Its first line is "The form in which this narrative is cast is necessarily an arbitrary one". The amount of pleasure that sentence gives you is probably a good indication of how much you'll like the rest of it.

The Edge of Running Water is easier to describe: mad scientist tries to build a machine to communicate with the dead, more or less.

Also in there are conflicts between locals and outsiders, science and the supernatural, virtue and vice, grief and love...

It's both more character-driven and more concerned with action and proceeds in a fairly straight line from its beginning to its end. Sloane again likes to end on a note of ambiguity, leaving the fate of two of the characters unknown and almost certainly unknowable.

While perhaps more ordinary than To Walk the Night, The Edge of Running Water is still very engrossing and was a joy to read.

Its first line is "The man for whom this story is told may or may not be alive".
---