2018 November 05 • Monday
The 542nd Soundtrack of the Week is a lovely score we found on viny at Chicago's redoubtable Dusty Groove record shop: Ustad Vilayat Khan's music for The Guru.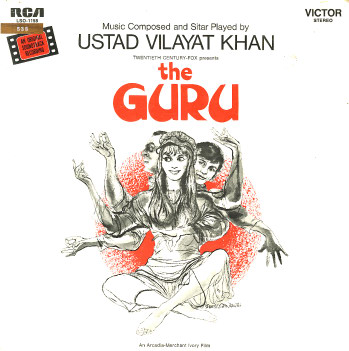 It starts with a main title theme that uses both Indian instruments as well as electric guitar and a drum kit supplying a grooving backbeat. The theme itself is delightful and jaunty, similar in some ways to the "Ode to Joy".

You'll hear it several times on this record, in different arrangements. The second track, "Jenny's Theme", is a more syncopated arrangement of it with the melody played on flute.

"The Haunted Palace" is a suite of four different cues played on traditional Indian classical instruments and is by turns tuneful and textural, atmospheric and intense. There's some incredible tabla playing here, courtesy of Pandit Shanta Prasad.

Khan himself plays sitar while Ustad Imrat Khan, Vilayat Khan's younger brother, is on both surbahar and sitar and Ustad Shakoor Khan plays sarangi.

There are also two vocalists, for the two ragas that close the record, "Rag Malkauns" and "Rag Yanani". There's also an instrumental "Rag Bilawal". All three sound like other Indian clasical music pieces I've heard, as I believe they're intended to.

"Rag Bilawal" is based on the main theme. "Rag Malkauns" is a short number with powerful vocal and violin contributions. "Rag Yanani" is almost thirteen minutes long and closes out the record. It might be based partly on "Tom's Boat Song", which Michael York sings on Side A.

The singers for the ragas are Ustad Zinda Hasan Khan and Ustad Fayez Ahmed Khan.

It's an excellent record, very different from the Bollywood soundtracks I've listened to. I'd like to hear more like this.
---