Rob Price
Gutbrain Records
rob + gutbrain.com = email
---
Found on the street in Park Slope, this copy of Clan of Death: Ninja, a 1981 book that somebody adorned with a 2015 Man Booker International Prize Winner sticker. That's my kind of stickering.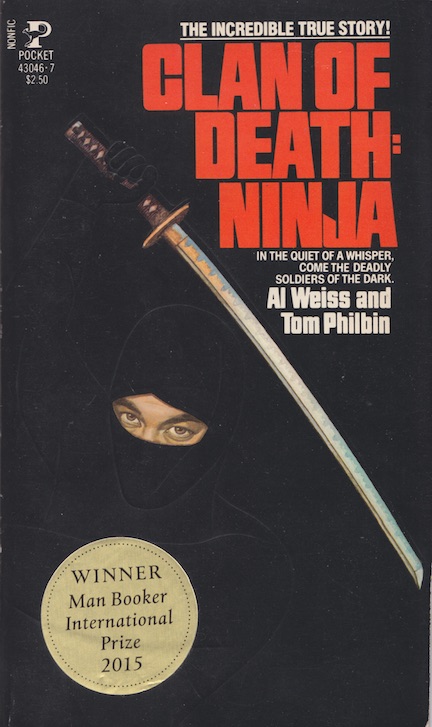 ---
2016 June 27 • Monday
I sure as hell didn't think much of Deadpool when I saw the trailer for it. I had a similar reaction to the Guardians of the Galaxy trailer.
And I was totally wrong both times! I loved both movies, watched them a few times and look forward to watching them again. Deadpool was so much fun that its music, by Tom Holkenborg, a.k.a. Junkie XL, is our 419th Soundtrack of the Week.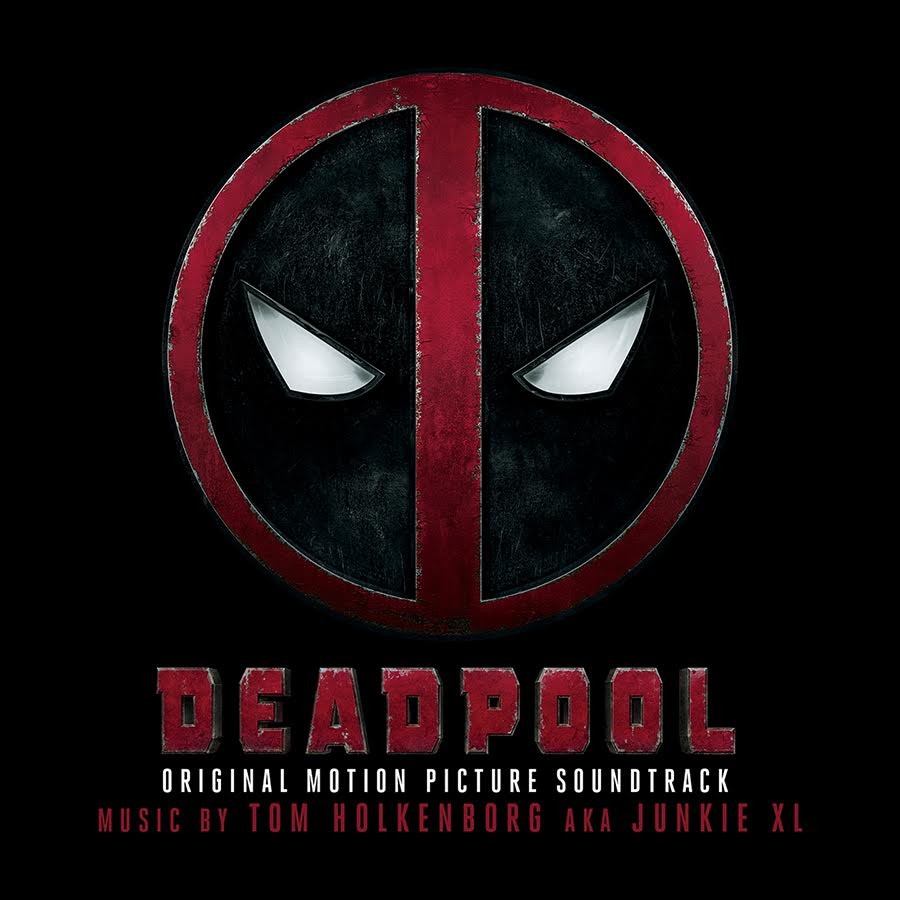 At this point the conventions of scoring a superhero movie must be firmly established. Holkenborg brings a less colorful, steelier sound to his score. Just as Elmer Bernstein's music for Animal House and subsequent wacky comedies was no joke at all, the seriousness of the score making the humor in the film funnier (just as humor in horror films or tragic dramas make those stories more powerful), Holkenborg isn't fooling around.
Everything in Deadpool is a joke except for the score, which is composed and presented with a completely straight face. Considered on their own, they sound like music for intense action, brooding, tension, suspense, drama. This music combines with the throwaway humor and cheerful vulgarity of the film to make a perfect blend.
There are also a few artfully chosen songs.
The opening credits, in which people's names are replaced by descriptions, such as "A British Villain", "A Hot Chick", "Produced by Ass Hats" and so on, is a bravura sequence in which one moment of the insane opening action scene is frozen in time while the camera inspects each part of it. This is accompanied by Juice Newton's "Angel of the Morning", later revealed to be playing on a car radio in the scene.
Salt N Pepa's "Shoop" was used in the trailer and has the perfect tone for the movie and the character: lighthearted and raunchy and not taking itself seriously.
The inevitable love story part of the movie, obligatory but handled deftly with no time wasted, is amusingly accompanied by Neil Sedaka's "Calendar Girl" and George Michael's "Careless Whisper".
The big showdown is launched with DMX's "X Gon' Give It to Ya", another seamless fit for the tone and action on screen.
Then there's the original song, "Deadpool Rap" by Teamheadkick, which plays for a middle sequence in which Deadpool has just become Deadpool and thrown himself into his quest for vengeance and salvation. It's just great.
The whole damn thing is just great.
---
2016 June 24 • Friday
My favorite newspaper headlines in a movie from 1973! Most recent one I've seen by a long shot! Period piece, of course, which no doubt accounts for it.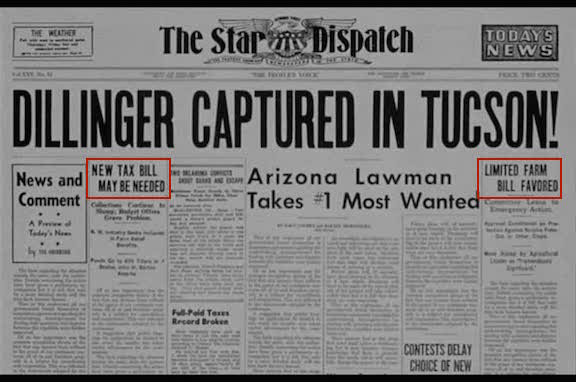 Dillinger (1973)
---
2016 June 22 • Wednesday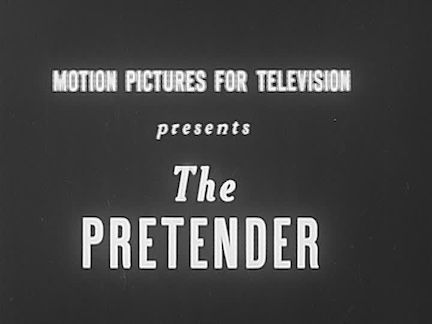 The Pretender is a great suspense film from 1947, a triumph of fatalistic irony. It's not quite as good as Hollow Triumph (a.k.a. The Scar) in that respect but it's in the neighborhood!

The reason I raced to watch it as soon as I could was that it had been shot by the great John Alton. Any movie he photographed is worth a look. I was surprised and delighted to discover that Paul Dessau's score was going to feature the theremin, played by the legendary Samuel Hoffman!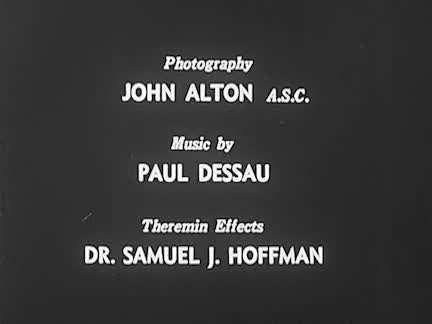 Hoffman had quite a career. He played theremin for many classic film scores, including The Day the Earth Stood Still, Lost Weekend and Spellbound. He also played theremin on Captain Beefheart's Safe as Milk album.
He was a podiatrist by trade until he quit his day job to go pro with the theremin, which is why he's "Dr." Samuel J. Hoffman.
But what about this movie? Well, it's short and sweet with twists and turns. In its plot, mood and use of voice-over narration it's very much in sympathy with the contemporary radio show Inner Sanctum and could have been adapted for it or from it quite easily.
Kenneth Holden is supposed to be managing a trust fund for young heiress Claire Worthington, but he keeps taking money, tens of thousands of dollars, to cover up his own disastrous business deals.
Finally backed into a corner, he decides the only way out is to marry Worthington so he'd have free and clear access to all her money.
When he comes to this decision, Alton brings the camera in close on his face and changes the lighting, letting the shadows suggest both that we are entering his interior as we hear his thoughts in voice-over and that his motives are becoming dark.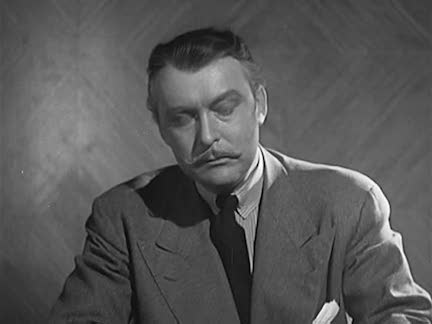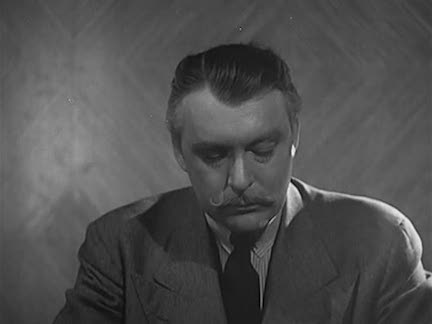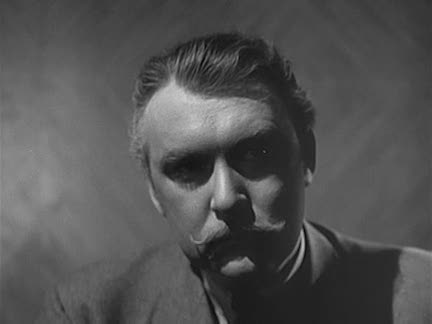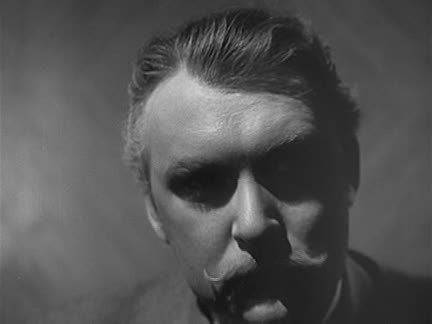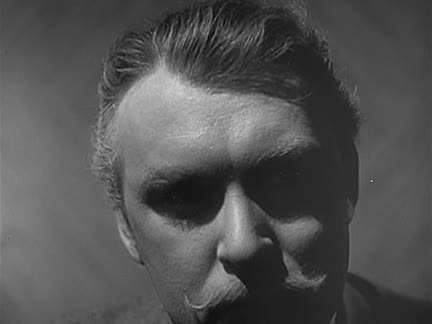 Of course there's a problem. She's preparing to marry somebody else and she's only ever thought of him as a paternal figure.
Desperate, Holden makes contact with a gangster to have Worthington's fiance murdered. Holden doesn't know the man's name but the engagement will be in the newspapers. Just kill the man named in the society pages and Holden can get Worthington on the rebound.
This all gets arranged but in one of many twists, Worthington breaks off her engagement and agrees to marry Holden after all. So it's his name in the society pages and he's just contracted his own death...
The images and the music are reward enough for watching this movie but it's also remarkably well written, compact and intelligent and perfectly paced.
Here's one shot I particularly admired. Holden is on the phone trying to cancel his own assassination. He's starting to lose his mind to dread and paranoia. Alton frames this so the model ship in the foreground looks like a sword pointed at Holden.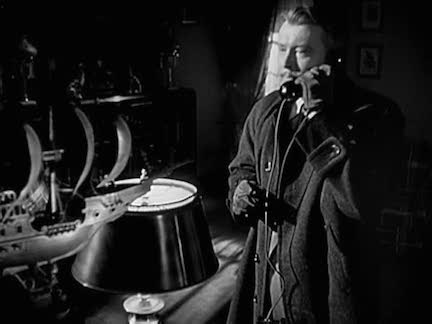 Menace and the threat of death are everywhere, in Holden's mind and in the beholder's eye.
Here's another sophisticated set-up, as a close-up of a menu becomes a "swipe" edit simply by having the actor move the menu.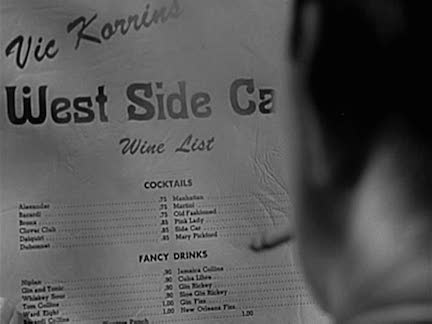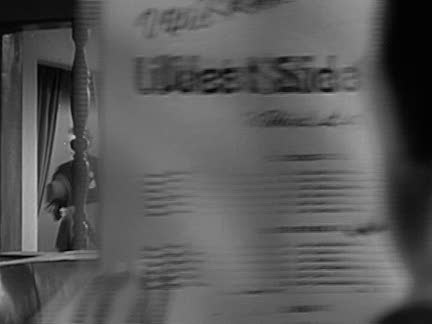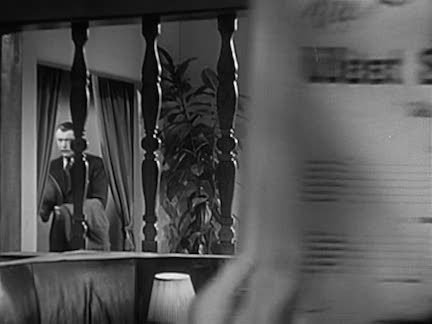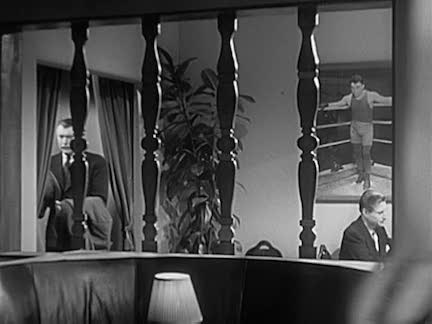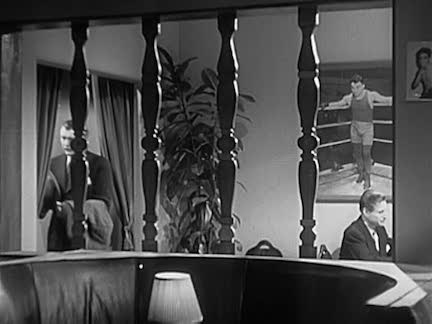 Anything shot by John Alton...
---
2016 June 20 • Monday
Johnny Mandel's score for The Sailor Who Fell from Grace with the Sea, is the 418th Soundtrack of the Week.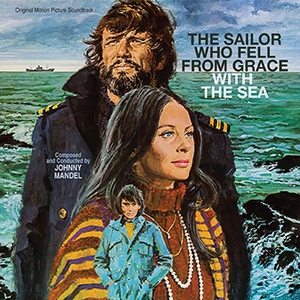 Never saw this movie though I remember being very impressed with the book when I was a teenager and going through a Mishima phase.
The main voice for Mandel's score is electric piano. In fact the first three tracks on the CD are solo electric piano. Strings and trumpet join the electric piano in "Jim's Shark", creating a sensuously eerie and suspenseful atmosphere.
That describes most of this record, actually. Mostly plaintive electric piano statements, often accompanied by strings and trumpet.
There's also an instrumental arrangement of Kris Kristofferson's song "Sea Dream", which I guess is in the movie though the original vocal take isn't on this CD.
---
2016 June 17 • Friday
New to the Gutbrain shelves is this incredible box set Lee Hazlewood Industries: There's a Dream I've Been Saving (1966-1971).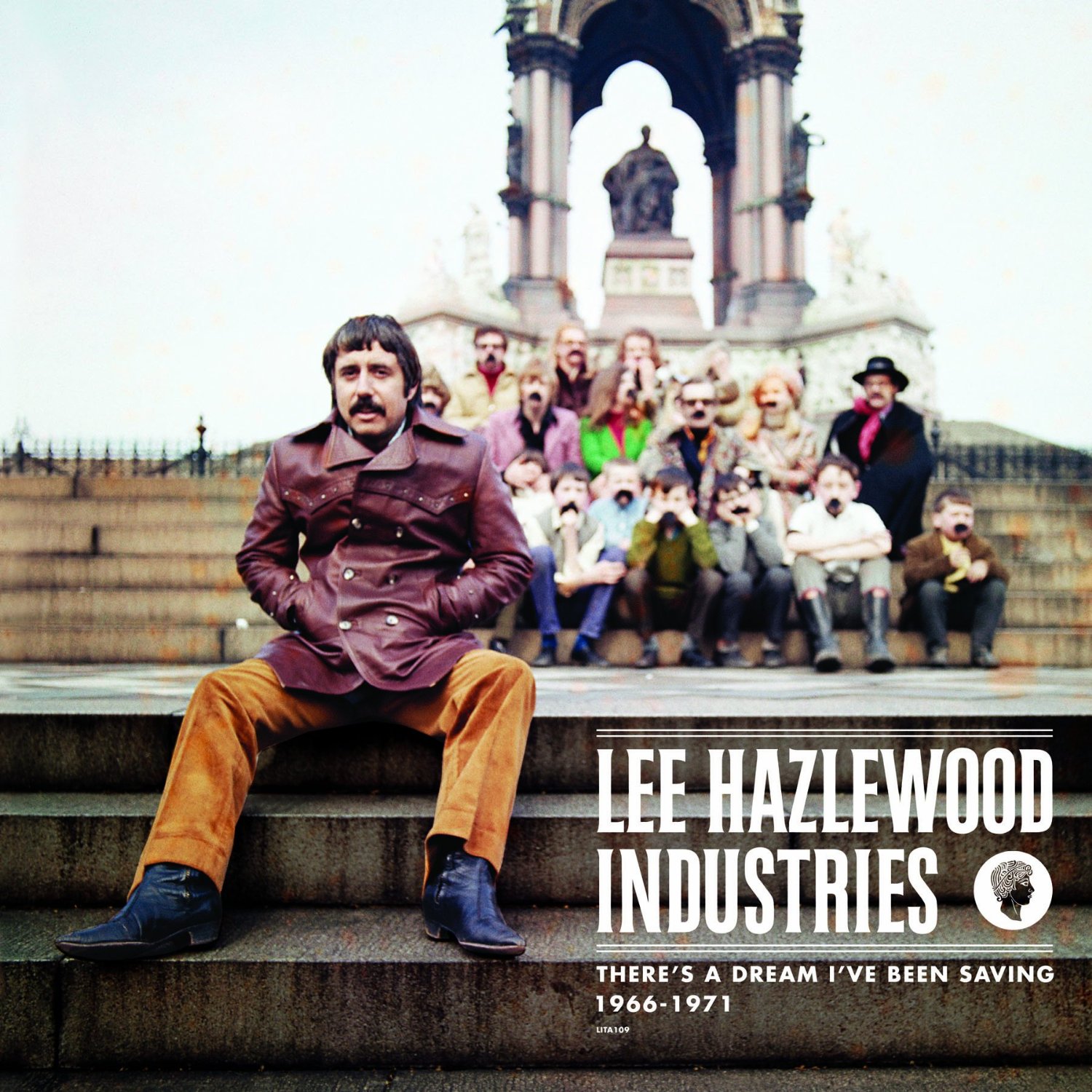 There's so much here! I've managed to listen to all the music, 107 tracks on 4 CDs, but haven't watched the Cowboy in Sweden movie yet, which is on a DVD in there.
There's also a 172-page book, 12" x 12", in the style of Bear Family's magnificent box sets.
On my first pass I found myself drawn more to the songs Hazlewood produced for other singers, especially Ann-Margret. The Handful's "Dying Daffodil Incident" is also a favorite.
But Hazlewood's own voice is heartfelt and soulful even if it doesn't have the range and power of most of the singers he worked with. It's a personal, unique voice, and that counts for a lot.
---
2016 June 15 • Wednesday
Ace just released Shazam!, a great compilation of Lee Hazlewood instrumentals.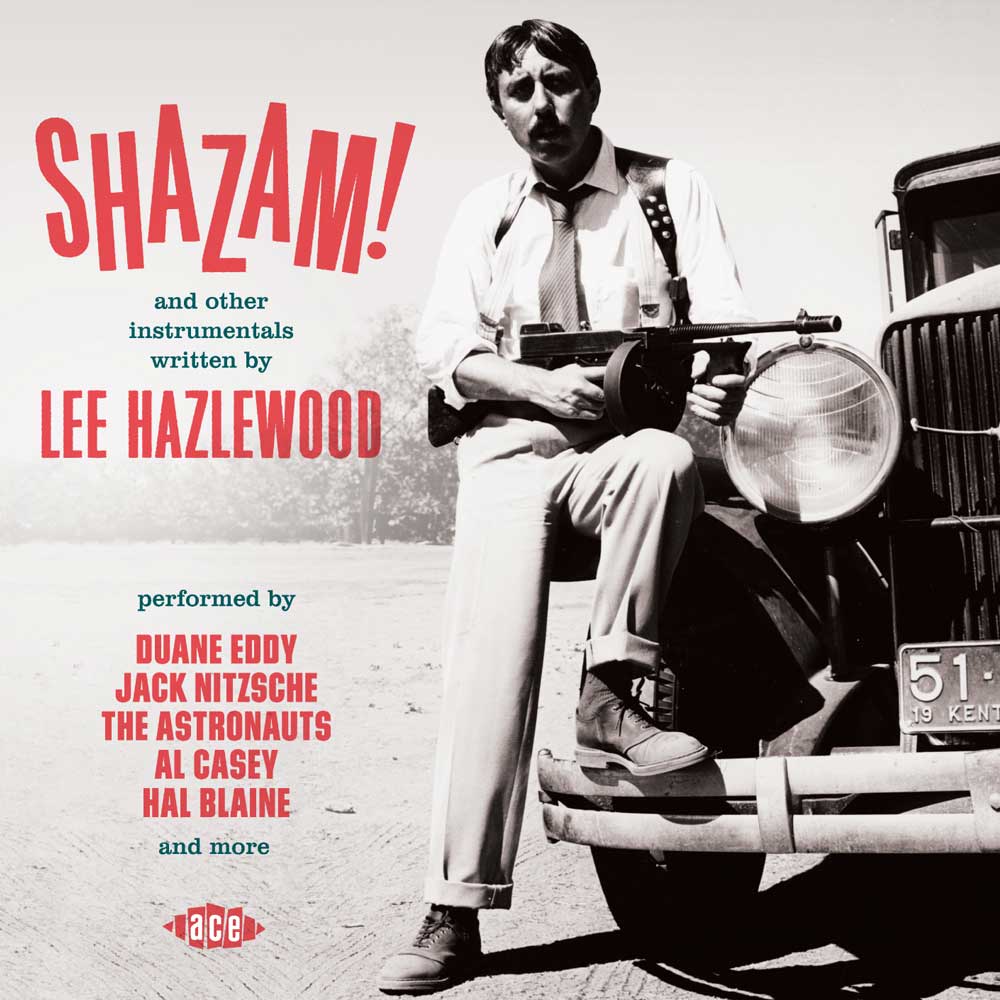 If you're into this kind of stuff, you'll recognize a bunch of these, I'm sure.
While "Baja" is usually linked with The Astronauts, here it's represented by a Jack Nitzche arrangement, heavy on strings and drama with the melody being played on what sounds like electric bass guitar.
The Astronauts get to tear it up with "Movin'", "El Aguila" and "The Hearse" They were such a great band, one of the greatest surf bands of all time, despite being in Colorado! (It's not the best place to catch a wave.)
And just as we don't get to hear The Astronauts play "Baja", expectations are similarly confounded by giving "Rebel-'Rouser" to The Ventures instead of Duane Eddy. It's definitely Eddy's song and it always will be, but it's a relief to hear this version, with it sinewy organ part and buoyant, scrabbly guitar playing.
The twangy Duane Eddy gets the sprightly title track and the very Eddyish "Stalkin'", a moody instrumental that exploits the guitarist's trademark sound and style. The real revelation here is "This Town", an intensely atmospheric tune with strings and piano that builds gradually and increases tension. For Eddy's part, he demonstrates how effective the use of space can be, how using fewer notes can strengthen the impact of each note you do use.
The disc ends with two instrumental covers of very famous vocal numbers. Billy Strange's "These Boots Are Made for Walking" gives the voice to the electric guitar and takes a playful approach to the concept. At one point the band shouts, "Look out, Nancy, here we come!"
And finally there's a Latin exotica take on "Some Velvet Morning" by The Afro-Blues Quintet, with vibes and flute tackling the melody. There was a lot of this kind of thing going around in the early '60s and I love it almost unconditionally.
---
2016 June 13 • Monday
We have to talk about Lee Hazlewood. Let's start with A House Safe for Tigers, our 417th Soundtrack of the Week.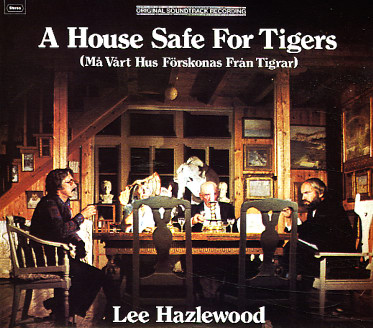 The first song, "Souls Island", presented with Hazlewood's easily identifiable vocal style, is simple but melodically inviting. Part of its central motif is similar to a piece of the Gilligan's Island theme, which could be coincidence, homage or joke. It's reprised later on.
"Our Little Boy Blue" is a tribute to a child's toys and how such things are outgrown.
Then there's a version of the title theme for strings. The album concludes with a vocal take on it performed by a choir.
Sunshiny country rock is a fair description of "Sand Hill Annie and the Russian Mouse", a laidback number more spoken than sung by Hazlewood. A similar vibe prevails in the next track, the slightly more urgent "Lars Gunnar and Me".
"Las Vegas" is kind of an uptempo acid rock Latin jazz disco freak out and "The Nights" is a moody, shadowy number, again more spoken than sung by Hazlewood, apparently about the hardships of life in a Native American tribes, reminiscent in its fatalistic narration of Porter Waggoner.
---
2016 June 10 • Friday
Another great thing about The True Story of Lynn Stuart was that it had my favorite newspaper headlines in it.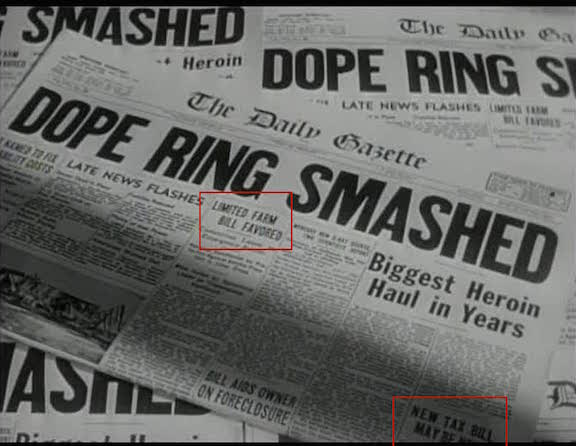 The True Story of Lynn Stuart (1958)
---
2016 June 08 • Wednesday
The True Story of Lynn Stuart (1958) is an interesting and unusual movie.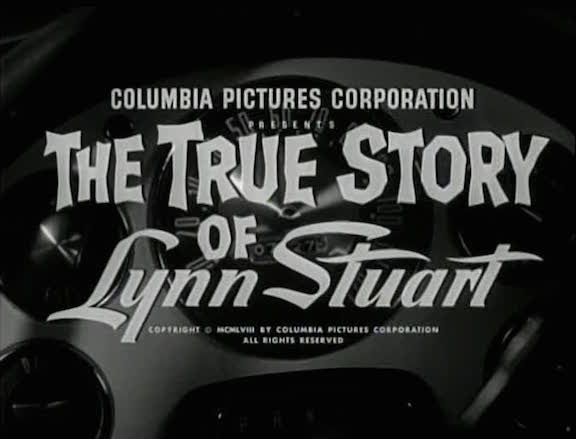 Phyllis Carter is the very picture of the perfect 1950s American housewife, with a loving family in a "nice" and "decent" community. When her sister's teenage son is killed fleeing police and turns out to have been a heroin addict, Carter can't go on with her life as she did before.
She accuses the police of failing to do their job only to be told that they don't have enough men to infiltrate the gangs and reveal who's at the top of the drug supply chain.
Carter can't help give them more men but she can give them more women. She volunteers to serve as an undercover narcotis agent.
When she gets home she tells her husband and he laughs in her face, after which Carter listens to some of the most patronizing and condescending lines in the history of movies.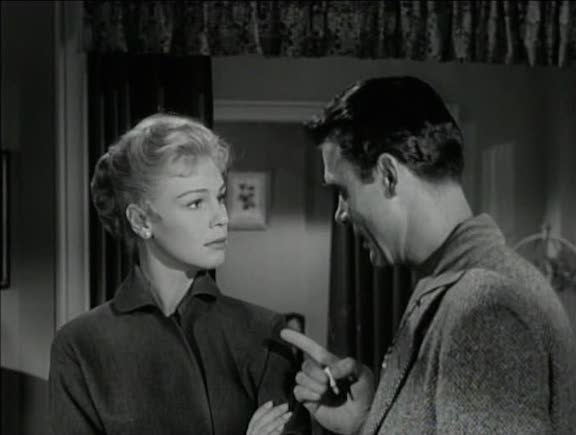 "Well, what's wrong with the idea?" "Oh, nothing, honey, but what do you want to do, put the FBI and the Santa Ana police out of work? They need their jobs!" "I can do as good a job as anybody." "Sure you can. I bet they just jumped at the idea." "Well, no, as a matter of fact, they turned me down. But they may change their minds." "Well, if they do, you take the job. And don't shirk your call to duty. You powder your pretty little nose, you give your girdle a good yank and you go after dem dirty rats, both guns a-blazin'."
The joke's on him, though, because after their only deep cover agent is brutally murdered by a drug dealer played by future Hawaii Five-0 star Jack Lord, the police take Carter up on her offer, supplying her with the alternate identity of Lynn Stuart, an ex-con.
The murder scene itself is shot in an attractively framed deep focus shot, as Jack Lord savagely knifes the informant to death.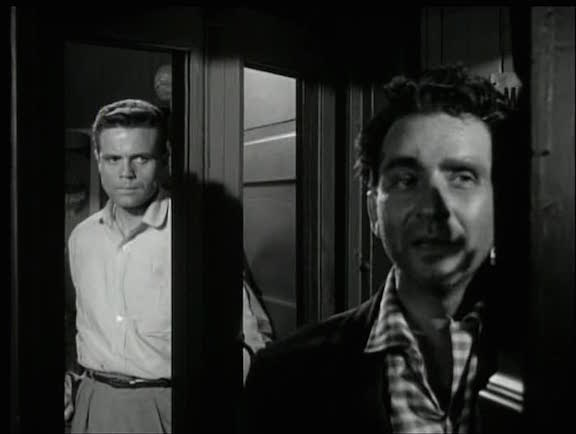 When "Lynn Stuart" meets this man, she has no way of knowing how vicious and dangerous he is.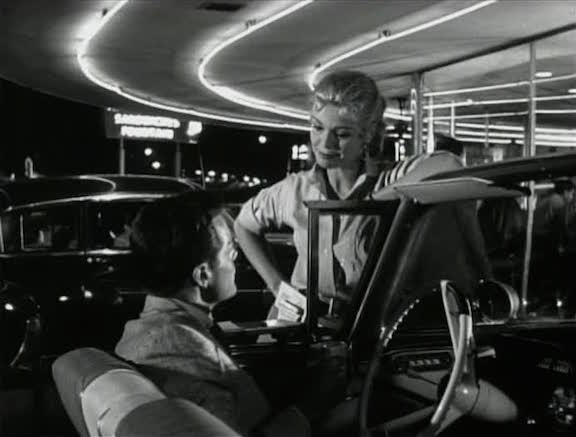 In addition to its unusual feminist storyline, which is somewhat diluted by stressing that Carter's first duty is to her husband and that she acts only with his permission, The True Story of Lynn Stuart is also surprisingly frank about violence, sex and drugs, showing both blood and needles, not something we're used to seeing in movies from the 1950s.
It's also not an unrealistic story about a superwoman. Carter/Stuart unexpectedly witnesses a triple homicide at close range, an event which shocks her into a breakdown. Meanwhile, her son is in the hospital with pneumonia and another ex-con woman who knows the real Lynn Stuart is on the verge of blowing her cover...
This is apparently based on a true story that, according to Wikipedia, is more hardcore than the movie version.
---
2016 June 06 • Monday
The 416th Soundtrack of the Week is the score for one of my favorite movies, The Long Good Friday, music by Francis Monkman.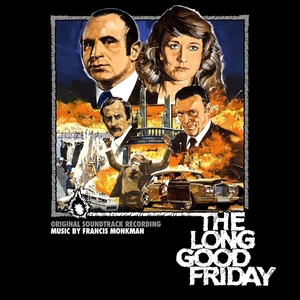 This is one of the greatest gangster movies of all time, and Monkman's urgent, propulsive score, which successfully fuses several styles of music, is one of the ingredients that make up such an arresting viewing experience.
The main title theme combines a prog rock keyboard part with a kind of sleazy and lilting saxophone line. (Since Monkman was in the bands Curved Air and Sky, this isn't so surprising, I guess.)
For "Overture" Monkman uses a drivingly rhythmic keyboard line to create momentum and tension at first but then opens up the sonic landscape, creating spaces which can be filled with other moods. Some of this might remind you of Goblin's best work.
Most of the cues make use of these two themes, though there is the rather wonderful reggae song "Talking to the Police" which features the vocal talents of Bob Hoskins!
There's also a guitar performance of Bach's "Sarabande in B Minor" and a flamenco piece.
This is amazing music and a joy to have on CD. This two-disc edition has remastered stereo tracks with snippets of dialogue from the film mixed in on one CD and the original mono recordings, just music, no talking, on the other.
---
2016 June 03 • Friday
There was only one Lesley Gore but if there had been three, they could have been something like The Murmaids.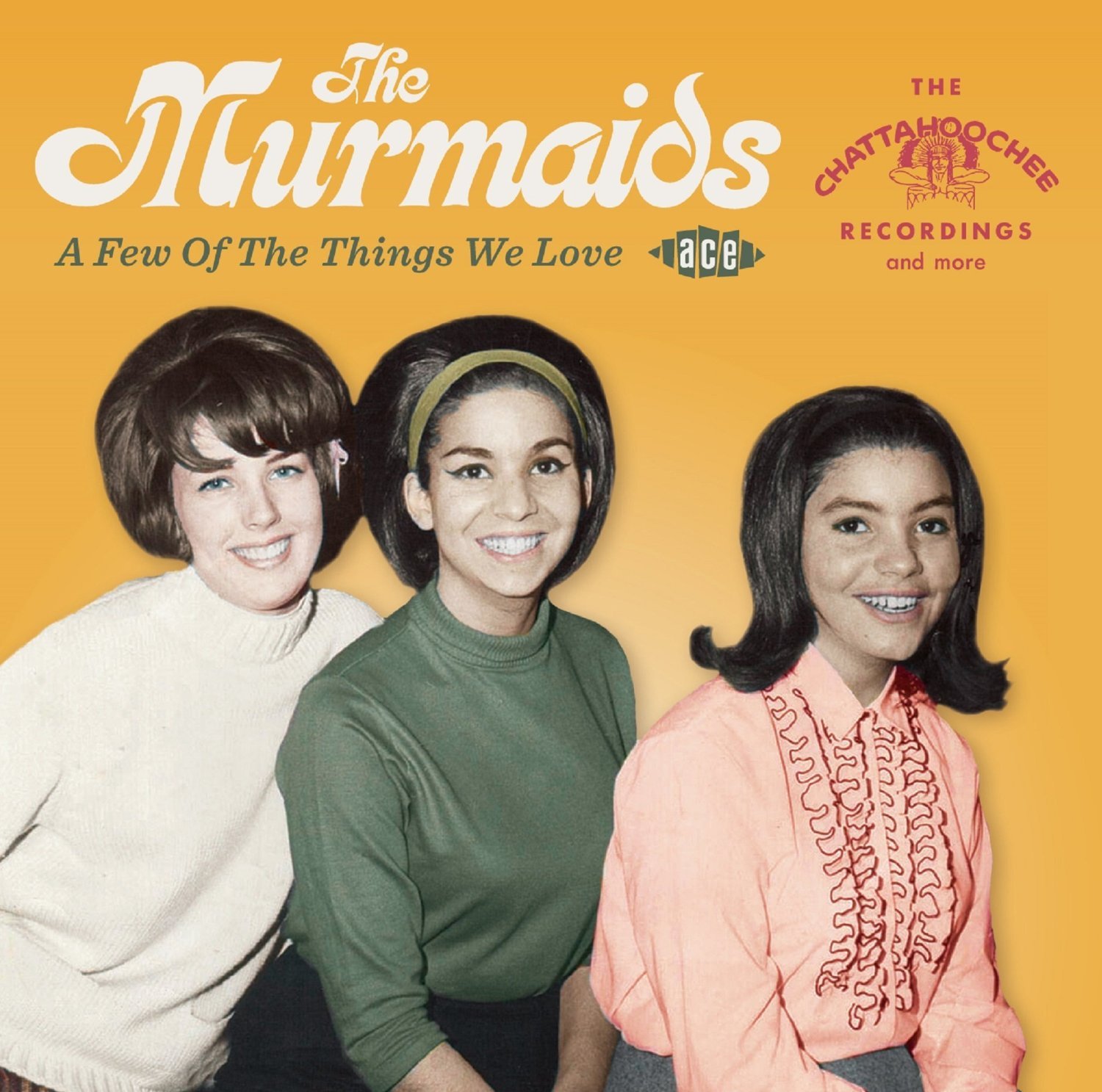 Thanks to the seemingly indefatigable people at Ace Records, we can easily survey the career of this interesting female vocal group.
The title of this compilation, A Few of the Things We Love, comes from the lyrics of their one hit, "Popsicles and Icicles", a bewitching and effervescent tune that, with its yearning voices, unusual keyboard sound (a Farfisa?) and some unexpected harmonic movement, could be classified as sunshower pop.
After this comes "Wild and Wonderful", which finds a more prominent place for the keyboard and some enticing lyrics: "Wild and wonderful / Like a lion's roar / Like a shooting star / Like a raging storm / That's the way things are / Loving you". It's easy to imagine Lesley Gore singing this one.
"Heartbreak Ahead" continues in this vein and, perhaps in a nod to rock and roll history, rhymes its title with "rocks in your head".
Things get a bit weirder with "Bull Talk", which finds the group their own take on pig Latin for verses (adding "bull" to the end of each word) and then telling us in the chorus to "use that bull talk". Novelty song lovers, take note!
"Paper Sun" is cleverly related to "It's Only a Paper Moon" and "Alone" sounds like the result of cross-pollination between "Blue Moon" and "Lolita Ya Ya".
It's hard not to listen to the intensely sweet yet somehow eerie childhood anthem "Stuffed Animals" without thinking it should have been in Blue Velvet.
After this comes some fishing around in different styles, perhaps in search of that elusive prey, commercial success. There are Spector-like numbers, jazz-tinged arrangements, a rejection song ("Go Away", perhaps an echo of Lesley Gore's "Leave Me Alone"), songs with psychedelic and Motown influences, an acid country hymn waltz ("Song Through Perception"), covers of other people's hits and so on.
There's no denying the enchanting quality of their voices, the offbeat nature of their songs and the dizzyingly colorful feel of their arrangements. It's a surprise that they weren't more popular. They might've been just a bit too strange, a bit too interesting.
---