Rob Price
Gutbrain Records
rob + gutbrain.com = email
---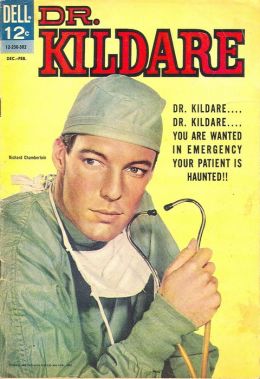 ---
A while back I wrote about how I was pleasantly surprised by The Collector, a recent horror movie that was more or less of the "torture porn" genre but with more wit, a better story and characters with plausible motivations. I've just been pleasantly surprised by another recent American horror movie, You're Next.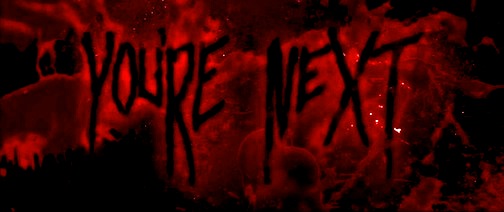 Apparently it was finished in 2011 but only released in 2013. (There's probably a story there.) I remember seeing previews for it last summer. In the preview, Lou Reed's song "Perfect Day" is featured as something playing on CD in the movie. I've always liked that song but it's not actually in the movie. The movie instead uses "Looking for the Magic" by the Dwight Twilley Band.
The photography is very nice, smooth with subdued lighting and muted color tones, similar to Gordon Willis's interior shots in the Godfather movies. More relevant, I suppose, is that it shares this look with the 2008 movie The Strangers.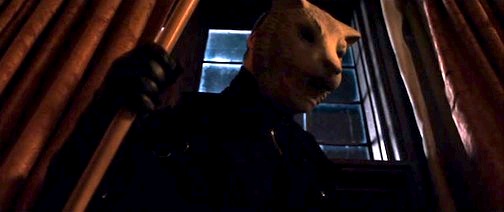 You're Next looked like basically a rip-off of The Strangers, which itself was very, very, very similar to a superior French movie from 2006 called Ils (Them). Sure enough, it starts out that way and doesn't seem to have anything interesting to offer other than a slightly different gathering of murder victims in an isolated house. The occasion is a family reunion, as sons and daughter come to visit their parents with signifcant others and long-standing resentments in tow.
Barbara Crampton is the mother and while it's great to see her again, the movie really belongs to Australian actress Sharni Vinson. See, when this family gathering comes under attack from murderous psychos wearing creepy animal masks, she seems to be the only one who knows what to do. And this is what makes You're Next so much fun, that it combines the slasher story with the "you messed with the wrong person this time" story.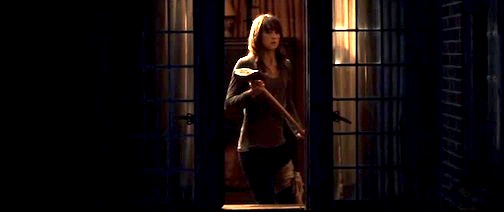 This unexpected bonus is enhanced by an additional twist, a less surprising but still satisfying one, that comes later. Give the people who made this film credit for working harder to make a better horror movie.
---
Quincy Jones's score for The Italian Job is the 333rd Soundtrack of the Week.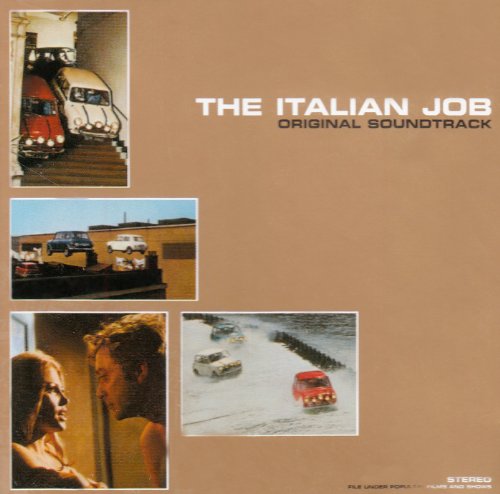 It starts with the lounge pop masterpiece "On Days Like These", sung by Matt Munro, familiar from many a movie theme song (From Russia with Love, for example). There's an instrumental bossa version with tenor sax later on.
There's some pseudo classical underscore type stuff which occasionally quote "On Days Like These" also. It's nice how Jones uses the harpsichord.
"Something's Cookin'" is a laid back and slinky instrumental that could almost be an out-take from a later Booker T. & The M.G.'s record.
"It's Caper Time" is a wild shake shouter which is reprised in a slower, jerkier version as "Smell That Gold!".
The harpsichord really shines on "Greensleeves and All That Jazz", whose title should tell you most of what you need to know. It's very bluesy and has a great sound, just harpsichord, upright bass and drums, with flute joining in the second half.
The main theme song returns again in a wordless vocal version, a wonderfully dreamy cut.
Finally there's a group vocal number called "Getta Bloomin' Move On!", kind of like a pub singalong, with Michael Caine himself among the voices!
---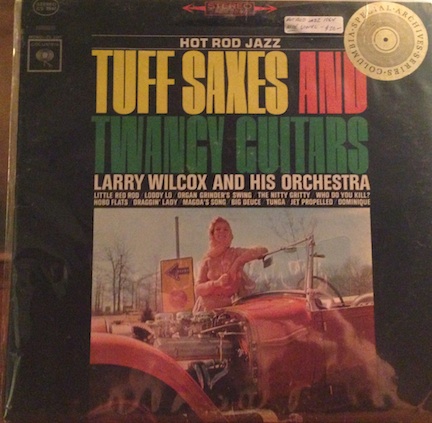 I picked up Tuff Saxes and Twangy Guitars ("Hot Rod Jazz") from the same guy at Comic-con who was selling It's Monster Surfing Time. It had a $20 sticker on it but he took off 20%. It was a deal, in my opinion.
Who's on this record? There isn't a complete list but the musicians include Bobby Scott on organ, Jerome Richardson on flute, Billy Mitchell and Joe Farrell on saxophones, Joe Newman on trumpet and Jimmy Raney on guitar.
"Big Deuce" starts with the roar of engines and then the twangy guitar introduces a swinging stomp with organ and hefty soloing from horns.
Next is "Theme from 'Who Do You Kill'", which is further identified as being from the TV show East Side/West Side, our 318th Soundtrack of the Week. It's a more gently swinging number with a flute solo. (I have to go back the soundtrack album to see if this tune is on it.)
Next is another soundtrack piece, "Magda's Song" from The Victors. This starts with an eastern European sound, similar to Maurice Jarre's theme for The Mackintosh Man. Then it goes into a boss organ jazz blow-out.
"Little Red Rod" starts with a blast of triumphant-sounding music and gets rockin' while maintaining the dramatic atmosphere. This sounds more like soundtrack music than the last two tracks did. It veer unexpectedly into a groovy shake with hand percussion. This track would be ideal listening for fast driving.
Things get a bit mellower after that, with a folksy and Manciniesque tune called "Loddy Lo". This one is a bit goofy for my taste, approaching novelty song territory.
The last tune on Side A is "The Nitty Gritty", a pretty deep soul groover with a tasty organ intro and some choice sax playing. This is the first number swith a guitar solo, too, and it's a decent one, short and sweet.
Side B starts with "Jet Propelled", introduced by the sound of jet engines and some suspenseful use of vibes. Then it goes into a cheery and energetic bit followed by some straight fast jazz with great soloing from the saxes and guitar, who for the first time sounds like Jimmy Raney and plays a pretty awesome solo, taking some risks and bringing a sharp edge to the music. After that there's an organ solo and then back to the top.
"Dominique" is a "Saints Come Marching In" type of song and sounds very restrained after the blasting off of the previous track.
Then there's the "Draggin' Lady", announcing itself with the roar of an engine and the squealing of brakes. Surprisingly, it's a lilting 12/8 tune, rather mysterious in atmosphere.
Next up is "Hobo Flats", kind of a slow, greasy blues and another one with a great Jimmy Raney guitar solo. Nice blowing from organ and other instruments, too.
"Tunga" is a pretty cool name for a song. Does it mean something? Can I use it for a band name? The tune itself features percussion and flute and sounds like a samba to me. Raney is on acoustic 12-string and contributes a choice solo. Either he overdubbed his solo or somebody else is playing rhythm.
The record comes to a close with "Organ Grinder's Swing", a bluesy number with a children's song element to it.
This record was really quite a find. Not only is the music great but the sound quality is also impressive.
---
Here's a record I saw at the Comic-con. The asking price was $75 so I opted to get a CD reissue when I got home.
The idea, I guess, was to have a surf instrumental record equivalent to the Monster Mash album. There was never a band called The Deadly Ones, as far as I know. What we have here is a gathering of studio musicians enlisted to help Vee-Jay Records make a quick buck.
Some of the songs have goofy spoken intros or break-ins, heavily reverbed and camp. The music itself is quite good but lacks the charm and sincerity of many of surf records made by teenage bands with more ambition than acumen.
"The Mad Drummer" has an appealing wistfulness to it that's almost buried by the cheery arrangement. "The Moonlight Surfer" has an almost "Telstar"-like grandeur. "The Lone Surfer" is an appealing "Baja"-like tune with some cool sound effects.
"Raunchy" and "Rebel Rouser" don't fit in with the monster theme but were perhaps added to snare some Duane Eddy fans.
---
Les Felins (a.k.a. Joy House), one of Lalo Schifrin's first soundtracks, is the 332nd Soundtrack of the Week. This is a great score for a satisfyingly twisted French thriller starring Alain Delon, Jane Fonda and Lola Albright; directed by René Clément with photography by the great Henri Decäe.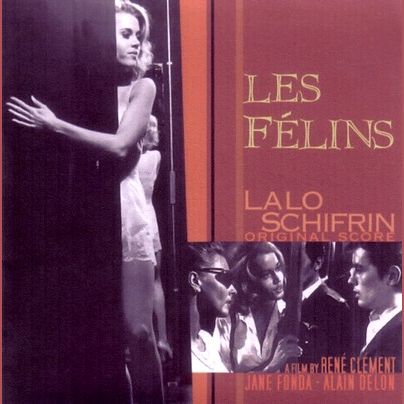 The main title music announces its intentions right away, with the eerie sound of the ondes Martenot, and a slinky and menacing electric bass line. After the orchestra comes in, things get very modern-sounding. This theme, which anticipates Schifrin's music for Mission: Impossible and Enter the Dragon, come back several times.
"Searching and Detecting" starts out with a West Coast jazz feel before flipping into a groovy shake. Schifrin can go from impudently blithe to desperate to survive without blinking, as he does in "Mediterranean Chase".
"Funeral Blues" holds back for a while before busting into full New Orleans style. "Marc Has Company" is extremely tense and features Schifrin's trademark attacking piano lines.
And there's one really spectacular freak-out type of tune, "Melinda", for the big climax at the end of the movie.
---
This is the original Gold Medal printing of Charles Williams's Hell Hath No Fury, later to be reprinted by Black Lizard as The Hot Spot, which name it shares with a 1990 movie adaptation.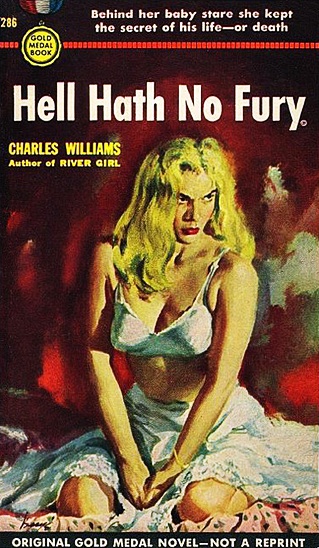 I frequently buy Gold Medal books when I see them but I don't think I have this one. I picked up the Black Lizard edition at Mast Books on Avenue A.
This is a pretty great novel about a tough and angry guy who gets involved in equal amounts of good and bad things in a small southwestern town. The plot involves bank robbery, murder, sexual assault, black mail, embezzlement, adultery and arson. There's also a lesbian character, which is unusual for this kind of book, I think.
Here's how it begins: "The first morning when I showed up on the lot he called me into the office and wanted me to go out in the country somewhere and repossess a car".
There are many, many great lines, such as this description of the woman on the cover, who causes a lot of problems for the narrator: "The teenage dress didn't do anything for that over-ripe figure except to wander on to the track and get run over, and she looked like a burlesque queen in bobby socks".
There are many others I'd quote but I already gave the book to a friend. In addition to hardboiled pulpy writing, Williams also does great descriptions, scene-setting and characterizations. I remember at one point the narrator describing a starry night sky as being like "silver dust across a mirror".
The plotting and pacing are swift, logical and consistent. You could accurately describe this book as lean and mean. It's one of the best of this sort that I've ever read.
---
My friend and colleague Ben Gallina gave me this book, which I read during my San Diego trip.

That's not the cover of the edition I read but I like this cover better. But this is probably the cover of the first edition and should be avoided, according to an author's note to the revised edition that I read. This was Barth's first novel and his publisher insisted that he change the ending and some other parts. The revised edition is apparently the real thing.
I wasn't exactly desperate to read it. I was unmoved by the front cover, the back cover matter and the excerpt up front. I thought the first line was okay but not great. It goes like this: "To someone like myself, whose literary activities have been confined since 1920 mainly to legal briefs and Inquiry-writing, the hardest thing about the task at hand—viz., the explanation of a day in 1937 when I changed my mind—is getting into it".
So it's to be a first novel about a man writing his first novel. Heard that one before.
Two things drove me forward. The first was that it came highly recommended from Ben. The second was that "viz.". You don't see that sort of thing anymore.
It didn't take long for me to become completely absorbed in this brilliant and highly unusual work. The back cover claims that it is "Crafted in what has been called the most literate, controlled prose since Joyce" and while anybody can call anything anything, this seems like a fair judgement to me (though I hardly know anything about Joyce).
The Floating Opera is a compelling and digressive account of, I think it's safe to say, an existentialist character such as the narrator of Camus's The Stranger. This is the American version though: not lean, not laconic, not ambiguous. It's not bursting at the seams or anything. It's got everything it needs in it and no excess. It's a delight and left me thoroughly satisfied, especiall with the ending.
I did worry about the ending. The main point is that Todd Andrews, our narrator, many years ago, decided to kill himself but changed his mind. The changing of his mind is part of a chain of thought that was familiar to me, but the suicide plan took me completely off guard. (This is the part that I suspect was altered for first publication. I'll have to check a first edition.)
Barth knew what he was doing. I found myself noting some rather obvious symbolism in the first paragraph of a chapter, only to be brought up short by the second paragraph.
I smiled and walked on. Nature, coincidence, can be a heavy-handed symbolizer. She seems at times fairly to club one over the head with significances such as this clumsy "life-in-the-face-of-death" scenario, so obvious that it was embarrassing. One is constantly being confronted with a sun that bursts from behind the clouds just as the home team takes the ball; ominous rumblings of thunder when one is brooding desultorily at home; magnificent dawns on days when one has resolved to mend one's ways; hurricanes that demolish a bad man's house and leave his good neighbor's untouched, or vice-versa; Race Streets marked SLOW; Cemetery Avenues marked ONE WAY. The man whose perceptions are not so rudimentary, whose palate is attuned to subtler dishes, can only smile uncomfortably and walk away, reminding himself that good taste is a human invention.
There are many wonderful passages, some good aphorisms and even a foreshadowing of what I expect from J. G. Ballard when Andrews muses enthusiastically on "the attractiveness of desolation, the charm of the abyss". In short, it's one of the best books I've ever read. Thanks, Ben!
---
The 331st Soundtrack of the Week is Ketteiban!: TV Anime Main Theme Original Soundtracks 1963–1968.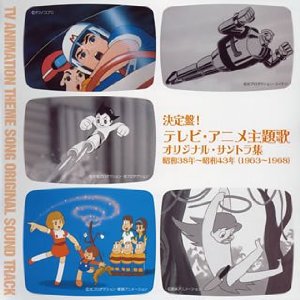 There's a lot of variety in these songs, and a lot more swing than I expected. While there are some gratingly childish themes and too many clunky choruses, as well as many militaristic or anthemic songs, there's also a gratifying amount of music that borrows from surf, mambo, exotica and slinky soundtrack music. And even the squarer numbers tend to have unexpected and unusual things going on in them.
The theme from Wolf Boy Ken combines pounding percussion with a children's choir, a scatting male bass voice, wolf howls a curious piano chord and some blaring horn lines.
The Space Ace theme is notable mostly for its weird and mysterious intro, though the melody, sung by children's chorus, is agreeably catchy. Planet Boy Papi's theme also has a really interesting beginning before going the conventional route with the song itself.
"Leo's Song", has a driving twangy guitar and cool flute melody before the song proper gets started.
"Mambo Magic", the theme from Sally the Witch, combines an operatic baritone with loungey jungle rhythms and some haunting horn lines.
Mach Go Go Go is some kind of mini-masterpiece with its rocking rhythm, sound effects and energetic chorus.
A rocking drum beat and occasional blasts of machine gun fire and frantic surf guitar make "Skaiyaz 5" a memorable tune.
Perhaps the loveliest and most haunting is the theme to a show called "Sabu and Ichi's Detective Memoirs", wonderfully pensive and atmospheric.
But those are just some of the highlights. This double CD has over seventy songs on it!
---
San Diego Comic-con, Friday, July 25, 2014: Lord Business was there.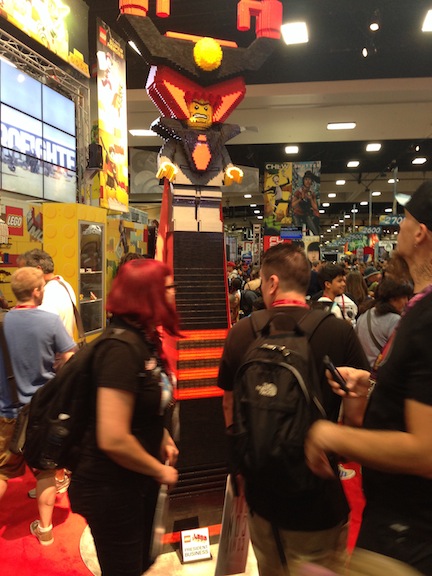 I was admiring this vintage Smog Monster vinyl and somebody pointed out to me that you could see Godzilla reflected in its eyes.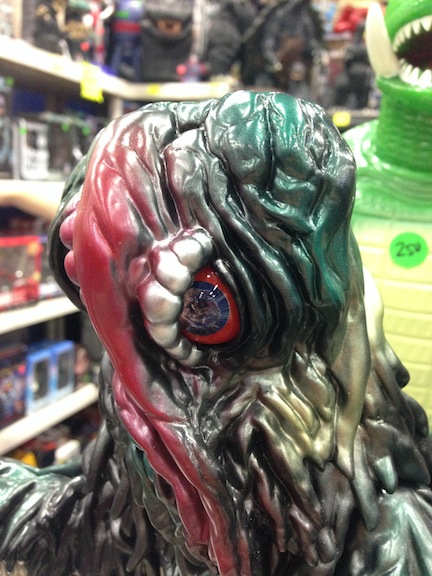 I went to a panel but found it boring and left quickly. Lunch time! My feet didn't feel like doing much walking, so I took a taxi to Tiger! Tiger!, another favorite place. (After that I took the number 2 bus to get between North Park and downtown.)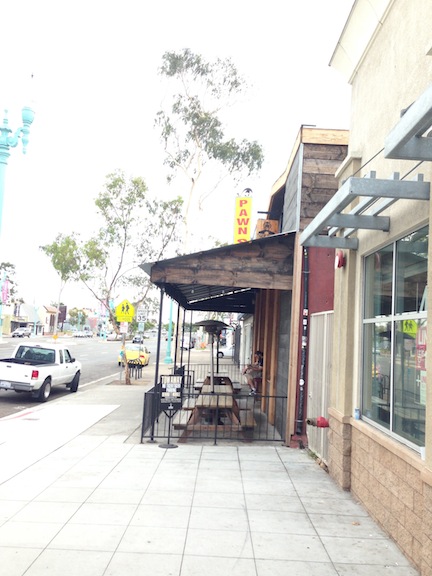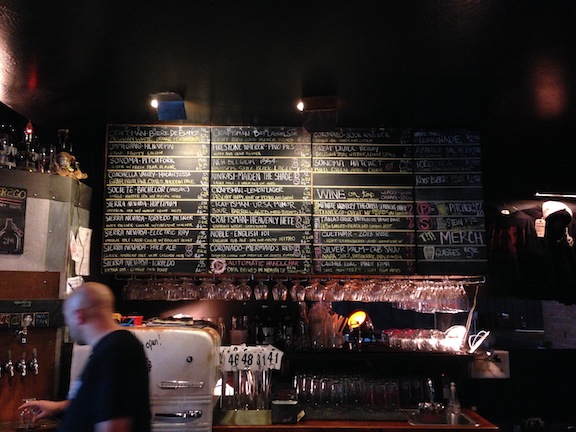 I was hoping for the same amazing BLT I'd had last time, but I had to make do with garlic soup, roasted padron peppers and a pork belly banh mi with chicken liver pate.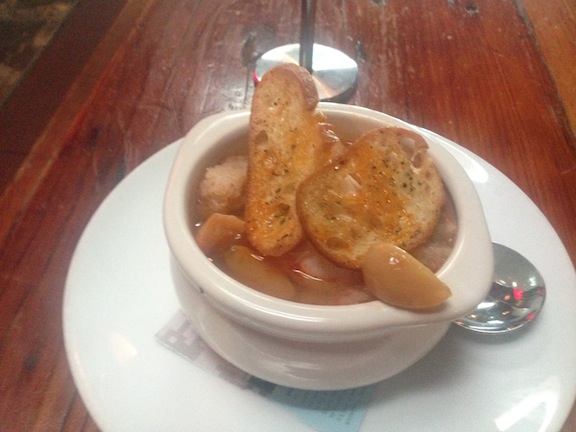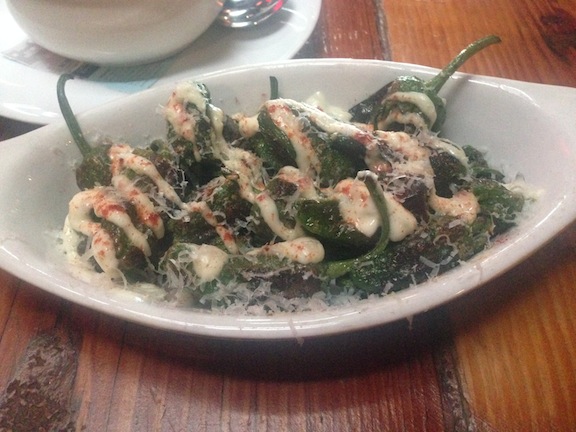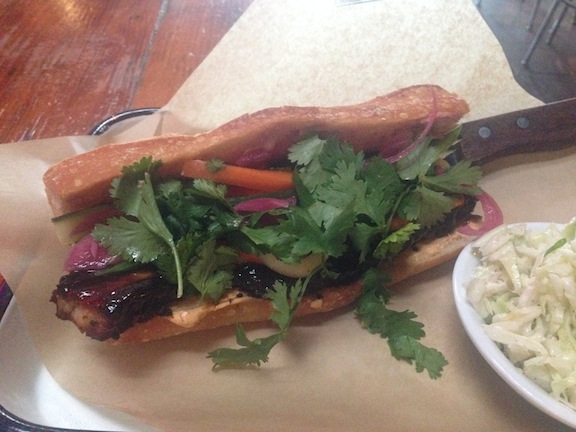 Then I took a bus downtown, saw Lucy and enjoyed it, tried and failed to get into the Archer panel, checked out the exhibition hall and said goodbye to the convention. (Saturday is too crowded for my taste. Thursday and Friday seem to be enough for me, anyway.)
But it's not goodbye to San Diego just yet! I stopped in Modern Times Brewing's tasting room, one of the most nicely designed interiors I can remember seeing.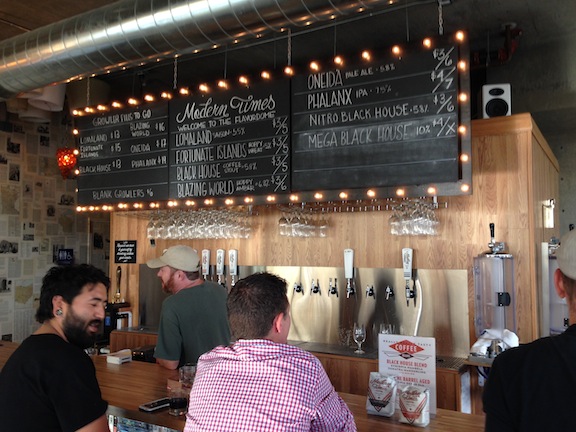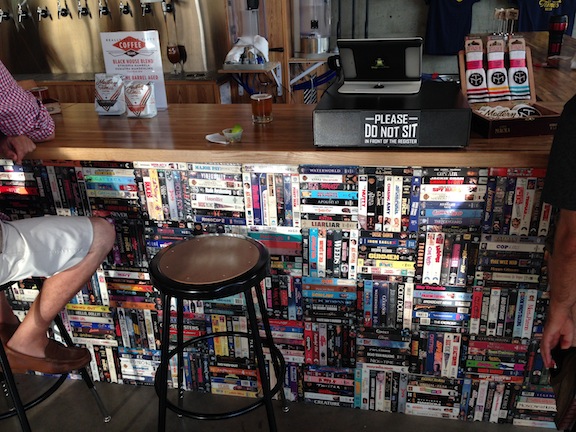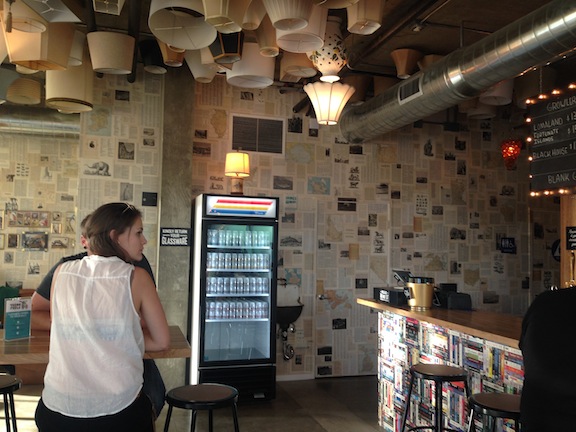 Then it was back to the hotel. I noticed a few of these Bart Club things around town.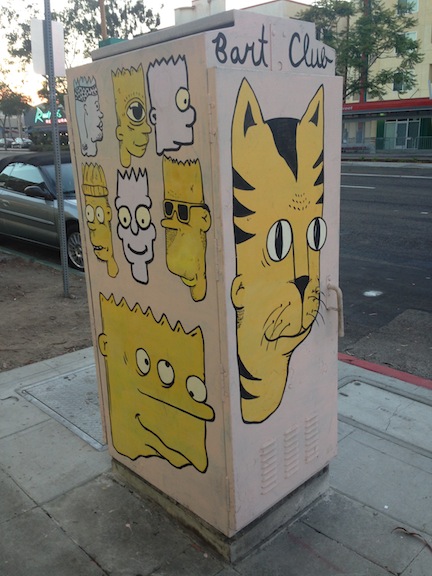 Early the next morning I tagged the Stone Brewing spot in the San Diego Airport but, honestly, I'd had enough beer to last me for a long time by then.
See you in 2015!
---
2014 San Diego Comic-con day two: the actual con!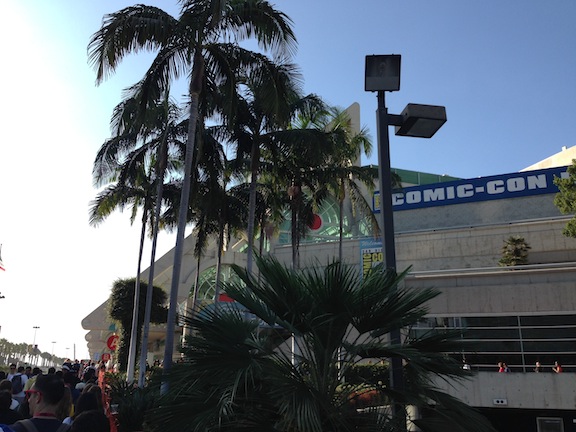 Perhaps you recall that my first day was spent in North Park, drinking a lot of beer and buying a bunch of records. (More on the records later.)
Thursday I wandered down to the con—literally walked the three or four miles from my hotel, through Balboa Park, stopping at a place called Lucy's for huevos rancheros before heading to the convention center.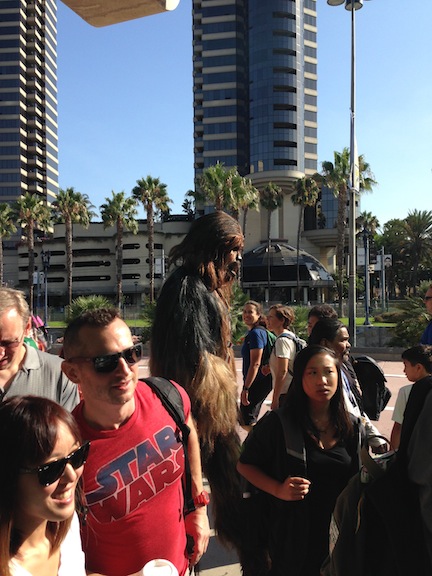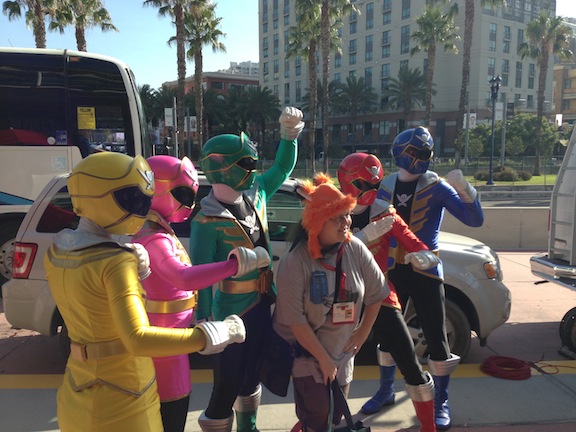 One of the best costumes I saw was on this truck.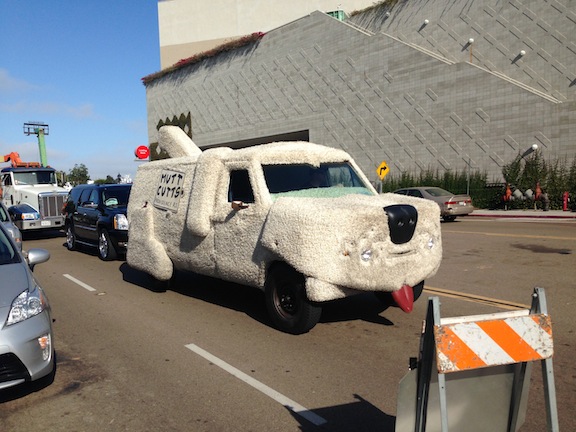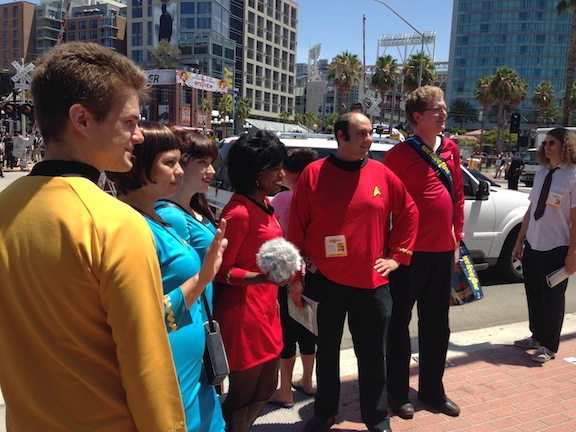 There was a Gotham City zipline and a Godzilla exhibit on the pier behind the convention center.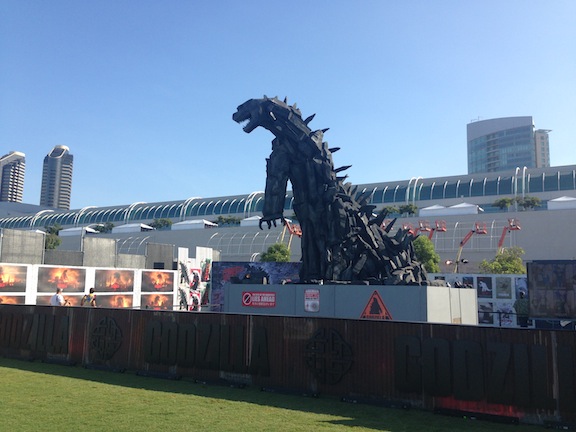 I tried to go to a Godzilla panel but it was canceled. Later I went to a Jules Feiffer panel but Jules Feiffer wasn't there and the people who were there didn't seem prepared to do much without him so I left.
Inside the exhibition hall I was impressed, as I am every year, by the original pulp art and illustration that can be yours for thousands of dollars. I might have bought the Reefer Girl painting if I'd had the money.
I did get this foam Sharknado 2 chainsaw for free, though.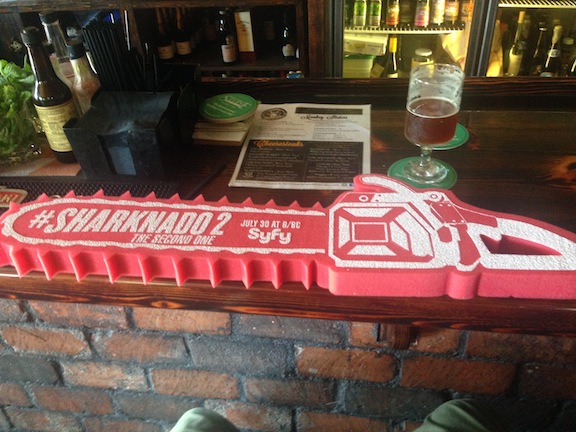 Large groups of people—and just about everything else, now that I think of it—make me want a beer, so I started walkig northeast toward Hamilton's Tavern, one of my favorite San Diego spots. On the way, though, I ran into Monkey Paw Brewing, which is now probably my favorite San Diego spot! (And I think that Hamilton's is their sister bar or something.)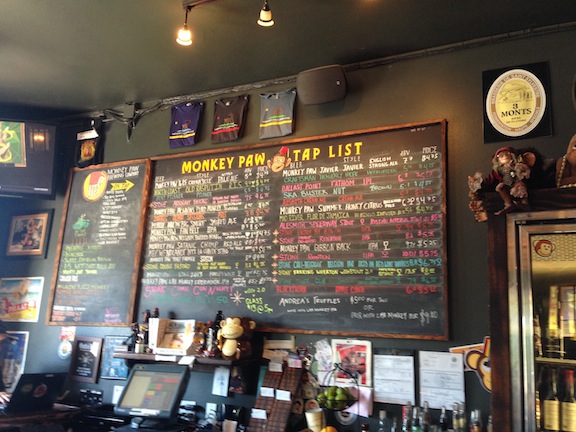 They had the best beer selection of all the places I went to, which is really saying something. The food was quite good as well. I had an awesome cheesesteak there. And they have these amazing chocolate truffles.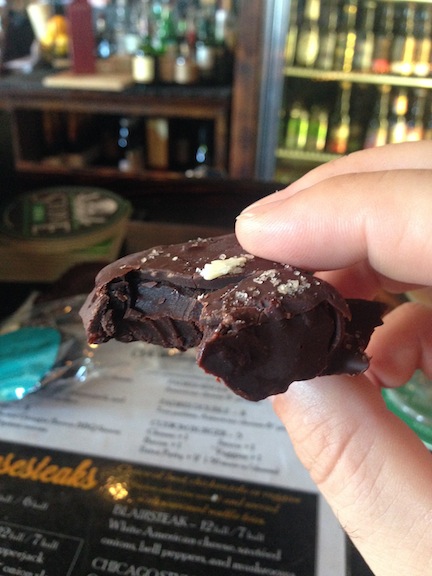 These are handmade by a local woman who uses Monkey Paw beer in the recipe. Every week they give her a different beer to incorporate and you can pair the truffles with the beer at the bar. They were incredible.
The brewery itself is literally on the other side of the wall of the bar.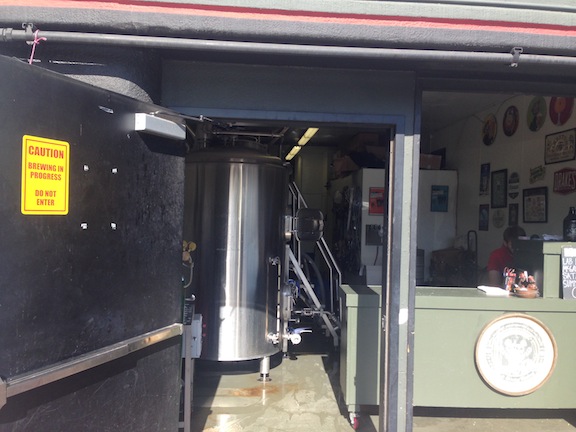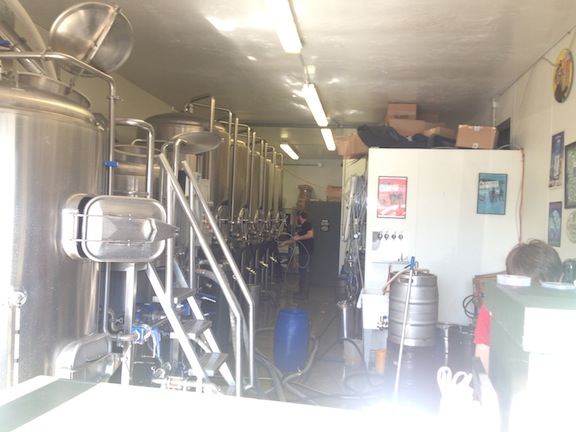 At this point I'd probably had enough to eat and drink but my route back to the hotel—another three or four mile walk—took me past Hamilton's, so in I went.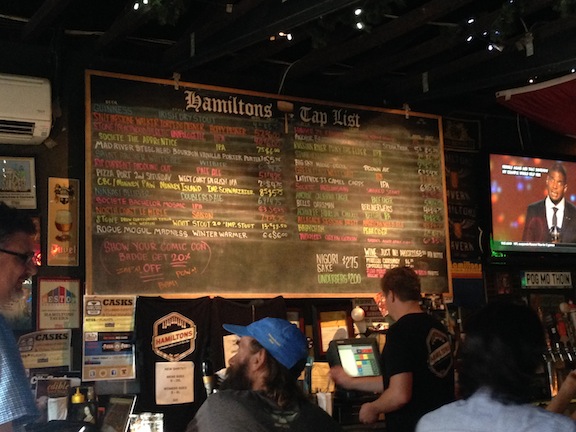 I wasn't exactly hungry but I didn't regret ordering this amazing sausage sandwich.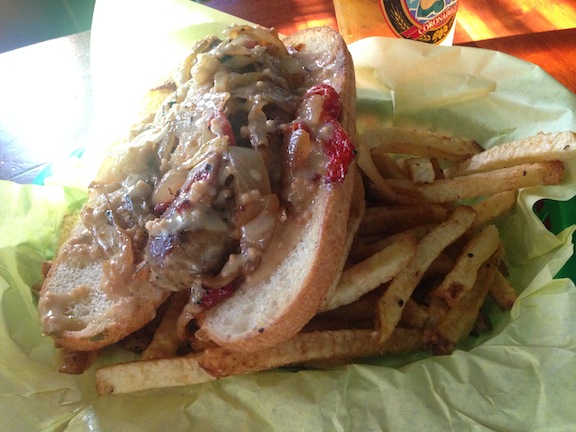 Then it was time to call it a night—after stopping at the Stone Company Store for a couple of small glasses and a t-shirt.
---
Here's our old friend Nico Fidenco again with the score for Zombi Holocaust, the 330th Soundtrack of the Week.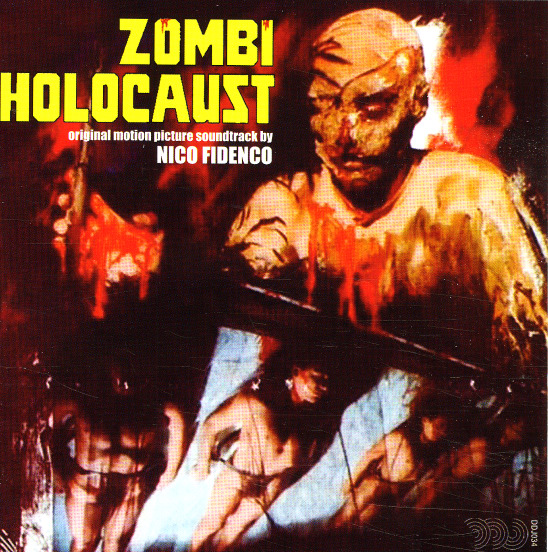 As is often the case, the soundtrack consists of different arrangements of a handful of cues.
"Fascinating Horror" is a textural synth piece, primarily a vehicle for a sense of dread. Then there's "Make Love on the Wing", a lovely, stirring piece which Fidenco has brought over from his Emanuelle film scores.
"From the Beyond" is kind of a disco funk tune that has a bit of "Fascinating Horror dropped into it. "A Dive into the Past" reverses this, dropping bits of "From the Beyond" into a textural synth dread cue. (Other versions of this cue are much more rhythmic and powerful.)
"Living in the Past" is a groovy, laidback tune with a flute melody and some cool electronic sounds. And "Living in the Future" sounds like the futuristic version of it.
Things continue in a mellow kind of disco vein with "The Magic Is in Progress" but get back to synth dread at the end. "Dee Doom Bee Boom" is as cheery as it sounds, with great percussion playing. It's reprised in "Resurrection", which begins with scary synth sounds.
"From Another World" has a slinky groove for mellow but menacing line on top. Finally there's the tribal-sounding "Zombie Parade", mostly percussion, wood flute and voice with a little synth in there.
---
Ah, the San Diego Comic-con! It's an interesting combination of relaxing and strenuous.
The first day was Wednesday, preview night, to which I did not have a ticket. That was no accident. I divide my time between the con and the city and Wednesday was dedicated to San Diego.
For the second year in a row I went from the airport directly to the Toronado, with some pork belly skewers, a burger and a pint of Pliny the Elder.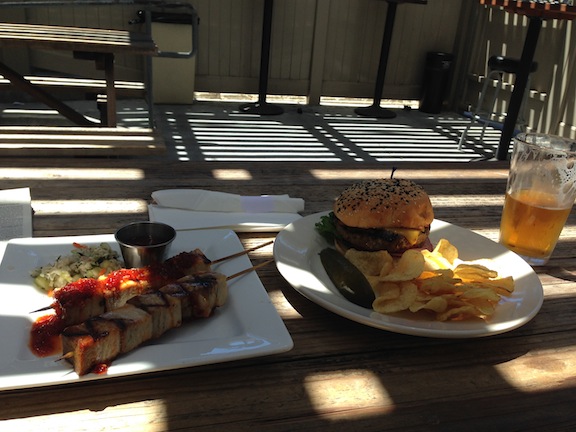 After checking in at the hotel, I visited Nickelodeon Records, a real record shop, run by two cool women who were teenagers in San Diego in the '50s and '60s.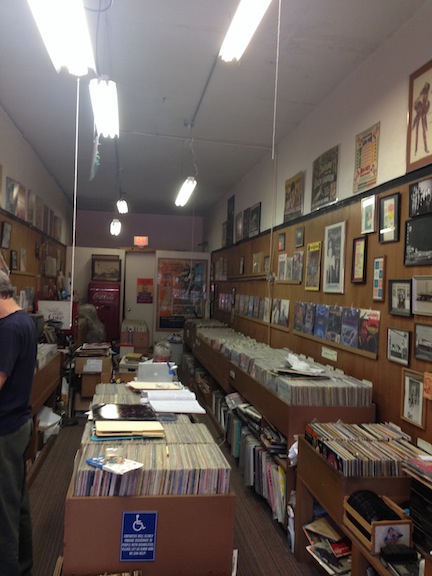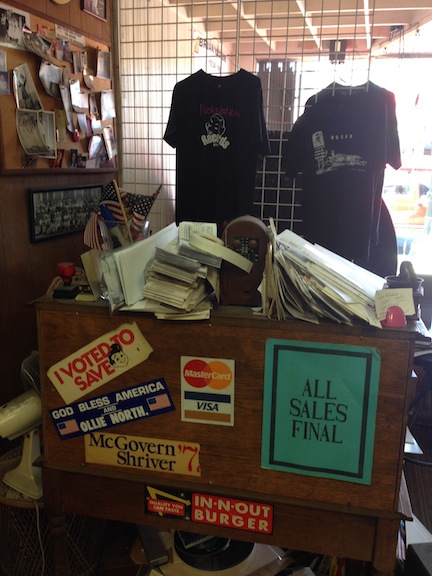 After that I only had to cross the street to pay my respects to Bine & Vine, one of the best places in the country to buy bottles of beer. They have wine and sake also.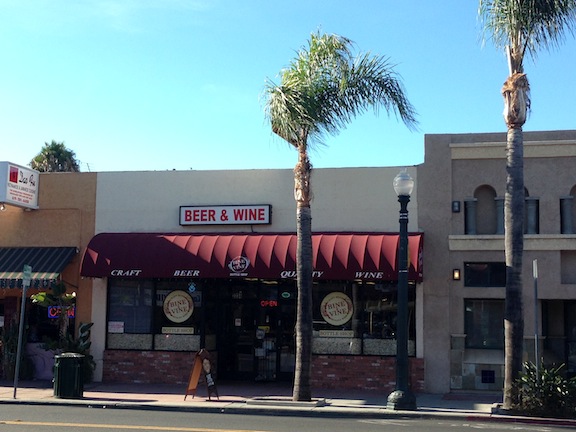 All this walking around in the sun made me thirsty. Lucky for everybody, the Blind Lady Ale House is only about a block away.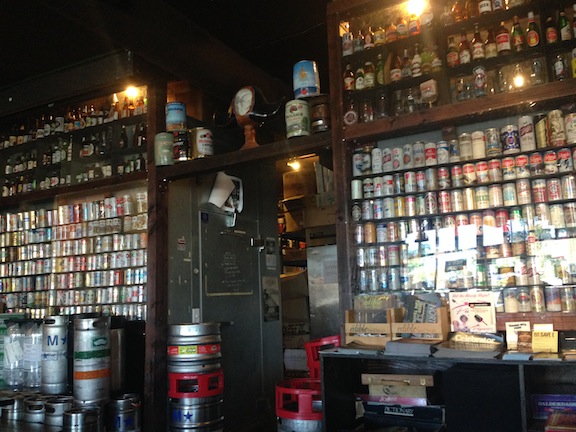 I can't remember what happened after that. There were still several hours left in the day. I should have taken notes.
---