2014 August 22 • Friday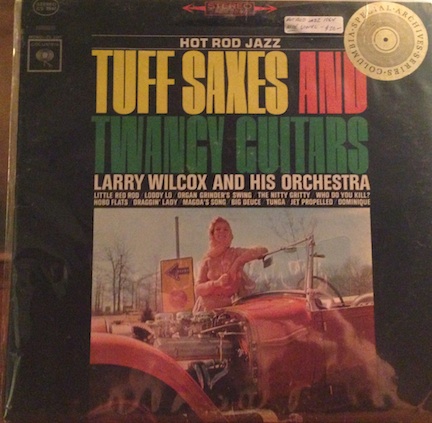 I picked up Tuff Saxes and Twangy Guitars ("Hot Rod Jazz") from the same guy at Comic-con who was selling It's Monster Surfing Time. It had a $20 sticker on it but he took off 20%. It was a deal, in my opinion.
Who's on this record? There isn't a complete list but the musicians include Bobby Scott on organ, Jerome Richardson on flute, Billy Mitchell and Joe Farrell on saxophones, Joe Newman on trumpet and Jimmy Raney on guitar.
"Big Deuce" starts with the roar of engines and then the twangy guitar introduces a swinging stomp with organ and hefty soloing from horns.
Next is "Theme from 'Who Do You Kill'", which is further identified as being from the TV show East Side/West Side, our 318th Soundtrack of the Week. It's a more gently swinging number with a flute solo. (I have to go back the soundtrack album to see if this tune is on it.)
Next is another soundtrack piece, "Magda's Song" from The Victors. This starts with an eastern European sound, similar to Maurice Jarre's theme for The Mackintosh Man. Then it goes into a boss organ jazz blow-out.
"Little Red Rod" starts with a blast of triumphant-sounding music and gets rockin' while maintaining the dramatic atmosphere. This sounds more like soundtrack music than the last two tracks did. It veer unexpectedly into a groovy shake with hand percussion. This track would be ideal listening for fast driving.
Things get a bit mellower after that, with a folksy and Manciniesque tune called "Loddy Lo". This one is a bit goofy for my taste, approaching novelty song territory.
The last tune on Side A is "The Nitty Gritty", a pretty deep soul groover with a tasty organ intro and some choice sax playing. This is the first number swith a guitar solo, too, and it's a decent one, short and sweet.
Side B starts with "Jet Propelled", introduced by the sound of jet engines and some suspenseful use of vibes. Then it goes into a cheery and energetic bit followed by some straight fast jazz with great soloing from the saxes and guitar, who for the first time sounds like Jimmy Raney and plays a pretty awesome solo, taking some risks and bringing a sharp edge to the music. After that there's an organ solo and then back to the top.
"Dominique" is a "Saints Come Marching In" type of song and sounds very restrained after the blasting off of the previous track.
Then there's the "Draggin' Lady", announcing itself with the roar of an engine and the squealing of brakes. Surprisingly, it's a lilting 12/8 tune, rather mysterious in atmosphere.
Next up is "Hobo Flats", kind of a slow, greasy blues and another one with a great Jimmy Raney guitar solo. Nice blowing from organ and other instruments, too.
"Tunga" is a pretty cool name for a song. Does it mean something? Can I use it for a band name? The tune itself features percussion and flute and sounds like a samba to me. Raney is on acoustic 12-string and contributes a choice solo. Either he overdubbed his solo or somebody else is playing rhythm.
The record comes to a close with "Organ Grinder's Swing", a bluesy number with a children's song element to it.
This record was really quite a find. Not only is the music great but the sound quality is also impressive.
---