Rob Price
Gutbrain Records
rob + gutbrain.com = email
---
Here's just one more Dorothy Ashby album to consider.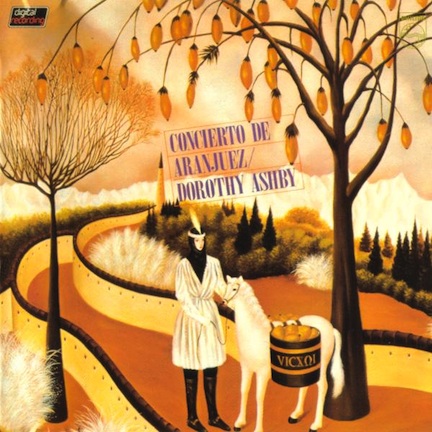 The great thing about this record is that it's Dorothy Ashby solo. There's nothing else going on, just her and her harp. It's a mix of different tunes, the title piece, of course, at about nine and a half minutes. I've never heard that on the harp before. I like it.
There's also "Greensleeves", "Autumn Leaves" some a Gershwin medley, the Beatles song "Yesterday", something called "Gypsy Airs" and "Dear Old Stockholm". It's excellent!
---
Dorothy Ashby is on some other people's records, for instance Body Language for Lovers by percussionist Bobbye Hall.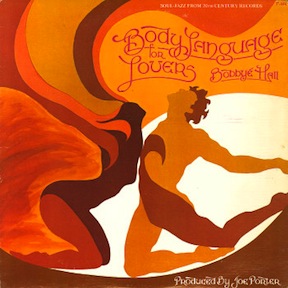 I'd never heard of Hall before but I've heard her a zillion times without realizing it. You have too. She plays percussion on Pink Floyd's The Wall, for example, and also on hist songs by Janis Joplin, Bill Withers, Joni Mitchell, Carole King, Marvin Gaye, Stevie Nicks, Rod Stewart, Diana Ross, James Taylor. She's toured and/or recorded with Bob Dylan, Tom Waits, Bob Seegerm Donovan, Dolly Parton, etc, etc.
Body Language for Lovers is a great record, smooth, mellow, groovy, almost entirely instrumental. It was a really nice surprise. Buddy Collette is also on it, playing sax and flute.
---
My friend Chris Cawthray gave me this record a while ago but I've just got around to listening to it. In addition to being an embryonic Steely Dan album it's the score for an obscure 1971 movie with Richard Pryor in it. Donald Fagen and Walter Becker's music for You've Got To Walk It Like You Talk It or You'll Lose That Beat is the 307th Soundtrack of the Week.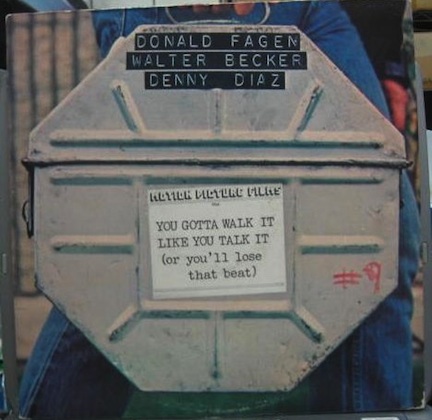 The title song is has a jaunty feel and a hint, perhaps, of the very famous music that Fagen and Becker would write later.
The instrumentals "Flotsam and Jetsam" and "War and Peace" can be described as using Booker T & the MGs' soundtrack for Uptight as a departure point, adding some nasty Stevie Wonder-like keyboard playing, some Sun Ra spaciness and cosmic free jazz freak outs.
"Roll Back the Meaning" has a kind of Grateful Dead meets CSN&Y feel, hippie country rock with harmonizing vocals.
"Dog Eat Dog" has kind of a CCR groove but a different kind of melodic shape. Good guitar solo in this. The first line of the song mentions Red Hook, which is pretty hip for 1970. Fagen and Becker lived in Brooklyn at the time.
"Red Giant/White Dwarf" is a great slow burner of an instrumental, bluesy and a little bit spacey.
The last song is "If It Rains", a sensitive piano ballad. "My eyes scan out around me / As I hear them on the run / Though a thousand lions surround me / I count them all as one."
---
We cast our net for Betty Glamann records and also caught this Dorothy Ashby album.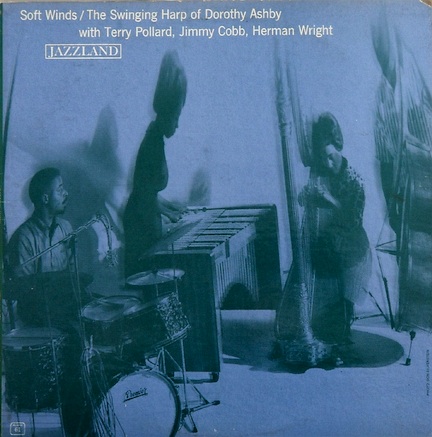 This might be my favorite Ashby recording. I like her best in a small ensemble without flute. Here she's joined on the front line by vibes player Terry Pollard while Herman Wright and Jimmy Cobb make up the rhythm section.
(It's unusual for a jazz quartet from this time to have even one woman in it. To have two is extremely rare!)
The highlight of the record is the swinging version of Dimitri Tiomkin's theme music for The Guns of Navarone. The themes from Laura and Wild Is the Wind also get the treatment, but those are more frequently covered.
---
The search for more Betty Glamann has led to this Johnny Lytle album, People & Love.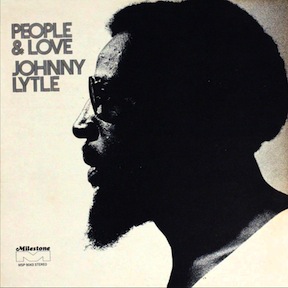 Lytle is new to me. Great vibes player, working with a bunch of funk and soul grooves here. It's 1972 and you can tell. Glamann adds interesting textures and steps out for some melodic playing as well.
It's an awesome record, as is Lytle's earlier The Soulful Rebel.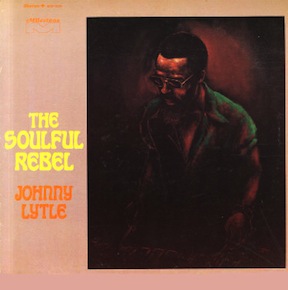 Both have been released on a single CD by the Dusty Groove label.
---
The 306th Soundtrack of the Week is Herbie Hancock's music for Blow-Up.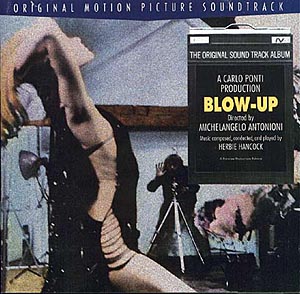 First lets just talk about who plays on this record. Herbie Hancock, of course, but also Freddie Hubbard, Jim Hall, Joe Newman, Phil Woods, Joe Henderson, Ron Carter and Jack DeJohnette. Jimmy Smith seems to be on organ but apparently some say it's Paul Griffin. Maybe it's both of them.
There are definitely two guitars playing on the bluesy "Verushka (Pt. 1)". Did Jim Hall overdub a second part or is there a second guitarist?
The main title piece starts as a 1960s jazz freak out before settling into a groove similar to what you hear on the records by Miles Davis's second quintet, which of course Hancock and Carter were both in.
"Bring Down the Birds" is famous for its bass line, which was sampled by Deee-Lite for their "Groove Is in the Heart" song. If you were alive in 1990, you heard it.
"The Naked Camera" and "Curiousity" also have that Miles quintet feel, particularly since they're arranged for the same instruments.
"Jane's Theme" is a ballad that features Jim Hall. It would fit well on one of his own records, not least because his wife's name was Jane. "The Kiss" is another ballad featuring Hall's crystalline touch.
The tempo gets picked up for some hard grooving organ funk/jazz in "The Thief". Hand percussion adds suspense and urgency to "Thomas Studies Photos", a short cue that fades out. I wonder what more of it might have been played in the studio.
"The Bed" is a gentle piece featuring Hancock's tasteful piano playing The end title music is some hard post-bop jazz.
This CD version of the soundtrack also has a few songs not by Hancock, such as the famous "Stroll On" by The Yardbirds. You see them do it in the movie.
The other songs are "Butchie's Tune" and "Did You Ever Have To Make Up Your Mind" by The Lovin' Spoonful and "Am I Glad To See You" and "Blow-Up" by Tomorrow.
---
One would need more will power than I possess to stop at just one Betty Glamann album. Especially when the second record I came across has one of my favorite tunes both as the first cut and the title!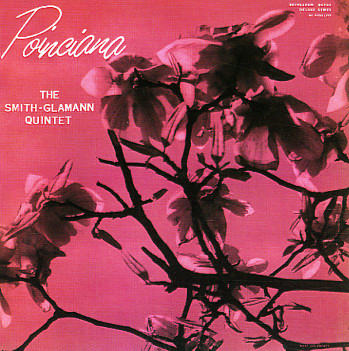 Ahmad Jamal's version of "Poinciana" is the standard against which all others are measured. This recording is excellent, with the harp joined by accordion, bongos and even some Perez Prado-style grunting, making for an exotica and somewhat Mancini like take.
Rufus Smith is on bass again, Barry Galbraith back on guitar, Nick Perito on the accordion and Frank Garisto on drums.
This is another excellent record. I'll be keeping my eye out for anything with Betty Glamann on it.
---
Jazz harp is a pretty small niche. I thought it was just Dorothy Ashby and that I was pretty hip for knowing about her. But recently Betty Glamann came to my attention.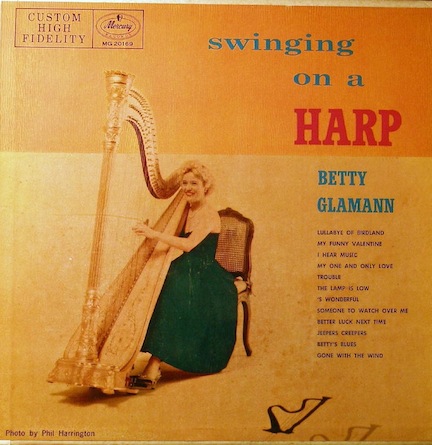 According to the back of this record, Glamann was "first harpist for a symphony orchestra broadcasting twice weekly on NBC" when she was only thirteen years old. After getting a degree in music (and learning French, Spanish and Portuguese) she played harp for the Baltimore Symphony and then for Spike Jones and His Orchestra. From there she moved on to playing for Broadway shows.
She started to get into jazz and made some appearances on television while starting up a combo with bassist Rufus Smith. Duke Ellington apparently got her to join his orchestra after hearing her.
This record is a great collection of standards with a couple of originals by Rufus Smith, who also plays bass. He and Glamann are joined by Osie Johnson on drums, Barry Galbraith on guitar and Eddie Costa on vibes and celeste. It's a wonderful album. Fans of Dorothy Ashby will enjoy it.
---
Deutsche Krimi-Musik Vol. 1 is the 305th Soundtrack of the Week.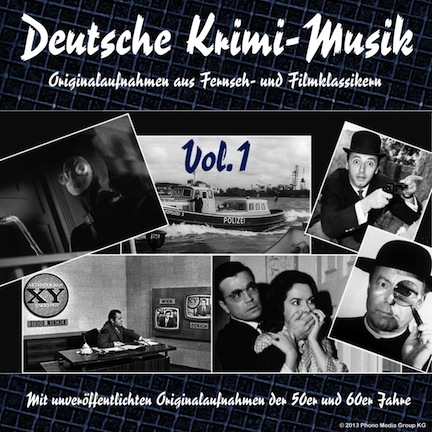 This is by far the best compilation of music for these movies that I've ever heard. The pieces seem to have been selected for lyricism and tunefulness, focusing on swing and rock grooves that support interesting melodies.
Highlights include the alternatingly hopped-up and sultry "Das Mädchen mit den Katzenaugen" by Willi Mattes, Martin Böttcher's lovely ballad "Das Geheimnis der Schwarzen Witwe" (vocal amd instrumental versions, both featuring harmonica), Gert Wilden's surfy "Hotel der toten Gäste" and the sprawling and rich "Ein Mann namens Harry Brent" by Hans-Martin Majewski,
You can hear lots of influences here: West Coast jazz, surf music, flamenco, the Perry Mason theme, The Man with the Golden Arm; even "Greensleeves" gets thrown in.
---
Will 2014 be as good a year for new records as 2013 was? Judging by this CD that just came out on Relative Pitch, I'd say that it has a good chance.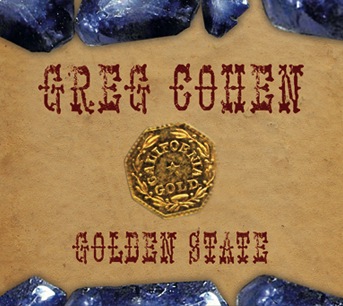 Golden State is Greg Cohen's tribute to his native California. Most of the tunes are original though there are a few covers, such as "South of the Border" and "California Here I Come".
There are only two musicians here, Greg Cohen and Bill Frisell, who plays without any electronic effects, just guitar and amp. These are two musicians I've listened to a lot but I don't think I've ever heard them quite like this. There's a power and a depth to their playing here that strikes me as something beyond their usual strength and produndity.
There have been reports that Joey Baron has declared that this will be the album of the year. I'm inclined to agree. It's just mindblowingly good. Listen to it once and you'll want to spin it one more time right away.
---
2013 may be over but we're still catching up with some of the great records that came out that year. One of the best is Sandy Bell's new CD, When I Leave Ohio.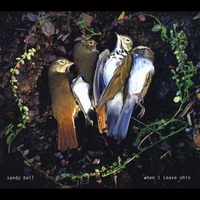 Go to the page and check out the samples. Sandy is one of my favorite people, musicians and songwriters. And Alice plays drums on this CD! You should really just buy it.
The production and arrangements, by Sandy's husband Jeff Lipstein, also one of my favorite people and musicians, are superb.
Each song has me thinking that there couldn't be a better song than the one I'm hearing. Then the next one starts and it's even better, more beautiful, more intense.
---
Nelson Riddle's music for the televeision series The Rogues is the 304th Soundtrack of the Week.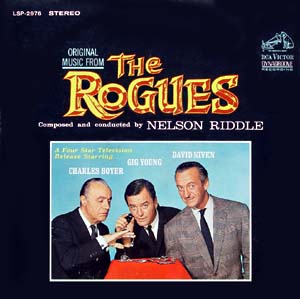 Somewhere in this house I have every episode of this show on videotape. I enjoyed quite a few of them, especially those starring David Niven.
I've had this record for a while. The music is really nice!
Side 1 begins with "From Rogues to Riches", a jazzed up version of the opening theme with swinging rhythm section and some great piano and saxophone soloing. I would love to know who the musicians are but the record doesn't offer any information. In general the feel is similar to Frank Sinatra's early Reprise recordings, so perhaps many of the same people are involved.
"Dame Margaret" starts off with some "classical" harpsichord and chamber group stylings that eventually sway into the main theme.
"Gig", named for series star Gig Young, is a Mancini-like piece, gently swinging and lilting. It would fit into the soundtrack to The Pink Panther quite well.
Speaking of Mancini, the next piece, "Susie", is also in that vein. The opening recalls "The Slow Hot Wind" and the overall feel is similar to Mancini's though Riddle has his own style. The two composers have different ways of using strings and combining orchestral colors, among other things.
"Marcel" is a mischievous piece, another version of the main theme. Then it's rhythm time with "A Rogue in Rio"!
Side 2 continues the sprightliness and bounch of "A Rogue in Rio" with "One for the Rogue". If you like songs like Mancini's "I Love You and Don't You Forget It" you'll like this.
"Chata" is a late-night, slow burn of a tune with some touches that should remind you of those classic Sinatra recordings Riddle worked on. There are a few blasts from the horn section that energize the mood.
A sober version of the main theme opens up "Timmy", a whimsical and somewhat child-like piece. Sensitive solo piano begins "Ilsa", soon to be supported by strings.
A record like this needs a cha-cha or something like it, and "Latin Lady" fits the bill, with its softly persuasive rhythm and smooth, understated saxophone playing.
Finally there's "The Rogues", one last run-through of the main theme. Makes me want to watch the show again!
---