2014 February 10 • Monday
Deutsche Krimi-Musik Vol. 1 is the 305th Soundtrack of the Week.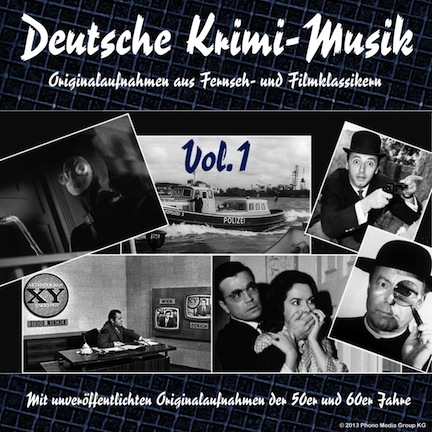 This is by far the best compilation of music for these movies that I've ever heard. The pieces seem to have been selected for lyricism and tunefulness, focusing on swing and rock grooves that support interesting melodies.
Highlights include the alternatingly hopped-up and sultry "Das Mädchen mit den Katzenaugen" by Willi Mattes, Martin Böttcher's lovely ballad "Das Geheimnis der Schwarzen Witwe" (vocal amd instrumental versions, both featuring harmonica), Gert Wilden's surfy "Hotel der toten Gäste" and the sprawling and rich "Ein Mann namens Harry Brent" by Hans-Martin Majewski,
You can hear lots of influences here: West Coast jazz, surf music, flamenco, the Perry Mason theme, The Man with the Golden Arm; even "Greensleeves" gets thrown in.
---