2014 February 24 • Monday
My friend Chris Cawthray gave me this record a while ago but I've just got around to listening to it. In addition to being an embryonic Steely Dan album it's the score for an obscure 1971 movie with Richard Pryor in it. Donald Fagen and Walter Becker's music for You've Got To Walk It Like You Talk It or You'll Lose That Beat is the 307th Soundtrack of the Week.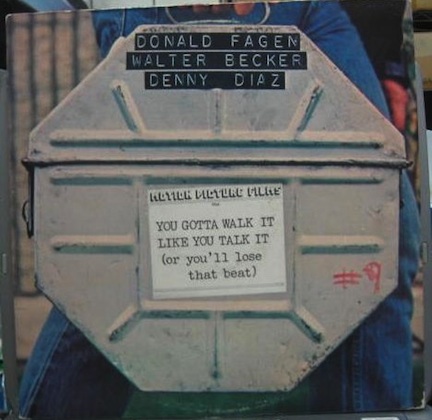 The title song is has a jaunty feel and a hint, perhaps, of the very famous music that Fagen and Becker would write later.
The instrumentals "Flotsam and Jetsam" and "War and Peace" can be described as using Booker T & the MGs' soundtrack for Uptight as a departure point, adding some nasty Stevie Wonder-like keyboard playing, some Sun Ra spaciness and cosmic free jazz freak outs.
"Roll Back the Meaning" has a kind of Grateful Dead meets CSN&Y feel, hippie country rock with harmonizing vocals.
"Dog Eat Dog" has kind of a CCR groove but a different kind of melodic shape. Good guitar solo in this. The first line of the song mentions Red Hook, which is pretty hip for 1970. Fagen and Becker lived in Brooklyn at the time.
"Red Giant/White Dwarf" is a great slow burner of an instrumental, bluesy and a little bit spacey.
The last song is "If It Rains", a sensitive piano ballad. "My eyes scan out around me / As I hear them on the run / Though a thousand lions surround me / I count them all as one."
---