2014 February 17 • Monday
The 306th Soundtrack of the Week is Herbie Hancock's music for Blow-Up.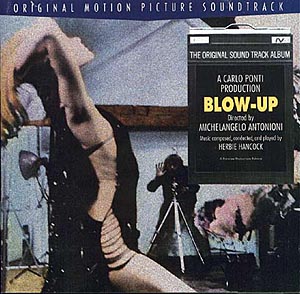 First lets just talk about who plays on this record. Herbie Hancock, of course, but also Freddie Hubbard, Jim Hall, Joe Newman, Phil Woods, Joe Henderson, Ron Carter and Jack DeJohnette. Jimmy Smith seems to be on organ but apparently some say it's Paul Griffin. Maybe it's both of them.
There are definitely two guitars playing on the bluesy "Verushka (Pt. 1)". Did Jim Hall overdub a second part or is there a second guitarist?
The main title piece starts as a 1960s jazz freak out before settling into a groove similar to what you hear on the records by Miles Davis's second quintet, which of course Hancock and Carter were both in.
"Bring Down the Birds" is famous for its bass line, which was sampled by Deee-Lite for their "Groove Is in the Heart" song. If you were alive in 1990, you heard it.
"The Naked Camera" and "Curiousity" also have that Miles quintet feel, particularly since they're arranged for the same instruments.
"Jane's Theme" is a ballad that features Jim Hall. It would fit well on one of his own records, not least because his wife's name was Jane. "The Kiss" is another ballad featuring Hall's crystalline touch.
The tempo gets picked up for some hard grooving organ funk/jazz in "The Thief". Hand percussion adds suspense and urgency to "Thomas Studies Photos", a short cue that fades out. I wonder what more of it might have been played in the studio.
"The Bed" is a gentle piece featuring Hancock's tasteful piano playing The end title music is some hard post-bop jazz.
This CD version of the soundtrack also has a few songs not by Hancock, such as the famous "Stroll On" by The Yardbirds. You see them do it in the movie.
The other songs are "Butchie's Tune" and "Did You Ever Have To Make Up Your Mind" by The Lovin' Spoonful and "Am I Glad To See You" and "Blow-Up" by Tomorrow.
---