2014 February 03 • Monday
Nelson Riddle's music for the televeision series The Rogues is the 304th Soundtrack of the Week.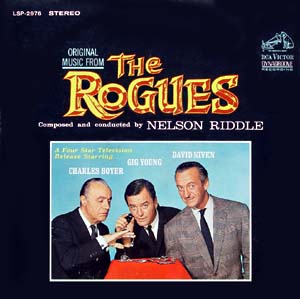 Somewhere in this house I have every episode of this show on videotape. I enjoyed quite a few of them, especially those starring David Niven.
I've had this record for a while. The music is really nice!
Side 1 begins with "From Rogues to Riches", a jazzed up version of the opening theme with swinging rhythm section and some great piano and saxophone soloing. I would love to know who the musicians are but the record doesn't offer any information. In general the feel is similar to Frank Sinatra's early Reprise recordings, so perhaps many of the same people are involved.
"Dame Margaret" starts off with some "classical" harpsichord and chamber group stylings that eventually sway into the main theme.
"Gig", named for series star Gig Young, is a Mancini-like piece, gently swinging and lilting. It would fit into the soundtrack to The Pink Panther quite well.
Speaking of Mancini, the next piece, "Susie", is also in that vein. The opening recalls "The Slow Hot Wind" and the overall feel is similar to Mancini's though Riddle has his own style. The two composers have different ways of using strings and combining orchestral colors, among other things.
"Marcel" is a mischievous piece, another version of the main theme. Then it's rhythm time with "A Rogue in Rio"!
Side 2 continues the sprightliness and bounch of "A Rogue in Rio" with "One for the Rogue". If you like songs like Mancini's "I Love You and Don't You Forget It" you'll like this.
"Chata" is a late-night, slow burn of a tune with some touches that should remind you of those classic Sinatra recordings Riddle worked on. There are a few blasts from the horn section that energize the mood.
A sober version of the main theme opens up "Timmy", a whimsical and somewhat child-like piece. Sensitive solo piano begins "Ilsa", soon to be supported by strings.
A record like this needs a cha-cha or something like it, and "Latin Lady" fits the bill, with its softly persuasive rhythm and smooth, understated saxophone playing.
Finally there's "The Rogues", one last run-through of the main theme. Makes me want to watch the show again!
---