Rob Price
Gutbrain Records
rob + gutbrain.com = email
---
Here's another title to add to the list of remarkable CDs released in 2013. When was the last time so much great stuff came out in a single year?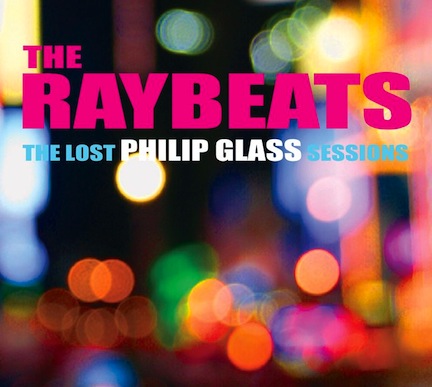 The Raybeats were a great instrumental rock/surf band. My band Ghost Wave used to cover one of their tunes.
Apparently they collaborated with Philip Glass and here's the recorded evidence.
The CD kicks off with "Black Beach", probably because it's the one with the most prominent contribution from Glass. He does his arpeggio thing on keyboard, of course.
All the tunes are really cool. It's nice to have what amounts to a lost Raybeats EP. Possibly my favorite is the moody "Hoodlum Priest", with eerie organ playing and the sound of thunder.
---
Carlo Rustichelli's music for L'isola di Arturo is the 290th Soundtrack of the Week.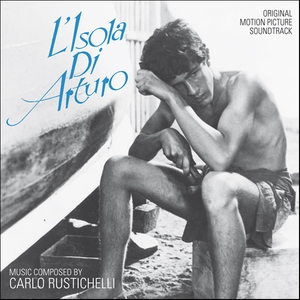 There isn't much to say about it. There are only two or three themes, repeated many times on the CD. My favorite is "La spiaggia incantata", played by guitar, harpsichord and accordion. It has a lovely haunting feel to it, a bit similar to some of Nino Rota and perhaps Georges Delerue.
The title theme has more of an open-air, adventure feel to it. And then there are versions with a distinct military sound, using trumpet and drums.
---
It doesn't pay off very much these days but I still browse The Strand for inexpensive books older than I am that have cool dust jackets. Here's one I found there a few years ago.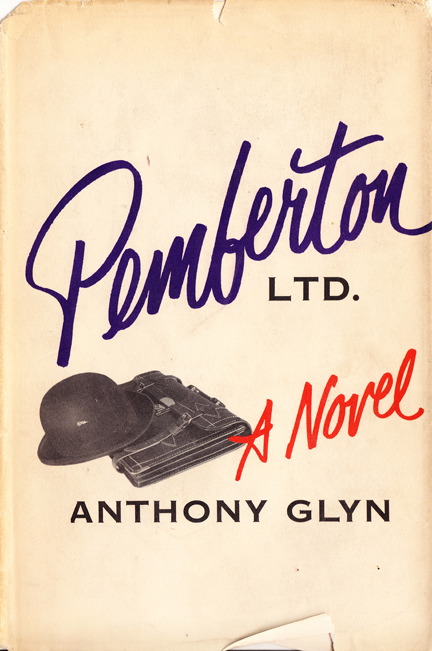 It was actually the spine that first caught my eye.

If the cover wasn't enough it came with a few impressive commendations on the back, including one from Elizabeth Bowen ("Excellent. This still young writer has what it takes") and the Times Literary Supplement ("A remarkably good and entertaining novel, with realism and good humour").
I started reading it and was immediately swept away by the writing, the characters and the main dilemma. The narrator, Hugo Pemberton, and his wife both want to leave literary lives in London. His wife, Diana, is well on her way to this end, having landed a job as an editor for a magazine and making a great success of it.
Her husband is disturbed by this for several reasons. This is 1950s England, so having a wife with a job is already a bit out of his comfort zone. It takes him further out because they have twin babies who need looking after and Diana's not doing it as much as he feels she should. The discomfort increases because she's making more money than he is. To top it off, his job is managing a sugar plantation in the West Indies for his manipulative older cousin, Justin (whose name might be meant to suggest "unjust").
Right after Hugo and Diana got married and had children, Justin shipped Hugo off by himself to the West Indies. The book opens with Hugo preparing to return home, nervoulsy wondering how his reunion with his wife will be. She wasn't desperate to marry him. He had to ask her several times, in fact. And she hasn't been writing to him very much.
Personal fears and crises are developed and increased very smoothly and without contrivance. Diana has confidence and clarity that Hugo lacks, but she and Hugo are both in danger of being made miserable by Hugo's uncertainty. As in, say, Lucky Jim, we are presented with a young man ensnared by repression, who feels that his life is a trap and has depressingly limited potential.
Note of course that this is a mid-twentieth century novel with many scenes on a West Indian sugar plantation. The West Indians who do the actual work speak in dialect and while the book itself attacks racism, the presentation of non-Caucasian characters is discomfiting.
But as a story and as writing I found Pemberton , Ltd. enthralling and made a note to read more by the same author. He turns out to have been rather an interesting person.
The first line is "There was a diffident tap at the door".
---
Chris Cawthray came to town and we recorded three tunes ten days ago, two CC originals and a Shirelles cover. That's Max Johnson on bass.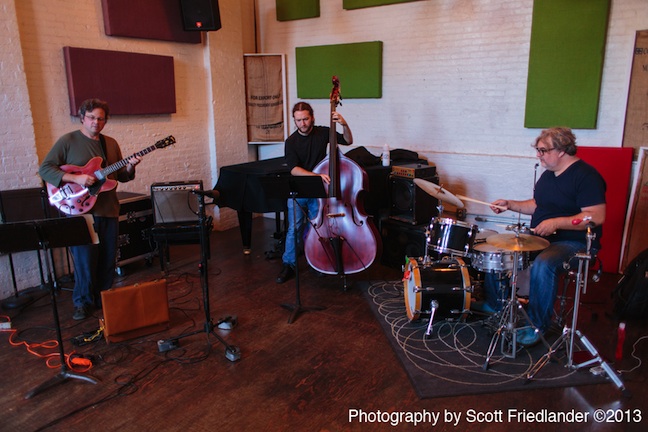 You can listen to them and even download them for free here. Thank you to Scott Friedlander for the photo and the recording!
---
Soundtrack of the Week #289 is more music for The Avengers. This time it's Howard Blake's scores for the Tara King season.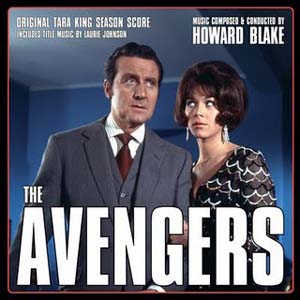 Just as The Avengers evolved significantly when Diana Rigg replaced Honor Blackman, similar developments changed the show when Linda Thorson was brought on to replace Diana Rigg.
Honor Blackman's addition to the cast created a wildly successful formula that was perfected by the team in the Diana Rigg years, switching first from live video tape recording to film and then from black-and-white film to color.
With these changes came an international audience and an international hit. The stakes were high when Linda Thorson joined the program. It seems to me that popularity is hard for a television series to handle. Having found an audience, the show's creators want to keep it. The easiest course is to repeat what was successful before. New ideas being too difficult to come by or deemed too risky to come by, new characters will have to suffice.
I haven't watched any Linda Thorson videos since the 1980s, when I devoured as much of the show as I could get. I don't remember them very well except as being not as good as what came before.
The music, happily, is exceptionally good. The suite here from "My Wildest Dream" is slinky, tense and exciting in much the same way as some of Laurie Johnson's best work. The one cue from "Whoever Shot Poor George Oblique Stroke XR40" sounds a lot like a Johnson composition, even in the instrumentation, though there might be more prominent percussion.
"All Done With Mirrors" has a main title cue that's very similar to Laurie Johnson's "Cybernauts" music. "Action Sequence" and "Blues in Suspense" are excellent saxophone-driven jazz numbers that are very unlike anything that came before.
The main title from "Game" is one of my favorites, using harpsichord, organ, tambourine, electric and upright bass and percussion, among other instruments, in exciting ways.
"Wish You Were Here" has some Mission: Impossible-like cues. "Take Me To Your Leader" some very nice touches and swinging atmospheres with some interesting bass and flute unison lines. "Who Was That Man I Saw You With?" makes great use of electric piano.
In general the music here is fantastic, really groovy and interesting with great combinations of instruments and effortless mastery of various moods.
---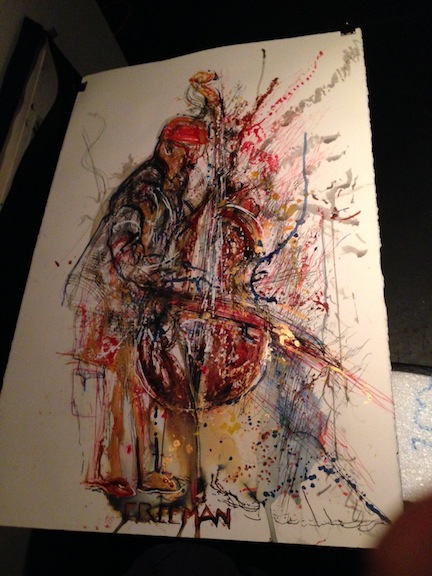 William Parker painted by Jeff Schlanger
2013-10-09 The Stone, NYC
---
There was a double surprise waiting for us at Unnameable Books when we wandered in there on Saturday. A new Nicholson Baker novel that's also a sequel to his earlier novel The Anthologist.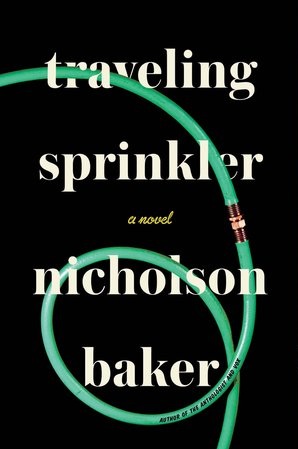 I read it in one day, almost in one sitting. At the end of The Anthologist the poet Paul Chowder had worked through something of a mid-life crisis and there seemed to be hope that he would reunite with his girlfriend, Roz.
Traveling Sprinkler deals with another sort of crisis, Chowder's dissatisfaction with poetry and urge to write pop songs, and also ties up the loose ends of his relationship with Roz, who is now seeing another man. There are many other things going on, anger at politics and violence, especially as they relate to the CIA, a lot of thinking about Debussy and the bassoon, recollections of childhood, also comedy and pathos in just the right amounts.
What makes the book so exciting, though, is Baker's use of language, particularly metaphor. The book itself is presented as being written by Chowder himself, sometimes spoken into a recorder, sometimes typed onto a computer, so the richness of image and imagination is appropriate.
Chowder experiments with smoking cigars and in one memorable passage he describes "the silent humidor room with its wall of dense brown cigars in boxes looking like old leather-bound books of unread sermons in a historic house in the Yorkshire moors". He describes the melody of a song as "like a thread that is wrapped around various doorknobs in a large ornate eighteenth-century room of harmony designed by an architect named Rameau".
Perhaps my favorite is "There are only so many nights like this. The middle of summertime, and even though it's late, a cricket like a bartender with a rag in his hand is mopping the surfaces of sound". This harmonizes with another theme of the book, namely growing old, looking back, having regrets for the past and hopes for the future. You will only have so many nights like this. Enjoy them.
---
This is long overdue. The 288th Soundtrack of the Week is Laurie Johnson's music for The Avengers.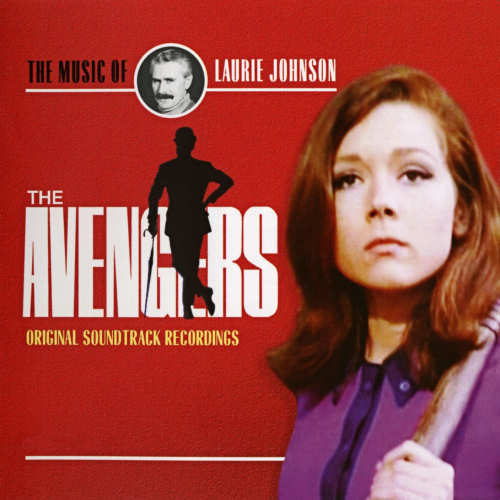 The main theme is famous and well represented on numerous compilations. (Perhaps that's why they have the version from the Linda Thorson season on this disc.) What's great about this is the number of other cues it contains, many of which were dropped into multiple episodes.
The march from "What the Butler Saw", for instance, is linked in my mind to "The Correct Way To Kill", which was possible my favorite episode when I was twelve years old and deeply immersed in the series.
Other favorite selections include the jaunty and swinging road music from "Dead Man's Treasure", the title music from "Joker" (one of the only selections which was included on a previous Laurie Johnson record), the swinging fight/chase music from "A Funny Thing Happened on the Way to the Station (and other episodes) and the variously moody, spacey, jazzy and sultry music for "From Venus With Love".
There's very little here that I don't love. Also deserving of a special mention are three of the four cues from "The Superlative Seven" (another favorite episode; Section A is the one I don't care for very much), the nice mutation of the theme music for Section B of "Murdersville" and the music for "The See-Through Man".
What I would really like is a definitive edition, however. Every single piece of music from the whole series, something along the lines of what La-La Land Records recently did for Star Trek. Who knows? It might happen!
---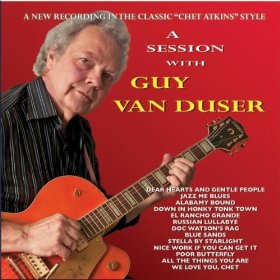 Guy Van Duser is a family friend and my first guitar hero. If you like Chet Atkins and fingerstyle guitar at all, Guy is a guy you should know.
His latest record is really amazing, recorded with a great band and enhanced by Guy's use of an Echosonic amp.
Every tune on here is smoking. After listening to it a few times I went ahead and bought Bear Family's two Chet Atkins box sets. I think Guy would be pleased to know that.
---
Here is yet another (another!) great record to come out this year.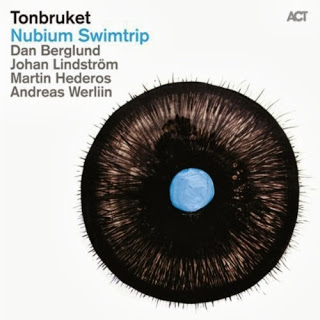 I love Tonbruket. They're a Swedish jazz quartet led by Dan Berglund, who played bass in the Esbjörn Svensson Trio. My very good friend Mikael gave me their second CD as a present and it thrilled me. I also liked their first CD though the two albums are fairly similar.
Their third record, Nubium Swimtrip, is a significant development of their aesthetic: groovy and ethereal, eclectic and exotic, jazz and rock—whatever they want to play, I guess. (Isn't that what all musicians should be playng?)
As before, there's a mix of sway or stomp tunes with meditative and melancholic numbers. The difference with this new album is that the group sounds like they have more freedom. Song form doesn't contain them. They go where they want to go and they're smart enough, skilled enough and musical enough to keep it together.
It also sounds like their touring schedule inspired them. There's a "road" momentum to many of the tunes as well as some international flavors in the arrangements and instrumentation. And as usual Johan Lindström's guitar playing is wonderful!
---
Jerry Goldsmith's score for Sebastian is the 287th Soundtrack of the Week.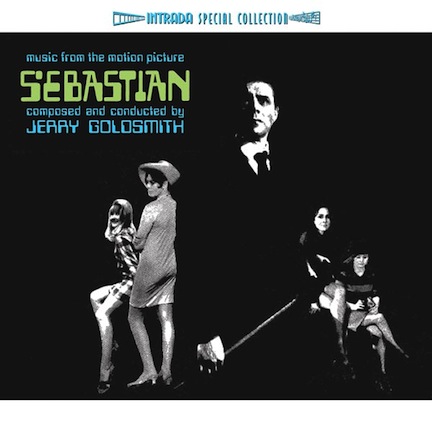 Goldsmith's work in the 1960s is some of my favorite, especially the swinging music for the Flint movies and Warning Shot. Sebastianis in the same vein and is also happily similar to Laurie Johnson's music for The Avengers.
The Intrada label deserves a lot of credit for putting out this soundtrack in this form. Both the re-recorded soundtrack album and original soundtrack recordings are here, as is Tristram Carey's electronic music contribution, which is supposed to suggest a secret code transmitted by Sputnik.
The "Main Title" is a killer piece, more laid back and spacious in the original soundtrack than on the album.
There are two groovy songs, "You Gotta Let Me Go" and "Comes the Night".
For his own album version of the Sputnik code Goldsmith uses what sounds like Moog synthesizer and odd percussion.
Several cues are inspired by Bach's Partita VI and use harpsichord. The overall feel of the music on this CD is similar to Goldsmith's Flint music and I would imagine that many of the same musicians are playing here, Shelly Manne on drums, for instance, and probably Bob Bain on guitar.
It's a wonderul release. Thank you, Intrada!
---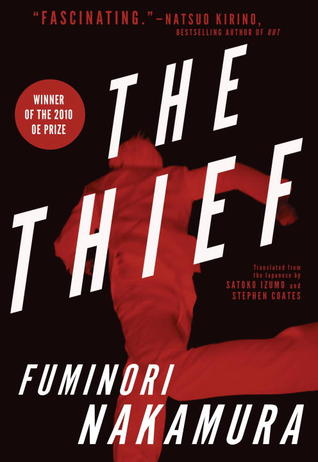 In Vladimir Nabokov's screenplay adaptation of Lolita, his most famous work—and it's worth noting that nobody has actually filmed his screenplay yet, despite his screenplay credit on Kubrick's movie—there is a scene in which, among other things, Humbert is attempting to impress Lolita with an erudite reading of and commentary on Edgar Allan Poe's Ulalume.
HUMBERT: "It was hard by the dim lake of Auber, / In the misty mid region of Weir". Notice how nicely the "dim" is read back and becomes "mid"—"misty mid region"?
Indeed. And what if you wanted to translate this scene into Japanese? How much sound would you sacrifice to sense, how much sense to sound? How much potential for nuance? That misty mid region of Weir is awfully close to Weird. Did Nabokov or Poe or both hope we might consider that?
This is why I am reluctant to read books in translation. One of the joys of reading is the sounds and rhythms of the text, another the different possibilities suggested by the selection of one word over another. These qualities may be found in translations but how close are they to what the author actually wrote?
I used Japanese as my example because the English translations of Japanese books that I've read have generally had clunky, unattractive language. In every case I've doubted that the original was as hollow and clumsy. The gulf between the languages might be too big or the sensualities of the languages too different.
My first impression of the English translation of Fuminori Nakamura's The Thief was also negative. It is a short book and a quick read, though, and gradually establishes an atmosphere similar to Camus's The Stranger—or similar to the English translation I read of that book. (I thought that Matthew Ward's translation was excellent but of course I can't read French, so my opinion isn't worth much.)
Nishimura is a pickpocket. He doesn't do much else. He has memories of a love affair and a missing friend. He shows an interest in a young boy whose mother is forcing him to shoplift.
Nishimura goes out and steals wallets almost every day. Occasionally a wallet he doesn't remember stealing ends up in his pocket. Did he do it without realizing it? Did somebody plant it on him?
Eventually he is forcibly reminded of his role in a different sort of crime from years ago. This leads to a few very specific pickpocketing assignments, each more difficult than the last. If he fails, he dies.
I'd be curious to know how it reads in Japanese. This English version started out merely adequate but grew on me, aided no doubt by my interest in the story.
The first line is "When I was a kid, I often messed this up".
---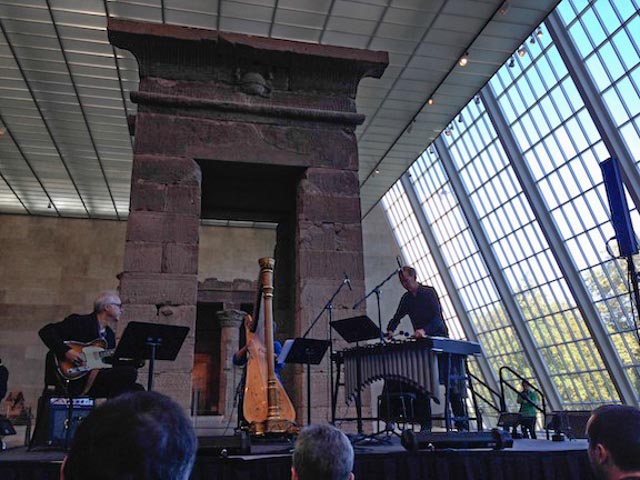 Bill Frisell, Carol Emanuel, Kenny Wollesen
The Metropolitan Museum of Art
2013-09-28
---