2013 October 07 • Monday
Jerry Goldsmith's score for Sebastian is the 287th Soundtrack of the Week.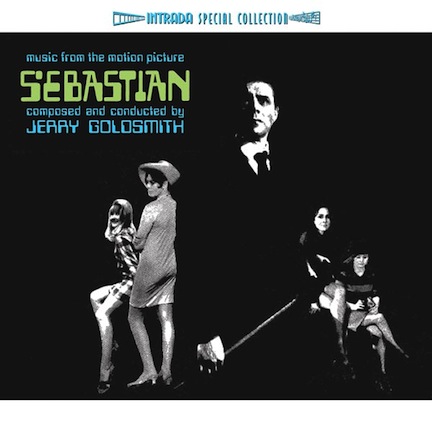 Goldsmith's work in the 1960s is some of my favorite, especially the swinging music for the Flint movies and Warning Shot. Sebastianis in the same vein and is also happily similar to Laurie Johnson's music for The Avengers.
The Intrada label deserves a lot of credit for putting out this soundtrack in this form. Both the re-recorded soundtrack album and original soundtrack recordings are here, as is Tristram Carey's electronic music contribution, which is supposed to suggest a secret code transmitted by Sputnik.
The "Main Title" is a killer piece, more laid back and spacious in the original soundtrack than on the album.
There are two groovy songs, "You Gotta Let Me Go" and "Comes the Night".
For his own album version of the Sputnik code Goldsmith uses what sounds like Moog synthesizer and odd percussion.
Several cues are inspired by Bach's Partita VI and use harpsichord. The overall feel of the music on this CD is similar to Goldsmith's Flint music and I would imagine that many of the same musicians are playing here, Shelly Manne on drums, for instance, and probably Bob Bain on guitar.
It's a wonderul release. Thank you, Intrada!
---