2011 October 19 • Wednesday
This is one of the best records I've heard this year. It was a birthday present from one of our Swedish friends and a really nice surprise!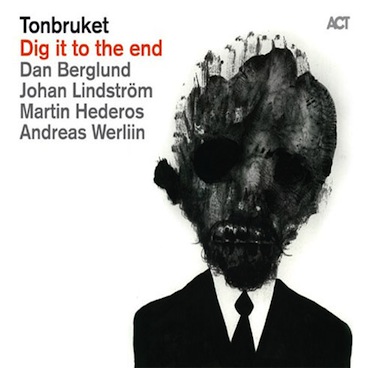 "Dig it to the end" is the second record by Tonbruket, a quartet consisting of four prominenet Swedish jazz musicians. This makes it something of a "super group", a classification with a checkered history, to say the least.
Dan Berglund, the leader, is best known as the bassist in the late pianist Esbjörn Svensson's trio. The other members of the group are guitarist Johan Lindström, keyboard player Martin Hederos and, on drums, Andreas Werliin.
I had never heard of any of them before, but by the end of "Vinegar Heart", the first song on "Dig it to the end", I was a fan. It starts off sounding kind of nerdy but then goes in a haunted country direction, steered by the ghostly tone of Lindström's pedal steel guitar. (Lindström gets the MVP award from me. He's one of the only guitarists working today whose playing really grabbed my ears.) The opening theme is stated again, slower and with the pedal steel out in front, with magical results. Then the hammer drops and the band surges forward with unexpected intensity into surf territory. Lindström takes a great guitar solo.
"Balloons" is a light, friendly tune that sounds sunnier than anything else on the record. (In general Tonbruket sounds like a jazz fusion Radiohead and are more appropriate for rainy weather.)
"Decent Life" is a somewhat pensive piece driven by a pulsating bass line and featuring the piano. "Lilo" is a light, breezy shuffle with a wistful melody whose first part is expressed by the keyboard while steel guitar handles the second part.
This bleeds right into "Lighthouse", which is a mellow and atmospheric piece with pockets of intensity. There's a sort of drone running throughout, perhaps a loop or something.
The title track is a dramatic stomp with interesting touches. It sounds like the piano player put something on the strings to make some extra, mysterious noises. Great Hammond B-3 solo, too.
"Gripe" begins with keyboard playing solo and other instruments sneak in. Some parts of this piece sound like Angelo Badalamenti's music. One part reminded me of David Shire's score for The Conversation.
"Grandma's Haze" starts with a shaker, and then Lindström comes in with some very nice acoustic guitar playing. This goes right into "Le Var", which is a mesmerizing bolero with more excellent guitar playing and a fantastic groove created by organ and drums. (Note that the title is "Ravel" backwards.)
This goes right into the driving, 1980s-sounding "Trackpounder". Keyboards are up front here. It gets very quiet in the middle, where there are some swooping electric guitar sounds. The volume comes back up for the end.
Finally there's "Draisine Song", a gentle piece with an easygoing shuffle played with brushes on the drums. Acoustic guitar and electric piano take the melody in unison. It's very pretty.
Dan Berglund is an excellent bassist and band leader. I'd love to see this group live!
---