2011 October 21 • Friday
I liked "Dig it to the end" enough to buy Tonbruket's first CD.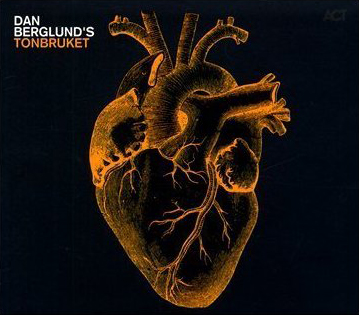 "Dig it to the end" seems to reflect the cohesion and trust that can develop in a band that's played together a lot. "Tonbruket" is quite good but maps the territory that the band would go on to conquer.
"Sister Sad" starts out sounding a little bit fussy and like something you might hear on an ECM record. Then it shifts into a dub groove, then a Laika and the Cosmonauts-like section, then a sort of Radiohead in rock mode section and then ends on an ethereal and spacey note.
"Stethoscope" is short at only a little over two minutes. It has a gently driving and pulsing rhythm which speeds up as the tune progresses and slows down again at the end for a recapitulation of the melody.
"Sailor Waltz" is almost ten minutes and begins with piano and arco bass playing a melancholy line that's in 3/4 time but not a waltz. Andreas Werliin comes in on drums, the waltz asserts itself and the guitar gradually seeps in also. Surprisingly, the band stays in this groove for the rest of the tune.
"Gi Hop" has a stomping pulse running throughout and a simple, interesting theme.
"The Wind and the Leaves" has a sensitive acoustic guitar solo intro before Dan Berglund's bass comes in, then another toe-tapping, simple percussion part. The main melody is another one with a wistful feel to it. As always, the players are impeccably tasteful, particularly Martin Hederos on keyboard.
"Wolverine Hoods" begins with piano and bass playing in a gently lilting way. When the drums come in the music goes in an unexpected direction, sort of like jazz-Radiohead meets Satie. Guitarist Johan Lindström takes a great solo on this tune.
"Monstrous Colossus" sounds like the band from Howard Shore's Crash soundtrack doing a Pink Floyd arrangement of "Bad to the Bone". Or something. For the last two minutes or so it gets into a weird, spacey electronic section.
"Song for E" is another one that reminded me of Radiohead. It's something about the drumming and some of the chords played by the pianist. I guess it's a bit like Radiohead's "Pyramid Song" or something like that. The melody alternates between sunshine and clouds in a touching way. This one is really a feature for Hederos and Berglund.
"Cold-Blooded Music" begins with a computerish electric bass line and adds what sounds like arco cello. Hederos comes in with some electronic noises, soon to be joined by Lindström doing the same. Then the whole band jumps on a somewhat ominous dubby groove. Strangely, there seems to be a banjo in there also. There's an end of the world feel to it. Then the tempo picks up for a little while to let in some mutant cheer, after which it's back to the end days. It ends with cacophony.
The album ends with another waltz, "Waltz for Matilda". Haunting guitar playing with electric bass guitar support introduce the tune. The waltz must be one of the slowest on record and has a bittersweet country feel to it. This is a feature for Lindström, now one of my favorite guitarists.
Let's hope we'll hear more from Tonbruket soon!
---