Rob Price
Gutbrain Records
rob + gutbrain.com = email
---
Leap Year again! To mark the occasion, here are two more cat stamps my friend Joe sent to me.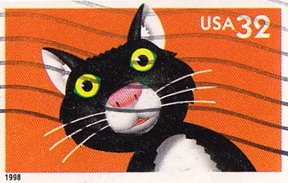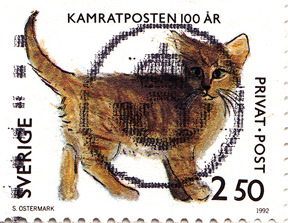 ---
Who won an Academy Award last night? Who cares? Percy Faith's score for The Oscar is the 206th Soundtrack of the Week.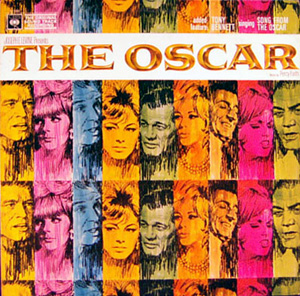 The main title starts out sounding like appropriate theme music for the Academy Awards ceremony. About halfway through, it shifts gears into a slow, lounging shuffle with a Mancini-esque line played on strings. Then it reprises the "show biz" opening.
"Laura's Dance" is a breezy piece of easy listening with some dashes of Latin exotica.
Then comes "Kay and Frankie Dance (Song from 'The Oscar')", a slower, more late-night dance cue. Again the strings sound like Mancini. Maybe Faith and Mancini used the same musicians and the same recording studio.
"Swingin' Village" is a sprightly 6/8 piece with cool writing for the wind instruments and nice piano solos.
"Cheryl" is another light, breezy tune. It reminded me of "Satin Doll" a bit.
The next piece is called "Mexican Hoedown". The name says enough.
"The Glass Mountain" is a vocal piece for chorus, very much in the "Dreamsville" vein.
"Song from 'The Oscar' (Maybe September)" is the vocal version of the piece that Kay and Frankie danced to. "Maybe September I'll love again / Maybe a rainbow will catch me then." It has a Tony Bennett feel to it.
After that comes "Tijuana Tourists" which is groovier than you might expect.
"Posh Party" is a bossa nova with a cool sax solo that's probably supposed to remind you of Paul Desmond.
Then there's another version of "Song from 'The Oscar'", this time in a sombre and atmospheric mood.
"The Wild Drake" sounds a bit like Neal Hefti's music for The Odd Couple with a melody that's not too far off from both Henry Mancini's theme music for What's Happening and Paul Desmond's "Take Five". Cool tune.
Finally there's "The Glass Mountain" which begins like a Nelson Riddle arrangement of "Night and Day", then sounds a bit like "Falling in Love with Love". It's more nice, dreamy, easy listening music.
---

---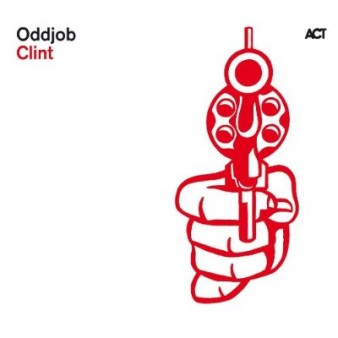 Here's another interesting interpretation of soundtrack music. This time it's the Swedish jazz group Oddjob doing music from Clint Eastwood movies.
It came to my attention because I was looking for other stuff that Johan Lindström, the guitarist in Tonbruket, had done. He's on four tracks of Clint, playing pedal steel on two, organ on one and, apparently, guzheng ("guzen" in the liner notes) on one.
The band itself is Goran Kajfes mostly on trumpets (bass and electric and cornet) as well as some percussion and keyboards, Per "Ruskträsk" Johansson mostly on reeds (alto and baritone saxophones, clarinet and bass clarinet) but also flute, percussion and keyboards, Daniel Karlsson on keyboards (piano, Fender Rhodes, organs and synthesizers), Peter Forss mostly on basses (but also baritone guitar, violin, organ and piano) and drummer Janne Robertson (who also plays percussion, drum machine and piano).
This is a really great record, with superb playing and beautiful and unusual arrangements. They get impressively thick, textural sounds with lots of color.
First up is a krautrock version of Ennio Morricone's famous theme from The Good, the Bad and the Ugly. This is followed by Lalo Schifrin's "Palancio" from Magnum Force, given a sort of Bitches Brew treatment.
After this comes Lennie Niehaus's Pale Rider theme in a late-night jazz arrangement that made me think "Gil Evans". Then Lalo Schifrin's Magnum Force theme is introduced by solo bass clarinet but gets really groovy, sounding a bit like John Zorn's Masada.
Ron Goodwin's Where Eagles Dare is given a relatively straight and terse presentation here with impressive drum soloing and keyboard statements.
Then it's Dominic Frontiere's Hang 'Em High (erroneously credited to Lalo Schifrin on the Clint CD), which has been covered by many groups and been a hit for some of them. Oddjob's version is fairly straightforward but they've changed the meter to 6/8 and it has an agreeably lilting feel.
Ennio Morricone's "Musical Pocket Watch" from For a Few Dollars More gets a faithful piano interpretation while Forss improvises on acoustic bass.
"Robbery Suspect" from Lalo Schifrin's Sudden Impact score creates a pensive atmosphere with the horns and keyboards while the bass and drums bring in a 10/4 groove that gradually speeds up. The meter shifts and speeds up again after that.
Then there's "The Mayor" from Lalo Schifrin's Dirty Harry score (wrongly credited to Ennio Morricone on the CD), a quiet funereal piece that features the organ.
This is followed by one of Ennio Morricone's most famous pieces, one which is still frequently performed by the Maestro in his concert appearances, "The Ecstasy of Gold" from The Good, the Bad and the Ugly. Oddjob seem to approach this one with a great deal of respect and while I wouldn't think that a powerful orchestral piece like this one would work well with a small jazz ensemble, it's definitely a success.
Then it's back to Schifrin for "Scorpio's Theme" from Dirty Harry, a mean funky piece with lots of snarling over the aggressive backbeat. I had considered trying to cover this myself someday but I'm not sure I'll bother now! Oddjob's version is so good, the world doesn't need another one. They hit it in all the right places and build the intensity perfectly.
Appropriately enough they end with one of Clint Eastwood's compositions, "Let's Do It" from Grace Is Gone. I haven't seen the movie or heard the score but the piece as played on this CD is very nice.
Excellent band! They're apparently making a new record right now and I can't wait to hear it!
---
The 205th Soundtrack of the Week is something of a curiosity, music by Sally Kubota for The Toyota 2000GT Documentary 1965–1970.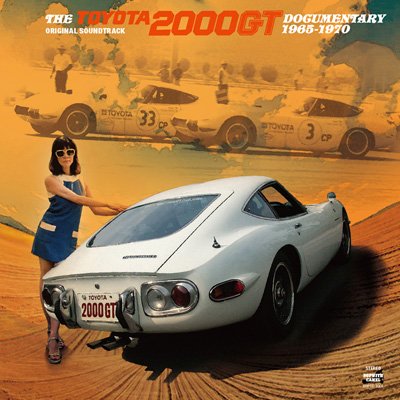 Most of it is loud rock strongly influenced by surf music and somewhat infected by heavy metal as well. Kubota used to be in a band called The Phantom Gift and apparently he's joined by two of his erstwhile comrades from that group.
You can hear the song "Frantic Heart's Okay" playing in this preview for the movie.
The last track on the CD, "Toyota 2000GT Shouts", is eight minutes of engine noise.
---
This is Stéphan Oliva's second album of Bernard Herrmann music.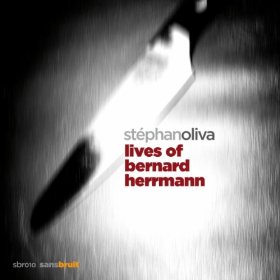 There are no liner notes and the CD doesn't even tell you what movies the pieces are from. Most of them are new performances of music from the first CD, such as "Overture/Xanadu" from Citizen Kane, which is smoother and more atmospheric here. The "Vertigo Suite" is longer on the second CD and while it's a fine performance, I prefer the sound of the recording on the first disc.
This time "The Birthday" from Sisters is played on piano, not Fender Rhodes, and is preceded by a short and delicate piece of madness from the same film, "Sister's Nightmare", brought to life by Oliva's sensitive playing. I prefer the Rhodes rendition of "The Birthday", however.
The second time around "Radar/Space Control" from The Day the Earth Stood Still has a lot more radar in it and sounds more assured and energetic than on the first recording."Prelude/The Road/The Bedroom" from Fahrenheit 451 also sounds smoother. No doubt this is a result of Oliva simply knowing the material even better than he did on the first recording.
One of the new pieces is "Spies of Fear", which combines a fragment from North by Northwest with a fragment from Cape Fear. This is one that doesn't, in my opinion, quite work on solo piano. Much of the power of the originals came from the massive sound of the orchestra. The notes sound too lonely here.
Another new one is "La Chiesa San Miniato Al Monte", a quiet and beautiful interpretation of a piece from Obsession.
The "Psycho Suite" performance is more aggravated and intense the second time around though I think the more melodic parts worked better on the first CD.
"Ruins of Xanadu" from Citizen Kane is a very short piece that didn't make much of an impression on me.
Oliva's reprise of "All the Animals Come Out at Night" from Taxi Driver is another great performance but I think the first recording had a better sound.
It concludes with "Jane Eyre/Nocturne", the first half being from Jane Eyre and the second from White Witch Doctor. This is another excellent interpretation that shows how well Oliva has absorbed and understood this music.
---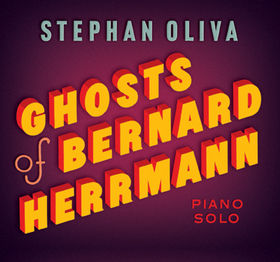 Bernard Herrmann's mastery of orchestral color is so crucial to his music that a record of solo piano versions of his compositions doesn't seem like a good idea. Pianist Stéphan Oliva has made two such records and I like them quite a bit.
The first one, Ghosts of Bernard Herrmann, begins with the lovel "Nocturne" and "Andante Cantabile" from The Ghost and Mrs. Muir. Olvia's interpretation is sensitive and creates just the right atmosphere.
The theme from Journey to the Center of the Earth is less successful. This is music that needs a huge sound. It was also composed for certain tonalities, basically all brass, percussion and organ. Oliva deserves credit for trying but I this is an experiment that doesn't quite work.
"Radar" and "Space Control" from The Day the Earth Stood Still work much better on the piano. Oh, you might miss the theremin and other electronic instruments from the original recording, but this is the kind of ethereal piece that works well in translation.
"Prelude" from Obsession is nice but not especially memorable. I'm not that familiar with this score, so that might be part of the reason it doesn't do much for me.
Then of course there's "Vertigo", thirteen-minute solo piano interpretation of themes from the movie of the same name. There's no denying that I miss the orchestra in places here, but the lyricism and beauty of Herrmann's compositions are so strong that the piano version is a success.
"The Birthday" from Sisters surprises with Oliva's use of Fender Rhodes, sounding hear more like a celeste or a child's xylophone. It's not one of my favorite pieces but it's a very good performance.
Music from Psycho is next and will surprise anybody expecting to hear screeching strings. It begins in a melancholy, romantic mood, proceeds to the tense driving music and ends up eventually at the famous murder scene, gamely attempted by Oliva on the piano keyboard. Like the music from Journey to the Center of the Earth, this piece feels somewhat bereft on the piano but, like all the tracks on this CD, the excellence of the source and Oliva's musicality make it worthwhile.
"Prelude/The Road/The Bedroom" are from Fahrenheit 451 and work well on solo piano though I find them less exciting than the most of the others.
"Memory Waltz" from The Snows of Kilimanjaro is one of Herrmann's most celebrated compositions and it succeeds brilliantly in Oliva's piano arrangement.
The last two tracks represent Herrmann's first and last film scores: "Overture/Xanadu" from Citizen Kane and "All the Animals Come Out at Night" fromTaxi Driver. The former finds Oliva successfully capturing the somewhat menacing atmosphere of the original with the piano's low notes and, I think, using the inside of the piano as well.
"All the Animals Come Out at Night" has Oliva playing the famous Taxi Driver theme with his right hand while creating ominous, low-pitched sonic clouds with his left hand. It's very good.
In the liner notes Oliva has written, "I never try to play his music in totally faithful fashion, and am perfetly willing to make allowances for subjective alterations that may arise through tricks of memory, improvisation or the transposition of orchestral work over to piano". His instincts are the right ones.
---
The 204th Soundtrack of the Week is The Golden Breed by The Back-Wash Rhythm Band.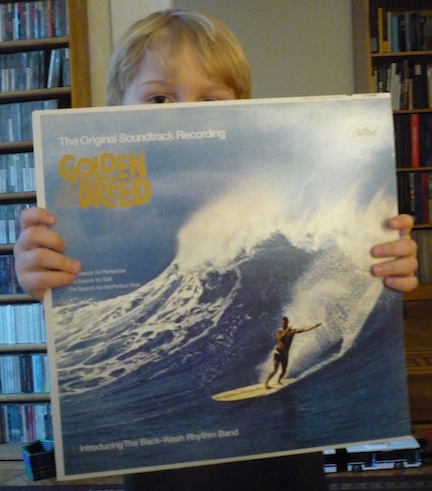 It begins with a kind of sappy theme song with vocals by Mike Clifford. "Following your heart / This is all you need / Standing strong / Where you belong / One of the golden breed." It reminds me of some other song but I can't think what at the moment.
Then there's "Hawaiian Circus" which has a south of the border sound to it. It's basically the "Golden Breed" theme song with horns and marimba (or something like marimba).
After that is "In the Curl", which is really a bongo feature but has some Duane Eddy-like surf guitar playing.
This is followed by "What Turns You On (Instrumental)", a mostly mysterious and moody number with some nice surf guitar playing and some classic 1960s horn arrangements. This is one of the best cuts on the record.
"Golden Time" has cool harmonic movement but the melody, played on horn and flute, is too sweet for my taste.
Side A closes with "Coral Below", a genuine surf tune but one with an unusual sound, very trebly and perhaps a bit too crowded in the rhythm section. It's similar to the theme song.
Kicking off the B Side is the vocal version of "What Turns You On", which I like almost as much as the instrumental version. The vocals are quite nice and the lyrics aren't bad. "Hey, girl / What turns you on / I want to know, girl / What turns you on / Walking in the sun on a summer day / Or talking about when the children play / Or something you're thinking you just can't say."
After that is "High Rise", which I think is another surf song performed here under a different name. No surprise, then, that this is one of the surfiest songs on the record.
"Over the Falls" is a sunny tune, full of pep. It sounds more sock hop than surf board to me though the guitars have a nice sound.
Then there's "Waimea Bay", a surprisingly groovy tune that features electric piano. It's got a very deep pocket and rivals "What Turns You On (Instrumental)" as best tune. This is what a west coast Stax might have sounded like.
"Surfer's Paradise" comes next, a straight-up surf number and a really good one, with very nice guitar playing
Finally there's a reprise of "The Golden Breed" .
And that's it!
As it says on the back cover, "To the man of the golden breed love is a beautiful wave".
Right?
---
Here's a magazine I bought just for the cover.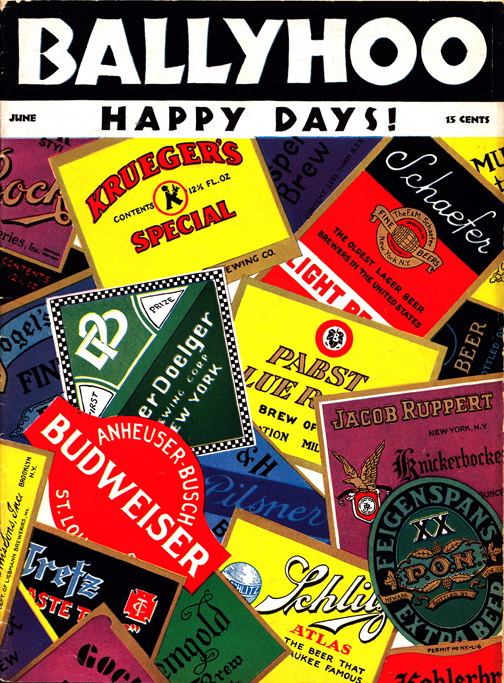 It's from 1933 and I thought it was great to see all those old beer labels. Of course prohibition was still going then. It wouldn't be repealed until December 1933 and this is the June 1933 issue.
The reason the magazine is announcing Happy Days is that President Roosevelt had, in March, 1933, signed into law the Cullen-Harrison Act, which made it legal to sell beer (and wine) that wasn't stronger than 3.2% alcohol by weight.
Ballyhoo was a humor magazine, sort of a precursor to National Lampoon or The Onion, and with a style of somedy that anticipates Bob & Ray to a certain extent. This issue prints an angry letter to President Roosevelt, blasting him for legalizing such low-alcohol beverages when all Americans have, thanks to Prohibition, become champion drinkers of hard liquor.
There are lots of cartoons about drinking, including this one about the recently signed Cullen-Harrison Act.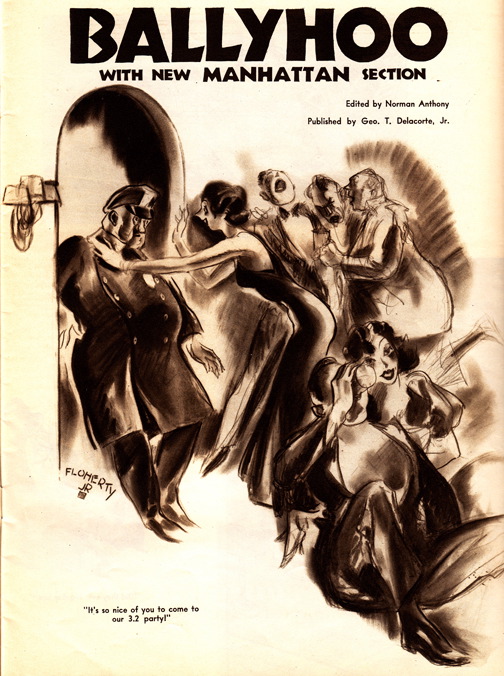 "It's so nice of you to come to our 3.2 party!"
There's a beer centerfold.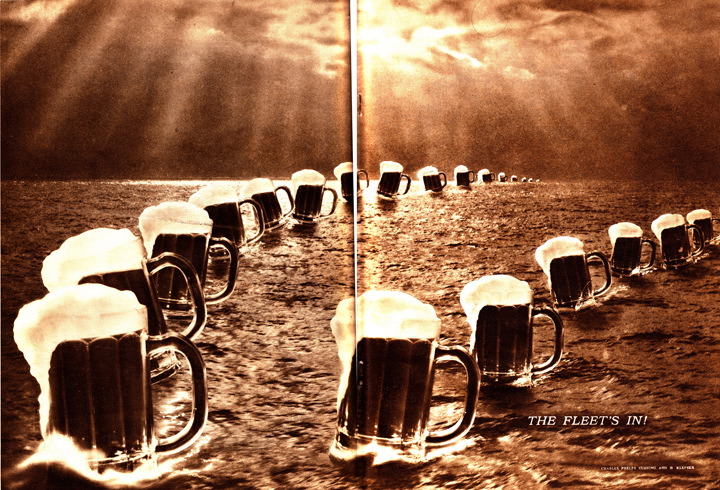 And a beer ad.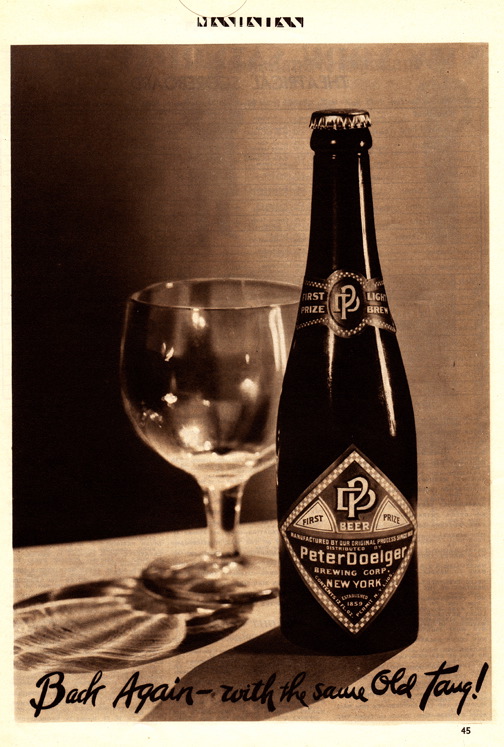 I'm not sure if that's a real ad but Peter Doelger was a real beer.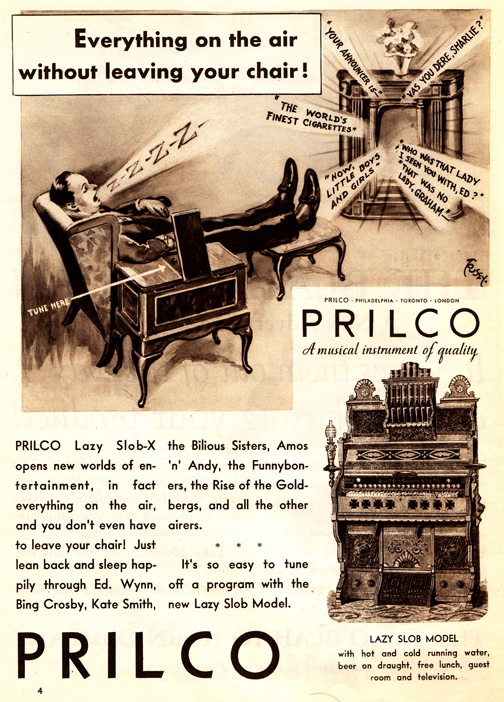 Here's one of their fake ads. Lazy Slob-X is undoubtedly a joke on La-Z-Boy, a relatively new product that had hit the market in 1929 or so. Note that the Lazy Slob Model has "beer on draught" and television!
---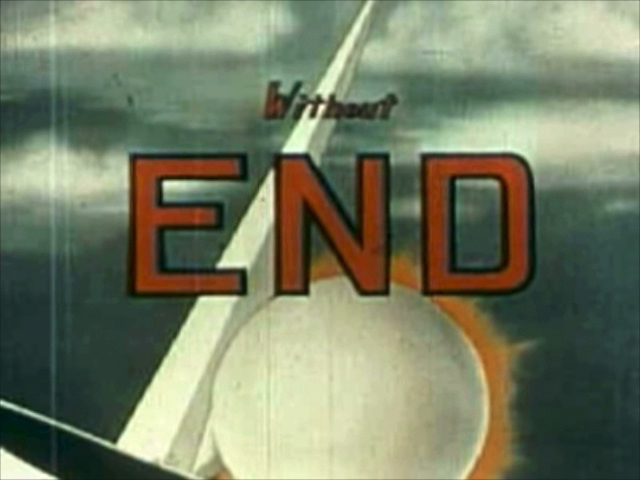 When I participated in Lucio Menegon's Music for Driving and Film shows last December, one of the bonuses was being invited to join Richard Lainhart's Orchestra of the Future to perform a live improvised score to the short film "History of the Future", which Richard had created from "technical, medical, and instructional animations from the 30s through the 70s, all of it public-domain content from the Prelinger Archives".
We closed the evening at Exapno with it and it was a blast. It went remarkably well and I was excited to do it again someday.
It turned out to be Richard's last performance. You can read about his untimely passing here.
On Sunday, March 4, there will be a Memorial for him at Roulette and the Orchestra of the Future will again play for his "History of the Future" film. I'm honored to have been asked to be part of it. Right now I'm thinking of leaving the guitar at home and playing koto synthesizer and theremin on this gig. I've performed on theremin a couple of times but this will be my debut with koto synth.
---
War's "Low Rider" is playing on the radio somewhere in the world every second of ever day. It's probably playing on several radios at any given moment. Fine with me. I love that song. And its placement in Cheech and Chong Up in Smoke is one of the great uses of a pop song in a movie.
But War has done at least one original soundtrack, to the movie Youngblood. It's our 203rd Soundtrack of the Week.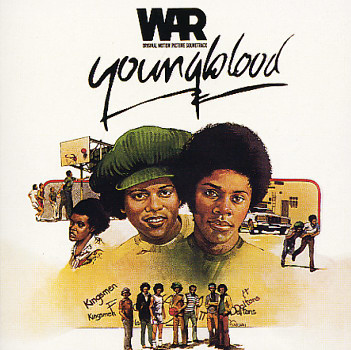 It begins with "Youngblood (Livin' in the Streets)", nearly eleven minutes of an infectious groove with slinky bass guitar, subtle percussion and rhythm guitar embellishing the beat set by the rock solid drummer, surprisingly cool horn lines, atmospheric backing chorus and impassioned vocal delivery of the lyrics. A log drum or marimba gives the song one distinct character, while about halfway through, a string section comes in and gives it another. Piano and chorus come in, then saxophones. The song is mostly instrumental, with the lyrics featuring only in the beginning.
After this comes "Sing a Happy Song", a bright tune that starts out like something by The Meters and switches gears when the singer comes in ("Sing a happy song / if you feel so good"). It's basically a funky "Whistle While You Work".
"Keep on Doin'" begins with a kind of prog-jazz-funk feel and has a Parliament Funkadelic-like approach to the lyrics, which are accompanied by swooping soprano sax stylings. The bass line is really sick on this one. Imagine a synthesis of P-Funk, electric Miles and Tangerine Dream.
"The Kingsmen Sign" is a short, mostly instrumental piece that features percussion. "Walking to War" is also not very long but very different in tone. The bass guitar plays a heartbeat while piano, didjeridoo and various percussion instruments create an ominous mood. There are some words but they're spoken, not sung, perhaps from the movie itself.
Then it's party time again with the laid-back, grooving "The Funky Music Makes You Feel Good". Percussion ensemble launches and sustains the funky but prowling "Junk Yard", which also sounds like it has dialogue and sound from the movie in it.
"Superdude" has a walking bass line and unexpected accents from the drums. Some straight piano playing adds to the jazzy feel and again you hear what appear to be voices from the film.
You knew there had to be a sappy love theme in here somewhere, and it arrives with "Youngblood & Sybil", a short piece for electric piano and analog synthesizer.
"Flying Machine (The Chase)" brings back the funky, percussion-led band. At first it's mostly a work-out for the flute with some waves of synth and organ stings. Then there's a piano solo, then more flute, this time with some Rahsaan-like overblowing.
"Searching for Youngblood & Rommel" is tense, dramatic underscore with martial snare and stinging piano and keyboard, plus some weird synth noises and what sounds like somebody swiping at the strings inside the piano. There's also more audio from the movie.
The record wraps things up with a reprise of the opener, "Youngblood (Livin' in the Streets)". Excellent music.
---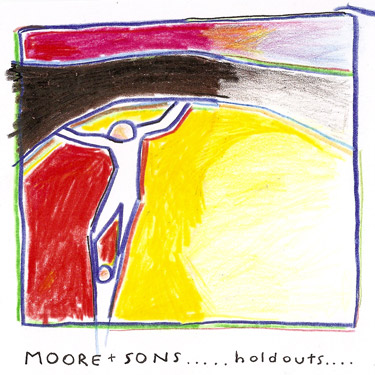 Chris Moore's latest CD is amazingly good. You can hear a track here, "Broken Spell", which represents the lush, dreamy side of his music. The other side is an artistic and unusual rock and roll landscape with intelligent and compelling lyrics and frequently shifting musical atmospheres.
I'd always been a fan of Chris Moore's drumming and it's exciting to discover what a great singer, songwriter and guitarist he is. Buy this record!
---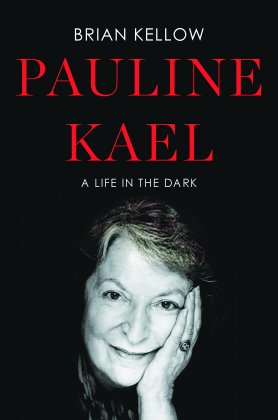 Brian Kellow's Pauline Kael: A Life in the Dark, is breezy and entertaining but as a biography lacks the depth and insight of a definitive Life. Kellow probably did the best he could, considering that Gina James, Kael's daughter and the person who knew more about Kael than anyone else alive, declined to be interviewed or to contribute to the book.
Probably enough was enough for Gina James. Speaking at her mother's memorial tribute, she notes her mother's "inflexibility", "lack of introspection, self-awareness, restraint or hesitation" and how James "watched what she left, unaware, in her wake: flickering glimpses of crushed illusions, mounting insecurities, desolation".
It's typical of Kellow's diplomatic and often anodyne approach that he limits his description of James's remarks to the words "remarkably brave and unsentimental".
Structurally the biography takes its cue from Kael herself, who suggested that her film writing was her autobiography. Kellow guides us through her reviews and makes interesting stops on the way, usually to pick out the movies and people who had special meaning to Kael. Many of those people corresponded with her and a collection of Kael's letters would be an excellent follow-up to this volume.
A Life in the Dark is most illuminating when it comes to Kael's early years and how her struggles might have contributed to her impatience with the angst of the well-fed as well as fuelling her fierce individualism. She had an aversion to group-think as well as to the earnest, moralistic and pietistic. This aspect of her character probably accounts for what appears, in this book, to be an indifference or hostility to feminism.
Kellow seems not to have watched the video of Pauline Kael speaking with a writing class at the University of South Carolina in 1982. When one of the teachers makes a comment about Kael's "impressionistic" reviews, Kael is offended and declares that her reviews are analytic and not at all impressionistic and that her work is seen as impressionistic only because she's a woman and women are judged to "have impressions" but not to be capable of sharp, critical insights.
This would be interesting to explore but it's not in the book. But Kael and the professor are both half right. Kael's reviews were rigorously analytical but also daringly impressionistic. (Kellow is surely correct to locate Kael in the vicinity, perhaps the vanguard, of the New Journalism movement.) This combination of two opposed tendencies is part of what made her so compelling and influential and what will make her so long-lasting.
Kellow is perhaps too deferential to his subject. Kael's poaching of another writer's work for her Raising Kane piece seems outrageous as it is presented here, but this conflict is left unresolved and unexplored, as are many others.
Pauline Kael: A Life in the Dark is more of an extended biographical sketch than a personal history or literary biography but it contains numerous amusing anecdotes and allows readers to revisit much of Kael's own writing. But couldn't Brian Kellow have thought of a better title? "A Life in the Dark" is not very interesting and what's more serious is that "in the dark" can be read two ways, making this book an unintentional gift to those who want to take Kael down a peg.
---