2012 February 27 • Monday
Who won an Academy Award last night? Who cares? Percy Faith's score for The Oscar is the 206th Soundtrack of the Week.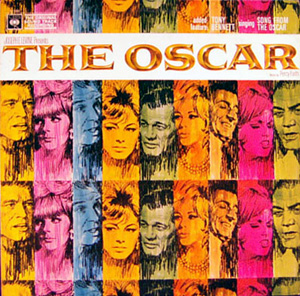 The main title starts out sounding like appropriate theme music for the Academy Awards ceremony. About halfway through, it shifts gears into a slow, lounging shuffle with a Mancini-esque line played on strings. Then it reprises the "show biz" opening.
"Laura's Dance" is a breezy piece of easy listening with some dashes of Latin exotica.
Then comes "Kay and Frankie Dance (Song from 'The Oscar')", a slower, more late-night dance cue. Again the strings sound like Mancini. Maybe Faith and Mancini used the same musicians and the same recording studio.
"Swingin' Village" is a sprightly 6/8 piece with cool writing for the wind instruments and nice piano solos.
"Cheryl" is another light, breezy tune. It reminded me of "Satin Doll" a bit.
The next piece is called "Mexican Hoedown". The name says enough.
"The Glass Mountain" is a vocal piece for chorus, very much in the "Dreamsville" vein.
"Song from 'The Oscar' (Maybe September)" is the vocal version of the piece that Kay and Frankie danced to. "Maybe September I'll love again / Maybe a rainbow will catch me then." It has a Tony Bennett feel to it.
After that comes "Tijuana Tourists" which is groovier than you might expect.
"Posh Party" is a bossa nova with a cool sax solo that's probably supposed to remind you of Paul Desmond.
Then there's another version of "Song from 'The Oscar'", this time in a sombre and atmospheric mood.
"The Wild Drake" sounds a bit like Neal Hefti's music for The Odd Couple with a melody that's not too far off from both Henry Mancini's theme music for What's Happening and Paul Desmond's "Take Five". Cool tune.
Finally there's "The Glass Mountain" which begins like a Nelson Riddle arrangement of "Night and Day", then sounds a bit like "Falling in Love with Love". It's more nice, dreamy, easy listening music.
---