2012 February 17 • Friday
This is Stéphan Oliva's second album of Bernard Herrmann music.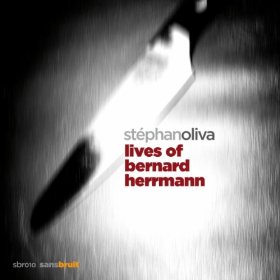 There are no liner notes and the CD doesn't even tell you what movies the pieces are from. Most of them are new performances of music from the first CD, such as "Overture/Xanadu" from Citizen Kane, which is smoother and more atmospheric here. The "Vertigo Suite" is longer on the second CD and while it's a fine performance, I prefer the sound of the recording on the first disc.
This time "The Birthday" from Sisters is played on piano, not Fender Rhodes, and is preceded by a short and delicate piece of madness from the same film, "Sister's Nightmare", brought to life by Oliva's sensitive playing. I prefer the Rhodes rendition of "The Birthday", however.
The second time around "Radar/Space Control" from The Day the Earth Stood Still has a lot more radar in it and sounds more assured and energetic than on the first recording."Prelude/The Road/The Bedroom" from Fahrenheit 451 also sounds smoother. No doubt this is a result of Oliva simply knowing the material even better than he did on the first recording.
One of the new pieces is "Spies of Fear", which combines a fragment from North by Northwest with a fragment from Cape Fear. This is one that doesn't, in my opinion, quite work on solo piano. Much of the power of the originals came from the massive sound of the orchestra. The notes sound too lonely here.
Another new one is "La Chiesa San Miniato Al Monte", a quiet and beautiful interpretation of a piece from Obsession.
The "Psycho Suite" performance is more aggravated and intense the second time around though I think the more melodic parts worked better on the first CD.
"Ruins of Xanadu" from Citizen Kane is a very short piece that didn't make much of an impression on me.
Oliva's reprise of "All the Animals Come Out at Night" from Taxi Driver is another great performance but I think the first recording had a better sound.
It concludes with "Jane Eyre/Nocturne", the first half being from Jane Eyre and the second from White Witch Doctor. This is another excellent interpretation that shows how well Oliva has absorbed and understood this music.
---