2012 February 13 • Monday
The 204th Soundtrack of the Week is The Golden Breed by The Back-Wash Rhythm Band.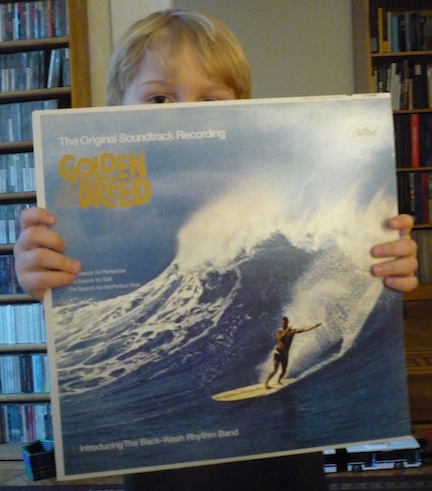 It begins with a kind of sappy theme song with vocals by Mike Clifford. "Following your heart / This is all you need / Standing strong / Where you belong / One of the golden breed." It reminds me of some other song but I can't think what at the moment.
Then there's "Hawaiian Circus" which has a south of the border sound to it. It's basically the "Golden Breed" theme song with horns and marimba (or something like marimba).
After that is "In the Curl", which is really a bongo feature but has some Duane Eddy-like surf guitar playing.
This is followed by "What Turns You On (Instrumental)", a mostly mysterious and moody number with some nice surf guitar playing and some classic 1960s horn arrangements. This is one of the best cuts on the record.
"Golden Time" has cool harmonic movement but the melody, played on horn and flute, is too sweet for my taste.
Side A closes with "Coral Below", a genuine surf tune but one with an unusual sound, very trebly and perhaps a bit too crowded in the rhythm section. It's similar to the theme song.
Kicking off the B Side is the vocal version of "What Turns You On", which I like almost as much as the instrumental version. The vocals are quite nice and the lyrics aren't bad. "Hey, girl / What turns you on / I want to know, girl / What turns you on / Walking in the sun on a summer day / Or talking about when the children play / Or something you're thinking you just can't