2012 February 22 • Wednesday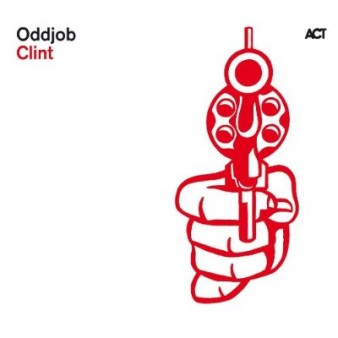 Here's another interesting interpretation of soundtrack music. This time it's the Swedish jazz group Oddjob doing music from Clint Eastwood movies.
It came to my attention because I was looking for other stuff that Johan Lindström, the guitarist in Tonbruket, had done. He's on four tracks of Clint, playing pedal steel on two, organ on one and, apparently, guzheng ("guzen" in the liner notes) on one.
The band itself is Goran Kajfes mostly on trumpets (bass and electric and cornet) as well as some percussion and keyboards, Per "Ruskträsk" Johansson mostly on reeds (alto and baritone saxophones, clarinet and bass clarinet) but also flute, percussion and keyboards, Daniel Karlsson on keyboards (piano, Fender Rhodes, organs and synthesizers), Peter Forss mostly on basses (but also baritone guitar, violin, organ and piano) and drummer Janne Robertson (who also plays percussion, drum machine and piano).
This is a really great record, with superb playing and beautiful and unusual arrangements. They get impressively thick, textural sounds with lots of color.
First up is a krautrock version of Ennio Morricone's famous theme from The Good, the Bad and the Ugly. This is followed by Lalo Schifrin's "Palancio" from Magnum Force, given a sort of Bitches Brew treatment.
After this comes Lennie Niehaus's Pale Rider theme in a late-night jazz arrangement that made me think "Gil Evans". Then Lalo Schifrin's Magnum Force theme is introduced by solo bass clarinet but gets really groovy, sounding a bit like John Zorn's Masada.
Ron Goodwin's Where Eagles Dare is given a relatively straight and terse presentation here with impressive drum soloing and keyboard statements.
Then it's Dominic Frontiere's Hang 'Em High (erroneously credited to Lalo Schifrin on the Clint CD), which has been covered by many groups and been a hit for some of them. Oddjob's version is fairly straightforward but they've changed the meter to 6/8 and it has an agreeably lilting feel.
Ennio Morricone's "Musical Pocket Watch" from For a Few Dollars More gets a faithful piano interpretation while Forss improvises on acoustic bass.
"Robbery Suspect" from Lalo Schifrin's Sudden Impact score creates a pensive atmosphere with the horns and keyboards while the bass and drums bring in a 10/4 groove that gradually speeds up. The meter shifts and speeds up again after that.
Then there's "The Mayor" from Lalo Schifrin's Dirty Harry score (wrongly credited to Ennio Morricone on the CD), a quiet funereal piece that features the organ.
This is followed by one of Ennio Morricone's most famous pieces, one which is still frequently performed by the Maestro in his concert appearances, "The Ecstasy of Gold" from The Good, the Bad and the Ugly. Oddjob seem to approach this one with a great deal of respect and while I wouldn't think that a powerful orchestral piece like this one would work well with a small jazz ensemble, it's definitely a success.
Then it's back to Schifrin for "Scorpio's Theme" from Dirty Harry, a mean funky piece with lots of snarling over the aggressive backbeat. I had considered trying to cover this myself someday but I'm not sure I'll bother now! Oddjob's version is so good, the world doesn't need another one. They hit it in all the right places and build the intensity perfectly.
Appropriately enough they end with one of Clint Eastwood's compositions, "Let's Do It" from Grace Is Gone. I haven't seen the movie or heard the score but the piece as played on this CD is very nice.
Excellent band! They're apparently making a new record right now and I can't wait to hear it!
---