Rob Price
Gutbrain Records
rob + gutbrain.com = email
---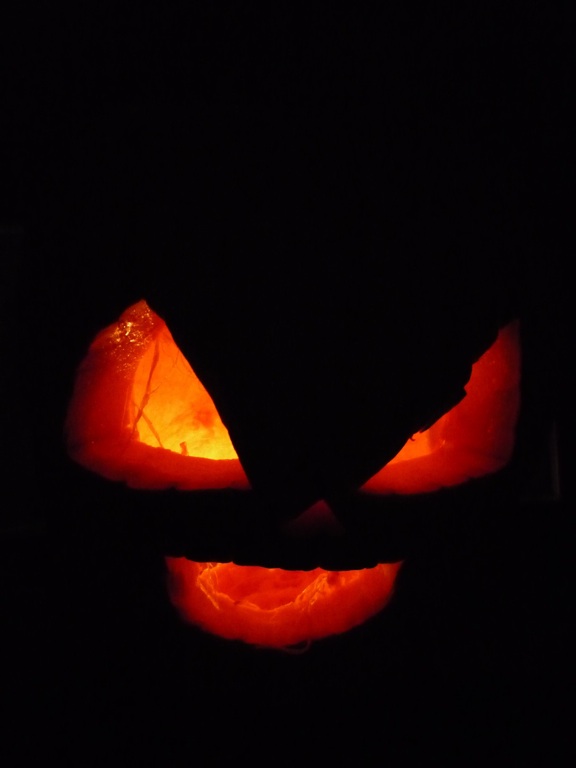 ---
Speaking of Charles Burns, he has a great new book out.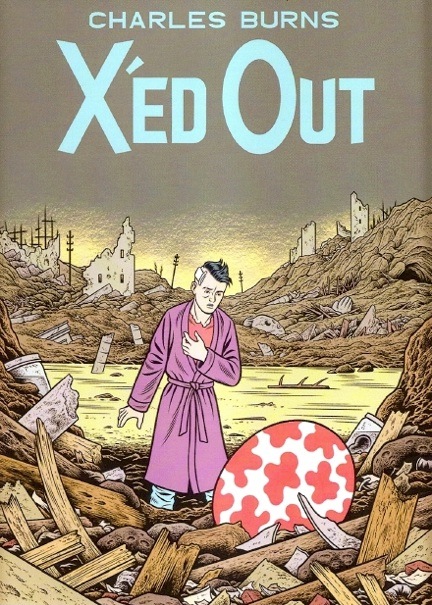 It's Burns's twisted homage to Tintin, as this cover demonstrates.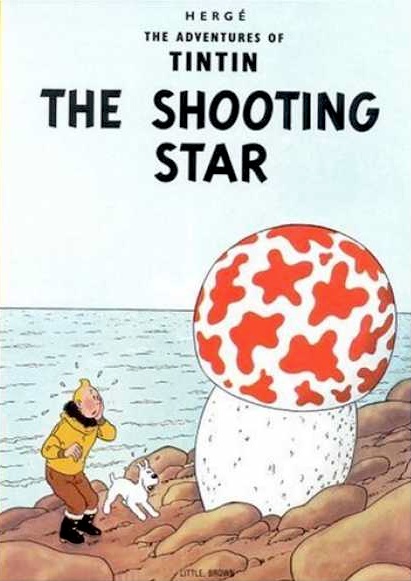 As well as this image: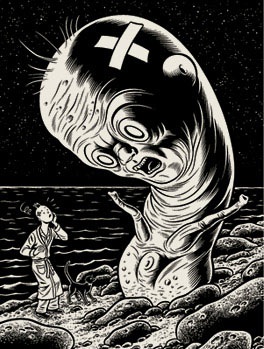 Instead of Tintin and Snowy we get Nitnit and Inky. Burns fired a warning shot when he did this poster last year: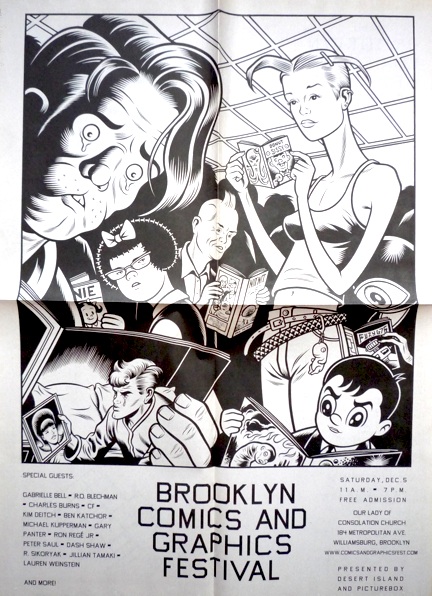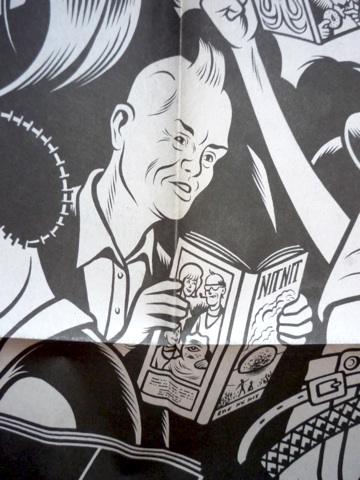 The new book is the first of three parts and promises to be one of Burns's best. He's working in color this time, and the palette occasionally recalls the look of Herge's work.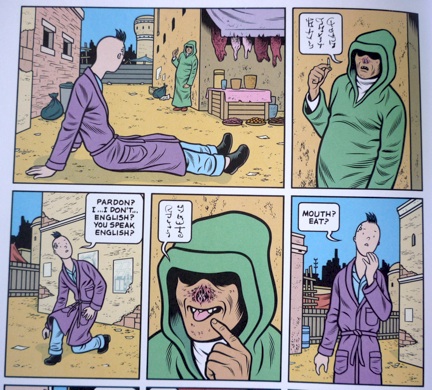 Our friend Mikael sent us this Swedish comic which also pays tribute to Tintin: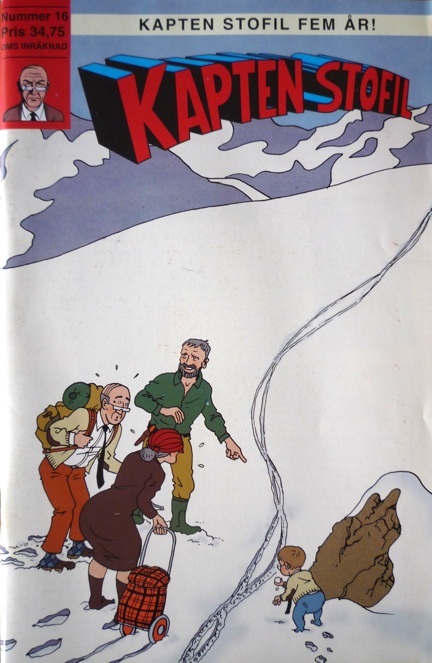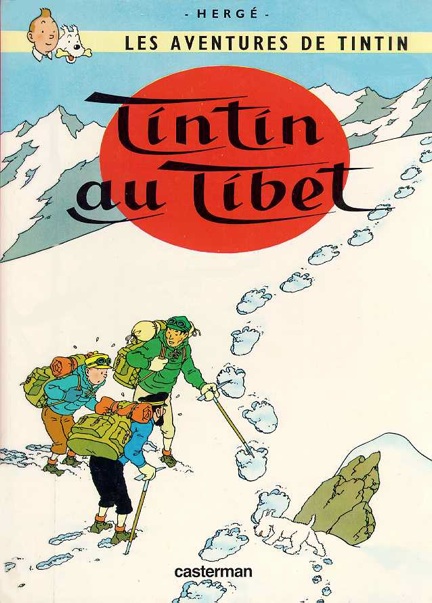 ---
The 136th Soundtrack of the Week is this CD of Stelvio Cipriani's music for three Bermuda Triangle movies: Il triangolo delle Bermude, Bermude: La fossa maledetta and Uragano … Bermude l'ultimo S.O.S.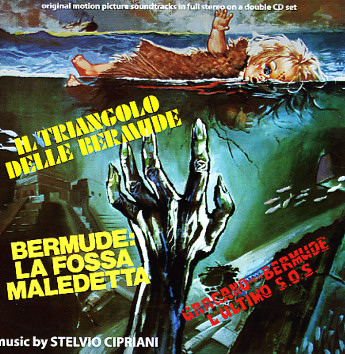 I found the first of these movies at the Brooklyn Public Library and fell asleep trying to watch it.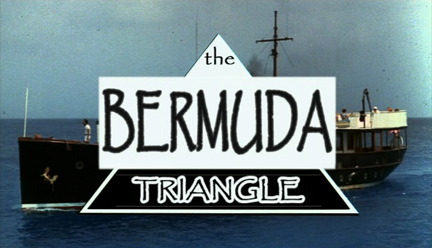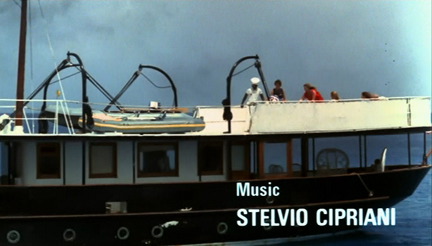 It's pretty bad, definitely a low point in the career of John Huston, who plays a diver looking for a lost city under the sea. The CD has only two tracks of music from that one, rather sombre, moody music. The first one is in 6/8 and has a processional feeling. The second one is all long tones on strings. You hear these two cues a lot in the movie.
"Magic Dawn", the first track from Bermude: La fossa maledetta is a laid back disco groove with conga and the kind of electonic keyboard sounds that immediately suggest Italian genre flicks from the '70s. The electronic keyboards really take over for "Missione Subacquea" whie "Sail Boats" is kind of a cheesy cue that sounds like a love theme. You hear several different versions of it, including one with vocals that makes it sound a bit like The Beach Boys—not because of vocal harmonies but because of the shape of the melody.
"Incubo Nei Profundo" is genuinely creepy with moaning wordless vocals on top of a suspenseful atmosphere created by the string section. "Forze Oscure" is dramatic/suspenseful underscore that you hear in a few different versions.
"Magic Dawn (versione 2)" runs through that tune again but with greater emphasis on the rhythm section. "Don't Answer the Phone" is "Magic Dawn" with rhythm guitar. "Magic Dawn (versione 3)" is the slow version.
"Bermude Dance" is straight-up but stripped-down disco. "Don't Tamper With My Things" is kind of a disco/funk/prog freak out. "Storm in a Teacup" is a variation of this cue. "Angelica" is true to its name, a "heavenly" cue for strings.
Uragano … Bermude l'ultimo S.O.S. begins cautiously with "L'avventura inizia", a restrained orchestral cue that suggests the remembrance of past voyages. "Terrore marino" lays on the dread in a way that Angelo Badalamenti might admire. "Bermudas bossa" is a fairly cheesy bossa-like tune .
"Abisso di morte" is more dread and "Amore sulla spiaggia" sounds like a love theme. "La grande avventura" returns to the mood of the main title before adding fear-inducing strings and percussion. "L'ultimo SOS" is more scary music with electronics and percussion very effectively creating a creepy, underwater atmosphere.
"Bermudas disco" is a disco number, as you might expect. "Incontro con gli umanoidi"is more dread and fright. "Strane luci"is the most ominous piece of music on the CD, with a low rumbling drone and a gloomy descending line for the strings.
"L'avventura continua" returns to the feeling of the main title and then there's a "Bermudas bossa reprise". "Verso l'orizzonte" is a reprise of the main title from the first of these Bermuda Triangle movies while "Festa al mare" presents strummed steel-string guitar combined with an ebullient electric bass line and a ridiculously buoyant electric paino sound.
"Scoperta inquietante" returns to the wonderful weirdness of "L'ultimo SOS" and "Fine dell'avventura", the final track, returns to the mood of the main title music.
---
Dexter vs. Helvetica.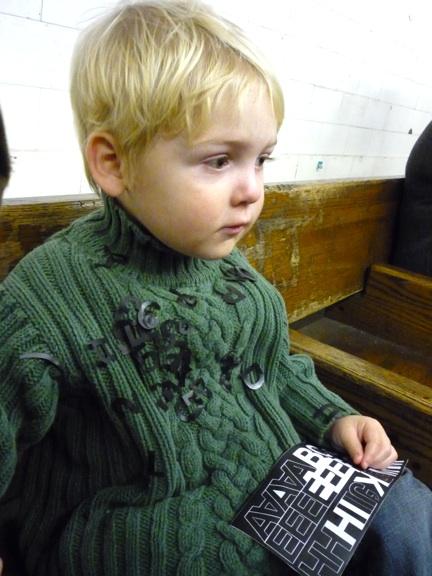 ---
Alice brought home this Wolverine comic the other day. Wolverine has changed. To begin with, he looks like an undead Richard E. Grant on the cover.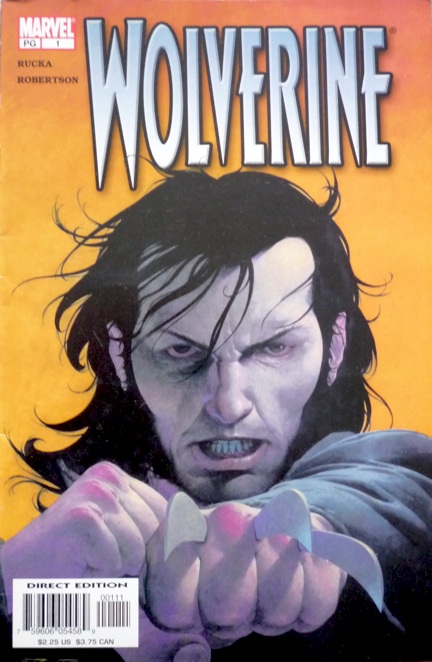 On the inside pages he lugs around Thoreau and Vonnegut and looks a bit like Harvey Pekar.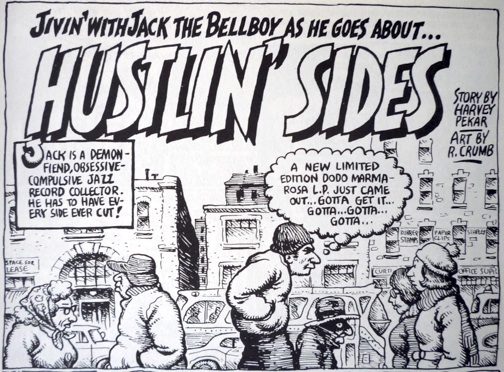 The comic also contains a Charles Burns ad for Altoids which eclipses everything else in the book.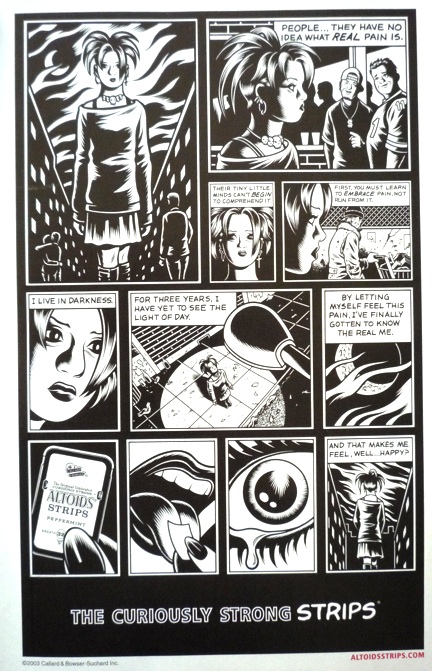 ---
The 135th Soundtrack of the Week is Giant Space Monster Girara (a.k.a. The X from Outer Space), music by Taku Izumi.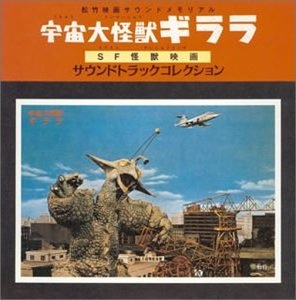 It begins with a somewhat drunken and swinging theme song, performed by male chorus and big band. Then there are some instrumental versions, with interesting use of electric violin, slide whistle, harp, organ and something that might be a clavinet.
After this there are a few more jazz/lounge-type tracks, and then more dramatic underscore. It's a bit reminscent of some of the Godzilla scores, particularly in its occasional use of groovy, tribal-sounding percussion mixed with organ stings. There's also a lot of great harpsichord, vibes and harp playing, which I always like to hear.
There's a very nice song, "Ballad of the Moon and Stars", sung by a female vocalist with impeccable support from the Girara ensemble (harp and the thing that might be a clavinet, and others).
After this there are more Godzilla-sounding cues, Ifukube-esque piano rumblngs, agitated strings, lone flute statements and heavy statements from brass and percussion. There are some brilliantly atmospheric and moody sections, too, with Herrmannesque arpeggios.
---
The telephone is a modern symbol for communications which never take place.
—Lawrence Durrell, Balthazar, 1958
---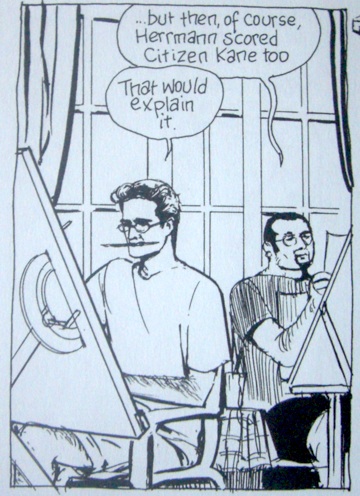 That's the first panel of one of Eddie Campbell's autobiographical comics. We never find out what the beginning of that conversation was. It's been on my mind for almost a year now.
You can find that story and much more in Alec: "The Years Have Pants", a large collection of almost all of Campbell's autobiographical comics. It came out last year.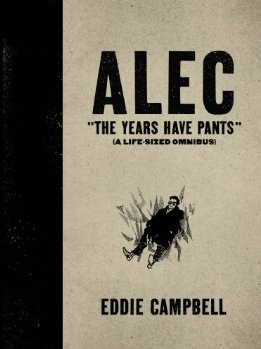 Eddie Campbell is one of the greatest writers and artists working today. My favorite stuff of his is his autobiographical work, so you can imagine how thrilled I was to have this new Alec book. It includes How To Be an Artist, possibly my favorite autobiographical comic of all time, in which Campbell tells his story in the second person, future tense.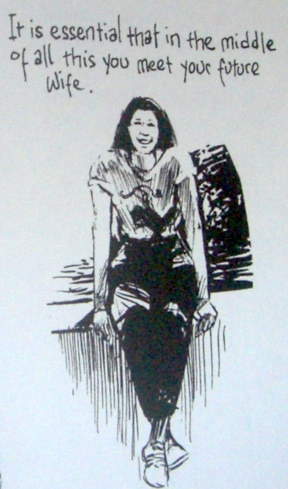 There's a lot of other really great material in the omnibus, including several pieces I had never read before, even though I've been buying Campbell's Alec comics for a long time.
An omnibus of his Bacchus comics is supposed to come out soon, I think. Keep an eye out for it!
---
The 134th Soundtrack of the Week is Kikuchi Shunsuke's music for Edogawa Rampo Series: Akechi Kogoro.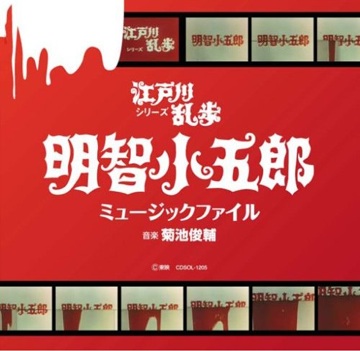 I became obsessed with the main title music for this after seeing the opening credits on a DVD that collected the credits sequences for various Japanese TV shows.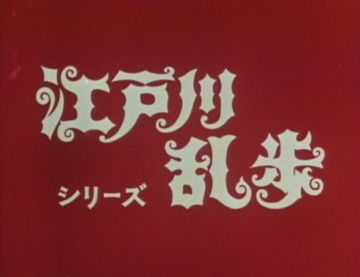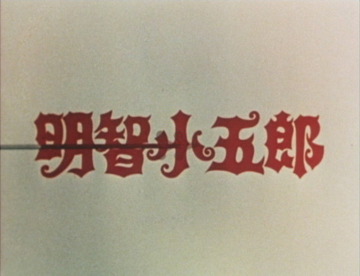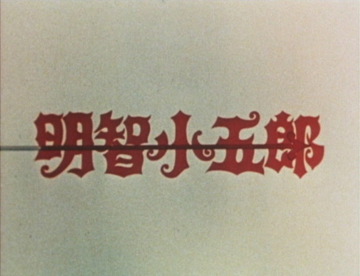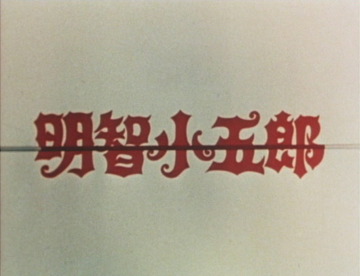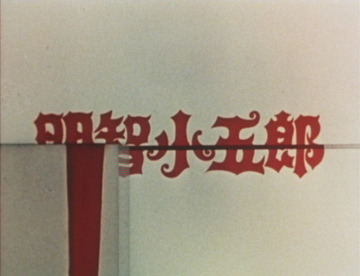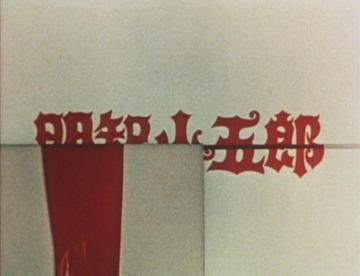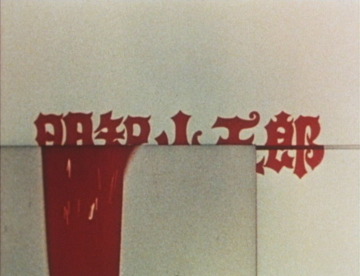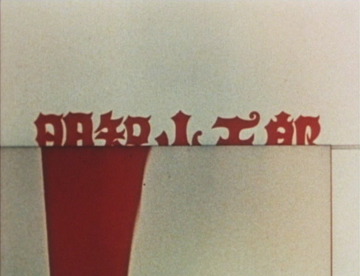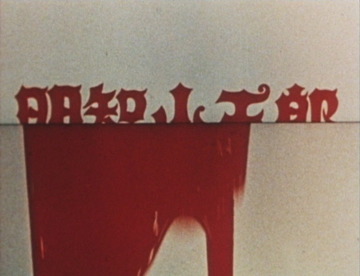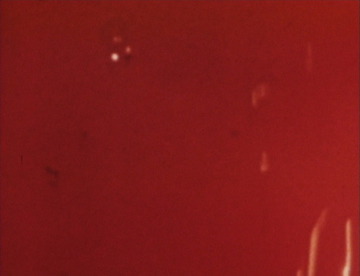 I was pretty thrilled when the CD came out! Lots of slinky bass and harpsichord on this one. The main theme mixes electric guitar, wordless vocals, harpsichord, organ, drums, bass and some weird instrument I can't identify. Much of the music has the kind of 1960s TV sound that I associate with Edwin Astley's Danger Man music.
I guess this TV series is about Edogawa Rampo's famous detective character Akechi Kogoro (the first person below) solving crimes with the assistance of those other people.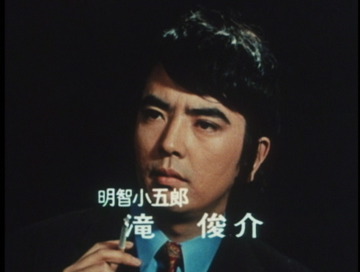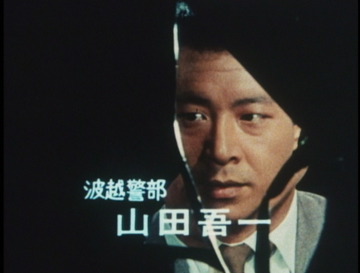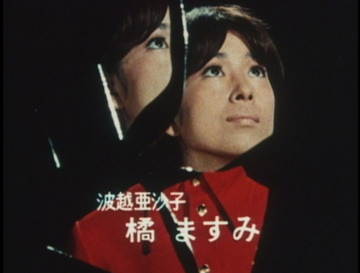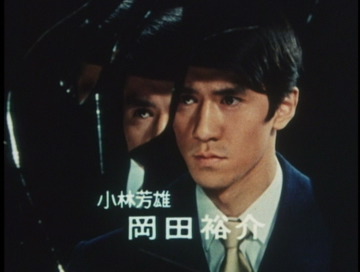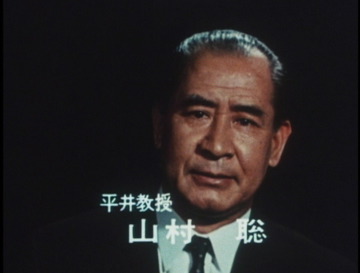 Since the stories are apparently based on Edogawa Rampo's fiction, the strange happenings are likely to be pretty weird and twisted.
There are 67 tracks on the CD, none of them more than two minutes long. The first track is the main theme, and you hear it quite a few times. It would be a great tune for a surf band to cover.
Several of the tracks last only 7 seconds or so, perhaps just stings for "Edogawa Rampo Theatre Will Be Right Back" cards between commercials.
Many of the tracks manage to be brooding, suspenseful and groovy all at the same time. Track 11 sounds like a carousel on tranquilizers. Track 23 sounds a bit like a Hawaiian tune. Track 25 has some good fuzz guitar.
Track 41 is a cool piece for solo electric guitar. Track 42 is solo harpsichord. Track 43 is solo church organ.
---
The War of the Worlds incident, though giving rise to an extraordinary event, and revealing some remarkable aspects of America in 1938, was one of the most purely fortuitous events of Welles's career. His personal responsibility for it was negligible, beyond having directed it with great flair. Houseman precisely analyses the skill of the production, especially its slow build-up of tension; but most of the people who had been frightened by it had only joined the pogramme a third of the way through, so they were never subject to the manipulation. … There is, moreover no evidence that the programme was planned as the devilishly clever Hallowe'en prank that it seemed to be. Describing the programme as a practical joke was an idea improvised on the spot as a sop to the panic released during the broadcast. Nor was there a conscious attempt to play on fears of a European invasion.…
Welles was praised for having his finger on the pulse of his times, and for being the conman of the century, able to make anybody believe anything. The truth is that he was more surprised than anyone at what had happened, and extremely irritated by it: the day after the broadcast, a Mercury employee who wandered into the auditorium eating a Mars bar was sacked on the spot.…
For Welles in 1938, the immediate result of the broadcast was notoriety. … And not just in America: the news of the panic flashed around the world, where the incident was held up (particularly in Europe) as proof, if any were needed, of the ingrained idiocy of Americans.
—Simon Callow, Orson Welles Volume 1: The Road to Xanadu, 1995
---
Here's one of my most recent purchases from the Park Slope Flea Market, the January 1936 issue of True Story magazine.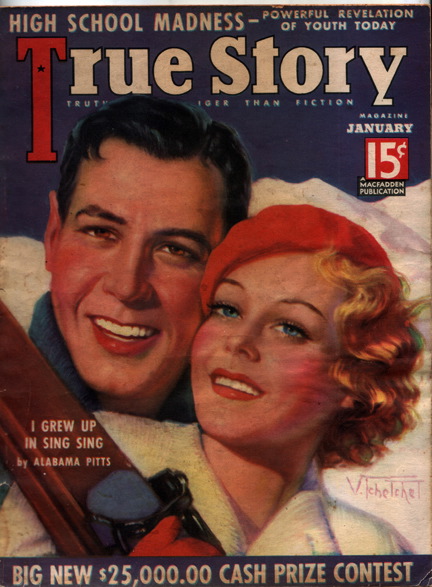 I was intrigued by "High School Madness—Powerful Revelation of Youth Today". It's about Don Richardson, an eighteen-year-old boy who scores the winning touchdown in the big football game and all of a sudden becomes popular. Instead of going to the movies with his mother, a widow who has raised him alone almost all his life, he goes to a party with the cool kids.
He falls in love at that party with the prettiest girl in school, sixteen-year-old Edith Boyd.
She wore a white fur coat with a big collar. Her hair was as smooth and black and shining as her rich jet bracelet. Her face was powdered a dead white, and her rouged lips and big black eyes stood out in startling contrast. Under her coat was an extremely low-cut black evening gown.
So he starts fooling around with Edith, who's fooling around with some other guys at the same time, and pretty soon Don's doing poorly in school and his mother is worried about him.
Then Edith gets pregnant, or "in trouble" as they say here. Don tells Edith's father that he might be the father but so might any number of other boys. He goes so far as to say that Edith is "as common as dirt".
Don't mother tells him that "no gentleman ever speaks of a woman that way, no matter what she is". Don and Edith get married and live miserably. Edith's father gets Don a job at a gas station and Don reminds Edith every day that he despises her and that she ruined his life.
I was too blind to see that she was in wretched health; that she was taken from a life of hectic activity to the quiet of a little country town where she didn't know a soul.
I had neither the ability nor the inclination to see things from her viewpoint; to realize that she was only a spoiled, badly trained child, and that underneath her insane desire for popularity was an intense longing for love.
…
Edith came to Greenwood Springs a lonely, unhappy little girl. She was soon a hardened, embittered woman.
Don falls in love with their baby, Florence, and wants to make a happy home with Edith. Too late. Eventually Edith splits, taking Florence with her, and gets a divorce. She ends up in Chicago, "furnishing material for writers in the society columns of the newspapers".
Don goes back to school to get his degree but his mother dies before she can see him graduate. He moves to Chicago and gets a job at an engineering firm.
He meets and falls in love with Claire, a nurse at the Children's Hospital—which happens to be where Edith has dumped Florence, years ago, when the child was stricken with infantile paralysis.
Don and Claire are in the middle of their courtship when Don finds out about Florence. It's to the author's credit (though this is supposedly a "true story") that Don doesn't try to hide his relationship to the child.
"Talk about your pitiful cases," [Claire] said. "They're not always in the public wards where I am. I was talking to the doctor of that child you were visiting. She's in the most expensive room in the hospital, and yet she's absolutely alone. Plenty of money, but no one who cares a whoop whether she lives or dies. Her grandmother dropped her off here and went on to Palm Beach. An aunt calls up once in a while to see how she is, but never bothers to come. Her father and mother are divorced. Her mother is cruising around somewhere with another husband. Her father—"
"I am her father."
Claire is cool about it and Don spends all of his free time for the next month at Florence's bedside.
Many times she asked, "Do you love me, Daddy?" I always assured her I did, but she would ask again, "Are you sure you love me, even though I am a cripple?" Again I would say yes, and I would feel a small hand lying in mine, or feel the childish lips against my cheek.
But Florence's health doesn't improve.
The day came when I didn't go to the office, but sat all day by her bed, listening to her scream with agony, or pacing the hall while she lay in a coma, watching the doctors working with stimulants and the oxygen tank, cursing them for bringing her back to suffer again, begging them to save her when she seemed to be sinking.
She dies.
And so everything has its price. I cannot speak for Edith, but I know I paid heavily for those few mad weeks during my senior year in high school. I paid during my warped and lonely early manhood; with a lifetime of remorse for the sorrow I caused my mother. But, saddest of all, is the realization that the person who paid the heaviest price was innocent.
Don never realizes that all of his problems were caused by football. If he had stayed away from the game, or even just failed to score that winning touchdown, everything would have been different.
---
The 133rd Soundtrack of the Week is this double-CD presentation of two Waldo De Los Rios scores: ¿Quien puede matar a un niño? (Who Can Kill a Child?) and La Residencia (a.k.a. The House That Screamed).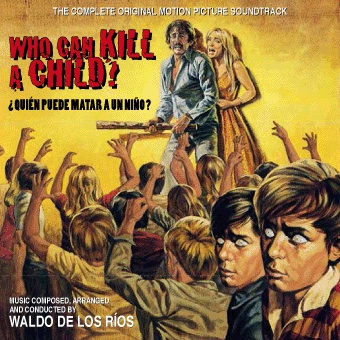 Who Can Kill a Child? is a great Spanish horror movie with a plot that's basically The Birds but with children instead of birds. It's remarkable in being a sun-drenched nightmare, one of the brightest horror movies ever made.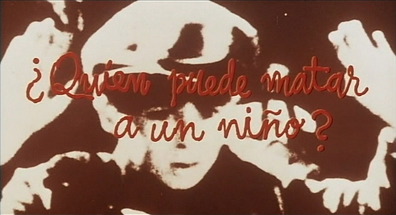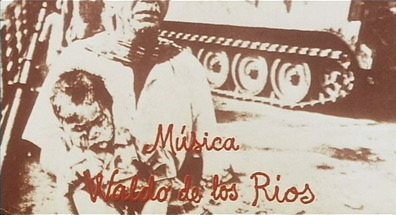 The opening credits use footage of real children maimed and killed in adult wars, thus establishing why kids might decide it's a good idea to wipe out their elders.
Both the original soundtrack recording and the album re-recording are on this CD. The original soundtrack recording gets 40 tracks, of which the first is the main theme, a haunting waltz that David Grollman and I used to cover when we first started playing together. We first hear it being hummed by a child.
This is followed by the tension of "A Corpse Floats in the Sea" and "Danger at the Beach". "Night Talk (Love Theme)" combines cheesy keyboard sounds with harp arpeggios and heavily reverbed low notes, perhaps a combination of percussion and plucked strings. "To the Island" is an orchestral version of the same theme.
Ominous and frightening sounds return for most of the other tracks, some impressively abrasive and strange. The main waltz theme returns a few times.
The 14 tracks of the album versions offer a slicker sounding version of the original soundtrack, with various moods, themes and cues combined for longer pieces.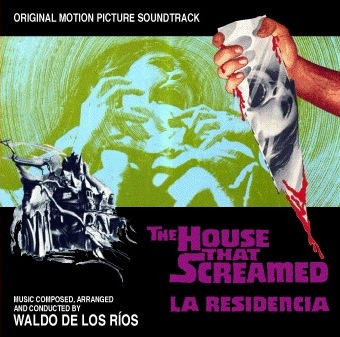 The House That Screamed gets 16 tracks and also has an eerie waltz as its main theme.


It's a lusher, more romantic piece than the theme for Who Could Kill a Child?, though, with sensuous string and winds accompaniment and melancholy piano lead.
The movie is about somebody murdering the students at a girls' boarding school. From 1969, the movie anticipates many others to come. I've heard that it informed Suspiria, for instance.
Most of the cues are suspense atmospheres that make great use of a whole orchestra. The blending of strings and horns with vibes, harp and other percussion is especially rewarding. "Luis Spies" gives an impression of a wind storm while "Encounters at Night" and "Teresa's Flight" are tense, ostinato-driven pieces.
"The Elegant Dresses" is a short (half a minute) piece that sounds almost like it could be from Tchaikovsky's Nutcracker Suite or something similar. "Humiliation & Punishments" sounds suitably unhinged. "Madame Forneau" is an otherwordly, wordless vocal piece. "End Title" begins with screaming sounds answered by orchestral yells before eliding into a reprise of the main theme (which had surfaced in several other cues as well).
---
There once was a man who went to see a psychiatrist, crippled by a fear of flying. His phobia was based on the belief that there would be a bomb on any plane he boarded. The psychiatrist tried to shift the phobia but couldn't, so he sent his patient to a statistician. The statistician prodded a calculator and informed the man that the odds against there being a bomb on board the next flight he took were half a million to one. The man still wasn't happy, and sat there convinced that that he'd be on the one plane out of half a million. So the statistician prodded the calculator again and said 'all right, would you feel safer if the odds were ten million to one against?' The man said, yes, of course he would. So the statistician said 'the odds against there being two, separate, unrelated bombs on board your next flight are exactly ten million to one against. The man looked puzzled, and said 'that's all well and good, but how does it help me?' The statistician replied: 'It's very simple. You take a bomb on board with you.'
—Hugh Laurie, The Gun Seller, 1996
---