Monday and Tuesday were windy, rainy and cold. So I did something I'd been saving for a rainy day. I cleaned my collection of beer bottle caps.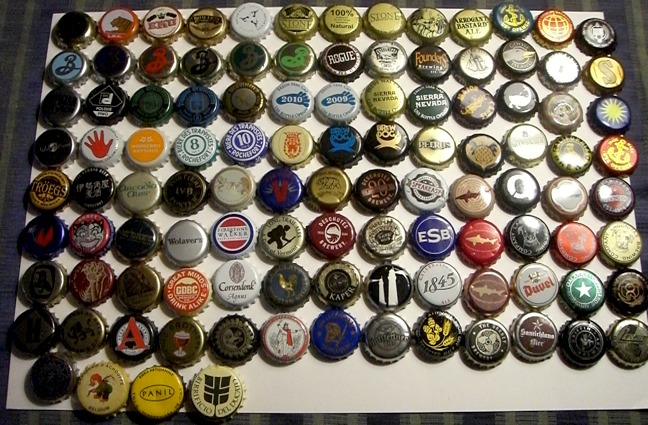 I had better things to do but I didn't feel like doing any of them.
---
2010 March 29 • Monday
In honor of Robert Culp, who died last week, the one hundred and sixth Soundtrack of the Week is Earle Hagen's music for the television show I Spy.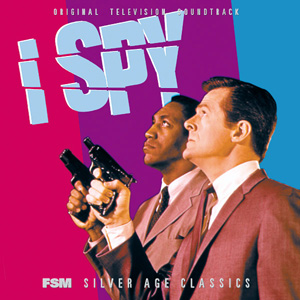 Hagen played trombone and wrote the famous "Harlem Nocturne", a much loved tune. When Hagen died a couple of years ago, WFMU posted 42 different versions of "Harlem Nocturne" on their blog.
I Spy benefitted not only from extensive location shooting but from the fact that every single episode had an original score: no library music or recycled cues. This is extremely unusual. Hagen wrote most of them.
Film Score Monthly's I Spy CD gives us Hagen's scores to five episodes: "So Long, Patrick Henry", "The Time of the Knife", "Turkish Delight", "The Warlord" and "Mainly on the Plains". These episodes take place in Hong Kong, Japan, Mexico, Burma and Spain. Hagen apparently used to travel with the crew to these locations and record the local music with his portable tape recorder. You can hear some samples here.
The music is excellent throughout and Hagen's use of regional sounds is extremely tasteful and always musical. There's an amusing quote of James Bond music in the "007" cue from "So Long, Patrick Henry", the third episode in the series. The serene and romantic main title music for "Mainly on the Plains" is another favorite track.
Before FSM's CD there were two LPs of re-recorded cues, apparently faithful to the originals. I have one of them and quite enjoy it.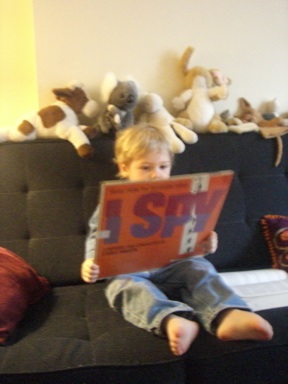 It sounds agreeably West Coast Jazzish to my ears.
When I think of Robert Culp I think first of The Greatest American Hero, then of Columbo. I also enjoyed the western TV show he was in, Trackdown. I didn't realize until after he died that he was in the video game Half-Life 2, which I played and enjoyed.
---
If the proprietor of a lunatic asylum invites you to invest your entire worldly wealth in a speculative business set up to revolutionize the decorative woodcarving industry, what do you say? Probably not "Yes", unless you happen to be Alfred Tennyson, who comprehensively ruined himself by embracing this proposal from his acquaintance Matthew Allen in 1840.
—Nicholas Shrimpton, Times Literary Supplement (January 29, 2010)
---
Amazon Japan thought I'd be interested in a new CD by a band called Julie with the Wild Ones. The cover certainly got my attention.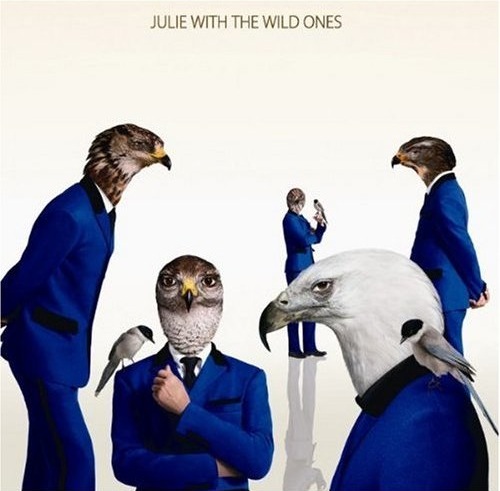 Here's another one.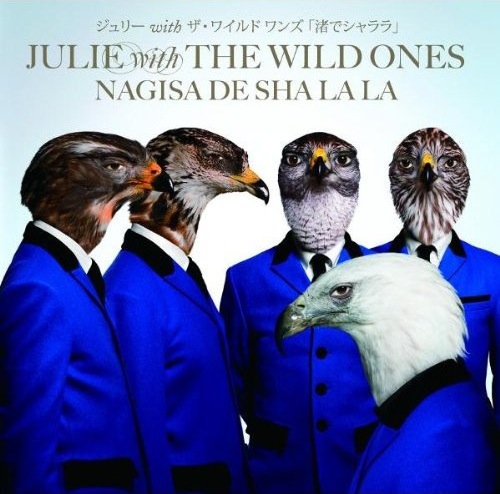 I checked them out on YouTube, though, and they're not for me. I like their look but not their music.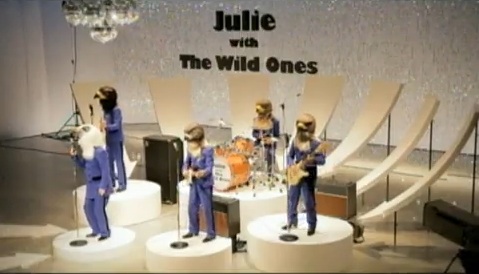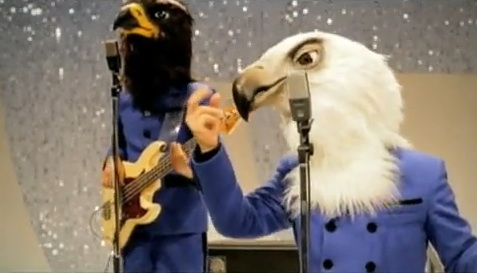 Something I really did like, however, is the Utagawa Kuniyoshi show that's at the Japan Society right now. It will be there until June 13. Check it out!
Here's an image gallery at the Japan Society's website.
Minamoto no Raiko and His Retainers Battle with the Earth Spider was one of my favorites. (All my favorites were triptychs.) The very small online image doesn't do it justice. Likewise with The Earth Spider Conjures Up Demons at the Mansion of Minamoto no Raiko.
A bit of searching online turned up some of my other favorites. Here's In the Ruined Palace at Soma, Masakado's Daughter Takiyasha Uses Sorcery To Gather Allies.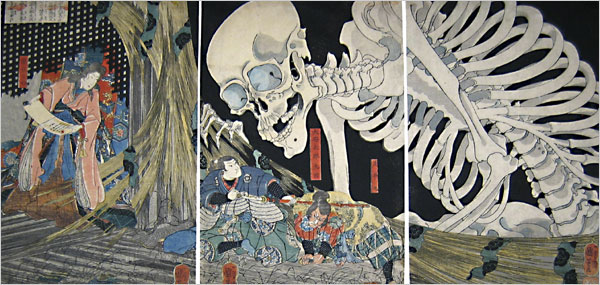 In other words, the guy in the middle is preparing to fight a giant skeleton monster summoned by the woman on the left.
In this vertical triptych, the guy at the bottom is a monk punishing himself for having committed murder. At the top is a Buddhist deity taking mercy on him and making the water warmer. The middle panel of the three shows nothing but water and rock. It's a brilliant composition.

This last one is called At the Bottom of the Sea in Daimotsu Bay.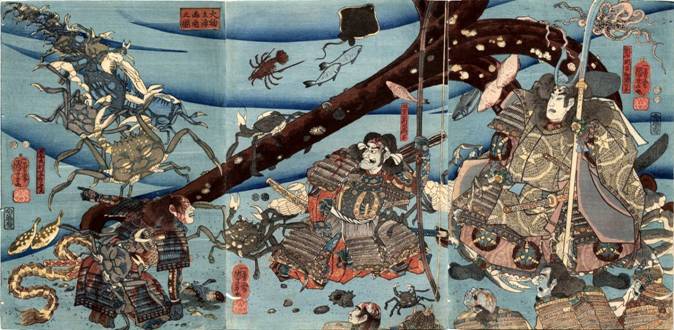 The guy on the right killed himself by attaching himself to that huge anchor before it was dropped in the ocean. The anchor also "anchors" the composition by connecting the three panels. The guy on the right is now undead and hanging out on the ocean floor with his undead army. They're summoning these giant crab demons with human faces to attack their enemies on the surface. If only movies were this interesting!
Apparently you can buy high-quality replicas of some of these from Boston's Museum of Fine Arts.
---
Soundtrack of the Week #105 is Zatoichi: The Best Cuts 1967–1973, a compilation of music from Zatoichi films.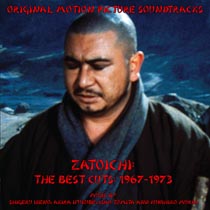 While my preference would have been for, say, a multi-disc box set of all the music from all the Zatoichi films, and the television series, also—just the Shintaro Katsu Zatoichi stuff, not Takeshi Kitano's recent Zatoichi or the more recent remake, Ichi, or Takashi Miike's recent stage play Zatoichi Live—there's no denying that this is a great disc. It certainly makes me want to hear more.
There's a lot of variety here, such as Sei Ikeno's Zatoichi theme song, performed by Shintaro Katsufor the soundtrack to Zatoichi the Outlaw; Ikeno also wrote many effective dramatic cues.
Kunihiko Murai wrote some stuff for Zatoichi at Large and Zatoichi in Desperation that would be at home in Italian crime movies from the '70s.
Akira Ifukube's powerful main theme for Zatoichi Meets Yojimbo is better than the movie. He contributed some of his most beautifully mournful work for Zatoichi's Conspiracy.
The composer with the most cues on the CD is the formidable Isao Tomida. His Zatoichi Goes to the Fire Festival lures you in with adventurous yet haunting rhythms, then continues into a creepy organ-driven suspense mood with muted trumpet. Then comes the fuzz guitar and the drum set! The percussionists go crazy!
For Zatoichi Meets the One-Armed Swordsman, Tomida doesn't take any chances but runs that fuzz guitar through a flanger or a ring modulator or something. It is a seriously ill sound, especially when combined with shakuhachi, as it is here.
Great compilation! But, like I said, a 12-disc (or whatever) complete music of Zatoichi box set would be even better.
---
The offensives of 1915–17 and the strategic bombing of 1939–45 mattered less for their immediate military outcomes than for the lasting collective trauma they inflicted. The Napoleonic campaigns had a similar dimension. After Moscow was occupied, sacked and burned, survivors tried for the rest of the century to articulate the impressions seared into their memories. They recalled bitterly that their governor had lied to them, claiming falsely that their city was secure. As the enemy approached, some noblemen fled disguised as women so no one would make them stay and fight. The French defecated in Orthodox churches and used icons for target practice. Napoleon's Polish troops attacked Russian civilians. Civilians casually perpetrated dreadful violence against defenceless enemy soldiers. The firestorm that consumed the city created such heat that glass melted and flocks of pigeons fell from the sky. An old woman refused entreaties to leave her burning house: dressed as though for her own funeral, she lit the lamps in front of her icons and calmly declared that the smoke would surely suffocate her before the flames could burn her alive. After the French withdrew, hordes of peasants plundered what was left of Moscow. Later, the Russians collected the rotting remains of 11,955 humans and 12,360 horses; "for several weeks", an eyewitness recalled, "the police were burning them by the banks of the river and sweeping the ashes into the water".
—Alexander M. Martin, Times Literary Supplement (November 20, 2009)
---
Are there any really great werewolf movies? I mean great. The original The Wolf Man has its moments, but it's not great, mostly because Lon Chaney, Jr., is supposed to carry the picture and, well, he just can't—not that picture or any picture.
There are a few werewolf movies that are really good, though, such as The Beast Must Die (1974).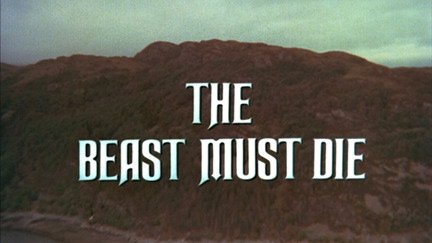 The title is a mistake. It's catchy enough, but it really belongs to the 1938 novel by Nicholas Blake (a pen name for Cecil Day-Lewis, father of the actor Daniel Day-Lewis), which has nothing to do with werewolves and has been filmed at least twice (1952's La Bestia debe morir and 1969's Que la bête meure).
But this movie has a neat gimmick, namely the Werewolf Break.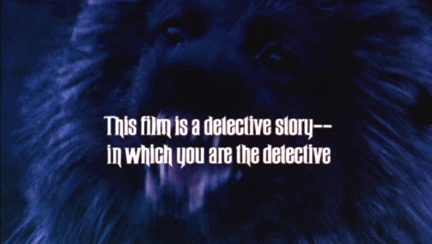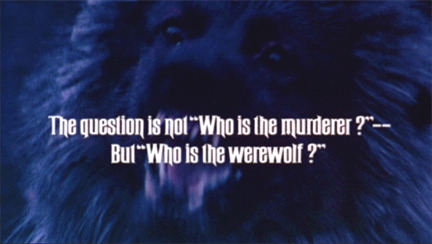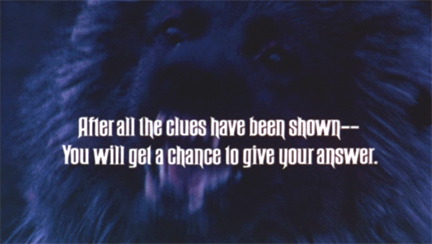 The story concerns a millionaire hunter who invites a group of people to his isolated country house. They all have one thing in common: unsolved murders happen when they're around, murders in which the victims were partially eaten after having their throats torn out.
"One of you is a werewolf!" declares the hunter, though I wondered why he was so sure that only one of them was a werewolf. It seemed to me that any number of them, all of them could be werewolves.
Still, I like his style.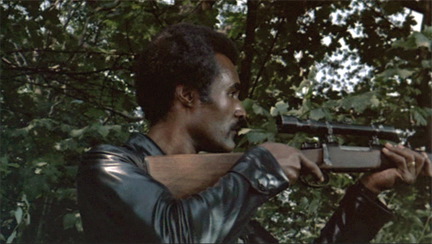 The werewolf's no slouch, either. The hunter has wired the whole estate for sound and vision, and has elaborate computerized detection and guidance systems.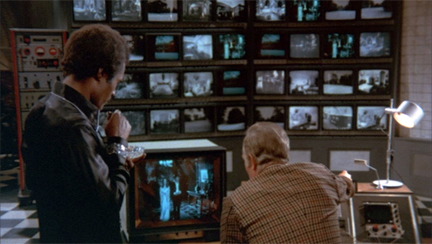 But the werewolf destroys all this crap on its first night. Such a pleasure to see real professionals at work!
Here's the Werewolf Break. You have thirty seconds to guess which house guest is the werewolf.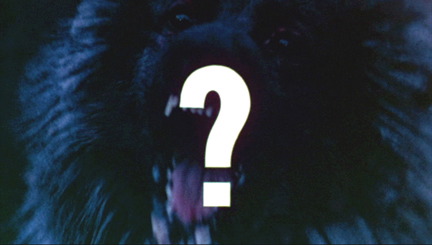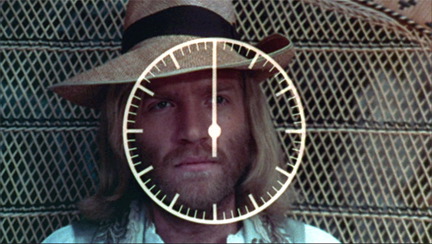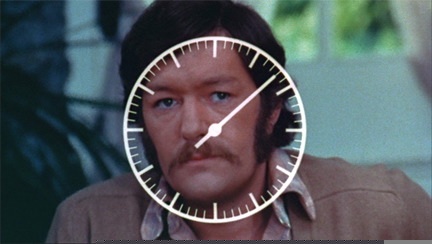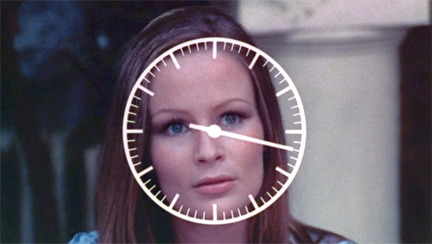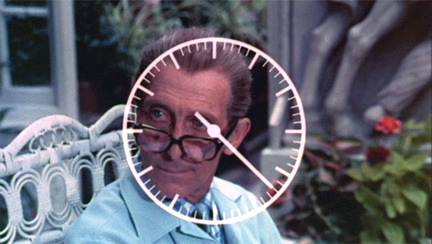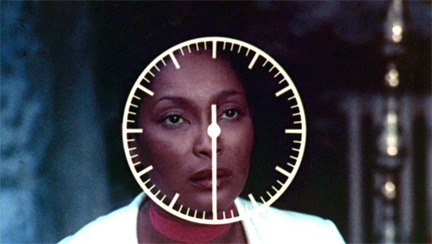 I didn't guess right, but there really weren't any clues or useful information. It could have been any of them. By that point I was enjoying myself too much to care, anyway. The Beast Must Die is a fun, unpretentious movie, definitely one of the better and more unusual werewolf movies out there.
---
Peter Graves died yesterday at the age of 83. He's famous for Mission: Impossible and Airplane!, of course, but was also in Red Planet Mars, The Night of the Hunter (with Robert Mitchum), It Conquered the World (with Lee Van Cleef), Beginning of the End (with giant grasshoppers), The Eye Creatures (with eye creatures), Wichita (directed by Jacques Tourneur) and Beneath the Twelve-Mile Reef (which has a great Bernard Herrmann score). He even worked with director Tsui Hark when he appeared in Aces Go Places III: Our Man in Bond Street (1984).
The first leader of the Impossible Missions Force was played by Steven Hill, whom I prefer, but Graves was destined for the role. The same year he joined Mission: Impossible he starred in a TV pilot for a similar show, Call To Danger, in which he played a similar role.
Mission: Impossible was very popular and so, in the late '60s, were spaghetti westerns. Somebody had the brilliant idea to make a spaghetti western modeled on Mission: Impossible and to get Peter Graves to star. The Five Man Army (whose title neatly describes the basic Mission: Impossible concept), which has brilliant music by Ennio Morricone, is the one hundred and fourth Soundtrack of the Week.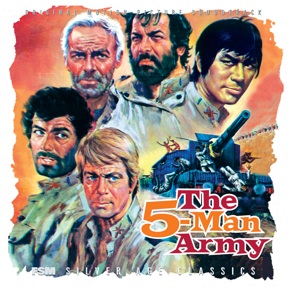 Thematically similar to Morricone's famous music for Sergio Leone's trilogy of Clint Eastwood films, The Five Man Army's fistful of themes benefits from breathtakingly inventive arrangements and orchestrations.
Wooden flutes and fuzz guitars combine with whistles, wordless vocals, strings, percussion, brass and electric keyboards to create a veritable musical kaleidoscope. The music is startling and unusual, even by the standards of Morricone!
Some of this music had been released before, on an Italian label, but Film Score Monthly presents the complete recordings, and has pitch corrected them to boot.
The score has become one of my favorites. I'd love to see the movie someday.
---
The biggest public event in Atlanta during O'Connor's stay, if not in the city's entire cultural history, was the grand premiere of Gone With the Wind. …
On the evening of December 15, 1939, five giant searchlights clashed like crossed swords above Loew's Grand Theatre downtown. Confederate flags whipped in the wind along Peachtree Street as the lead actors Clark Gable and Vivien Leigh and the novelist Margaret Mitchell arrived. Pathe and Movietone crews filmed more than two thousand celebrities, and the governors of five Southern states, disappearing into a lavish façade redone as a Greek Revival plantation home. Many of these Confederate-themed festivities stretched out over the entire week, enacted along a fault line of Jim Crow tension. The black actress Hattie McDaniel, who won a Best Supporting Actress Oscar for her role as Mammy, was not invited to the premiere. The sixty-voice Ebenezer Baptist Church Choir, directed by the Reverend Martin Luther King, Sr., entertained at a whites-only Junior League ball associated with the opening event; choir members, including the ten-year-old Martin Luther King, Jr., were dressed as slaves.
—Brad Gooch, Flannery: A Life of Flannery O'Connor (2009)
---
Bloodbuster seems to be a really cool shop in Milan. At least their website has a Milan street address. They also publish some interesting movie books under the banner of Bloodbuster Edizioni: Tutto il cinema dalla B alla Zeta! I guess that means everything cinema from B to Z.
The latest Bloodbuster book, following the intriguing Contaminations: Guida al fantacinema italiano anni 80 (a guide to fantastic Italian movies from the '80s) and Cinici, Infami e Violenti: Guida ai film polizieschi italiani anni '70 (a guide to Italian crime movies from the '70s) is Segretissimi: Guida agli spy-movie italiani anni '60 (a guide to Italian spy movies from the '60s).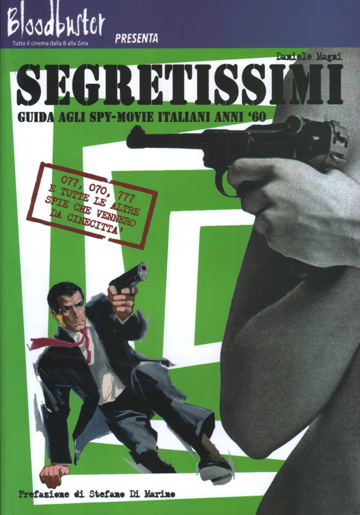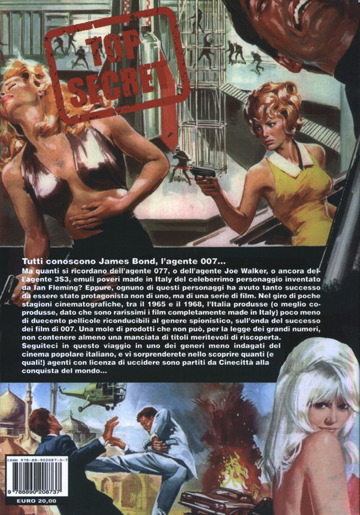 The book is in Italian only, but I bought it anyway. With a dictionary I can probably get a rough idea of many of the movie plots.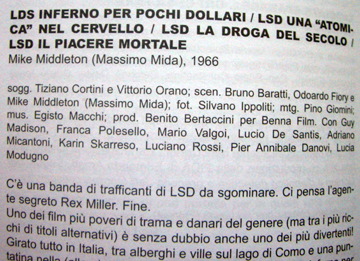 "C'è una banda di trafficanti di LSD da sgominare. Ci pensa l'agente segreto Rex Miller. Fine." That makes a certain amount of sense.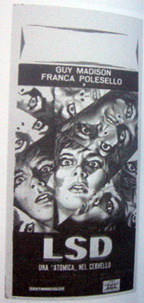 There are lots of illustrations in the books, movie posters and stills, all in black and white, probably to keep costs down. Segretissimi is limited to 500 copies, hand numbered.


The book begins with a quote from a song by Italian singer/songwriter Paolo Benvegnù: "L'uomo prega Dio ma preferisce Giuda...", which I think translates as "man prays to God but prefers Judas...".
Emma Peel makes an early appearance in the book, which is surely a good sign.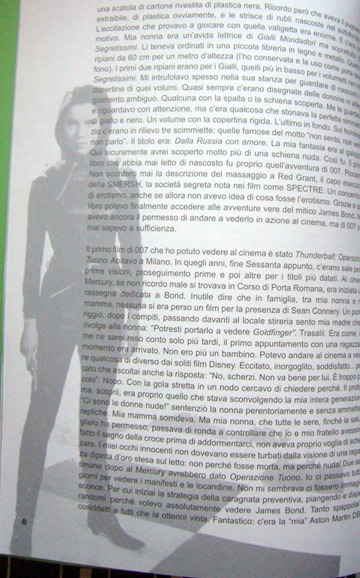 There are spreads on different series of films and a rogues' gallery of actors.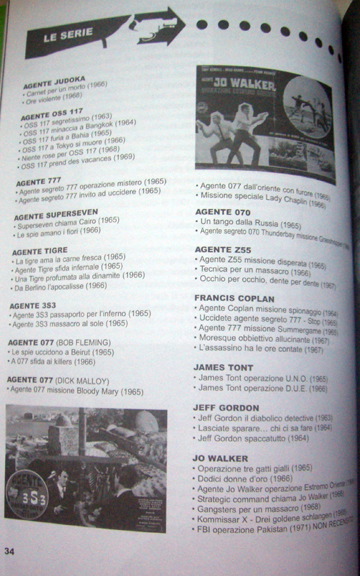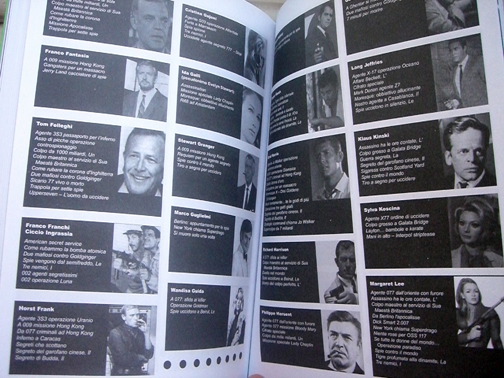 Klaus Kinski is there, all the way on the right, in the middle of the column. Here he is again.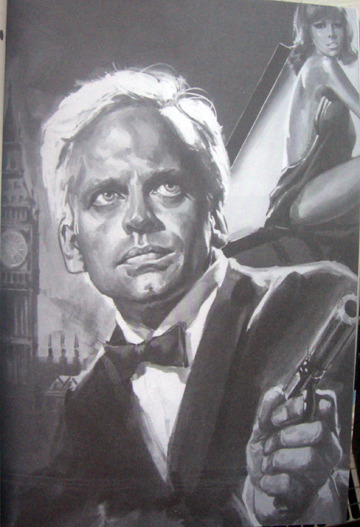 Most of the book presents synopses of the films with reproductions of movie posters and a few stills.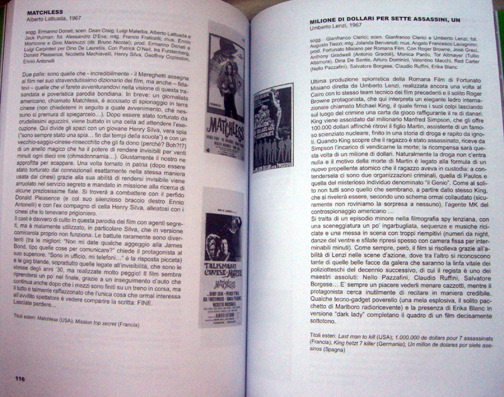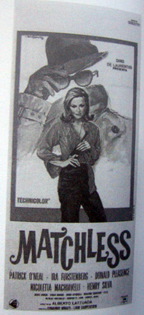 Matchless has a great Ennio Morricone score.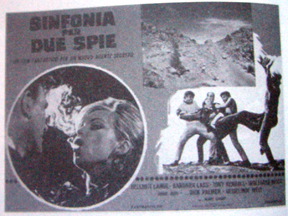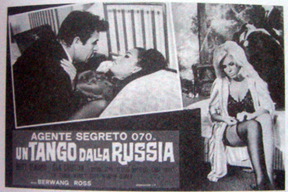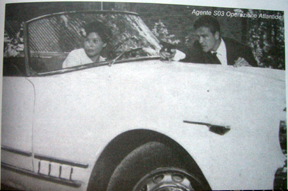 The pictures look better in the book than they do here. These are from lazy snapshots I took with my camera. When I look at the text, Italian seems to be a pretty inviting language. "L'agente segreto americano Kurt Jackson è inviato a Singapore…" seems pretty clear to me.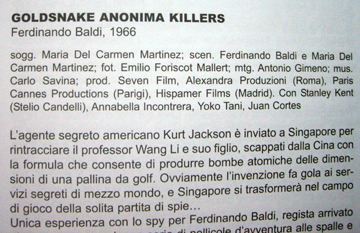 Books that focus on just one particular shadowy corner of pop culture are a favorite of mine. I'm very pleased to have Segretissimi on my shelf! (My copy came from Screen Archives Entertainment.)
---
Soundtrack of the Week #103 is Joe Harnell's music from The Bionic Woman episodes "Doomsday Is Tomorrow Part 2" and "The Martians Are Coming, The Martians Are Coming".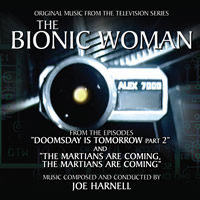 The Bionic Woman was my favorite TV show when I was in elementary school. After moving into my first New York City apartment in 1991, I was delighted to find out that it was being shown on TV at three in the morning every Monday. It would be followed at four by Mission: Impossible. I stayed up every Sunday night to watch it.
The music was always great and I sometimes recorded it directly off the TV to listen to later. Jerry Fielding's theme for the show is still one of my favorite pieces.
Joe Harnell, whose beautiful theme music for The Incredible Hulk television show also haunts my memory, scored several episodes, including the second part of "Doomsday Is Tomorrow", a thrilling mixture of plot devices from The Andromeda Strain, 2001: A Space Odyssey and Dr. Strangelove. This fan-made trailer is great—except for not using the music originally in the show.
The CD begins with Joe Harnell's unused theme for the show. It's excellent and should be familiar to Bionic Woman fans as Harnell frequently worked it into the music for episodes he scored.
After that is music for "The Martians Are Coming, The Martians Are Coming", which mixes slinky funk/disco rhythms with synthesizer and delay freak-outs and the Blaster Beam, an electronic instrument much cherished by sci-fi soundtrack composers.
The CD liner notes point out that "While most people associate the first use of this device with Jerry Goldsmith's score for Star Trek: The Motion Picture, where it was used as the voice of V'Ger, Joe actually used the Blaster Beam nearly a year before in this episode of The Bionic Woman".
(According to the liner notes of Film Score Monthly's CD of James Horner's Star Trek II: The Wrath of Khan score, the Blaster Beam was invented by Craig Huxley, who also played it for at least the first two Star Trek movie scores. Huxley also appeared in two episodes of Star Trek when he was a child, and was William Shatner's musical director for a while.)
After "Martians" there's an 11-second commercial bumper, then the music for "Doomsday", which is alternately eerie and driving, suspenseful and marital.
Again the liner notes point out some things worth knowing:
"While Joe was very confident with his dramatic instincts as a composer, he never passed up an opportunity to wink at the audience. To represent the ALEX 7000, Joe chose to write a theme that was essentially Richard Strauss's "Also Sprach Zarathustra" from 2001 but backwards as an in-joke for fans who would make the connection between ALEX and HAL 9000. In the track called "Father and Son", Joe quotes from the Ernest Gold theme to Exodus when David Opatoshu, a star of that film, hugs his son, after he discovers that his actions have started the doomsday device.
After "Doomsday" come Harnell's unused end credits music, bonus alternate tracks of music from both episodes and some very cool "music effects" tracks that could be great sample fodder for people who are into that sort of thing. (One of them includes that haunting solo piano from The Incredible Hulk.)
I got my copy of this excellent CD from Joe Harnell's website but it's also available from Screen Archives Entertainment.
---
Later that week, Tommy saw the lethal combination of heavy-duty barbiturates and alcohol with which Hank was dosing himself. He also saw how Perdue and Marshall had worked out a procedure that would enable their meal ticket to make the show, but at a terrible cost. Hank was allowed a few beers after he woke up, then Marshall injected him with a drug that made him vomit up the beer. Then they would pour black coffee down him, hand him some Dexedrine tablets and point him toward the stage. After the show, he'd be allowed some more beers and put back to bed with some downers.
—Colin Escott, Hank Williams: The Biography
---
Hank Williams had an interesting history with marriage. He and Audrey were married, then divorced. Then the divorce was annulled and they got married again, then divorced again.
Hank then married Billie Jean Jones a few times. They got married in public at the Municipal Auditorium in New Orleans, charging $1.00—$2.80 for tickets. You could attend the the 3:00 or 7:00 shows.
But Hank and Billie Jean got legally married the night before their public weddings. Legend has it that Audrey threatened to show up and disrupt the ceremony, so they made sure all the legal, official business was done before show time.
According to Colin Escott's Hank Williams biography, about 14,000 people saw Hank and Billie Jean get married. Some of them bought this program for 50¢. (This one my mother got on eBay and gave to me as a present.)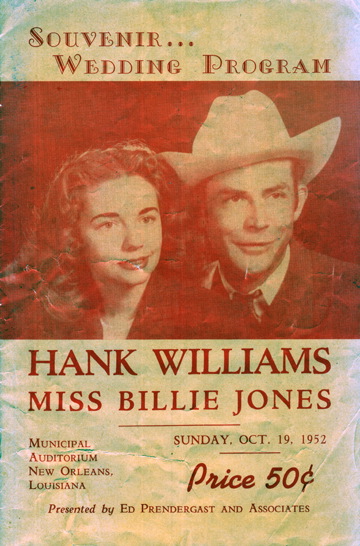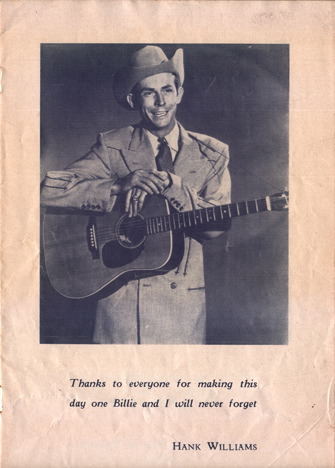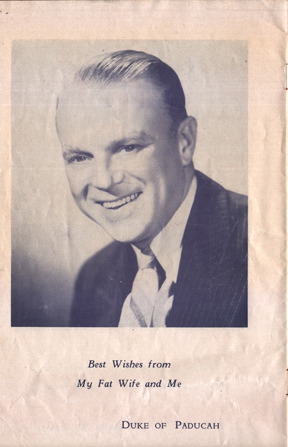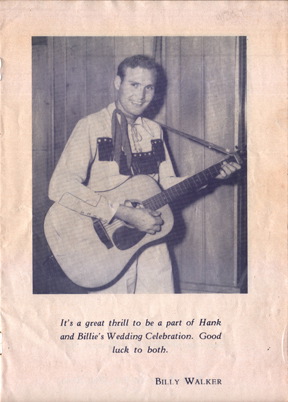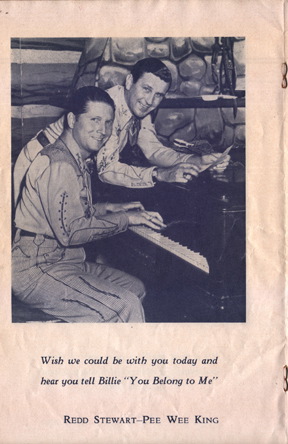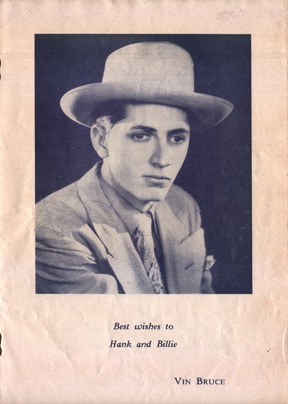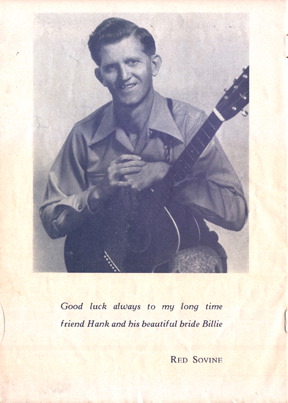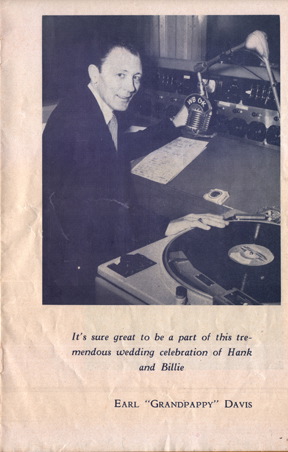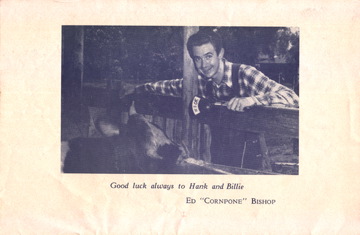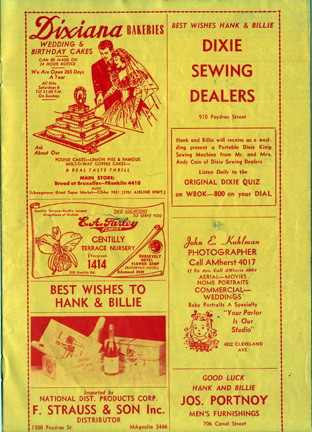 ---
The one hundred and second Soundtrack of the Week is Gil Mellé's The Andromeda Strain.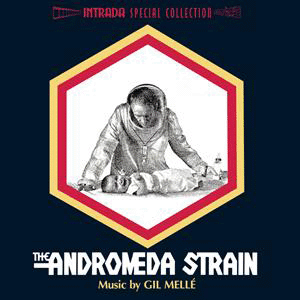 I've admired some of Mellé's television scoring, particularly for Columbo. Mellé also made some great small-group jazz records in the fifties and sixties, for Blue Note and Prestige. For one of the Blue Note sessions—October 25, 1953—he recorded an arrangement of Miklós Rózsa's Spellbound theme. The group was Mellé on tenor sax, Urbie Green on trombone, Tal Farlow on guitar, Clyde Lombardi on bass and Joe Morello on drums. You can hear it on Gil Mellé's The Complete Blue Note Fifties Sessions.
The liner notes to Intrada's new Andromeda Strain CD tell us that Mellé was "First signed to Blue Note Records at the age of 19" and "supported himself by painting album covers for the likes of Thelonious Monk and Miles Davis. After studying modernism under one of its greatest proponents, Edgar Varèse, Mellé's own experimental interests took an electronic turn in 1959. Mellé constructed his own instruments and was adamant that they should be their own electronic beasts, rather than replicate already-existing sounds".
The Andromeda Strain is a masterpiece, one of a handful of scores that make me think that avantgarde concert music lags behind some of the music created for film and television.
It was apparently for the Andromeda Strain score that Mellé created the Percussotron, "the world's first percussion synthesizer", according to Intrada's liner notes. "He also recorded a wealth of organic sounds, from pins being knocked down at a bowling alley to buzz saws in a lumber mill. Mellé even ventured with [director Robert] Wise to tape the inner workings of the Jet Propulsion Laboratory in California".
Listening to it, I was reminded occasionally of Miles Davis's electric bands of the '70s, of Raymond Scott's electronic music, of Toru Takemitsu, of Xenakis and Stockhausen, of free jazz, of Lee Perry, of Vangelis and Tangerine Dream. But it doesn't actually sound like any of that. There are only occasional moments of sympathy with those other musical worlds.
Mellé's work is breathtakingly original. This is a record that benefits from close listening with headphones. Stereo separation and "panning" from left to right and from right to left are aggressively deployed here.
It doesn't make me want to see The Andromeda Strain again, but it does make me want to see the Bionic Woman episode "Doomsday Is Tomorrow" again. That was a two-part episode that combined elements of The Andromeda Strain, 2001: A Space Odyssey and Dr. Strangelove. Jaime has to fight a super-computer to prevent it from causing nuclear war. "May the best—'one'—win," says the HAL-like computer.
---