2010 March 22 • Monday
Soundtrack of the Week #105 is Zatoichi: The Best Cuts 1967–1973, a compilation of music from Zatoichi films.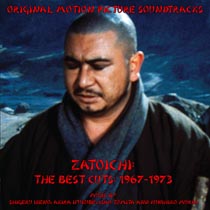 While my preference would have been for, say, a multi-disc box set of all the music from all the Zatoichi films, and the television series, also—just the Shintaro Katsu Zatoichi stuff, not Takeshi Kitano's recent Zatoichi or the more recent remake, Ichi, or Takashi Miike's recent stage play Zatoichi Live—there's no denying that this is a great disc. It certainly makes me want to hear more.
There's a lot of variety here, such as Sei Ikeno's Zatoichi theme song, performed by Shintaro Katsufor the soundtrack to Zatoichi the Outlaw; Ikeno also wrote many effective dramatic cues.
Kunihiko Murai wrote some stuff for Zatoichi at Large and Zatoichi in Desperation that would be at home in Italian crime movies from the '70s.
Akira Ifukube's powerful main theme for Zatoichi Meets Yojimbo is better than the movie. He contributed some of his most beautifully mournful work for Zatoichi's Conspiracy.
The composer with the most cues on the CD is the formidable Isao Tomida. His Zatoichi Goes to the Fire Festival lures you in with adventurous yet haunting rhythms, then continues into a creepy organ-driven suspense mood with muted trumpet. Then comes the fuzz guitar and the drum set! The percussionists go crazy!
For Zatoichi Meets the One-Armed Swordsman, Tomida doesn't take any chances but runs that fuzz guitar through a flanger or a ring modulator or something. It is a seriously ill sound, especially when combined with shakuhachi, as it is here.
Great compilation! But, like I said, a 12-disc (or whatever) complete music of Zatoichi box set would be even better.
---