2010 March 15 • Monday
Peter Graves died yesterday at the age of 83. He's famous for Mission: Impossible and Airplane!, of course, but was also in Red Planet Mars, The Night of the Hunter (with Robert Mitchum), It Conquered the World (with Lee Van Cleef), Beginning of the End (with giant grasshoppers), The Eye Creatures (with eye creatures), Wichita (directed by Jacques Tourneur) and Beneath the Twelve-Mile Reef (which has a great Bernard Herrmann score). He even worked with director Tsui Hark when he appeared in Aces Go Places III: Our Man in Bond Street (1984).
The first leader of the Impossible Missions Force was played by Steven Hill, whom I prefer, but Graves was destined for the role. The same year he joined Mission: Impossible he starred in a TV pilot for a similar show, Call To Danger, in which he played a similar role.
Mission: Impossible was very popular and so, in the late '60s, were spaghetti westerns. Somebody had the brilliant idea to make a spaghetti western modeled on Mission: Impossible and to get Peter Graves to star. The Five Man Army (whose title neatly describes the basic Mission: Impossible concept), which has brilliant music by Ennio Morricone, is the one hundred and fourth Soundtrack of the Week.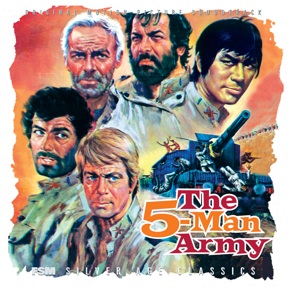 Thematically similar to Morricone's famous music for Sergio Leone's trilogy of Clint Eastwood films, The Five Man Army's fistful of themes benefits from breathtakingly inventive arrangements and orchestrations.
Wooden flutes and fuzz guitars combine with whistles, wordless vocals, strings, percussion, brass and electric keyboards to create a veritable musical kaleidoscope. The music is startling and unusual, even by the standards of Morricone!
Some of this music had been released before, on an Italian label, but Film Score Monthly presents the complete recordings, and has pitch corrected them to boot.
The score has become one of my favorites. I'd love to see the movie someday.
---