Happy birthday, edp!
Did you think I was joking when I said I'd be keeping track of cats in movies? Sorry to disappoint you. Here's the cat from Okami yo rakujitsu o kire (1974), Kenji Misumi's last movie, known here as The Last Samurai.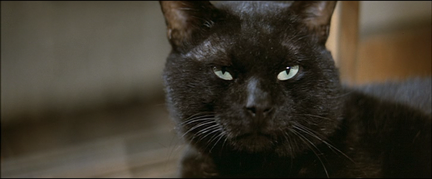 This cat actually plays a small but significant part in the story.
---
2009 January 27 • Tuesday
Having just watched Black Christmas, I can say that it certainly does merit inclusion on any list of "Rocking Chair" movies. I wonder about the "cat" that's on the list, though.
Sure, there is this cat, whose name is Claude or something, and at least two people get killed wandering through the sorority house looking for him.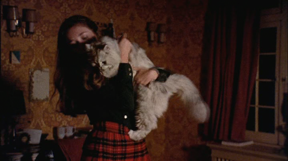 That's the cat in question right there. But in an earlier scene, another cat can be seen at the lower right of the screen.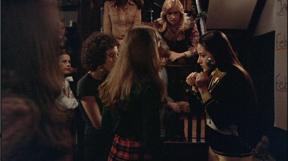 Hard to see in this low-resolution image, but easily spotted in the movie.

So there are really two cats in Black Christmas, though this first cat is never mentioned or seen again.
Feel free to go to imdb and change "cat" to "cats". In the meantime, I'm starting to keep track of appearances of cats in movies, in the spirit of the Internet Movie Cars Database.
---
2009 January 26 • Monday
The forty-fifth Soundtrack of the Week is The Tale of Osaka Castle by Akira Ifukube.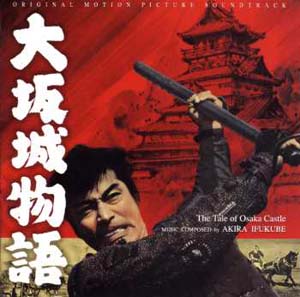 I love Ifukube's music. Sometimes I think of him as the Japanese Bernard Herrmann. Both composers created music that was obsessive, passionate, romantic and extreme. Both are very easily recognizable composers; a couple of seconds is usually all you need to identify their music.
Just as Herrmann will always be famous for his music for Psycho and other Hitchock movies, Ifukube will be remembered forever as the composer of the score for Gojira (Godzilla) and other Japanese sci-fi and fantasy films.
The Tale of Osaka Castle is classic Ifukube. The low keys of a piano with the sustain pedal down. Aggravated strings. Haunting melodic lines and tender harp playing. Relentlessly driving military themes.
In addition to the Osaka Castle score, this CD includes music from three other movies, Yagyu Bugeicho (a.k.a. Ninjitsu, a.k.a. Secret Scrolls), Yagyu Bugeicho: Soryu Hiken (a.k.a. Ninjitsu Part 2, a.k.a. Secret Scrolls Part 2 ) and Aru Kengo no Shogai (a.k.a. Samurai Saga, a.k.a. Life of an Expert Swordsman).
---
Isn't Night of the Hunter one of the ultimate rocking-chair movies? Obviously imdb's list is useless in its present form.
---
I'm pretty sure I saw Karl Malden sit in a rocking chair in Blue. Feel free to add it to the list.
---
Perhaps the most amusing thing about the Internet Movie Database is its inclusion of "Plot Keywords" with other movie details. They're wide-ranging, that's for sure. The complete list for any number of movies is more rewarding as poetry than most poems I come across these days.
Consider this list of Plot Keywords from Let's Scare Jessica to Death (1971). As you look at it, try to imagine hearing William Shatner's voice reading it.
* Surrealism
* Old Dark House
* Scar
* Townspeople
* Punctuation In Title
* Swimming
* Knife
* Paranoia
* Waterfall
* Cove
* Deception
* Antique
* Stranger
* Swimsuit
* Undead
* Cemetery
* Graveyard
* Lake
* Staircase
* Stabbed To Death
* Island
* Boat
* Blood
* Guitar
* Rowboat
* Hearse
* Farmhouse
* Stabbing
* Ambiguity
* Drifter
* Rocking Chair
* Hallucination
* Death
* Drowned In Lake
* Picture
* Zombie
* Craziness
* Old House
* Corpse
* Supernatural
* Dead Animal
* Wedding
* Seance
* Apparition
* Seduction
* Drowning
* Bandage [sic]
* Ferry
* Insanity
* Infidelity
* Mental Illness
* Nightmare
* Bitten In The Neck
* Small Town
* Hook
* Ghost
* Seclusion
* Dock
* Barn
* Mouse
* Dead Body
* Murder
* Attic
* Mist
* Investigation
* Orchard
* Mute
* Antique Dealer
* Country Home
* Fishing
* Epitaph
* Driven Mad
* Haunted By Past
* Dinner
* Haunted House
* Vampire
* Mental Hospital
* Mental Institution
* Harpy
* Hippie
* Redhead
* Asylum
* Based On Novel
* Character Name In Title
My favorite is definitely "Punctuation In Title". "Rocking Chair" is good too. "Harpy Hippie Redhead Asylum" has panache. I assume it's already the name of somebody's band.
Here's another good one, for Black Christmas (1974). (Horror movies seem to have the best lists.)
* Bedroom
* Giallo
* Cruelty
* Throat Slashed
* Color In Title
* Candle
* Joy
* Hook
* Drinking
* Pianist
* One Night
* Slaughter
* Unknown Killer
* Small Town
* Strangulation
* Smothering
* Stalking
* Hockey
* Embarrassment
* Snowball
* Murder By Strangling
* Plastic
* Obscene Finger Gesture
* Doll
* Darkness
* Stabbed To Death
* Wrath
* Closet
* Murdered In Sleep
* Ice Rink
* Confrontation
* Bathrobe
* Distorted Voice
* Dead Child
* Deeply Disturbed Person
* Break In
* Mysterious Stranger
* Christmas Gift
* Blonde
* Hidden Corpse
* Bed
* Christmas Wreath
* Bag On Head
* Dark Humor
* Silent
* Cult Favorite
* Trap
* College Life
* Banging On The Wall
* Holiday
* Glasses
* Accidental Death
* Anger
* Police Station
* Sweater
* Fireplace
* Brunette
* Christmas Tree
* Rage
* Murder Scene
* Weather
* Park
* Homicide
* Phone Tracing
* Strong Language
* Rope
* Stairs
* Window
* Knife
* Argument
* Nightgown
* Asthma Attack
* Mysterious Man
* Cathedral
* Knife Murder
* Christmas Eve
* Broken Window
* Alcoholic
* Multiple Homicide
* Christmas Lights
* Cigarette Smoking
* Rocking Horse
* Light
* Christmas Party
* Black Dress
* Asphyxiation
* Long Hair
* Psychological Thriller
* Basement
* Anonymous Telephone Call
* Old Woman
* Missing Person
* Mass Murder
* Obscene Gesture
* Telephone Call
* Christmas Star
* Caroler
* Killing
* Christmas Horror
* Attraction
* Breathing
* Character's Point Of View Camera Shot
* Eye
* Chase
* Head Wound
* Dramatic Irony
* Door
* Boyfriend Girlfriend Relationship
* Suspense
* Multiple Murder
* Strife
* Point Of View
* Drink
* Santa Claus
* Room
* Hiding In Closet
* Rampage
* Mysterious Death
* Psychotic
* Mystery Killer
* Psycho Killer
* Old Man
* Vulgarity
* Phone Scene
* Skirt
* Dark Past
* Taxi
* Vulgar Language
* Walking
* Dead Girl
* Christmas Carol
* Help
* Psycho
* Death By Strangulation
* Dead Man
* Dead Woman
* Psychopathic Killer
* Murder
* School
* Serial Killer
* Student
* Christmas
* Abortion
* Teenkill
* Blood
* Slasher
* City
* Sorority
* Incest
* Attic
* Cat
* Children's Choir
* Obscene Phone Call
* Piano
* Police
* Pregnancy
* Recital
* Search
* Taxicab
* Telephone
* Black Comedy
* Drunkard
* Lush
* Obsession
* Rape
* Stabbing
* Suffocation
* Avant Garde
* Cellar
* Child In Peril
* Delusion
* Hallucination
* Lynch
* Mansion
* Mental Illness
* Ribald
* Rocking Chair
* Scream
* Search Party
* Sorority House
* Split Personality
* Suicide
* Wreath
* Suicide Attempt
* Manic Depression
* Old Dark House
* Kitty
* Prank Telephone Call
* Unplanned Pregnancy
* Holiday Horror
* Toronto Ontario
* Detective
* Phone Tap
* Phone Terror
* Police Investigation
* Independent Film
* Twist In The End
"Drinking / Pianist / One Night / Slaughter / Unknown Killer / Small Town / Strangulation …." If that's not poetry, what is? Note that the list includes both "Obscene Finger Gesture" and "Obscene Gesture".
"Strife" and "Skirt" are intriguing "plot" keywords. "Christmas Abortion Teenkill" is another good band name. "Holiday Horror / Toronto Ontario" is another story. "Lynch Mansion" could be a movie title itself.
And here's "Rocking Chair" again! Awesome! Here's the list of titles with "Rocking Chair" as a plot keyword, woefully incomplete at only 45 titles. Isn't there a rocking chair in Psycho?
---
The forty-fourth Soundtrack of the Week is All Night Long, a jazz score with music by Philip Green and a few co-writers here and there.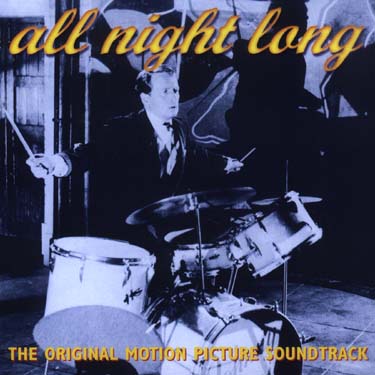 Dave Brubeck, Kenny Wheeler and Charles Mingus are on here. So is Johnny Dankworth, who wrote the music for The Avengers when it was still being videotaped. (Laurie Johnson took over composing duties, and wrote his famous Avengers theme, when the show switched to film.)
I've always wanted to see this movie. It's apparently Othello but with jazz musicians. Patrick McGoohan plays the Iago character, a drummer in the movie.
It's available on DVD in the UK, from Network. Network is having a 40% off sale until January 25th, so I bought it. (This is why you need an all-region DVD player.)
The music is really great, consistently swinging, sometimes light, sometimes heavy. At least one cut features some frantic bongo playing, and I'm always up for that. I have a low tolerance for "jazz guitar" but I'm impressed with Ray Dempsey's playing on this record.
---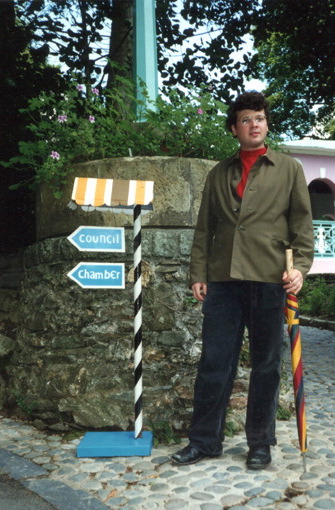 ---
2009 January 15 • Thursday
R.I.P., Patrick McGoohan. Thanks to my brother for telling me.
And now I just found out, also R.I.P., Ricardo Montalban.
---
2009 January 14 • Wednesday
One thing I did right in 2009 was deciding to get a Daimajin keychain.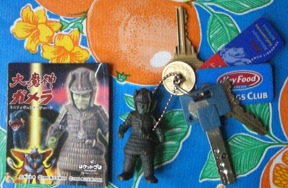 ---
2009 January 12 • Monday
The forty-third Soundtrack of the Week is Starcrash, scored by John Barry.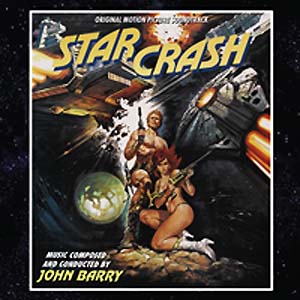 I had never heard of this movie before. It's apparently a terrible Italian Star Wars rip-off (3.1/10 on imdb). According to the liner notes, John Barry was more or less tricked into agreeing to score it.
Somehow Barry managed to come up with a main title which is majestic, romantic, brooding and menacing, all at once. (It's also similar to his main title for Game of Death.) The cues "Launch Adrift" and "The Ice Planet/Heading for Zarkon" are two beautiful pieces, the latter brilliantly adding some kind of electronic instrument, probably a keyboard, to the orchestra.
I might have bought this even if it weren't John Barry. I think it's a good sign anytime I see an album with a track called "Akton Battles the Robots".
---
Found on the street: all four novels in Lawrence Durrell's Alexandria Quartet.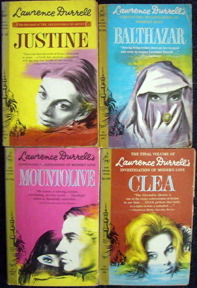 Last year I decided to read at least the first of these. I didn't want to buy them or take them out of the library. Finding them on the street, and in these uniform pocket paperback editions, is really ideal.
---
I was sad to hear (from my brother, who heard it from his wife) that Donald Westlake died last week. He had been one of my favorite authors for many years. I met him several times over a period of about ten years and he was always very friendly.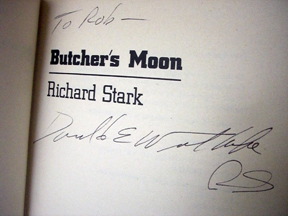 One time I gave him a videotape of an episode of the old TV show The 87th Precinct, an episode based on one of his short stories. He had never seen it — a friend of his had made an audio-only recording of it at the time (early '60s), and listening to it was as close as he had got to seeing it — and he seemed thrilled to have the chance to watch it, about forty years after its original broadcast.
I think "The Feel of the Trigger" was the name of the story (collected in Westlake's Levine) and the episode. After thanking me for the tape, Westlake inscribed my copy of his latest novel, "God bless you for 87". Sadly, I no longer have that book. (I think it was The Hook.)
In a bookstore the other day, I noticed new trade paperback editions of Westlake's first few Richard Stark "Parker" novels. Nice to see those in print again.
---
The forty-second Soundtrack of the Week is Film Score Monthly's CD of the music from Green Mansions, composed by Bronislau Kaper and Heitor Villa-Lobos.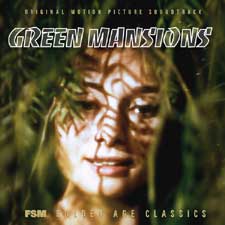 The liner notes are very informative, first relating the difficult transition from novel to movie — the rights changed hands many times and it's a shame that Merian Cooper couldn't make this his follow-up to King Kong, as planned — and then the other rocky road to creating a score.
To make a long story short, it seems that Villa-Lobos finished his score before Green Mansions was completed, so Bronislau Kaper was hired for three jobs: to re-arrange the Villa-Lobos music so it would fit the movie, to write new music that was similar to what Villa-Lobos had written and to compose new music of his own that would work well in the film.
Villa-Lobos took his original music and made it into the Forest of the Amazon suite.
This CD is great and, as you might expect, covers a lot of musical territory. Haunting, suspenseful, exciting, romantic, atmospheric — but missing the version of the love theme sung by Anthony Perkins in the film. The master tapes no longer exist.
What of Green Mansions the book? It's near the top of my reading list. My brother remembers reading it when he was a kid and being frightened by it. He told me that the James Tiptree, Jr., story "The Last Flight of Doctor Ain" reminded him of it. I mentioned this to Alice, who was reading a Tiptree collection at the time, and she pointed out that Green Mansions is mentioned in Tiptree's proto-cyberpunk story "The Girl Who Was Plugged In".
It's very easy and affordable to buy a nice edition of Green Mansions with beautiful illustrations by Edward McKnight Kauffer. I bought one at Skyline Books for $8, another at The Strand for $5.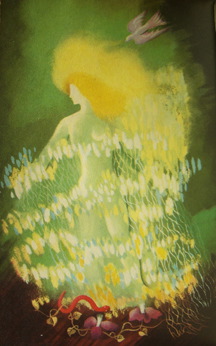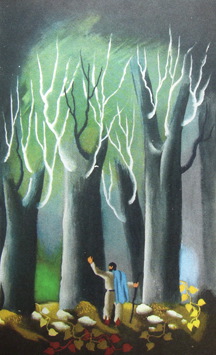 ---
I watched a few movies in 2008. These were some of them.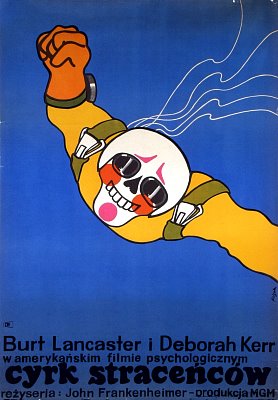 The Gypsy Moths (1969) reunited From Here to Eternity stars Burt Lancaster and Deborah Kerr in a story of traveling skydivers and doomed romance. Directed by John Frankenheimer with a score by Elmer Bernstein. Great photography, screenplay and performances, especially by Gene Hackman.
I liked Hot Fuzz (2007) better than Shaun of the Dead, from the same people. Super cop from London is exiled to a sleepy village where his high-octane, zero-tolerance methods aren't especially useful, until …. Watching this made me feel like all those hours spent watching action movies hadn't been wasted after all.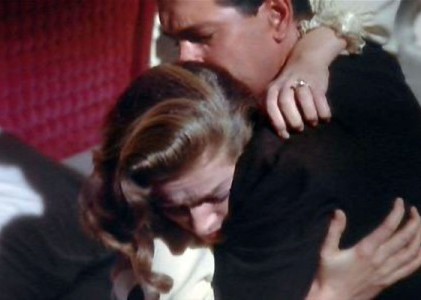 Written on the Wind (1956) probably had a story but all I cared about was the melodramatic splendor of the Technicolor photography, the set and costume designs and the larger than life performers (Rock Hudson, Lauren Bacall, Robert Stack et al.). Douglas Sirk apparently tried to claim that he had never meant these movies to be taken seriously but they're only enjoyable if you take them seriously.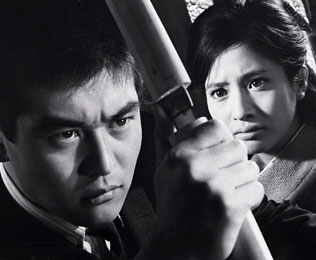 Gangster V.I.P. (1968) was the best movie in the Japan Society's "No Borders No Limits 1960s Nikkatsu Action Cinema" series. These movies were called "mood action" in Japan, like film noir a combination of style and content, not one or the other. Gangster V.I.P. is more or less about a gangster who gets out of prison and doesn't want to return to his old life, but the movie is really about moods: of people, of music, of color and of light.
Tokyo Tower: Mom and Me, and Sometimes Dad (2007) is one of several recent Japanese movies I watched in 2008. The most interesting movies in the world now are being made in Japan, and they tend to be quiet and moving stories of people we usually call ordinary. In this one, Odagiri Jo — a great actor — plays a young man who hosts a radio sex talk show. His mother is slowly and painfully dying of cancer and as he takes care of her in her last days, we see in flashback how much she has sacrificed for him. This might sound heavy-handed and programmatic, but it's not. Its slice-of-life vignettes are never judgemental, even when dealing with Jo's blowing off the college education his mother slaved to give him or showing how Jo's father caused the family to suffer.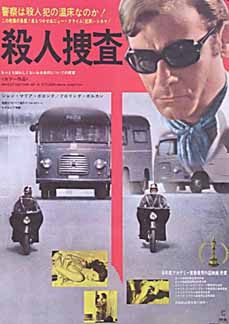 Here's a movie that deserves a great North American DVD release. The print of Investigation of a Citizen Above Suspicion (1970) that I saw was dubbed in English and I no doubt missed some of the nuances of Gian Maria Volontè's brilliant performance. He plays a police chief who kills his mistress and rather breezily directs suspicion to himself. Everything incriminating he says or does, though, is ignored or explained away by everybody around him. It's a nightmarish story and a fascism allegory. Ennio Morricone wrote the music.
Nigel Kneale of Quatermass fame wrote the script for The Woman in Black (1989), a British TV adaptation of a novel by Susan Hill. It's one of the best ghost stories I've ever seen, and an excellent display of how to unleash terror after creating an atmosphere of suspense and dread. A young lawyer travels to a small town to attend the funeral of a client. While putting her estate in order, he crosses an angry spirit. I couldn't stop thinking about this for days (and nights) after I watched it.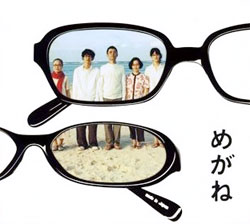 Megane (Glasses, 2007) is the latest movie from writer/director Naoko Ogigami, whose previous movie, Seagull Diner, was one of my favorites of last year. Megane features two of the same leads, most importantly the thrilling Masako Motai. She plays a sort of spiritual leader on an island retreat who gathers everybody for relaxing exercises on the beach, enjoying shaved ice and "twilighting". Satomi Kobayashi plays a burnt-out woman from Tokyo who arrives looking for your standard vacation. The minimal story is about her learning to let go. An early scene in which she puts down her suitcase and is annoyed when nobody at her hotel picks it up for her suggests the progress she will make. In that scene she goes back, picks it up and lugs it into the building. By the end of the movie she can drop her literal and figurative baggage.
Lelicek in the Services of Sherlock Holmes is a 1932 Czech comedy about a ne'er-do-well who becomes head of state. It's notable mostly because it seems to have been used as a template for Duck Soup (1933). Some of the scenes are almost identical and at least one gag — the feather pen that tickles your chin as you write with it — is the same. I didn't find Lelicek to be particularly hilarious, but probably a lot of Groucho's lines don't knock them dead when translated into Czech either ("How about the old maestro" etc.).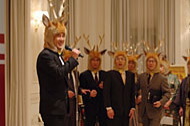 While most of the best recent Japanese films are dramas, with a sensitivity and a patience that may connect them to Ozu or Naruse (even if nothing else about them does), there are also the movies that Koki Mitani writes and directs. He makes wonderful comedies inspired by classic Hollywood films from the '30s and '40s. The Uchoten Hotel (2006) takes the famous Garbo/Barrymore vehicle Grand Hotel as its inspiration (both visual and otherwise) and casts the great actor Koji Yakusho in a Cary Grant-type role as the manager of the hotel. Lots of characters, all with different problems, converge and confuse. There's even a runaway duck. Odagiri Jo is in this too.
The Clock (1945) is a poignant and beautifully made World War II drama, shot almost entirely on location in New York City. Vincente Minnelli directed Judy Garland and Robert Walker as two strangers who are drawn closer and closer together after a chance meeting in Grand Central Station. Since Walker is a soldier who ships out again the next day, they try to get the most out of the hours they have. Interestingly, Agnès Varda's Cleo from 5 to 7 borrows quite a bit from The Clock.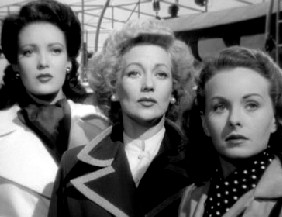 Before Joseph Mankiewicz made All About Eve, he used some of the same talent and the same flashback structure in the great A Letter to Three Wives (1949), a drama about three married women who receive a letter explaining that the husband of one of them has left them for another woman. But which husband? The letter doesn't say and the movie explores the reasons each husband might have for leaving.
I Love You Again (1940) was one of the best comedies I've ever seen. Myrna Loy can't stand being married to her dull, inattentive and stingy husband William Powell. After Powell receives a bump on the head, though, he remembers who he really is: a slick gangster who loves money, women and fast living. He returns home (in a scene that Preston Sturges might have stolen for his Hail the Conquering Hero, which came out four years later) literally a changed man and falls in love with his wife, who has already started divorce proceedings. This is about a hundred times better than The Thin Man.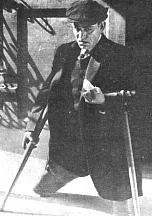 The Penalty (1920) is another amazing Lon Chaney film. This time he's a legless crime boss planning an elaborate revenge on the doctor who amputated his legs years ago. Somehow his evil scheme involves hiring people to make thousands of hats. Chaney is astounding as always.
Kidnap Syndicate (1975) is an Italian crime film and pessimistic revision of Kurosawa's High and Low. This time the rich kid and the poor kid both get kidnapped; the poor kid's father wants to do the right thing but the rich kid's father wants to haggle and hold out for a cheaper ransom. It's a bit agitprop, but I thought it was really good.
Age of Assassins (1967) is a hallucinatory, free-wheeling action/comedy with a thrilling performance by star Tatsuya Nakadai (in a dual role), gorgeous widescreen black-and-white photography by Rokuro Nishigaki and a wonderful score by Masaru Sato. The plot has something to do with an insane asylum that doubles as an assassination bureau. There's also a chase for a fabulous diamond or something. I can't really remember. At some point the villain takes off his own hand and reveals that he has a machine gun for an arm underneath. Or something. This was one of the best movies shown at the Film Forum's Tatsuya Nakadai festival last summer.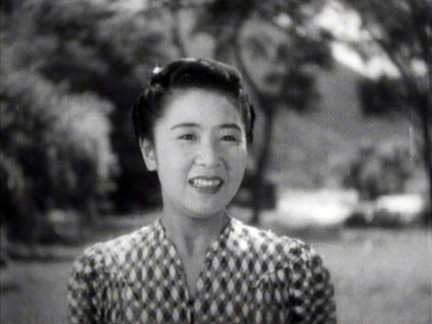 Ornamental Hairpin (1941) is a superbly crafted drama written and directed by Hiroshi Shimizu. A young man at a mountain inn is injured when he steps on an ornamental hairpin dropped by a young woman who had also been staying there. She returns to the inn from Tokyo to help him recover. I shouldn't say any more about it. It's similar in some ways to an Alice Munro story, and appears to have been filmed mostly on location.
Nine Queens (2000) is an Argentinian movie about two con men trying to sell fake rare stamps to a collector. The con men don't really know each other and are forced to work together, so there's a lot of anxiety about whether they can trust each other. Part of the fun of a movie like this is knowing, or at least assuming, that there's going to be more to it than what there appears to be. Sure enough, there are double crosses and triple crosses and so on. There's an American remake of this that is, according to one of my reliable sources, terrible (no surprise there).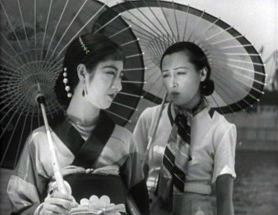 Japanese Girls at the Harbor is a silent Hiroshi Shimizu film from 1933. It has some startlingly advanced editing in a few scenes, and surprisingly racy subject matter. Teenagers, motorcycles, murder, prostitution... there must have been something in the air in 1933, as that's the same year that Ozu attempted a change of pace with Dragnet Girl, an Ozu gangster movie, of all things. Dragnet Girl didn't make Ozu happy at all, but Shimizu's film is a classic.
The original 3:10 to Yuma from 1957 is perfect. It's one of the best written, most suspenseful and most satisfying movies I've ever seen. Why the hell did they remake it? (I haven't seen the 2007 version, but what I've read about it suggests I should stay away.) Van Heflin (the strange love of Martha Ivers) plays the rancher desperate enough to escort a notorious outlaw to a train, risking almost certain death from the criminal's gang, determined to free their boss. I'll probably end up watching this again in 2009. About a hundred times better than High Noon.
Lady for a Day (1933) is a great Frank Capra movie about a destitute, alcoholic woman who has been claiming, in letters to her daughter, to be a glamorous member of high society. When the daugher finally comes to visit, accompanied by a prospective husband and his upper class parents, it's up to the local crime boss to put on a show of class convincing enough to fool everybody involved. There's a great billiards scene in this. Capra remade his own movie in 1961 with Bette Davis (A Pocketful of Miracles). Jackie Chan remade this as well, as Mr. Canton and Lady Rose (a.k.a. Miracles).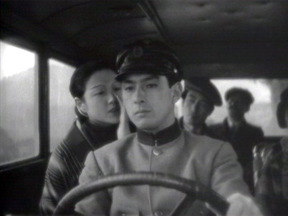 Eight years before Lifeboat (1944), which famously takes place entirely in a lifeboat, Hiroshi Shimizu made Mr. Thank You, an adaptation of a Kawabata which takes place almost entirely on a bus. While Hitchcock made his movie on a soundstage, Shimizu, by the look of it, actually filmed on a real bus, in the actual locations, and made sure that the bus ride in the movie is the same as it would be in real life. This seems like a lot of work to do anytime, but in 1936? "Mr. Thank You" is what everybody calls the polite bus driver, after his habit of thanking everybody who makes way for the bus to pass on the road. The story primarily concerns his feelings for a young woman on the bus, en route to a life of slavery. The gradual discovery of the other characters on the bus and how they interact with one another keeps the narrative moving forward. Really a brilliant movie.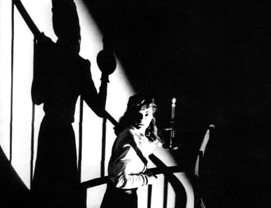 I saw The Spiral Staircase (1945) several times when I was much younger, always on 16mm at a chamber music camp in Vermont. (I have fond memories of seeing 16mm prints of The Golden Voyage of Sinbad, A Song to Remember and The Premature Burial, among others, there as well.) Watching it again in 2008, I was impressed by how ahead of its time it was, both in its treatment of a psycho killer and in its use of special effects to show the murderer's point of view. The cinematographer is Nicholas Musuraca, who also photographed Out of the Past, Cat People and The Curse of the Cat People.
The Stranger Within a Woman (1966) was one of Mikio Naruse's last movies and it must be his strangest. The plot concerns a married man who kills his mistress during one of their frequent bouts of rough sex. That one sentence probably tells you more than you should know before seeing it. It's brilliantly photographed and edited and I suspect that Naruse was pleased to have a chance with this kind of material.
Burnt Offerings (1976) is a surprisingly good haunted house flick directed by Dan "Dark Shadows" Curtis. Karen Black, Oliver Reed and Bette Davis star as the unsuspecting summer tenants at a creepy house looked after by Burgess Meredith and Eileen Heckart. An early scene shows that the house actually likes to drink blood, so you know this isn't going to go well. There turns out to be a surprising revelation about one of the main characters near the end and the final moment of terror is hair-raising, even though you can see it coming and can guess what it is.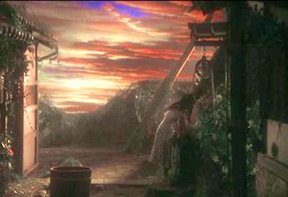 One year after Burnt Offerings, a Japanese movie with the same idea came out. House (1977) is about a group of teenage girls in the haunted house of an undead woman and her cat. It is one of the strangest movies I have ever seen, surreal, psychedelic and close to being a live-action cartoon. It's really good, though, very impressive. It's not scary or gory, just triumphantly strange.
The Fourth Man (2007) is, I think, the only Serbian movie I've ever seen. While similar to Jason Bourne, the main character in The Fourth Man has heavier (and more plausible) baggage. Like Bourne, he has amnesia (also caused by bullet to the head) and used to be some kind of covert operative. He tries to pick up the pieces while wondering if his assassin will finish the job. The similarities with The Bourne Identity end here; when you get to the end of The Fourth Man, you'll realize that Bourne got off lightly.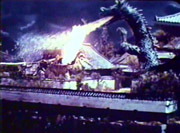 The Magic Serpent (1966) was a dream come true. Giant monsters, ninjas and sorcery, all in the same movie! Every scene has something fantastic. Perfect for a Saturday afternoon. If only I could have seen this when I was twelve.
Soylent Green (1973) is a movie that, like Psycho or The Crying Game, concludes with a shocking revelation that everybody now knows before they see it. So, yeah, I already knew that Soylent Green was made from people. After observing the overpopulated and resource-starved future depicted in the movie, though, my response was just to shrug. Why shouldn't Soylent Green be people? What else should they do with all those corpses? It seemed pretty reasonable to me and I suppose that's a shame.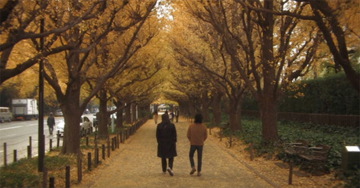 In Tenten (2007), Odagiri Jo plays a young man who can't pay off the yakuza loansharks he borrowed money from. He explains to the enforcer (Tomokazu Miura) that he can't borrow money from his parents as he was an orphan. The next day the enforcer returns and tells Jo that he'll give him the money he needs if Jo accompanies him on walks around Tokyo. And that's the movie. These two guys walk around Tokyo. There's a reason and even a destination for this walk, but you'll have to see it for yourself. It's because of quirky and moving dramas like this one that I always keep an eye on new releases from Japan.
Hancock perhaps stole its idea from Dainipponjin (2007), a Japanese movie about a superhero everybody hates. The treatment of the story here, though, is far from the Hollywood style. It begins as a documentary about an unassuming, not very interesting man who appears to be the very definition of unremarkable. When giant monsters attack Japan, he transforms into a giant and fights them. The fights are broadcast on television and he lives off the advertising revenue. His show is only on really late at night, though, and almost nobody watches it. Most people can't stand him; they vandalize his home and torment him. A very strange movie and I liked it.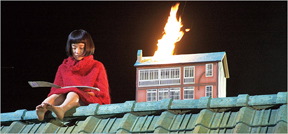 Speaking of strange movies that I liked, they don't come much stranger than Wool 100% (2006). Two elderly sisters live together and devote their lives to collecting junk. Every morning they go out and scavenge, bring home what they find, clean it up and repair it, draw a picture of it and add it to their collection. One day they bring back some red yarn and, mysteriously, a young woman who must knit it over and over again. She disrupts their routine and starts destroying their cherished possessions. A bizarre and brilliant debut feature from Mai Tominaga.
The Fate of Lee Khan (1973) is about rebels posing as waitresses at a remote inn so they can assassinate a despotic official. It's directed by King Hu, though, which means that watching it brings the same kind of satisfaction as does watching a Jean-Pierre Melville movie. Every composition, every movement of the camera or of people in front of it, every cut will be perfect and balanced and unhurried.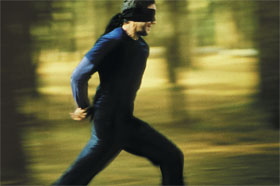 Intacto (2001) perhaps provided uncredited inspiration for the American movie The Cooler, which came out in 2003. The Spanish film Intacto is not a comedy or a love story but is basically a kung fu movie that replaces fighting skill with luck: you can use your luck to win contests, but somebody with more or better luck than you can take yours away. It's a really interesting story, very well made.
Red Peony Gambler 3: The Hanafuda Game (1969) is one of the highlights of the yakuza genre. Not only did Tai Kato direct, but Takakura Ken co-stars with Junko Fuji and Tomisaburo Wakayama has a cameo. In the very first scene the Red Peony Gambler rescues a blind girl from being run over by a train. Later she learns that somebody is impersonating her and cheating at cards, damaging her reputation. Then the gang hosting her clashes with a dishonorable gang. The exceedingly honorable Takakura Ken is bound to the crooked gang by obligation and is thus forced to clash with our heroine. I would watch this again in 2009 but it will probably take at least another year to get through Red Peony Gambler 4 – 8.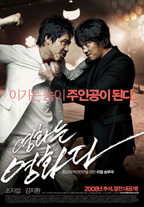 In Rough Cut (2008, a.k.a. A Movie Is a Movie), an arrogant actor currently starring in a gangster drama crosses paths with a real gangster who dreams of being in movies. The gangster asks for an autograph; the actor is rude. Later, after the actor loses his temper and beats up two co-stars, putting them in the hospital, production of the film is shut down and nobody else will act in the film with him. In desperation, he asks the gangster to be his co-star. "We're going for realism," he lies. Eventually he tells the truth about his situation. The gangster agrees to be in the movie but only if they do the fight scenes for real. The actor explains that in the script he loses the first few fights but he wins the big one at the end. "We'll see," the gangster says. That's the basic premise of Rough Cut but there's more to it than that. It's a great movie about movies.
The Gunfighter (1950) was another great Western, this one starring Gregory Peck as a famous outlaw and fastest gun/toughest guy around. I worried that Peck wouldn't be able to pull this off — he's not the outlaw type — but he's actually perfectly cast. His character desperately wants to escape his reputation and settle down with his family. Yeah, good luck with that. As in 3:10 to Yuma, there's a clock ticking all the while as a threat of death steadily approaches. Compare with the "Game of Pool" episode of The Twilight Zone.
The Magic Hour (2008) is the latest from genius comedy writer/director Koki Mitani (Uchoten Hotel). The plot is the mirror image of Rough Cut. In The Magic Hour, a young man pretends to be a movie director so he can hire a washed-up B-movie actor to play a gangster in a movie he's not actually making. He's doing this because to save his own life he told the local gang boss that he's friends with a legendary assassin. So the actor comes to town as the hitman, thinking he's making a movie and hamming it up outrageously, while the real gangsters accept him as an actual (very eccentric) killer. Do you suppose that a certain amount of confusion follows? Might the real assassin get wind of this and show up?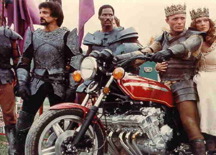 I'd been vaguely aware of Knightriders (1981) for a while but wasn't especially anxious to see it. It's a George Romero movie about a traveling renaissance festival that stages jousts with motorcycles. This didn't sound so great to me, but great it actually is. Ed Harris and Tom Savini are excellent as the two rivals within the motorcycle gang and Romero's writing, editing and directing here are very impressive. Just as The Crazies could be Romero's critical response to The Andromeda Strain, Knightriders could be a corrective to the chic "rebellion" of Easy Rider.
Incubus (1965) is an Esperanto-language horror film starring William Shatner. Need you know more? Dominic Frontiere wrote the music, which is similar to his music for The Outer Limits. (The director and other people involved with Incubus also worked on The Outer Limits and what they do with a low budget is quite impressive here.) The movie's about a demon who tries to corrupt a virtuous person. Of course, a demon can be "corrupted" by virtue as well...
---