2009 January 06 • Tuesday
I was sad to hear (from my brother, who heard it from his wife) that Donald Westlake died last week. He had been one of my favorite authors for many years. I met him several times over a period of about ten years and he was always very friendly.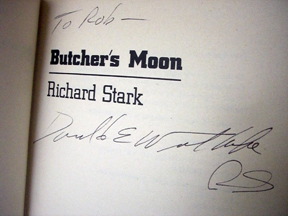 One time I gave him a videotape of an episode of the old TV show The 87th Precinct, an episode based on one of his short stories. He had never seen it — a friend of his had made an audio-only recording of it at the time (early '60s), and listening to it was as close as he had got to seeing it — and he seemed thrilled to have the chance to watch it, about forty years after its original broadcast.
I think "The Feel of the Trigger" was the name of the story (collected in Westlake's Levine) and the episode. After thanking me for the tape, Westlake inscribed my copy of his latest novel, "God bless you for 87". Sadly, I no longer have that book. (I think it was The Hook.)
In a bookstore the other day, I noticed new trade paperback editions of Westlake's first few Richard Stark "Parker" novels. Nice to see those in print again.
---