2009 January 05 • Monday
The forty-second Soundtrack of the Week is Film Score Monthly's CD of the music from Green Mansions, composed by Bronislau Kaper and Heitor Villa-Lobos.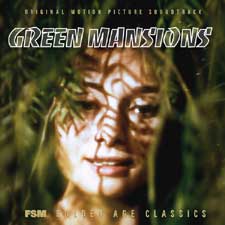 The liner notes are very informative, first relating the difficult transition from novel to movie — the rights changed hands many times and it's a shame that Merian Cooper couldn't make this his follow-up to King Kong, as planned — and then the other rocky road to creating a score.
To make a long story short, it seems that Villa-Lobos finished his score before Green Mansions was completed, so Bronislau Kaper was hired for three jobs: to re-arrange the Villa-Lobos music so it would fit the movie, to write new music that was similar to what Villa-Lobos had written and to compose new music of his own that would work well in the film.
Villa-Lobos took his original music and made it into the Forest of the Amazon suite.
This CD is great and, as you might expect, covers a lot of musical territory. Haunting, suspenseful, exciting, romantic, atmospheric — but missing the version of the love theme sung by Anthony Perkins in the film. The master tapes no longer exist.
What of Green Mansions the book? It's near the top of my reading list. My brother remembers reading it when he was a kid and being frightened by it. He told me that the James Tiptree, Jr., story "The Last Flight of Doctor Ain" reminded him of it. I mentioned this to Alice, who was reading a Tiptree collection at the time, and she pointed out that Green Mansions is mentioned in Tiptree's proto-cyberpunk story "The Girl Who Was Plugged In".
It's very easy and affordable to buy a nice edition of Green Mansions with beautiful illustrations by Edward McKnight Kauffer. I bought one at Skyline Books for $8, another at The Strand for $5.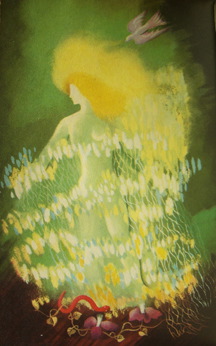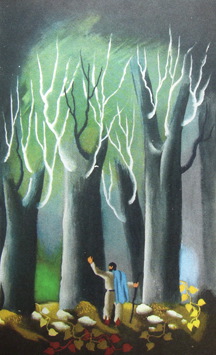 ---