2009 January 19 • Monday
The forty-fourth Soundtrack of the Week is All Night Long, a jazz score with music by Philip Green and a few co-writers here and there.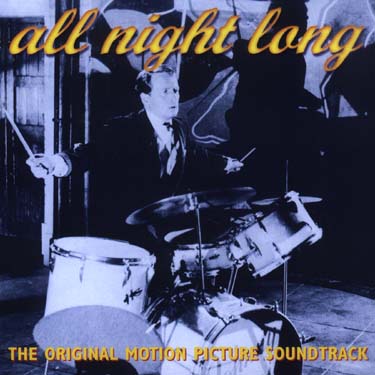 Dave Brubeck, Kenny Wheeler and Charles Mingus are on here. So is Johnny Dankworth, who wrote the music for The Avengers when it was still being videotaped. (Laurie Johnson took over composing duties, and wrote his famous Avengers theme, when the show switched to film.)
I've always wanted to see this movie. It's apparently Othello but with jazz musicians. Patrick McGoohan plays the Iago character, a drummer in the movie.
It's available on DVD in the UK, from Network. Network is having a 40% off sale until January 25th, so I bought it. (This is why you need an all-region DVD player.)
The music is really great, consistently swinging, sometimes light, sometimes heavy. At least one cut features some frantic bongo playing, and I'm always up for that. I have a low tolerance for "jazz guitar" but I'm impressed with Ray Dempsey's playing on this record.
---