Rob Price
Gutbrain Records
rob + gutbrain.com = email
---
Not only did my dear friend and musical collaborator Chris Cawthray make it to my gig at the Downtown Music Gallery last Sunday—and he lives in Toronto!—he took this great photo of me trying my best to be worthy of the company I'm in: Trevor Dunn on bass and Ellery Eskelin on tenor saxophone.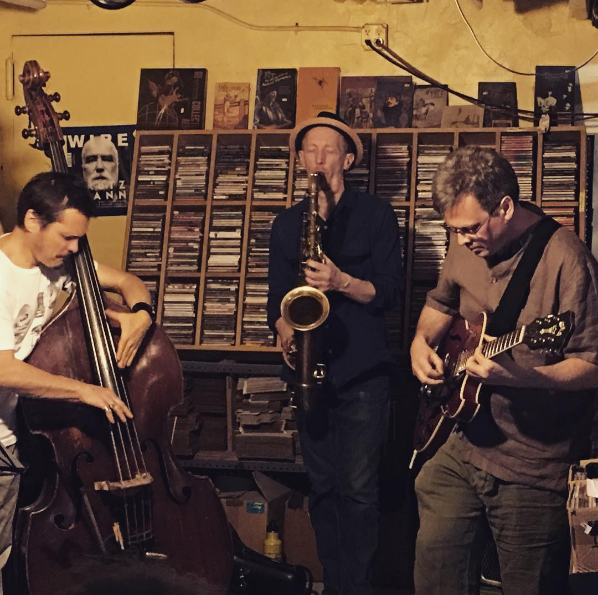 We hadn't played together in almost ten years and we'd never played as a trio before. I think we'll do it again!
---
2016 April 25 • Monday
This obscure jazz score that pianist/composer George Gruntz came up with for Mental Cruelty, a Swiss movie from 1960, is the 410th Soundtrack of the Week.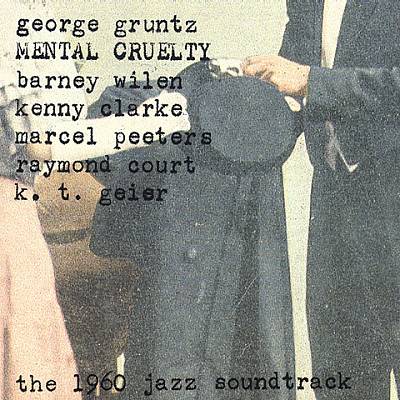 This is a solid jazz album that fits right in with what was happening in music at the time, recalling both post-bop "modern" jazz as well as Miles Davis's "cool" period and some of what was happening on the west coast. There are also a blues, a waltz and assorted other flavors.

Since it's a score, there are several versions of a main theme, different takes, different moods (romance, etc.).

Many of the cues are quite short, which is a bit startling. To take one example, the "Latin Stroll on Theme" would be more than welcome to stay for longer than 45 seconds.

The main theme itself is quite nice, with a wistful quality of a kind that often suggests "soundtrack" to people. Everybody plays great but the real star here is drummer Kenny Clarke, whose energy, tastefulness and creativity make this a really happening session.
---
2016 April 20 • Wednesday
Sweden continues to be a source for interesting new music, in particular a strain of dreamy yet adventurous jazz. The latest example is this band Trilobit and their self-titled new record, their second, I believe.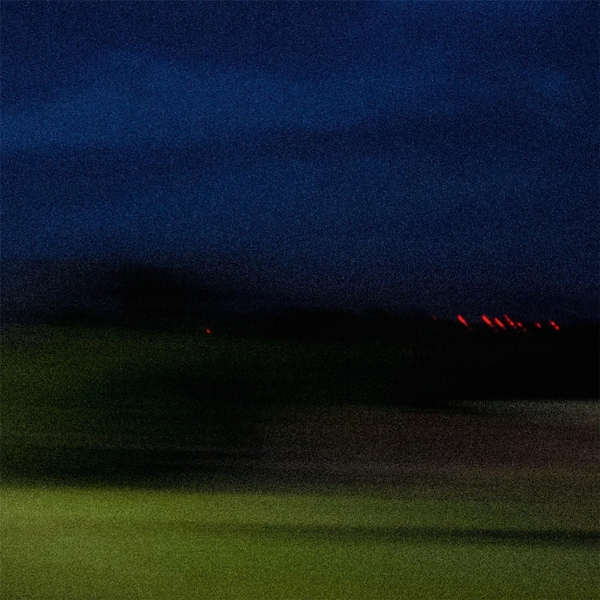 The first thing to note is the instrumentation: harp (Stina Hellberg Agback), guitar (Simon Svärd) and drums (Karl Jansson).
I love the harp all the time, in every context I've heard it, but I have a special fondness for harpists like Dorothy Ashby and Betty Glamann, who worked in jazz, pop and soul music.
The nine tunes here are by turns hypnotic, groovy, folksy and rocking. The guitarist is comfortable with both in the pocket playing and a rougher, more lawless approach in the Marc Ribot vein.
The harp is the main event here, though, and Stina Hellberg Agback is both technically impressive and brilliantly musical.
Drummer Karl Jansson plays with just the right relaxed and intense feel, providing the perfect rhythmic foundation for each piece.
Is this kind of music being made anywhere else in the world or is it only a Swedish thing?
---
2016 April 18 • Monday
The 409th Soundtrack of the Week takes us back to the spaghetti western with Armando Trovajoli's score for I Lunghi Giorni della Vendetta.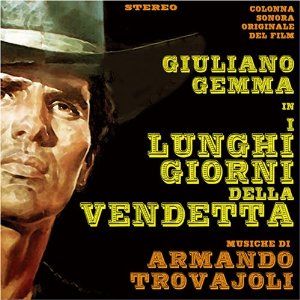 It sounds like you'd expect. Strummed acoustic guitar, electric guitar with reverb and lots of attack. The occasional harmonica. Sweeping themes on the trumpet.

In other words it's an example of the subgenre of soundtrack music for which Ennio Morricone is famous.

Trovajoli comes up with some melodies and atmospheres all his own, however, such as the eerie, organ-drone cue for "Dopo Il Duello Part 2".

And "Vai, Cow-Boy, Vai" could have made the garage/surf instrumental circuit if the movie had been better known. The CD does include a "Japanese single version" of the main theme, a very Morricone-like rouser with galloping percussion and soaring electric guitar and trumpet. Fans of this sort of thing will love this.
---
2016 April 13 • Wednesday
Eighty Dollars to Stamford was a let-down for this admirer of Lucille Fletcher.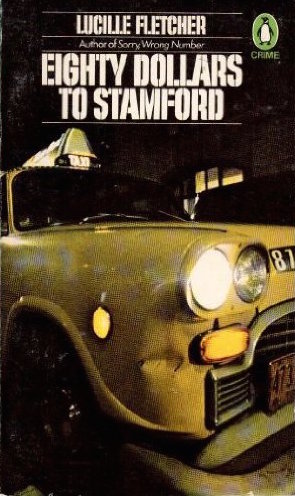 It could be that Fletcher did her best work for radio in the 1940s, most famously with "Sorry, Wrong Number" and "The Hitch-Hiker".
I enjoyed two of her other novels but perhaps by 1975, when Eighty Dollars to Stamford came out, her kind of suspense writing, which compares favorably to Hitchcock movies, was out of fashion and she herself not as inspired.
The driver is a grieving widower whose wife was killed in front of him by a hit-and-run driver and he finds himself coming back to life and falling in love with his enigmatic and vulnerable passenger.
The plot is ludicrously contrived and while Fletcher has pulled off this sort of thing in the past, it doesn't work here. It's just too ridiculous, despite her formidable command of atmosphere: long lines of cars on a rainy night in bad traffic are "endless caterpillars of light" whose headlights turn the rain pouring down the windshield into "a glittering curtain of diamonds and crystals".
It's interesting to note that Fletcher wrote this book while Martin Scorsese was making Taxi Driver, the last film to be scored by Bernard Herrmann, who was married to Fletcher from 1939 to 1948.
The first line is "It seemed a lucky break, a bonanza, the first good thing that had happened to him in three months of part-time cab-driving".
---
2016 April 11 • Monday
The 408th Soundtrack of the Week is Les Stances à Sophie by the legendary Art Ensemble of Chicago!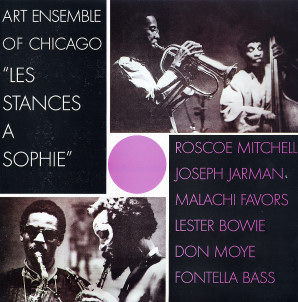 The first tune, "Theme de Yoyo", has an irresistible groove with exciting soloing by AEC and the powerful voice of Fontella Bass ("Your head is like a yo-yo / Your neck is like a string").

After that comes the jazzier, somewhat Ornettish "Theme de Celine", again with fine soloing and just as great though not so groovy playing from the rhythm section.

Things get gentler for the next two tracks, both "Variations Sur un Theme de Monteverdi". Presumably this is based on something by Monteverdi though I couldn't tell you what it is.

There are also two "Proverbes" tracks, the first being a spacious and free sounding piece featuring the trumpet and the second being spikier and again featuring Fontella Bass on vocals.

The other two tunes, which both sound free and feature lots of percussion, are "Theme Amour Universal", which also sounds throws in some kind of unusual reed instrument as well as flute, and the much longer "Theme Libre", a high energy free jazz blow out.

Pretty amazing record. Soundtrack music can really be anything.
---
2016 April 08 • Friday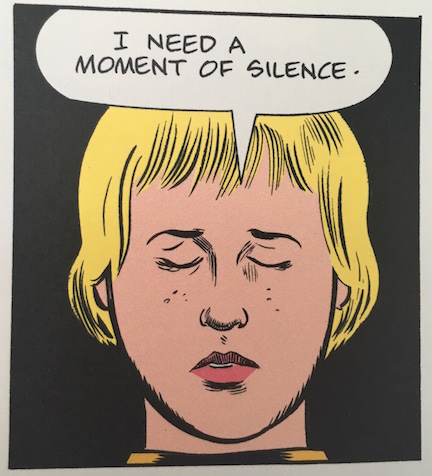 Daniel Clowes has sustained an intensely personal and immediately recognizable style while developing his work, not returning to the same well over and over again but creating more mature work that builds on and advances from what's come before.
His new book, Patience, continues the subversion and exploration of genre conventions that Clowes previously mined in The Death Ray, but is a larger, weightier, wiser undertaking.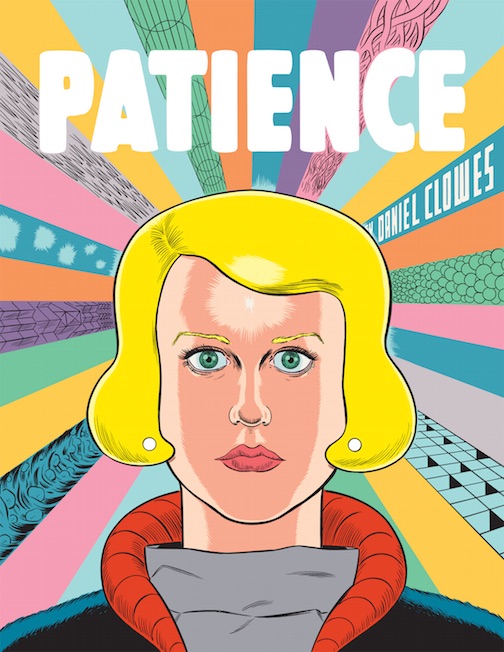 It's worthwhile to compare the front and back cover. On the front, that woman is Patience. Her name is the book's title, like Emma, say, or Rebecca or Justine. It's an odd image, particularly in its use of color, but it's more or less symmetrical, balanced, centered, calm. Patience herself is dangerously close to overshadowing her creator's credit on the cover and her name is an attention-grabbing silver.
Turn to the back cover, however, and everything has gone off the rails.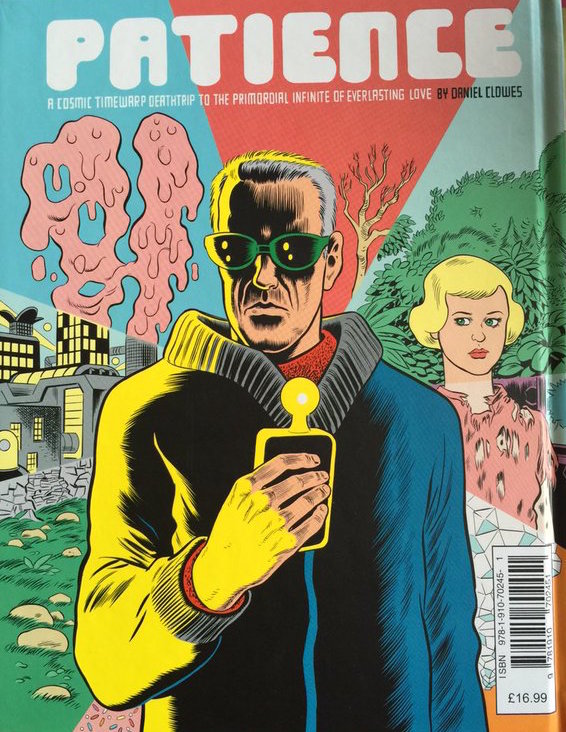 Patience has been shoved aside by a creepy figure who seems to wear shadows like he wears clothes. (No shadows to speak of on the front cover.) The bright rays of colors and patterns are replaced by mostly bizarre and unsettling images. Patience herself is dressed in rags and her name/title has literally lost its shine and been reduced in size as well.
Daniel Clowes's credit is unobstructed now and has changed from white to black, making it stand out from the new subtitle the book now carries: "A Cosmic Timewarp Deathtrip to the Primordial Infinite of Everlasting Love".
This subtitle describes exactly what the gist of this book is. Pregnant Patience is murdered and seventeen years after this unsolved crime, her husband, a broken man, travels back in time to prevent the murder from happening, vowing to save Patience and their unborn child.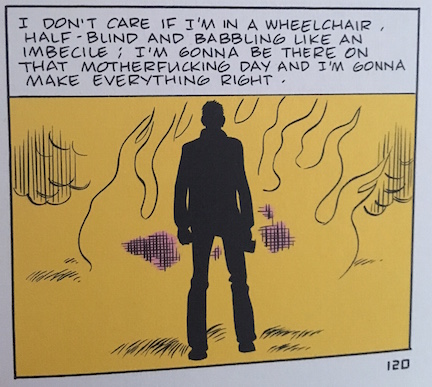 Clowes is as aware as anybody is of how familiar this plot will seem, of the conventions of time travel stories, love stories, crime stories. These are not his concern. In fact, his target is so far removed from them that the subversion of readers' expectations might actually be unintentional. The path he makes with his work is so unique to him that he doesn't even have to consider the trite and the tried.
Neither does he waste time with explaining how time travel is possible, how various futuristic devices work or even what they are. As with the superpowers in The Death Ray, time travel is surprisingly lowly and organic. "Show, Don't Tell" is a cliche but sound advice nonetheless. Running parallel to that is the importance of economy, understatement and restraint, all virtues of an assured and focused artist, such as Daniel Clowes.
---
2016 April 04 • Monday
In honor of the passing of Gato Barbieri, the 407th Soundtrack of the Week is his music for Last Tango in Paris.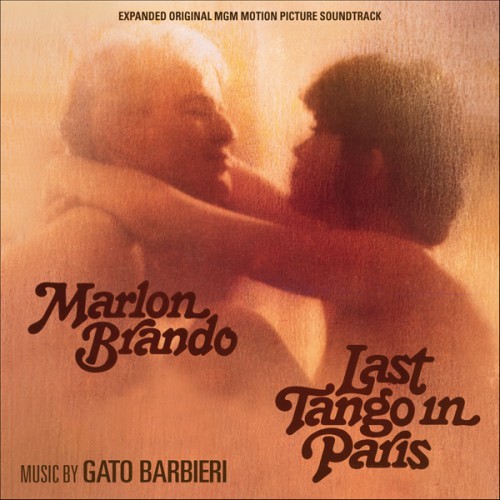 Quartet Records recently released this double CD of the popular soundtrack album with the original motion picture score.

The album has been around for a while so the real news is the original soundtrack recording, a masterpiece of economy and expression. The program consists of mostly short cues with a wide range of moods and purposes.

There are sweeping romantic and lyrical pieces, tangos, of course, powerful rhythms and percussion-dominated tracks as well as more familiar-sounding dramatic underscore.

The album develops and expands on these cues to create a listening experience that's friendlier to people who aren't soundtrack fanatics. It's an intensely romantic record, with Barbieri's intense saxophone sound driving the music forward.
---
2016 April 01 • Friday
No pranks here, just a sincere recommendation for Mary Norris's book Between You and Me: Confessions of a Comma Queen.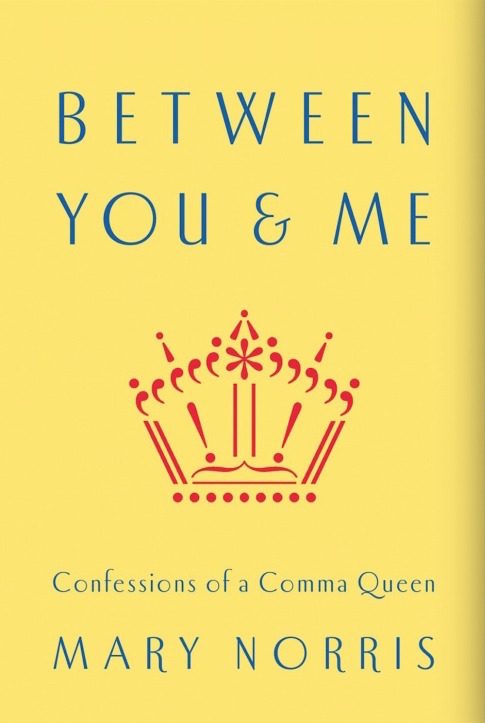 Norris's first book is part autobiography and part guide to rules, conventions and styles of grammar, particularly punctuation and syntax.
If you read and enjoyed Lynne Truss's Eats, Shoots and Leaves, as I did, then this book is for you as well.
Norris writes about her life in an interesting and touching way and while those parts of the book are very rewarding, her passion certainly seems to be for writing itself. She's deeply concerned about the construction of a text, that it should be sound and unassailable but also convey the author's intentions. If an "error" is required to produce a desired effect, than she yields, with honor, to the author.
Her sensitivity to punctuation is exquisite, noting that an upside-down and backwards semicolon looks (a bit) like a question mark and how the asterixes that are intended to censor profanity, as in "f*ck", "are interior punctuation, little fireworks inside the words".
In short, Mary Norris is the kind of person who feels hungover if she accidentally uses a No. 2 pencil instead of a No. 1. And she continues a tradition of intelligent, rigorous writing about language that neither talks down to the reader nor hovers above us, loftily out of reach. We should all have such patient, diligent and compassionate people in our lives.
---