2016 April 13 • Wednesday
Eighty Dollars to Stamford was a let-down for this admirer of Lucille Fletcher.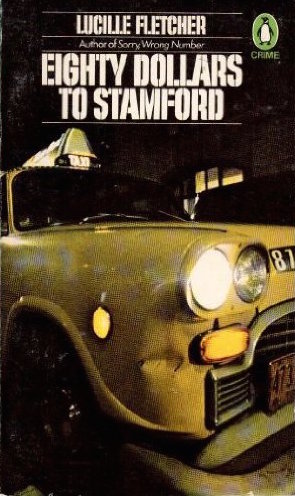 It could be that Fletcher did her best work for radio in the 1940s, most famously with "Sorry, Wrong Number" and "The Hitch-Hiker".
I enjoyed two of her other novels but perhaps by 1975, when Eighty Dollars to Stamford came out, her kind of suspense writing, which compares favorably to Hitchcock movies, was out of fashion and she herself not as inspired.
The driver is a grieving widower whose wife was killed in front of him by a hit-and-run driver and he finds himself coming back to life and falling in love with his enigmatic and vulnerable passdenger.
The plot is ludicrously contrived and while Fletcher has pulled off this sort of thing in the past, it doesn't work here. It's just too ridiculous, despite her formidable command of atmosphere: long lines of cars on a rainy night in bad traffic are "endless caterpillars of light" whose headlights turn the rain pouring down the windshield into "a glittering curtain of diamonds and crystals" .
It's interesting to note that Fletcher wrote this book while Martin Scorsese was making Taxi Driver, the last film to be scored by Bernard Herrmann, who was married to Fletcher from 1939 to 1948.
The first line is "It seemed a lucky break, a bonanza, the first good thing that had happened to him in three months of part-time cab-driving".
---