Rob Price
Gutbrain Records
rob + gutbrain.com = email
---
Ah, here we go.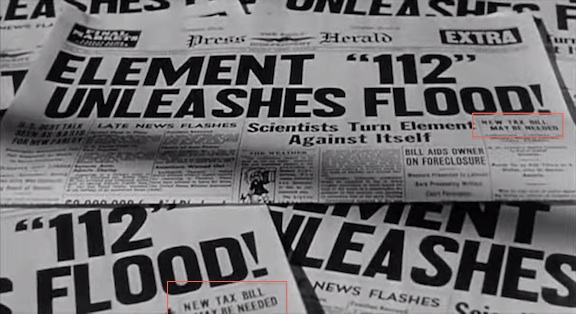 The Night the World Exploded (1957)
---
It's been a while but here's another LIMITED FARM BILL FAVORED (along with 3 NAMED TO FIX LIABILITY COSTS and BILL AIDS OWNER IN FORECLOSURE). I'm missing NEW TAX BILL MAY BE NEEDED, though. It's been a while.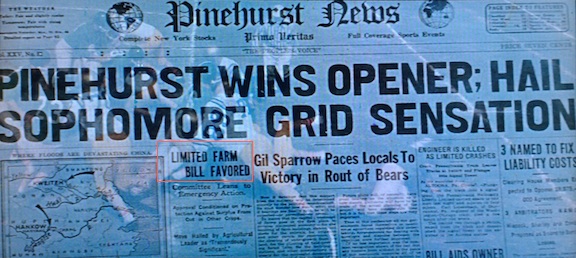 High Time (1960)
---
The music from Run Lola Run is the 320th Soundtrack of the Week.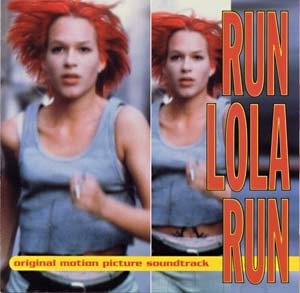 it starts with Franka Potente's voice saying "I don't believe in trouble / I don't believe in pain / I don't believe there's nothing left / but running here again". And then we're off on a techno/electronica marathon for this singular movie. If you haven't seen it, you should.
This isn't the kind of thing I usually listen to but I'm fond of this record. The writer/director Tom Tykwer collaborated on several of the pieces and Potente, the star of the movie, is on a few of them as well. It's mostly about rhythm and propulsion though there are some more pop-type cuts as well, like Susie Van Der Meer's "Somebody Has To Pay".
---
Something about the medium of comics, perhaps how well it can show several things at once—speech, thought, action, narration, annotation—makes it ideal for history, biography and other nonfiction works. Michael Goodwin and Dan Burr's Economix is one of the best examples.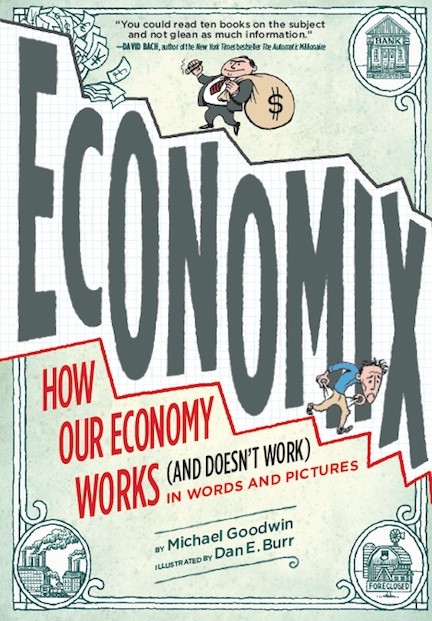 It's a thrilling read, something that probably isn't often said about economics texts. I'm inspired to read Adam Smith now!
While it serves as an excellent primer on the history of economics, it's especially good on the recent decades. The authors warn up front that it's a political book and won't avoid controversy.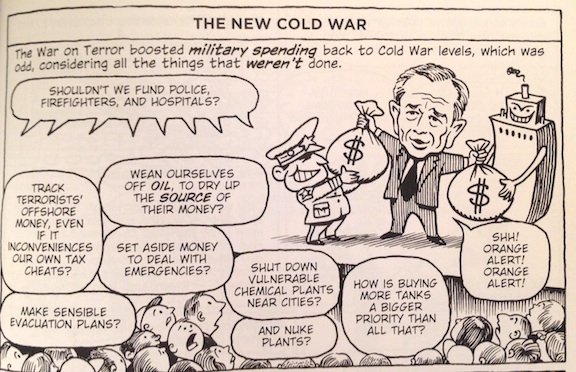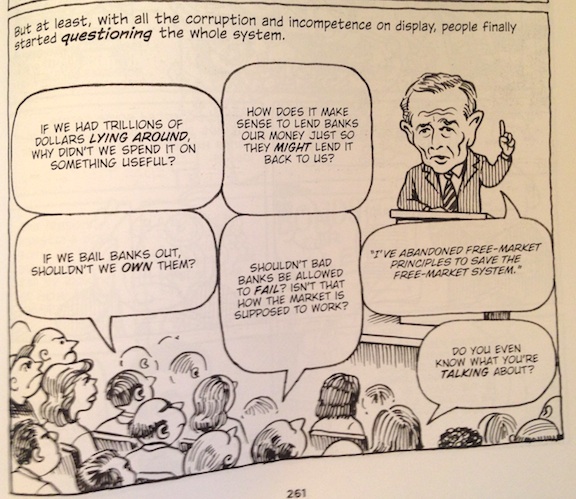 Text in italics and inside quotation marks is an exact quote.
---
The latest issue of New York magazine has a section on crushes. One of them is supposed to be about Bob Newhart's crush on Claudia Cardinale. But Bob has confused Claudia Cardinale with Capucine. They were both in The Pink Panther, which seems to be the source of the mix up.
Not a single word has anything to do with Claudia Cardinale but the item takes up a whole page. Somebody could have corrected it to be about Capucine—if anybody had noticed or, you know, fact-checked the magazine's content—but probably they should have just left it out since Bob doesn't actually say much of anything about his crush. He gives examples of things Peter Sellers does in the movie but only makes a vague mention of liking the "comedic timing" of Sellers's co-star.
---
The 319th Soundtrack of the Week is this collection of songs from Western films and television shows.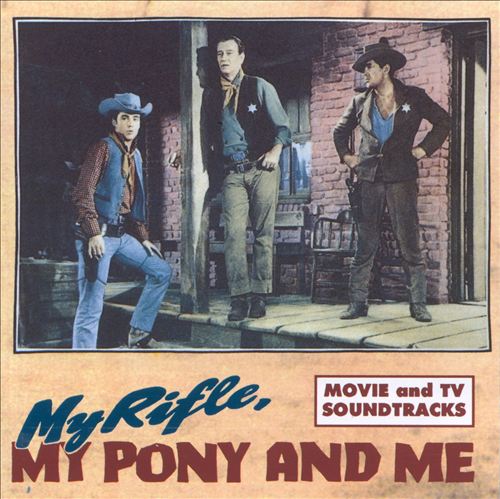 This is from Bear Family, one of my favorite record labels. It's a great collection. I'd heard, for instance, Dean Martin and Ricky Nelson sing the title song before but I'd never heard it with John Wayne's introduction before. (I suppose this was for radio broadcasts.) And I'd heard Bill Frisell play "Shenandoah" before but I'd never heard this version with James Stewart—who doesn't sing but speaks his part.
Some other familiar cuts are Johnny Cash doing both "The Sons of Katie Elder" and "The Rebel Johnny Yuma" as well as Frankie Laine's "Gunfight at O.K. Corral" and "Rawhide". (Too bad Laine's "3:10 to Yuma" isn't on here.)
Some new ones that I enjoyed included Merle Kilgore's "Nevada Smith", "And the Moon Grew Brighter" sung by Kirk Douglas and Tab Hunter's "I'm a Runaway".
Dean Martin's "Rio Bravo" is on here as well, as are several songs by Roy Rogers and The Sons of the Pioneers. Tex Ritter, Marty Robbins and Johnny Horton are also represented. (Of course Lorne Greene doing "Bonanza" is on here as well.
---
Here's another tennis book, one I'm getting more out of the second time around, probably because I've played a lot more tennis since the first time I read it.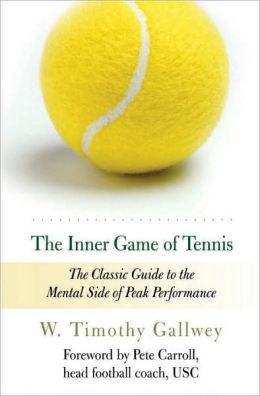 It's a great book for anybody to read, though, even if you don't play tennis. What it's really about is "relaxed concentration", basically being in the moment and trying to trust yourself while stilling the part of yourself that tends to be critical and judgmental.
Refreshingly, the author is against positivity as much as negativity, to the extent that your ego will respond to both by trying to take too much control. The goal is awareness, not something that is either good or bad.
---
Kenyon Hopkins had some other gigs besides soundtracks. Consider this Sound Tour: Hawaii record.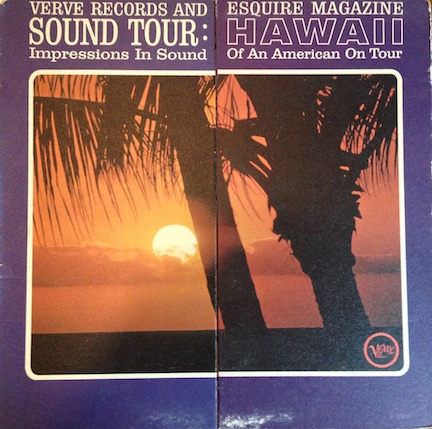 This was one of a series of records from a collaboration of Verve and Esquire. Sound tours of France, Spain and Italy are also listed inside.
The music is great, exotica jazz with excellent steel guitar and percussion.
But what's really of note here is the lost art of the album. Consider first the way this record opens out like shuttered windows.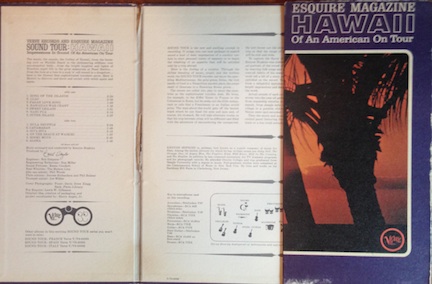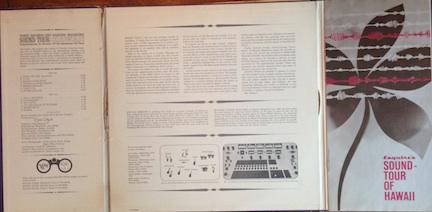 It took me a moment to realize that the the record came out of the sleeve from the top, not the side.
On the right-hand side is a booklet with wonderful illustrations.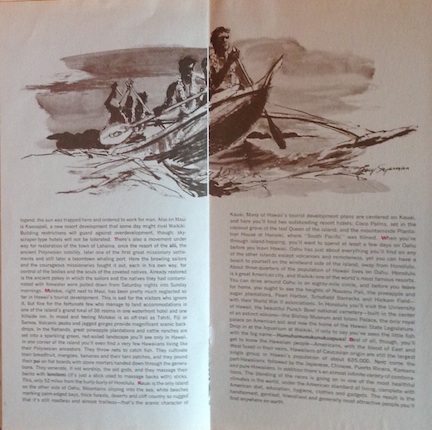 It would be nice to know the names of all the musicians who played on it. The only info given is that Boat Whistles are provided by The Matson Line, Phil Woods is the alto sax soloist, Joe Wilder the trumpet soloist and Jerome Richardson and Phil Bodner the flute soloists.
If, however, you want to know what microphones were used on what instruments, they've got you covered.

---
Kenyon Hopkins's music for the obscure television program East Side/West Side is the 318th Soundtrack of the Week.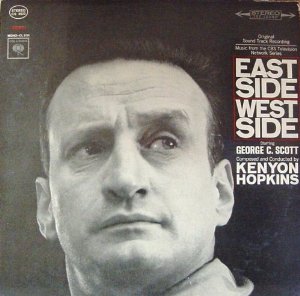 The show was one of many gritty city dramas of the time (late '50s and early '60s). This one starred George C. Scott as a social worker.
The theme for the show has moments that recall Elmer Bernstein's powerful music for The Man with the Golden Arm. The other cues are more Hopkins, variously jazzy, bluesy, swinging, tender, wistful, sad.
There must have been a lot of location shooting for this program, if the names of the cues are anything to go by: "Holland Tunnel", "Central Park West", "Sutton Lights", "Triboro Drive", "Blue Harlem", "Times Square" and of course the title piece.
It's really great. I'd be curious to see the show. And it would be nice to see more attention paid to Kenyon Hopkins's work. He's a curiously neglected composer despite having scored some enduring and well known movies (The Hustler, Twelve Angry Men, etc.).
---
There must be dozens of Joe Meek compilations out there, and much overlap among them. For fans of The Shadows and other guitar-led instrumental, mind-century rock and roll, however, this CD, Dream of the West by The Outlaws, is a good one to get.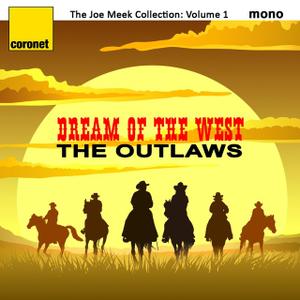 Joe Meek apparently put this act together, using a band originally called The Stormers and teaming them up with singer Mike Berry (originally Kenny Lord but, like The Stormers, renamed by Meek).
About three songs or so were familiar to me from other compilations. One of them, "Johnny Remember Me", was on the first Joe Meek compilation I ever heard. The Outlaws were Meek's house band and are on a lot of his recordings.
It's great to hear all these western-inspired tunes together, along with bonus tracks. And it's always refreshing to hear the thick, textured sounds Joe Meek got. It's a lovely sound, also weird and sad.
---
Walter Tevis was married for twenty-seven years to Jamie Griggs Tevis. They met when they were both young schoolteachers in a small town in Kentucky. Tevis had an early success with The Hustler, followed it with The Man Who Fell to Earth but then didn't publish much, spending his energy instead on drinking and teaching.
A few years before his death, Walter left Jamie, moved to New York and published four novels and a collection of short stories.
My Life with the Hustler is Jamie's story of her time with Walter and of her own life.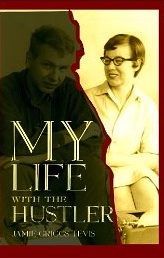 Of interest to Walter Tevis scholars are, of course, Jamie's memories of her husband and some previously unpublished letters and poems from Walter.
It's also interesting to learn, among other things, that The Man Who Fell to Earth was originally to be called The Immigrant, and that Walter Tevis was called as a witness in a censorship case.
But the best features of the book are those that act as a window into a certain time and place, mid-century small town America and Mexico (where the Tevises lived for about eight months). Jamie Griggs Tevis's eye for detail and recollection are remarkable. (I found myself wondering if she kept a diary that was used as a source for this book.)
To give one example: "During our stay in Iowa City, folk music became popular—Hootenanny, coffee houses, guitar playing, and singing at parties. Pete Seeger came through town, and his host tried to sell the cuttings from his razor".
---
Soundtrack of the Week #317 is a triple threat: a favorite composer, a favorite score and a favorite movie: Henry Mancini's Mr. Hobbs Takes a Vacation.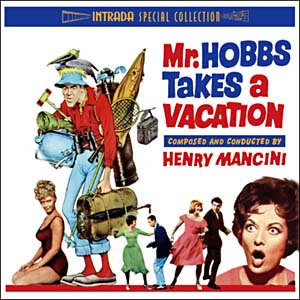 Mancini comes up with a swinging and lilting theme for Mr. Hobbs, which you hear several times. There are numerous groovy source cues and a song, "Cream Puff", that some no doubt hoped Fabian, who things it in the movie, would add to his repertoire and make into a hit single. It didn't happen.
Mancini comes up with an impressive variety of moods and atmospheres for underscore as needed, deftly serving this unusual movie which combines comfort and subversion, cheer and melancholy.
As with any Mancini score from the '60s, a look at the musicians involved will inspire confidence. Shelly Manne is one of six drummers and the guitarists include Bob Bain, Al Hendrickson, Barney Kessel and Al Viola. The inimitable Plas Johnson is on tenor and Herb Alpert is one of the trumpet players. According to the liner notes, Jimmy Rowles plays Timpanola but I didn't see his name in the list of personnel.
---
Went into Peter Karl's studio yesterday with a couple of great musicians, Ben Gallina and Andy O'Neill. Working on my new project, improvising and interpreting soundtrack cues.
You can hear a track where we improvise and then play "Seance on a Wet Afternoon" (John Barry's theme for the movie of the same name) and "I Never Dreamed Someone Like You Could Love Someone Like Me" (from Pino Donaggio's score for Carrie) here.
It's just a rough mix. This will probably never be officially released. The idea was a proof of concept/make a demo type of thing.
---