2014 May 05 • Monday
Soundtrack of the Week #317 is a triple threat: a favorite composer, a favorite score and a favorite movie: Henry Mancini's Mr. Hobbs Takes a Vacation.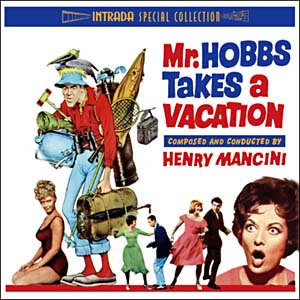 Mancini comes up with a swinging and lilting theme for Mr. Hobbs, which you hear several times. There are numerous groovy source cues and a song, "Cream Puff", that some no doubt hoped Fabian, who things it in the movie, would add to his repertoire and make into a hit single. It didn't happen.
Mancini comes up with an impressive variety of moods and atmospheres for underscore as needed, deftly serving this unusual movie which combines comfort and subversion, cheer and melancholy.
As with any Mancini score from the '60s, a look at the musicians involved will inspire confidence. Shelly Manne is one of six drummers and the guitarists include Bob Bain, Al Hendrickson, Barney Kessel and Al Viola. The inimitable Plas Johnson is on tenor and Herb Alpert is one of the trumpet players. According to the liner notes, Jimmy Rowles plays Timpanola but I didn't see his name in the list of personnel.
---