2014 May 26 • Monday
The music from Run Lola Run is the 320th Soundtrack of the Week.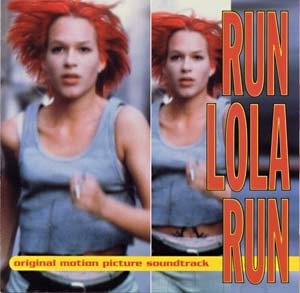 it starts with Franka Potente's voice saying "I don't believe in trouble / I don't believe in pain / I don't believe there's nothing left / but running here again". And then we're off on a techno/electronica marathon for this singular movie. If you haven't seen it, you should.
This isn't the kind of thing I usually listen to but I'm fond of this record. The writer/director Tom Tykwer collaborated on several of the pieces and Potente, the star of the movie, is on a few of them as well. It's mostly about rhythm and propulsion though there are some more pop-type cuts as well, like Susie Van Der Meer's "Somebody Has To Pay".
---