Rob Price
Gutbrain Records
rob + gutbrain.com = email
---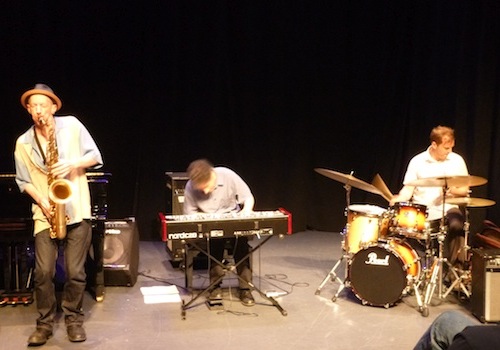 Ellery Eskelin, Gary Versace, Jochen Rueckert
Provincetown Playhouse, NYC
2013-06-26
---
The Boston Guitarfestival was a lot of fun and I was honored to be a part of it. All of the other musicians were amazing. My jaw was on the floor most of the time. I can't remember when I've seen so many intense and moving performances—and all in one place and on one day!
When you revisit places you haven't seen since childhood, everything's supposed to look smaller, isn't it? The statue of Beethoven at Jordan Hall was considerably larger than I remembered.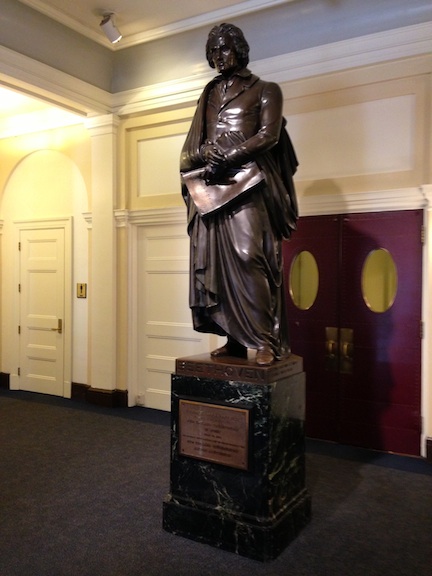 ---
The 272nd Soundtrack of the Week is Jo Hisaishi's music for Hayao Miyazaki's Kiki's Delivery Service.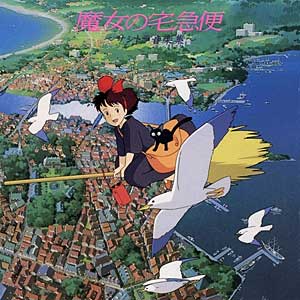 This is one of my favorite movies of all time and tied with My Neighbor Totoro for being my favorite Miyazaki film.
Hisaishi combines music of beauty, sadness, hope and love so brilliantly here; in combination with Studio Ghibli's gorgeous hand-drawn animation, the effect is overwhelming.
Kiki's main theme is heart-stirring and tender, first heard as a waltz but recurring in a number of different variations.
The instrumentation is especially creative and ingenious, perfectly mirroring the film's mash-up of several different European areas. Miyazaki has created his own world and Hisaishi has given it just the right musical identity.
Try to watch the Japanese-language version of this movie. The English-dub isn't terrible but there are some radical changes. The biggest of these involves Kiki's cat, Jiji. I love Phil Hartman but casting him as Jiji's voice essentially rewrites the whole character.
Another change which had less impact on the movie involved the song Kiki listens to on her transistor radio as she leaves home in the beginning of the movie. The song in the English version isn't bad but the Japanese had a mid-century rock/doo-wop style which was a much better fit with the world of the film. In fact, it's the reason I bought the CD!
---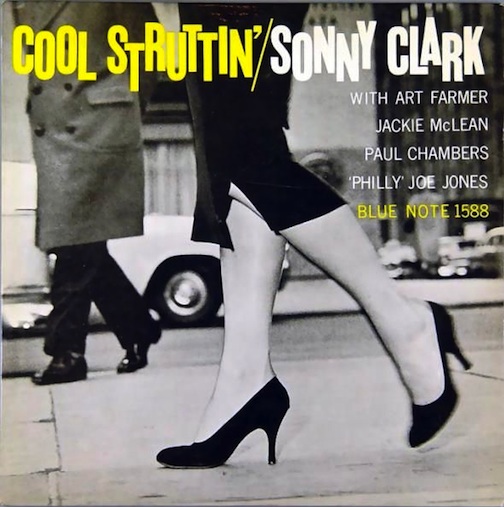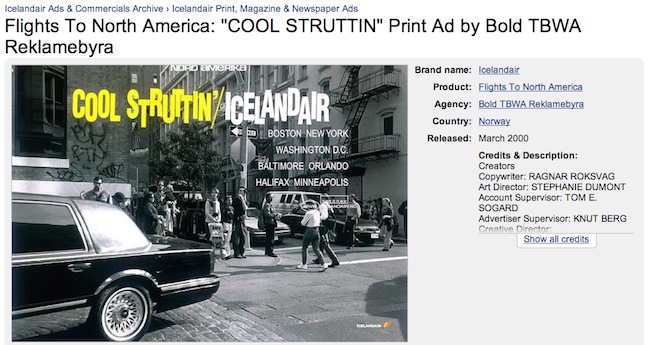 ---
As noted before, this is a great year for new music releases. We've already had Pete Galub's new CD, Bill Frisell's solo record on Tzadik, Ellery Eskelin's second Trio New York CD, and now we have the second Ceramic Dog record!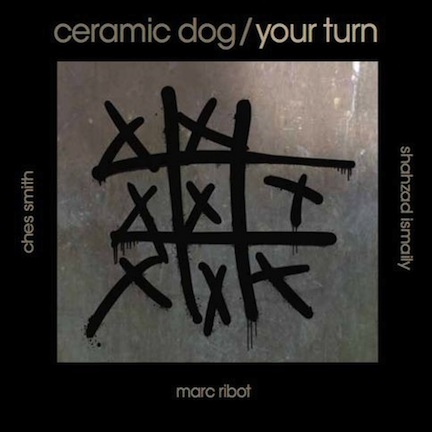 It's too early to say but this might be my favorite Marc Ribot record ever. The band is great, the material is great and even though this is a studio recording it's very close to what they're like live, more so than any other Ribot record I can think of. (Though live is still best.)
"Lies My Body Told Me" has a classic Ribot groove, a certain off-kilter and menacing feel that should be familiar to anybody who remembers his Rootless Cosmopolitans band.
The title track is an intrumental with a straight-up rock groove and ferocious guitar playing. "Masters of the Internet" is a much-discussed song about the cost paid by professional musicians for having their music available online in every conceivable format and commonly for free.
"Ritual Slaughter" is a bit simliar to some of the Ribot-penned tunes that Los Cubanos Potizos played. It's another blistering instrumental.
"Ain't Gonna Let Them Turn Us Round" is a scrappy reggae song with a Woody Guthrie sensibility. "Bread and Roses" is Ribot's rock and roll setting for the famous protest poem of the same name.
Perhaps I don't need to mention every track, though. The whole record is great and you should buy it, as in pay for it with real money. Honestly it's worth it just for their demented cover of Paul Desmond's "Take 5"!
---
Elmer Bernstein's The Rat Race is the 271st Soundtrack of the Week.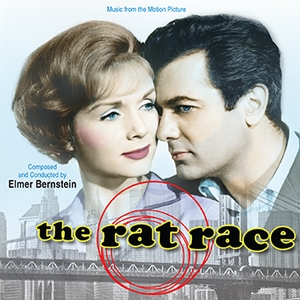 The opening track, "Seal/Main Title/Arrival", is a showcase for several of Elmer Bernstein's strengths. There's a hard-driving jazz theme, like a cross between his themes for The Man with the Golden Arm and The Magnificent Seven, with great sax and piano breaks. Then there's a lovely swaying theme for strings, unexpectedly bringing in a lush and romantic atmosphere. It's a bit similar to "My Shining Hour". Then there's a sunnier, more relaxed and mischievous jazz theme which is that romantic melody played with a different rhythmic feel.
That last mood is picked up again in "Wet Reception". There's some fine trumpet soloing, a dodge into a more urgent section and then a segue into a slow, melancholy finish.
These themes and the quick cutting between them continue in "Popsicles" and "Evicted/Platonic Propositions".
"Bedtime" is another variation on the main title, this time in a quiet, sometimes mysterious atmosphere before bursting into a triumphant coda.
"Spaghetti and Wine" sounds like the falling in love cue. This is followed by the menacing "Betrayed", an ominous re-working of the main theme.
"Peggy Is Cynical" is another take on the main theme, this time with uses of color that in places reminded me of Herrmann and Morricone.
Lovely interplay between harp, piano, flute and strings opens "Help from Nellie/New Sax's/Decision". "The Letter" is very sweet, with violin soloing and orchestral arrangements that sound like Golden Age film scoring.
There are three parts to "Strip", and they're all like the swinging, slightly naughty music heard at the end of the first track.
Something about the beginning of "Police Station/Conclusion" reminds me of a library cue used in The Prisoner, one I've always loved but whose name I can't remember. Then it's on to what sounds like music for living happily ever after as the strings swell and the violin soloist shines again.
The remaining ten tracks are all source music composed by Bernstein, excellent swinging and bluesy tunes for combo, most of them. "Milwaukee" is for solo trombone."Fur Blues" is for solo piano while "Fur Cat" is for solo clarinet.
There are also a couple of alternate takes and demos.
---
The second film in the Man with No Name trilogy, For a Few Dollars More (1965), proved to be the most lucrative Italian film ever made (significantly eclipsing the previous front-runner, La Dolce Vita), and this was in no small part due to the success of its music. Morricone's idiosyncratic idiom had been retained even though one of the production team dared to suggest Miles Davis's Sketches of Spain as a possible substitute—at which Leone literally threw the offending jazz album out of the window….


— Mervyn Cooke, A History of Film Music, 2008

---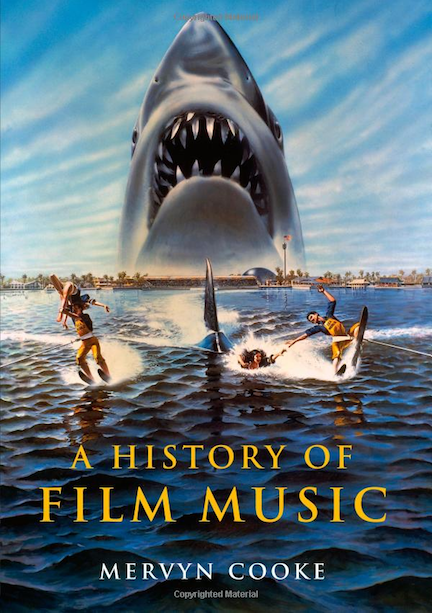 Mervyn Cooke's A History of Film Music is one of the most interesting books I've ever read. This sampling of headings will give an idea of how much ground it covers: "Why sound?", "Why music?", "Photographing sound", "Hollywood's Golden Age: narrative cinema and the classical film score", "Opera on film", "Bernard Herrmann: the composer as auteur", "Defectors to television", "Animation", "Film music in France", "Early sound films in the Soviet Union", "India: Bollywood and Beyond", "From Italy to Little Italy", "Japan", "Toru Takemitsu", "Popular music in the cinema" and "Back to Bach".
Cooke's viewing and reading are impressive. I was surprised, for instance, that he didn't mention this throwaway gag from Nobody Lives Forever, in which an uneducated gangster is asked if he likes Bach and the gangster thinks he's being asked if he likes bock.
While consistently interesting throughout, the greatest thrills came from Cooke's overview of the so-called silent era, during which filmmakers made use of "subception or subliminal auditive perception". If you saw something that was producing sound, e.g., clapping hands of breaking glass, there was no need to hear the sound itself.
The first film music was not concerned with matching music to film but rather the other way around. "Illustrated songs" were the starting point, in the nineteenth century. Popular music of the day would be performed with lantern slides made to fit as the audience sang along. (This doesn't seem to be that different from certain popular "reality" television shows.)
The silent era was also an age of experimentation and exertion in the name of art. Abel Gance's Napoleon (1927), which used three screens and three projectors, is one of the most famous examples. Cooke tells us that "At the Paris Opéra premiere … the unusual priority accorded to the music saw the conductor equipped with a device for altering the speed of the projection to suit the pacing of the score".
Other items of interest include the fact that David Raksin's famous theme to Laura was made to take the place of "Sophisticated Lady", which was director Otto Preminger's first choice. For that film, Raksin also recorded chords on the piano "whithout their initial percussive attack and then mixed them using bumpy playback heads to create a wavering effect".
Is anybody doing this kind of thing now?
---
The 270th Soundtrack of the Week is David Raksin's music for the John Cassavetes movie Too Late Blues.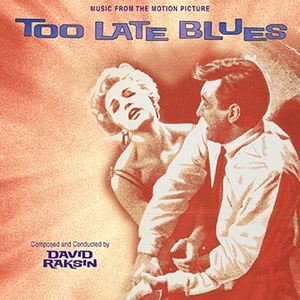 I finally saw this movie a year or so ago and was pleasantly surprised. Shadows had put Cassavetes on the map as a filmmaker and Too Late Blues, his second film and an unlikely collaboration between the fiercely independent artist and a major studio (Paramount) with a pop star (Bobby Darin) in the lead role, presented challenges, to put it mildly.
But it's a very good drama about the difficulty of not selling out your integrity for money. It takes place in the LA jazz scene and Raksin's score benefits from the talent and experience of some of the finest west coast jazz musicians of the day, such as Shelly Manne, Benny Carter, Jimmy Rowles, Red Mitchell, Milt Bernhart and Uan Rasey (who played the trumpet solos in Jerry Goldsmith's Chinatown score).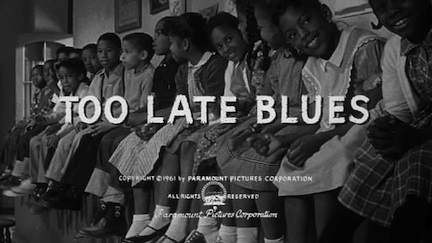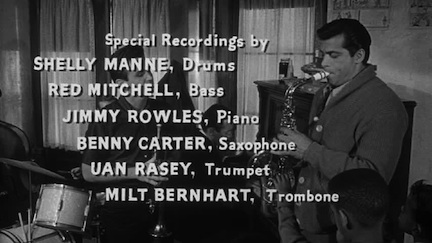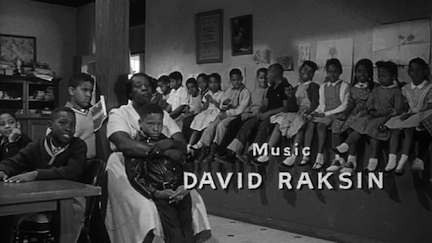 The main theme from the film, a tune called "A Song After Sundown", is a gorgeous melody that could be a cousin once or twice removed from Raksin's theme for The Bad and the Beautiful.
"The Rim Shot Heard 'Round the World" is a sprightly and swinging tune, very west coast jazz. "Mother Time (Juke Box)" is by contrast a dreamy ballad featuring vibes.
"Bass Canard" is a feature for arco and plucked bass and has great support from the guitarist. I wonder who it was. Barney Kessel? I wish the liner notes named all the musicians.
"Look Inward, Angel" is another recurring theme, a lush and romantic response to "A Song After Sundown".
"Danzon" is a gentle Latin jazz number that features flute and what sounds like cymbalom or some similar instrument. The Latin mood continues with the much more upbeat "Sambalero".
Raksin wrote some great dramatic underscore as well, using the orchestra to full effect in cues such as "Wither Thou, Ghost!" and "Wife's Other John" (which echoes the main theme).
"Blues for Tomorrow" is a late night and dreamy number for combo while "Ulysses in Swanktown" is a moody solo piano piece.
One of the best cues is "Like Lasagna", a duet performed by Red Mitchell and Shelly Manne.
The guitarist returns with the orchestra behind it ofor the stirring "Ghost Blows Test". David Raksin's love of puns and jokes is evident in the title "Benny Splits While Jimmy Rowles", a very nice, bluesy, swinging number for combo.
Too Late Blues is a movie well worth watching for fans of the period, the genre, the director or the star. The music is also one of the high points of the jazz soundtrack.
---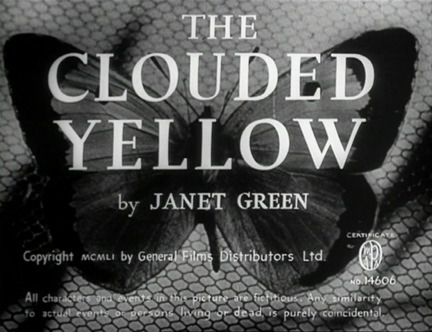 In The Clouded Yellow (1951) Trevor Howard plays a British secret agent who gets fired after a mission goes wrong. Looking for something else to do, something different, he takes a job helping an amateur lepidopterist catalogue a butterfly collection.
After settling down to live and work in his employer's estate, however, he discovers a Hitchcockian plot to destroy an attractive young woman. When this woman gets framed for murder he helps her escape and uses his tradecraft experience to elude capture, first by the police and then by another secret agent dispatched to take him down.
The movie thus proceeds from Notorious to The 39 Steps and then to a prototype of the situation that would, decades later, form the plot of First Blood.
But the really interesting thing to me was the beginning, which is a mirror image of another British secret agent story, one about a spy who quits instead of getting fired.




Coincidence?
---
One of these things is not like the others.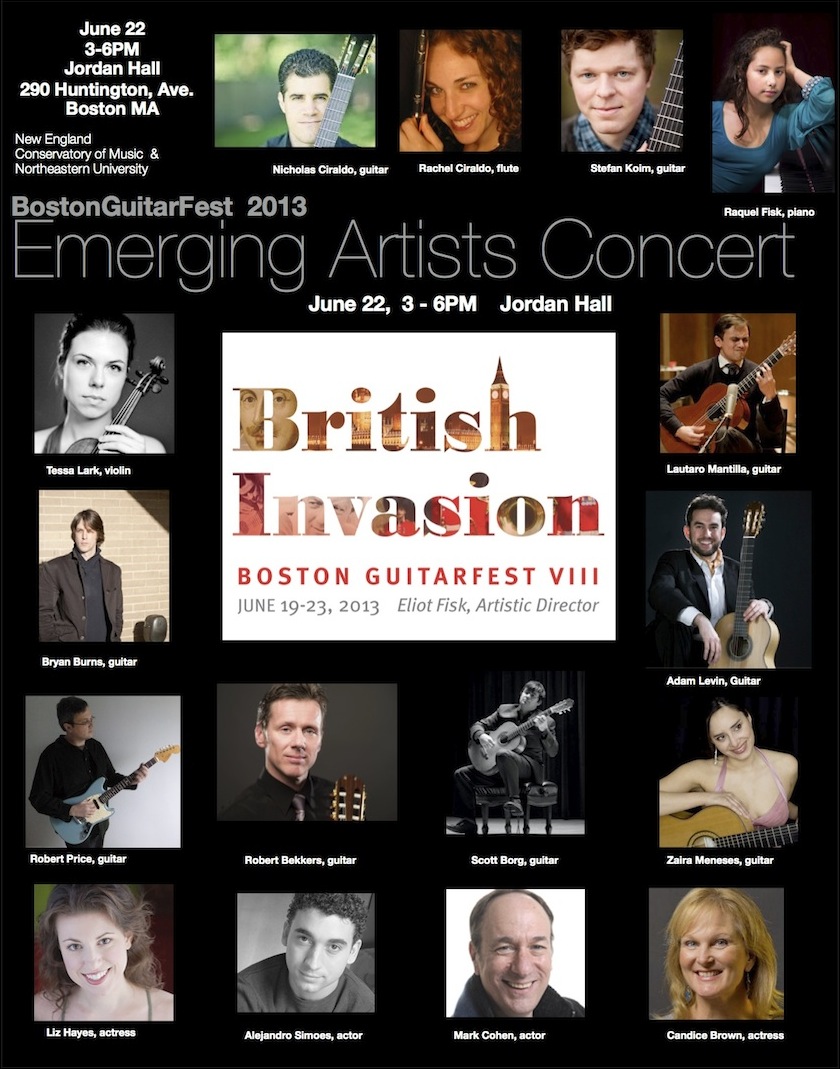 ---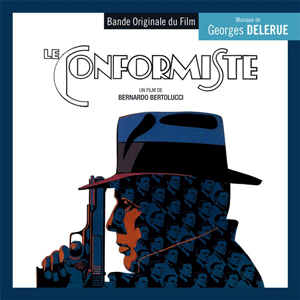 This CD of Georges Delerue's scores for Bernardo Bertolucci's The Conformist and Alan Bridges's Little Girl in Blue Velvet is the 269th Soundtrack of the Week.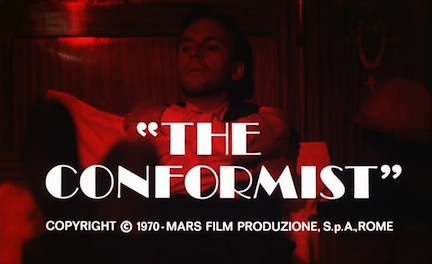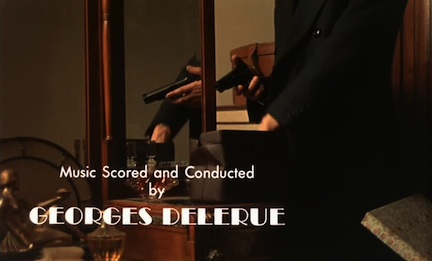 Like many scores, it has a main theme that you hear in several cues. This is a hypnotic and melancholy melody that rises and falls and swirls around. It is beautiful and haunting. In one cue, "Les Clerici", it sounds as if it's being played on musical saw.
There are also many cues that are probably source music for night club and/or dance scenes. (I haven't seen this movie in over twenty years. I remember it as being very good but I don't remember much else about it except for a few images.) "O.K. Bull" has a 1920s or '30s jazz feel. "Foxtrot du Maestro Delerue" sounds fairly generic to me. Solo piano.
"École de danse" is another solo piano piece, this one slow. "Tango di rabbia" is a tango, believe it or not. "Campagnola" is a peppy, accordion- and horn-driven tune that sounds like it goes with a jaunt through the alps.
"Cinque su dieci" is a slower dance number with accordion and violin blending nicely on the presentation of the bittersweet melody. "Anna, Ester et Marcello" and "Valzer del Conformista" are both nice waltzes, the latter being a waltz version of the main theme.
Little Girl in Blue Velvet opens with "Thème de Laura", a very sweet number with a harpsichord melody that reminded me a bit of Skeeter Davis's hit song "The End of the World".
"La Deposition" sounds like music for a suspense sequence at first with long tones and urgently plucked strings. Then it mellows into a restrained woodwind section, after which it combines both the woodwind and string ideas.
"Danse Des Nostalgiques" sounds like 1920s-era dance music, played by small combo with clarinet, piano, bass and drums. "Conrad et Francesca" is similar to "Thème de Laura" but played by strings in a romantic and stirring style.
"Mike" is a lovely and melancholy solo piano piece while "Conrad et Laura" returns to dance music similar to "Danse Des Nostalgiques" but a slower tune with rhythm guitar instead of drums.
"La Mort de Macha" and "L'accident" are both dramatic cues with sombre moods.
The dance combo returns for "Fête Chez Les Casarès" and the solo piano comes back for "Le Bar Des Alliés". Finally there's "La Petite Fille en Velours Bleu", the title track, which neatly presents several of the main themes in one cue.
---