2013 June 03 • Monday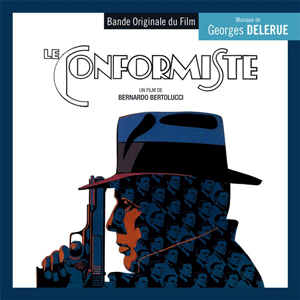 This CD of Georges Delerue's scores for Bernardo Bertolucci's The Conformist and Alan Bridges's Little Girl in Blue Velvet is the 269th Soundtrack of the Week.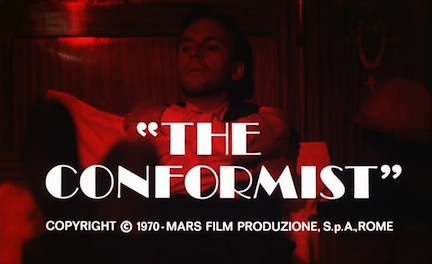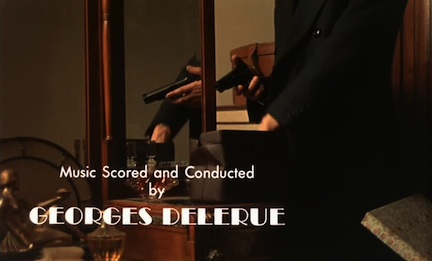 Like many scores, it has a main theme that you hear in several cues. This is a hypnotic and melancholy melody that rises and falls and swirls around. It is beautiful and haunting. In one cue, "Les Clerici", it sounds as if it's being played on musical saw.
There are also many cues that are probably source music for night club and/or dance scenes. (I haven't seen this movie in over twenty years. I remember it as being very good but I don't remember much else about it except for a few images.) "O.K. Bull" has a 1920s or '30s jazz feel. "Foxtrot du Maestro Delerue" sounds fairly generic to me. Solo piano.
"École de danse" is another solo piano piece, this one slow. "Tango di rabbia" is a tango, believe it or not. "Campagnola" is a peppy, accordion- and horn-driven tune that sounds like it goes with a jaunt through the alps.
"Cinque su dieci" is a slower dance number with accordion and violin blending nicely on the presentation of the bittersweet melody. "Anna, Ester et Marcello" and "Valzer del Conformista" are both nice waltzes, the latter being a waltz version of the main theme.
Little Girl in Blue Velvet opens with "Thème de Laura", a very sweet number with a harpsichord melody that reminded me a bit of Skeeter Davis's hit song "The End of the World".
"La Deposition" sounds like music for a suspense sequence at first with long tones and urgently plucked strings. Then it mellows into a restrained woodwind section, after which it combines both the woodwind and string ideas.
"Danse Des Nostalgiques" sounds like 1920s-era dance music, played by small combo with clarinet, piano, bass and drums. "Conrad et Francesca" is similar to "Thème de Laura" but played by strings in a romantic and stirring style.
"Mike" is a lovely and melancholy solo piano piece while "Conrad et Laura" returns to dance music similar to "Danse Des Nostalgiques" but a slower tune with rhythm guitar instead of drums.
"La Mort de Macha" and "L'accident" are both dramatic cues with sombre moods.
The dance combo returns for "Fête Chez Les Casarès" and the solo piano comes back for "Le Bar Des Alliés". Finally there's "La Petite Fille en Velours Bleu", the title track, which neatly presents several of the main themes in one cue.
---