2013 June 17 • Monday
Elmer Bernstein's The Rat Race is the 271st Soundtrack of the Week.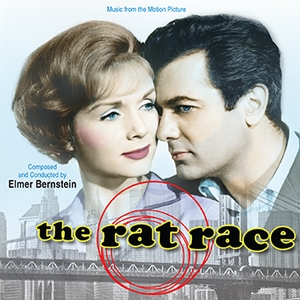 The opening track, "Seal/Main Title/Arrival", is a showcase for several of Elmer Bernstein's strengths. There's a hard-driving jazz theme, like a cross between his themes for The Man with the Golden Arm and The Magnificent Seven, with great sax and piano breaks. Then there's a lovely swaying theme for strings, unexpectedly bringing in a lush and romantic atmosphere. It's a bit similar to "My Shining Hour". Then there's a sunnier, more relaxed and mischievous jazz theme which is that romantic melody played with a different rhythmic feel.
That last mood is picked up again in "Wet Reception". There's some fine trumpet soloing, a dodge into a more urgent section and then a segue into a slow, melancholy finish.
These themes and the quick cutting between them continue in "Popsicles" and "Evicted/Platonic Propositions".
"Bedtime" is another variation on the main title, this time in a quiet, sometimes mysterious atmosphere before bursting into a triumphant coda.
"Spaghetti and Wine" sounds like the falling in love cue. This is followed by the menacing "Betrayed", an ominous re-working of the main theme.
"Peggy Is Cynical" is another take on the main theme, this time with uses of color that in places reminded me of Herrmann and Morricone.
Lovely interplay between harp, piano, flute and strings opens "Help from Nellie/New Sax's/Decision". "The Letter" is very sweet, with violin soloing and orchestral arrangements that sound like Golden Age film scoring.
There are three parts to "Strip", and they're all like the swinging, slightly naughty music heard at the end of the first track.
Something about the beginning of "Police Station/Conclusion" reminds me of a library cue used in The Prisoner, one I've always loved but whose name I can't remember. Then it's on to what sounds like music for living happily ever after as the strings swell and the violin soloist shines again.
The remaining ten tracks are all source music composed by Bernstein, excellent swinging and bluesy tunes for combo, most of them. "Milwaukee" is for solo trombone."Fur Blues" is for solo piano while "Fur Cat" is for solo clarinet.
There are also a couple of alternate takes and demos.
---