Rob Price
Gutbrain Records
rob + gutbrain.com = email
---
Seattle.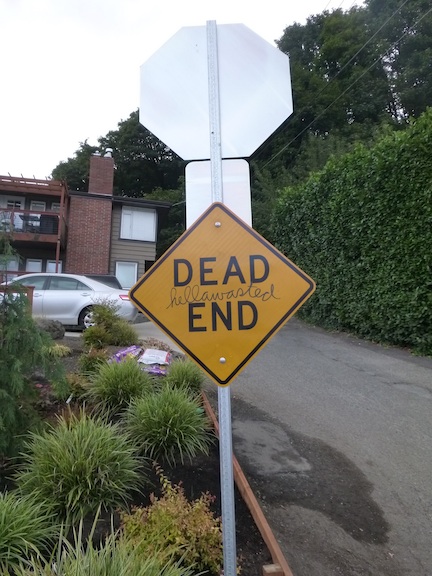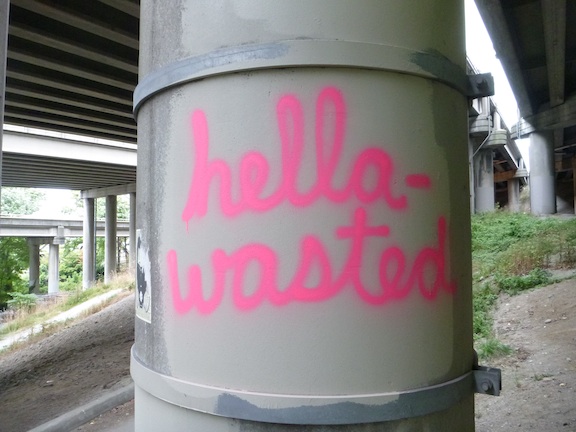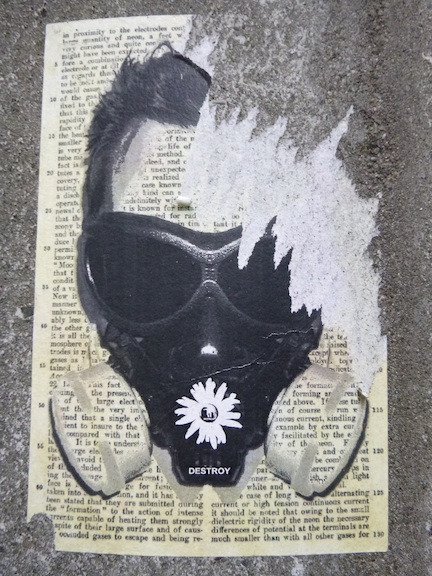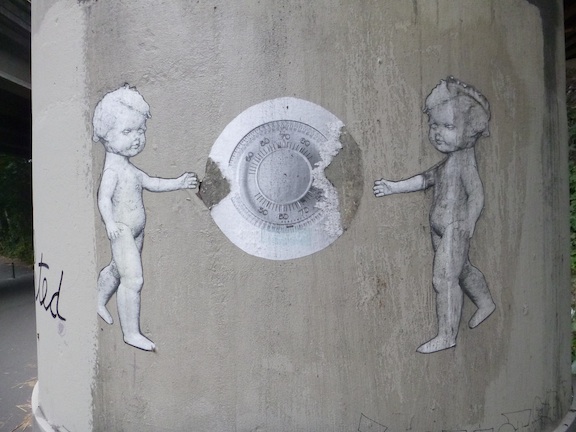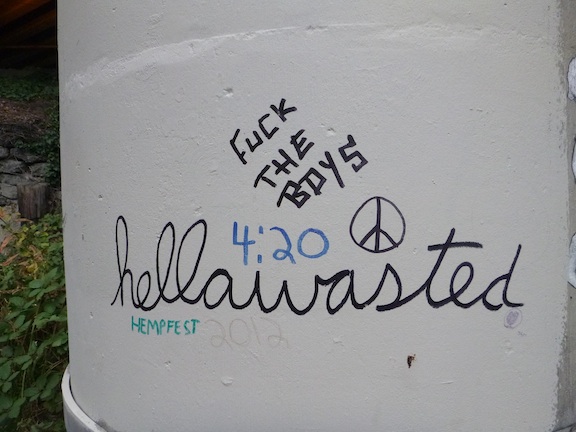 ---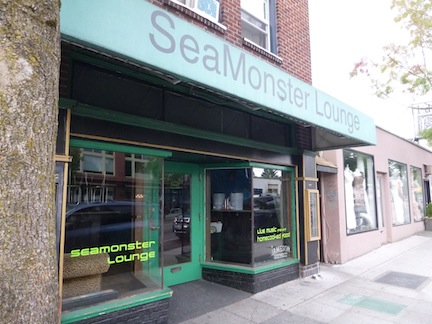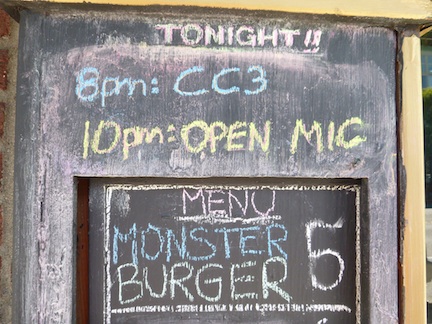 We had a great time at the Seamonster Lounge on Monday. Thanks to all of you who were there. You were one of the best—maybe the best—audiences we've ever had!
---
The 232nd Soundtrack of the Week is Rapture by Georges Delerue.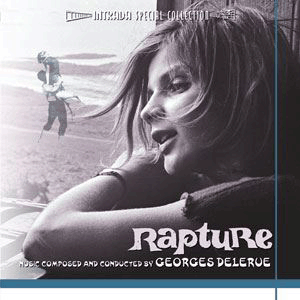 The "Main Titles" are beautiful and lyrical and reminded me so much of Pino Donaggio's main title music for Carrie that I wondered if Donaggio had been directly inspired by Delerue in that case. It's a good thing it's such a great piece of music because you'll hear it several times, in "Agnes Plays Mouth Organ", "Doll Thrown Over a Cliff", The Hospital", "Tragedy", "Agnes Runs to Hospital" and "Josef and Agnes Together".
Some sprightly polka-ish music with sprightly accordion playing is used for "Wedding Reception".
"Karen Fetches Agnes" is a lovely, wistful piece with a lullaby quality and great use of harp and vibes. This cue is similar to the main title music and is heard again in "Father Gives Agnes Gloves", "'I Can't Be Helped I'm Mad'" and "Josef and Agnes Love Scene".
"Agnes and Seagulls" is a weird, atmospheric track with tense drones and wordles vocals, followed by a reprise of the main title music.
A variation of the main title music follows a cloudy, suspenseful mood in "'He's Mine — I Made Him'", while "Agnes Kisses Her Scarecrow" is similar to "Agnes and Seagulls" but more agitated.
"'You See How Much I Need You'" has haunting wordless vocals and a reprise of the main title music on violin, flute and harpsichord. After this comes a sombre section with reed statements.
Tension and suspense start out "Agnes Looks in Mirror", which alternates between building tension and reprising the main title theme. Then there are some sharp, aggravated sounds from various instruments.
---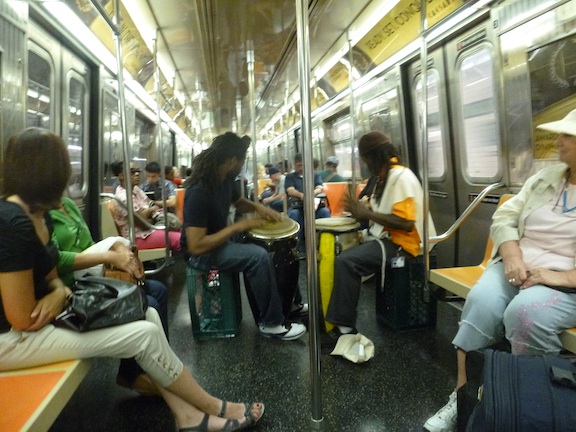 ---
Last month we were lucky enough to host Alessandra Eramo and Wenderlin Büchlert for a week while they were visiting the US. I strongly recommend these two records they have out.
This is Alessandra's solo record.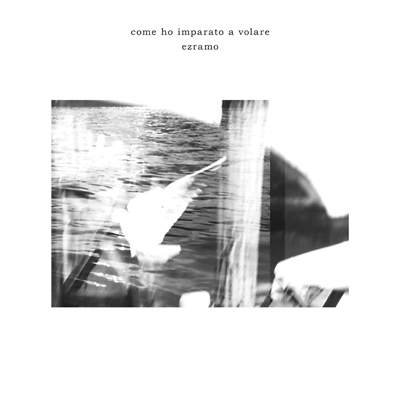 And this is a group recording of Alessandra and Wendelin with Gino Robair, David Fenech and ARgo Ulva.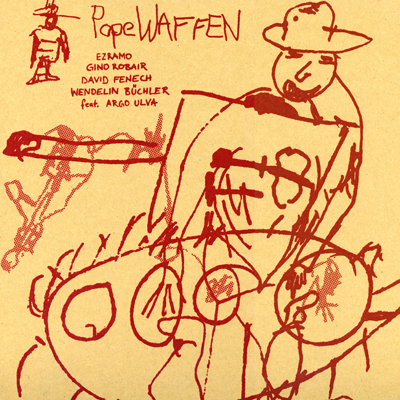 Both are mysterious and otherworldly.
Alessandra's record is about transformation and features recordings of larvae. Read about it and check out audio samples here.
PopeWAFFEN is delicately chaotic and lyrically noisy. Read about it and check out an audio sample here.
---
David Shire's score for The Taking of Pelham One Two Three is the 231st Soundtrack of the Week.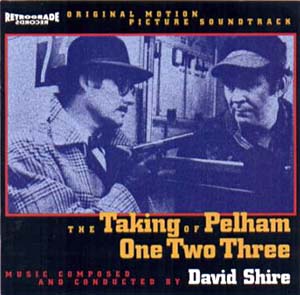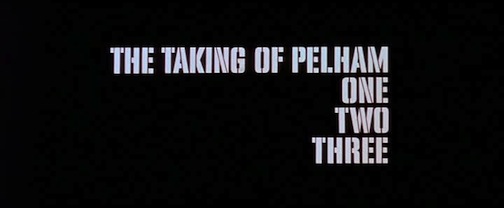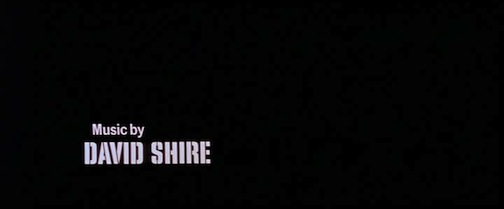 How I wish Dexter were old enough to watch this movie! He has a special relationship with the New York City subway system. (He likes the bus, too.)
The CD begins with the "Main Title" theme music, a groovy, rocking 12-tone tune with elements of funk and big-band jazz. It's really amazing. This is followed by "The Taking", which begins with a constant low-end pulse with martial snare. !2-tone horn lines come in and build tension before a more atmospheric section with strings or electronics.
"Dolowitz Takes a Look/Dolowitz Gets Killed" begins as off-kilter, syncopated madness with various instruments—horns, piano, guitar—making lively, odd statements. THen it goes into a depressive mood before returning to the previous musical feel.
Lots of percussion and bass set up a big groove for "Blue and Green Talk". It stops suddenly, though, and mournful, creepy strings take over.
"Money Montage" has the same groove as the main title music but different figures on top. The similar "Fifty Seconds/The Money Express" is suspense music with an arresting arrangement and intriguing instrumentation.
Solo piano and dissonant strings create a creepy atmosphere for "Conductor Killed/The Money Bag". "The Pelham's-Moving-Again Blues" isn't really a blues but a slower, heavier versino of the main title music.
"I'm a Police Officer/Renewing Disguises/Goodbye Green, Hello Garber, Goodbye Hippie/Smoking More, Enjoying It Less" comes bursting out of hte gate with percussion and urgent instruments climbing higher and higher. Then there's music with a lot of space alternating with more dense, frantic sections. This is followed by an atmospheric section and a return to the main title groove.
Percussive electric guitar (with muted strings) and a stripped down main title groove get "Mini-Manhunt" started. The whole band come blasting in for a bit and then it's back to the original sparse groove. It gets pensive at the end. Finally, the "End Title" is a reprise of "Main Title".
---
Back to San Diego's Nickelodeon Records for Guitar's Greatest Hits by Tom and Jerry (Tom Tomlinson and Jerry Kennedy).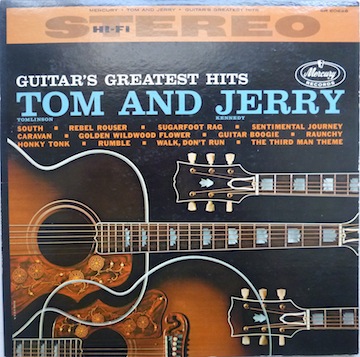 There are actually five guitarists on every tune: Tom and Jerry plus Hank Garland, Harold Bradley and Kelso Herston. Also playing are Boots Randolph on saxophone, Floyd Crammer on piano, Bobby Moore on bass and Buddy Harmon on drums.
There's also a string section on many of the pieces, which probably tells you all you need to know about this record. The guitar sounds are really good and sometimes the strings are okay but they ruin what could have been a nice take on "Caravan".
---
Here's Surf Stompin' by Don Dailey, which I got at last year's WFMU Record Fair.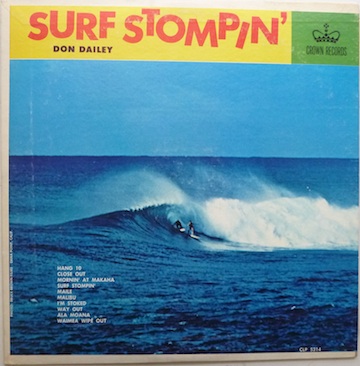 And here's Billy Boyd's Twangy Guitars, which I bought at Nickelodeon Records and wrote about here.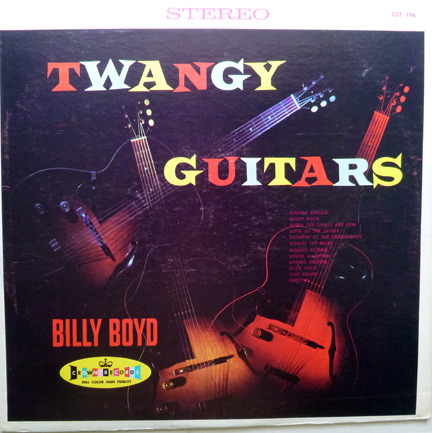 Despite the fact that Tangy Guitars has twelve tunes, six on a side, and Sur Stompin' only has ten, they're the same record! The label on the Surf Stompin' records claims that Side A has "Hang 10", "Close Out", "Moanin' at Makaha", "Surf Stompin'" and "Maile", while Side B has "Malibu", "I'm Stoked", "Way Out", "Ala Moana" and "Waimea Wipe Out" The actual program is identical to Twangy Guitars, though, and doesn't sound particularly surfy at all.
Was this a production mistake or some kind of deception meant to make some money of the popularity of surf music? The cover photo for Surf Stompin', by the way, is an image from one of Bruce Brown's surfing films. I only know that because they gave him a photo credit—much to my surprise. But maybe that was also a way to cash in on what was going on.
---
The 230th Soundtrack of the Week is my new regular Saturday night thing: Michael Kamen's music for Road House!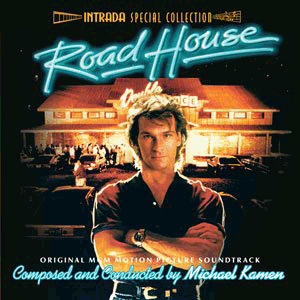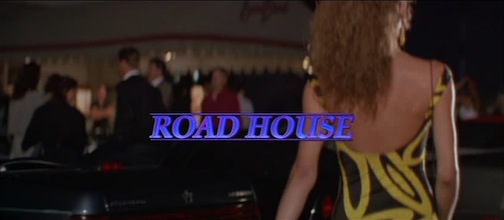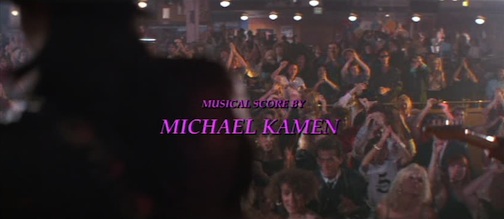 The soundtrack CD from Intrada doesn't have any diegetic music, so The Jeff Healey Band isn't on it. Also missing is the doo-wop hit "Sh-Boom", which Ben Gazzara listens to in his car while driving recklessly. (The same song was also used memorably in Cars.)
But Kamen's score is excellent, beginning with the sober and atmospheric "The Homestead (Dalton's Theme)", an orchestral piece featuring French horn and harmonica. After that is the meditative, slightly New Age/jazz/exotica "Tai Chi".
"Nobody Every Wins a Fight" is a more menacing sounding version of Dalton's theme while "Drop Like a Stone" has a different mood from, but some things in common with "Tai Chi". "Invitation to Brads" is similar to "Drop Like a Stone" but has more percussion and a second section that provides a feeling of mystery.
"On the Rooftop" begins as a love theme but ends up as tense, dramatic underscore while electric guitar and synthesizer dominate "Loading Dock Fight" There's a lot of impressive guitar soloing and more space than you might expect.
The villain is represented by "This Is My Town", which starts out appropriately mean and creepy-sounding but gets a bit New Age at the end.
A Hendrix-like solo guitar flourish is the main feature of "Emmet's House Explodes [Original Version]". "Dalton and Reno Fight" is ominous, low, propulsive and tense music while "Heads or Tails?" is creepy and suspenseful.
After this come two different versions of "The Final Confrontation", a shorter early version that wasn't used in the movie and the longer one that was. The first three minutes of the original version are filled up by solo electric guitar, sometimes played with a slide. Synth and piano come in with a part that's similar to Dalton's theme. The film version is totally different, denser and more textural with varied orchestration of several instruments, including string section.
Everything gets wrapped up with "Final Theme", a recapitulation of Dalton's theme.
---
Here's another obscure Canadian guitar record I got at last year's WFMU Record Fair.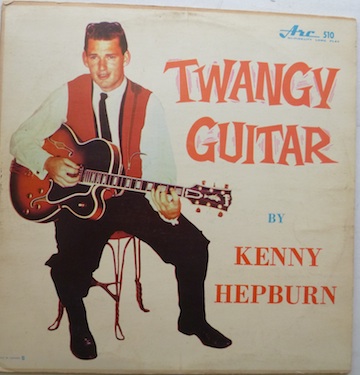 Here is music with a Rockin' Beat and plenty of Twangy Guitar. It's music with the "Big Sound" for dancing or relaxing.
Kenny Hepburn started his musical career with the guitar in Toronto. His first big break was as Lead Guitarist with the noted Don Thompson Quintet and played the top name clubs in Ontario. Later he grew up with the "Rock" school. Kenny has played on the same programs with such well known artists as Conway Twitty, Bo Diddley, Ronnie Hawkins and Duane Eddy. He is now on his way to making a name of his own.
There's no information about the other musicians, who play sax, piano, bass and drums. There's also no composer credits for any of the tunes, though most of them are familiar covers.
"I Almost Lost My Mind", the first piece on the A Side, is a basic blues with a hard-hitting, somewhat raunchy sax sound and an amazing tremolo guitar sound.
This is followed by the popular Bill Doggett song "Honky Tonk", presented here in tow parts. The first part has a long guitar solo, and the guitar has a really rich, full tone. The second part is a feature for the saxophone, which plays the melody and solos.
That wonderful tremolo sound is back and the guitar is most definitely twangy in "3:30 Blues". "Detour" is more up-tempo, with a "Saints Come Marchin' In" feel to it and more of that wonderful tremolo.
The first side ends with "Lonesome Road", which has B section with an air of mystery about it and a piano solo as well as a sax solo.
"Yep" kicks off the B Side, starting with a groove that's similar to "Wipe Out" as well as another dark, full guitar tone and some interesting harmonic movement in the piece itself.
The guitar sounds desolate in "Stalk'in" [sic], with a haunting quality to its tremolo. The piece is slow and moody with a 12/8 feel. This is followed by "Lonely One", a romantic slow-dance number.
A very familiar piece comes next: "Tequila". They got the cymbal sound right, and that's the most important part. The sax embellishes the melody a bit and plays with the rhythm as well. There's no guitar solo but there is another piano solo and everybodby says "Tequila" at the end.
After this comes a very laid-back take on "Autumn Leaves" with a mellow guitar tone. And then, finally, it's "40 Miles of Bad Road", notable more for the sound of the guitar than what the guitar plays.
---
Those records I picked up at San Diego's Nickelodeon Records reminded me of some LPs I bought at last year's WFMU Record Fair. Consider the case of Hugh Dixon's Frantic Guitars.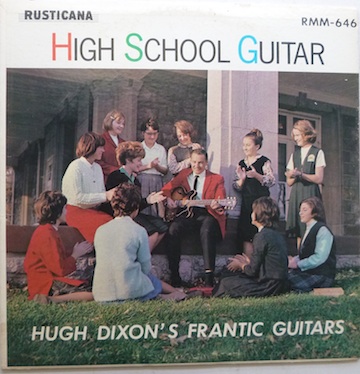 There's something about that cover that breaks my heart. How is it that Adlai Stevenson was never president? Oh, because this is Canadian!
Hugh Dixon is one of many Canadians to achieve popularity in recent years. He was born 25 years ago in Lachine, Quebec, and has since received recognition as a disk jockey, night-club entertainer and race driver. After finishing school he spent four years as a disk jockey at several radio stations in Quebec Province. He then went on to become known as "the guy with the crazy sound" when he worked the night-club circuit with such groups as the Lincolns, Larry Lee and the Corvettes, and Roscoe's Little Green Men. Hugh is also one of Canada's up and coming race car drivers and is seen on the track driving either an Austin-Healey Sprite or his D-Type Jaguar. He is the current Quebec Region racing champion.
High School Guitar is the second album for Hugh and differs consdierably from the first — Hugh Dixon Plays Many Many Guitars. In High School Guitar he is found playing his "FRANTIC" Guitar which is more of a pop or teenage sound. As usual, Hugh has employed the multiple or sound on sound technique for this album.
In addition to that potted biography of Hugh Dixon, the back cover also names the other musicians (Billy Smith on drums, Maurice Bougie on bass) and lists Dixon's gear.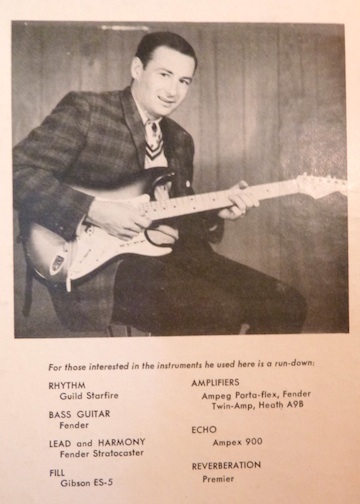 After listening to the record I'm pretty sure that I want an Ampeg Porta-Flex, an Ampex 900 and a Premier Reverberation unit.
One of the interesting things about High School Guitar is that eight of the twelve tunes are Hugh Dixon originals. The covers are "Night Train", "Honky Tonk", "Big Guitar" and "Wild Weekend".
"Night Train" is rhythmically subdued but has a great lead guitar sound, echoey and chorusy. I'd like to know exactly what "multiple or sound on sound technique" was used for this record as there is what sounds like impeccable multi-track guitar playing throught this record.
"Ball and Chain" is mostly a cheery, lilting pop tune with a slightly tougher B section. "Lost Guitar" is a bluesy, romantic, late-night number in 6/8. There's some impressive echo (Ampex 900, I guess!) on "Wild Mouse" which uses a pretty standard sort of riff, similar to "Church Key", but has a good guitar solo.
"Honky Tonk" has a very intriguing guitar sound for the melody and a wonderful, rich tone for the guitar solo, with reverb of a quality you just don't hear anymore. "Road Rat" has two sections, one being a Bo Diddley thing and the other being a kind of square swing thing.
The first tune on the second side, "Shock Alot", is a pretty blatant imitation of "What I Say". "Big Guitar" has a rolling rhythm with an impressively rich guitar sound—must be that Premier reverb!
"Let's have a little Yackety Clap! One, two three, four!" So begins "Yackety Clap", which is similar to some of the material the John Barry Seven used to play, though it's not as interesting. "Wild Weekend" sounded similar to "Love Is Strange" to my ears. It has a great drum sound, though, especially the bass drum.
The multiple guitars give a crazy, cartoonish feel to "Big Blast". The Frantic Guitars appellation seems deserved here. There are also some awesome drum breaks and inspired guitar solos with that amazing sound.
Finally and appropriately is "Dead End", a chirpy pop tune, similar to "Sugar Shack" or something like that. It doesn't match its name.
All in all, an interesting record. And I love that the label is called Rusticana. Let's hope I find more like this at the next WFMU Record Fair!
One final observation about the cover: the girls aren't clapping in time. Some of them have hands apart, others hands together.
---
2011 was not just Bernard Herrmann's hundredth birthday but also Nino Rota's. Better late than never, the 229th Soundtrack of the Week is Rota's score for Fellini's Giulietta degli spiriti (Juliet of the Spirits). Bill Frisell covered music from this movie for the Amarcord Nino Rota album.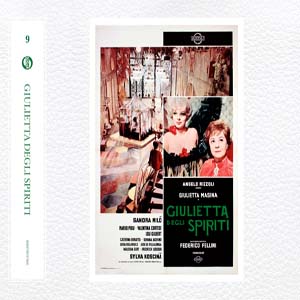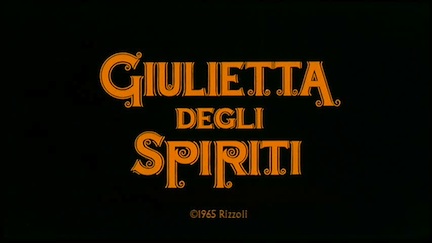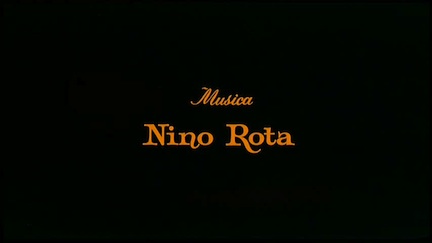 The first track, "Amore Per Tutti", introduces the main theme, to be recapitulated several times in different arrangements. After a calliope intro there are brief solos from clarient and piano. The clarinet is the first to play the theme, after which glockenspiel, crystalline reverb guitar and organ take over.
"Faccette Scintillanti" is the same theme but with an Yma Sumac-like vocalist and more of the same bewitching guitar sound. Electric bass guitar adds some punch to the B section and the piece accelerates to the end.
This is followed by a calmer piece, "Rugiada Sui Ranocchi", that features flute and oboe. "Vascello De Susi" is crazy exotica with vocals and guitar, reminiscent of the music for 8 1/2 and (in places) music for The Prisoner.
"Rosa Aurata" is a slow bluesy take on the main theme with brilliant piano and organ playing. "La Ballerina Del Circo Snap" is peppy circus music that touches on the main theme. This is reprised in "La Maestra D'Amore".
"Il Teatrino Delle Suore" is a pensive piece which has church-like organ and pastoral flute playing. It concludes with a children's choir.
A somewhat cheesy reprise of the theme, played on what sounds like a calliope, is the idea behind "Valzerino Del Nonno", while "Cupido Ha Sonno" is a slower, late-night version of the theme.
"Mi Basta Chiudere Gli Occhi E" is a slow, melancholy mood piece for piano combo. More of that wonderful guitar sound in here. After this comes the lilting and mysterious "Il Giarino Delle Fate", followed by "Il Charleston Di Giulietta", which is exactly what the title suggests: a Charleston version of the theme.
The penultimate track, "La Porticina Segreta", goes back and forth between an outer space atmosphere with organ drone and frenetic, circus-like music. Finally, "L'Arcobaleno Per Giulietta" creates a heavenly atmosphere, beginning with solo flutem before gonig into a swinging version of the main theme one more time.
---
Here's another one I got at Nickelodeon in San Diego. I like this better than Twangy Guitars.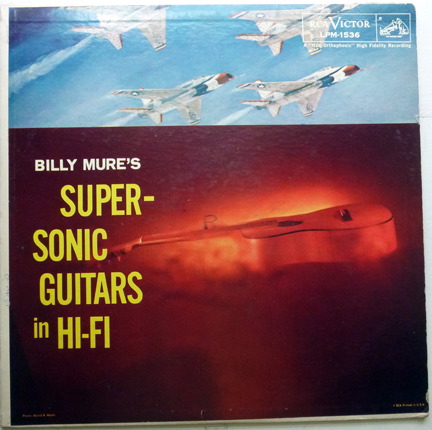 I never heard of Billy Mure before. No other musicians are named. The liner notes are kind of amusing.
Supersonic guitars blast out of RCA Victor studios and break sound barrier. Guitars were seen and heard flying at sonic boom speeds … Pilot Billy Mure reports Gretsch Guitars and Amplifiers are taking air stress with no rumble …
Mure reports to engineering groun crew — echo taking over but tape reverberator holding steady …
After leveling off and returning to base, Mure states that Supersonic (Side 1, Band 1) moved at exciting speed with tweeters and woofers wide open …
During flight test Mure observed also that Malagueña (Side 2, Band 1) bounced through atmosphere emitting fiery sounds …
Mure also stated that Grass Shack (Side 1, Band 4) came in with smooth landing.
On this flight Mure utilized four guitars with amplified rhythm, two drums, one bass and loads of oxygen.
Asked about future supersonic plans, Mure said that he was ready to soar with his equipment at even faster speeds and wilder heights.
WARNING: Look out for shattered windows and cracked ceilings on take-off of supersonice guitars!
It's interesting that Gretsch gets a mention. There's a photograph of Mure posing with his Gretsch but at least two of the other three guitars appear to be Gibsons.
I like that clock in the background.
Also on the back cover is a cool bit of art that reminded me of Jim Flora's work.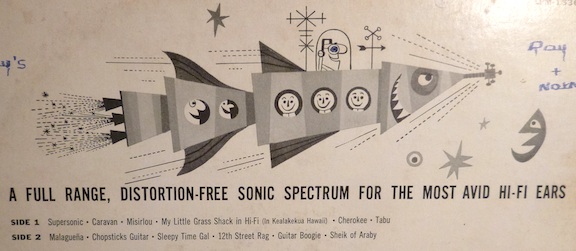 The record's really good. Nothing mind-blowing, but nice tunes, great sounds, excellent playing. "Cherokee" gets a trite "war dance" intro and outro but is otherwise quite agreeable. Good take on "Caravan". "Supersonic" is very good and it's great to hear a recording of "Misirlou"that isn't influenced by Dick Dale.
This record is from 1957, two years before Dick Dale's first single and five years before his recording of "Misirlou" was released as a single. Billy Mure plays Misirlou partky as a slinky and moody piece of exotica with conga and some inappropriately perky elements to the arrangement and partly as a relaxed swing tune.
Does the album live up to the cover? Well, no, I guess not. But what album could?
---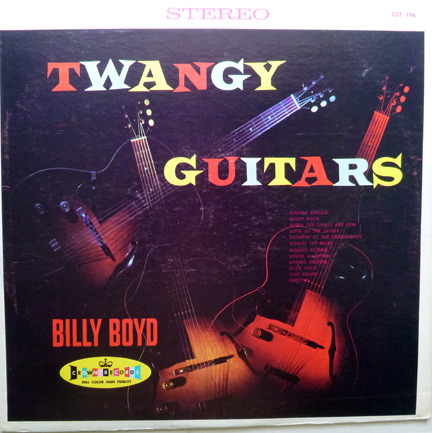 That's one of the records I got at Nickelodeon Records in San Diego. Side A has "Shuffle Boogie", "Night Rock", "When the Lights Are Low", "Jivin at the Savoy", "Stompin at the Crossroads" and "Diggin the Blues". Side B has "Mambo Boogie", "South Hampton", "Bolero Boogie", "Duck Walk", "Oop Shank" and "Drifting".
There's a lot of saxophone on this record, often in an Earl Bostic style. Some of the tunes are basically rip-offs of other popular numbers from the time (persumably late '50s or early '60s.) "Night Rock" is basically a hybrid of "I'm a Man" and "The Honky-Tonk". "Bolero Boogie" is a pretty blatant imitation of "Rumble" and a few of the others sounded very familiar, even if I couldn't put my finger on what they reminded me of. "Oop Shank" has a "Race with the Devil" feel to it..
"South Hampton" is similar to the rock and roll source music Henry Mancini came up with for Touch of Evil and the last track, "Drifting", is a slow, quiet, dreamy guitar duet. The sounds of the guitars are quite good, alternately dark, strong and vibrating or a brighter, more jazzy tone.
The music is accomplished and quite good but doesn't have anything especially distinctive or out of the ordinary about it. It doesn't live up to the cover. I wish I knew who the musicians were. All of the information is on the front cover: Billy Boyd and the tune names. The back cover just has a list of other records available from the same label.
---