2012 August 08 • Wednesday
Those records I picked up at San Diego's Nickelodeon Records reminded me of some LPs I bought at last year's WFMU Record Fair. Consider the case of Hugh Dixon's Frantic Guitars.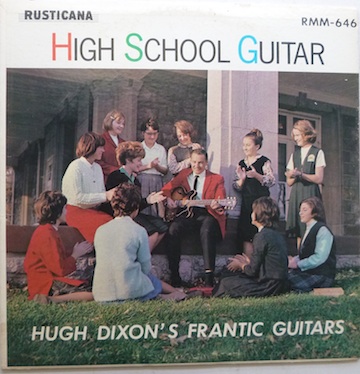 There's something about that cover that breaks my heart. How is it that Adlai Stevenson was never president? Oh, because this is Canadian!
Hugh Dixon is one of many Canadians to achieve popularity in recent years. He was born 25 years ago in Lachine, Quebec, and has since received recognition as a disk jockey, night-club entertainer and race driver. After finishing school he spent four years as a disk jockey at several radio stations in Quebec Province. He then went on to become known as "the guy with the crazy sound" when he worked the night-club circuit with such groups as the Lincolns, Larry Lee and the Corvettes, and Roscoe's Little Green Men. Hugh is also one of Canada's up and coming race car drivers and is seen on the track driving either an Austin-Healey Sprite or his D-Type Jaguar. He is the current Quebec Region racing champion.
High School Guitar is the second album for Hugh and differs consdierably from the first — Hugh Dixon Plays Many Many Guitars. In High School Guitar he is found playing his "FRANTIC" Guitar which is more of a pop or teenage sound. As usual, Hugh has employed the multiple or sound on sound technique for this album.
In addition to that potted biography of Hugh Dixon, the back cover also names the other musicians (Billy Smith on drums, Maurice Bougie on bass) and lists Dixon's gear.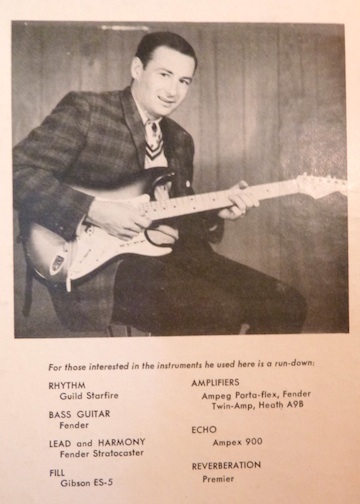 After listening to the record I'm pretty sure that I want an Ampeg Porta-Flex, an Ampex 900 and a Premier Reverberation unit.
One of the interesting things about High School Guitar is that eight of the twelve tunes are Hugh Dixon originals. The covers are "Night Train", "Honky Tonk", "Big Guitar" and "Wild Weekend".
"Night Train" is rhythmically subdued but has a great lead guitar sound, echoey and chorusy. I'd like to know exactly what "multiple or sound on sound technique" was used for this record as there is what sounds like impeccable multi-track guitar playing throught this record.
"Ball and Chain" is mostly a cheery, lilting pop tune with a slightly tougher B section. "Lost Guitar" is a bluesy, romantic, late-night number in 6/8. There's some impressive echo (Ampex 900, I guess!) on "Wild Mouse" which uses a pretty standard sort of riff, similar to "Church Key", but has a good guitar solo.
"Honky Tonk" has a very intriguing guitar sound for the melody and a wonderful, rich tone for the guitar solo, with reverb of a quality you just don't hear anymore. "Road Rat" has two sections, one being a Bo Diddley thing and the other being a kind of square swing thing.
The first tune on the second side, "Shock Alot", is a pretty blatant imitation of "What I Say". "Big Guitar" has a rolling rhythm with an impressively rich guitar sound—must be that Premier reverb!
"Let's have a little Yackety Clap! One, two three, four!" So begins "Yackety Clap", which is similar to some of the material the John Barry Seven used to play, though it's not as interesting. "Wild Weekend" sounded similar to "Love Is Strange" to my ears. It has a great drum sound, though, especially the bass drum.
The multiple guitars give a crazy, cartoonish feel to "Big Blast". The Frantic Guitars appellation seems deserved here. There are also some awesome drum breaks and inspired guitar solos with that amazing sound.
Finally and appropriately is "Dead End", a chirpy pop tune, similar to "Sugar Shack" or something like that. It doesn't match its name.
All in all, an interesting record. And I love that the label is called Rusticana. Let's hope I find more like this at the next WFMU Record Fair!
One final observation about the cover: the girls aren't clapping in time. Some of them have hands apart, others hands together.
---