2012 August 01 • Wednesday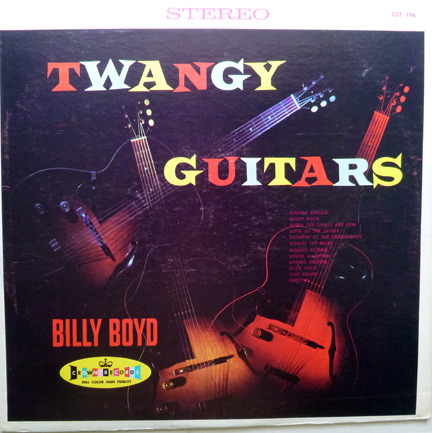 That's one of the records I got at Nickelodeon Records in San Diego. Side A has "Shuffle Boogie", "Night Rock", "When the Lights Are Low", "Jivin at the Savoy", "Stompin at the Crossroads" and "Diggin the Blues". Side B has "Mambo Boogie", "South Hampton", "Bolero Boogie", "Duck Walk", "Oop Shank" and "Drifting".
There's a lot of saxophone on this record, often in an Earl Bostic style. Some of the tunes are basically rip-offs of other popular numbers from the time (persumably late '50s or early '60s.) "Night Rock" is basically a hybrid of "I'm a Man" and "The Honky-Tonk". "Bolero Boogie" is a pretty blatant imitation of "Rumble" and a few of the others sounded very familiar, even if I couldn't put my finger on what they reminded me of. "Oop Shank" has a "Race with the Devil" feel to it..
"South Hampton" is similar to the rock and roll source music Henry Mancini came up with for Touch of Evil and the last track, "Drifting", is a slow, quiet, dreamy guitar duet. The sounds of the guitars are quite good, alternately dark, strong and vibrating or a brighter, more jazzy tone.
The music is accomplished and quite good but doesn't have anything especially distinctive or out of the ordinary about it. It doesn't live up to the cover. I wish I knew who the musicians were. All of the information is on the front cover: Billy Boyd and the tune names. The back cover just has a list of other records available from the same label.
---