2012 August 27 • Monday
The 232nd Soundtrack of the Week is Rapture by Georges Delerue.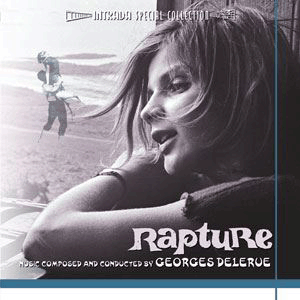 The "Main Titles" are beautiful and lyrical and reminded me so much of Pino Donaggio's main title music for Carrie that I wondered if Donaggio had been directly inspired by Delerue in that case. It's a good thing it's such a great piece of music because you'll hear it several times, in "Agnes Plays Mouth Organ", "Doll Thrown Over a Cliff", The Hospital", "Tragedy", "Agnes Runs to Hospital" and "Josef and Agnes Together".
Some sprightly polka-ish music with sprightly accordion playing is used for "Wedding Reception".
"Karen Fetches Agnes" is a lovely, wistful piece with a lullaby quality and great use of harp and vibes. This cue is similar to the main title music and is heard again in "Father Gives Agnes Gloves", "'I Can't Be Helped I'm Mad'" and "Josef and Agnes Love Scene".
"Agnes and Seagulls" is a weird, atmospheric track with tense drones and wordles vocals, followed by a reprise of the main title music.
A variation of the main title music follows a cloudy, suspenseful mood in "'He's Mine — I Made Him'", while "Agnes Kisses Her Scarecrow" is similar to "Agnes and Seagulls" but more agitated.
"'You See How Much I Need You'" has haunting wordless vocals and a reprise of the main title music on violin, flute and harpsichord. After this comes a sombre section with reed statements.
Tension and suspense start out "Agnes Looks in Mirror", which alternates between building tension and reprising the main title theme. Then there are some sharp, aggravated sounds from various instruments.
---