Rob Price
Gutbrain Records
rob + gutbrain.com = email
---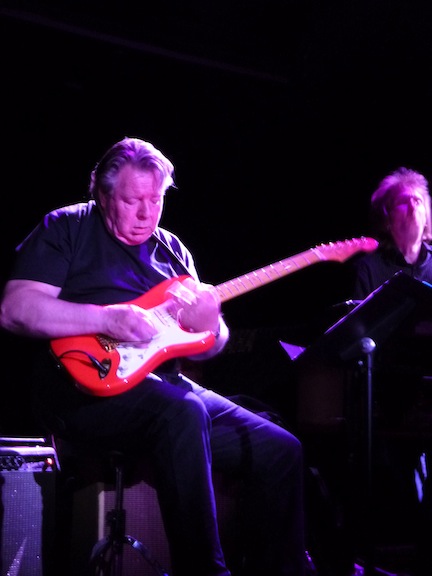 Terje Rypdal at Le Poisson Rouge with Palle Mikkelborg, Ståle Storløkken and Paolo Vinaccia
2012-06-27
---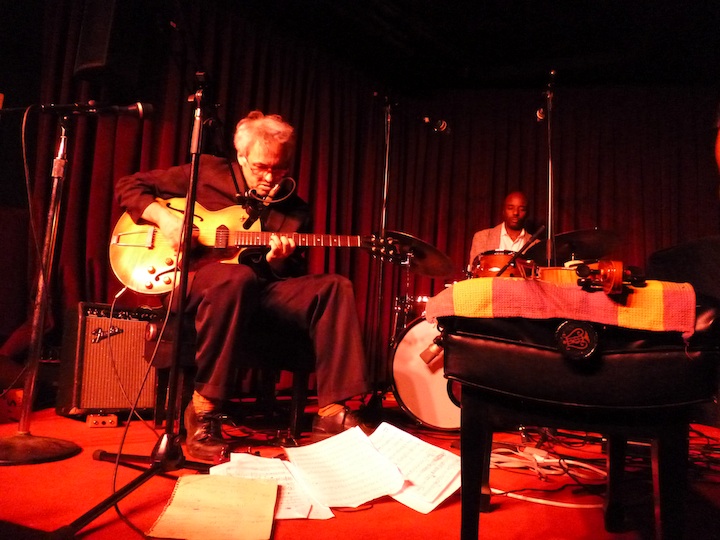 Marc Ribot at the Village Vanguard with Chad Taylor and Henry Grimes
2012-06-26
---
Ennio Morricone's score for Il serpente is the 223rd Soundtrack of the Week.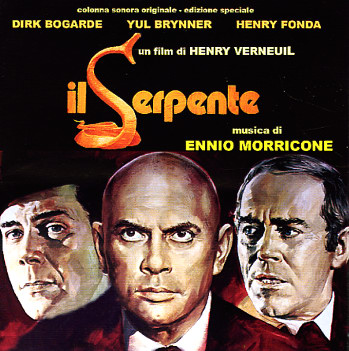 I borrowed this movie from the library once but didn't watch more than the first twenty minutes or so. It didn't seem that interesting. The music is great, though.
The first ten tracks on the CD present the original soundtrack album. Additional music from the film is hearf on eleven additional tracks.
"Canzone lontana" has a tense piano intro but is a sensitive piece for organ and strings and features the unmistakable voice of Edda dell'Orso.
"Nadine" is a rocking, organ-driven freak out, similar to music Morricone contributed to Violent City and Garden of Earthly Delights.
The third track, "Tema per una donna sola", also features the organ but is a lush, romantic piece. This is followed by solo church organ for "Orazione".
After that is an instrumental take on "Canzone lontana", featuring piano. "Parata militare" has the bombastic feel the title suggests.
Tension is the dominant mood in "Assassinio sul lago". Dissonant strings and odd percussion provide a background for the pianist to play the inside of the piano. Then rhythmically bowed string statements with percussion accents take over, followed by strings sounding like a swarm of insects.
"Astrazione con ritmo" sounds like it could be a free improvisation with odd, spare percussion, electric guitar and some other electriconic stuff. It's very cool and occasionally creepy.
"Il serpente" is a long piece, almost seven minutes, which starts quietly and builds intensity. The strings set the mood and then weird electronic noises take over.
More weird percussion, electronics and playing the inside of the piano are the features of "Esplicitamente sospeso", the final album track/
Next are two pieces of source music, heard in the movie coming out of a radio. The first is a laid-back jazz/pop groove with vibes, organ and electric piano. The secend is an unusual shake with very dark wah=wah rhythm guitar and rocking piano.
Then there's another arrangement of "Canzone lontano", this time for acoustic guitar and organ with lush strings. The remaining tracks appear to be alternate takes or different edits of what we've already heard.
---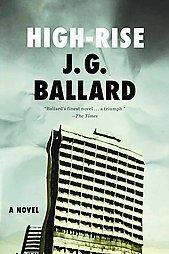 Following Crash and Conrete Island, High-Rise makes three brilliant, bizarre and unique novels in a row from J. G. Ballard, sort of a trilogy of works about middle-class, suburban life mutating into strange, tribalistic, ultimately atavistic forms. (Ballard shares with Barbara Pym an ability and inclination to show hyper-"civilized" people behaving consistently and almost exclusively in "primitive" or tribal manners, as if sharing with readers the view of an otherworldly anthopologist.)
The residents of a new High-Rise are consumed by their building and their mysterious feelings about it once all thousand apartments become occupied. Floors battle other floors as neighbors form tribes. This loose society doesn't hold, though, and a violent anarchy takes over. People live among piled up walls of garbage bags as all services to the building fall away. No electricity, no air-conditioning, no food; the high-rise, designed to be a nearly self-sufficient community, contains a grocery store, a liquor store, gyms, a swimming pool, schools, playgrounds, a scuplture garden, all of which are abandoned or destroyed or converted to new, grisly uses.
As always in Ballard, the characters welcome these developments. Far from resisting their downward slide into apocalypse, they attempt to haten it. Their true selves are released from cages of repression; this appears to be the important theme of most of Ballard's writing. (While reading High-Rise I was reminded of Ballard's statement that there should be more sex and violence on television, not less.)
The story concerns three somewhat archetypal characters, one from the bottom of the building, one from the top and one from the middle. The resident of the low floor is a strong, virile man named Wilder. As his name suggests, he is the barbarian ready to storm the gate. At the top if Royal, one of the architects who designed the high-rise. The significance of his name is clear enough. In the middle is Laing, representative of the abiding, adaptive middle class, the least interesting but the most likely to survive.
The writing is brilliant, with numerous stunning turns of phrase and unexpected felicities. When one of the residents, an orthodontic surgeon, smiles he has "a mouth like a miniature cathedral of polished ivory". Royal has scars on his face—from a car accident, a significant event in a Ballard book—that "hung like a series of question marks over his stern expression".
The residents of the high-rise end up preferring night to day.
The true light of the high-rise was the metallic flash of the polaroid camera, that intermittent radiation which recorded a moment of hoped-for violence for some later voyeuristic pleasure. What depraved species of electric flora would spring to life from the garbage-strewn carpets of the corridors in response to this new source of light? The floors were littered with the blackened negative strips, flakes falling from this internal sun.
The book's first line is really great. (The whole first paragraph is breathtaking.) "Later, as he sat on his balcony eating the dog, Dr. Robert Laing reflected on the unusual events that had taken place within this huge apartment building during the previous three months."
---
The Melvins continue to surprise and (more important) to deliver with their new record, Freak Puke.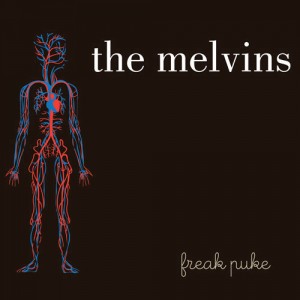 The band is calling itself "The Melvins Lite" this time around because the electric bassist and second drummer from their last few records aren't on this one. Buzz and Dale are joined instead by Trevor Dunn on upright bass. The dark tone and timbre of his instrument combined with the strong, deep, textured and often percussive way he plays makes this "Melvins Lite" record heavier than many of their others.
The first thing you hear is Trevor bowing the bass. He overdubs himself at least twice, creating an impressively varied sonic atmosphere. Buzz and Dale come stomping in and the groove the band gets into, propelled now by Dunn's plucking of the strings, is irresistible.
After that song, called "Mr. Rip Off", Dale gets "Inner Ear Rupture" started. Buzz comes in with some dive-bombing chords and Trevor is soon back to playing arco again. The rest of the song is an impressive bass solo. At the end you hear laughter and then "Baby, Won't You Weird Me Out" begins with a part for arco bass in high register. Buzz and Dale come storming in and after another burst of improvising from Trevor, the band rocks out and settles in for song that's sort of like a sped-up "The Bloat". Again, Trevor's bass playing makes a huge difference, adding accents and textures never before heard on a Melvins record.
"Worm Farm Waltz" begins as high-octane rock and then switches into a slow waltz, with bass switching from plucked to bowed as it does. Combined with Dale's powerful, sparse drumming it creates an atmosphere of doom. There are some strange electronic sounds also, perhaps created by Buzz, whose guitar playing is as impressive as always. More avant bass improv ends the track.
"A Growing Disgust" is solidly in the Melvins tradition, similar to several other songs—such as "The Bloat", again—but with its own identity. (Astonishingly, the Melvins have managed to do something different on almost every album they've ever made.) Buzz gets a magnificent guitar sound for his impeccable lead work.
There's an uenxpected optimism to the sound of the energetic and mostly instrumental "Leon Vs. The Revolution". This song played by a different band with a very different sound, and lots more vocals, could probably be a radio hit. It ends with everybody shouting, schoolyard style, "Fight! Fight! Fight! Fight! Fight!".
"Holy Barbarian" is meditative and comparatively mellow. Buzz is even playing some gentle harmonics. This is another one where the bass makes a huge difference in sound. (I hope there will be more Melvins Lite records). In addition to plucking, Trevor apparently has overdubbed himself playing arco. The result is a richly textured, thick sound.
The title song is next. It begins with some mysterious percussive noise, then a pretty nasty fuzzed out guitar. It's very upbeat and the dark sound of the bass balances the more trebly guitar sound. This is a straight-up Melvins-style rocker, a get in the car and drive fast sort of song.
The next song is the big surprise, a cover of "Let Me Roll It" by Paul McCartney. It's on one of the Wings records. I'm not sure if I'd ever heard it before. I'm not really up on Wings. But I really love this version of it. I checked out the original and was surprised to discover that The Melvins do it pretty straight, not really changing anything but just doing it with their own sound. (Few bands have a sound as immediately recognizable as The Melvins.) After I listened to the whole record I had to go back and listen to this song again.
Finally there's "Tommy Goes Berserk", nearly ten minutes long. It begins briskly but gently, the percolating rhythms pausing for the interjected vocals. After a few minutes of this, it gets harder and darker and there's a lot of blistering guitar work from Buzz. Then it abruptly shifts to a creepy, ambient section with a lot of weird sounds coming from the bass. After this, a pause, then a loop of part of a vocal shout, played forwards and backwards, over and over. Then it stops. There's a pause, then a similar loop, with some additional little sounds. Then a pause, then again. And that's it.
It rocks, it grooves, it mystifies. It's weird and lovable. It's one of the best Melvins records ever. Buy it.
---
The 222nd Soundtrack of the Week is Augusto Martelli's score for Il dio serpente.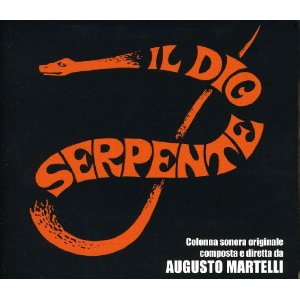 This is a groovy soundtrack with lots of flute and percussion. The first track, "Djamballa", begins with a percussion groove. Organ fades in and is joined by overblown flute. A wordless chorus joins the flute, they crescendom bass and drums cone in and go out. There might be a sitar or something else also. It's a bit like "Let It Be".
"Beryl's Tune" is an up-tempo funk/rock piece with sitar in the band. Flutes take the melody. "Zombie's Mood" (love that title!) is an eerie and hypnotic piece with wailing worldess singing on top of percussion.
After that it's "Drums and Drums", which is like it sounds, though it starts with the sound of blowing into a bottle. "Beryl No. Two" is, unsurprisingly, another version of "Beryl's Tune", this time for organ and percussion.
Then there's the Mexian folk music or mariachi tune "Siempre Cantando", presumably source music. "Ciche-Ton-Ton" has a groove that reminded me of gamelan music I've heard. Flutes are on top again, and the melody is nicely lilting.
"Equal" begins with percussion, ukulele and someting that sounds at first like synth harmonica but is some kind of acoustic string instrument. Then there's "Il Dio Serpente", a reprise of "Djambala but without the crescendo or instruments other than flute, organ and percussion.
A moderate, laid-back groove with lyrical melody played on the flute sums up "Beguine Venezuelana". "Pepito Das Muras" begins with sprightly percussion playing and then goes into a salsa-like groove.
"Yamma Yamma" is laid back but not slow and uses hand claps effectively. Flute solos amidst blasts from the sitar. Then a band bursts in with a rock feel and a vocalist ("Yamma Yamma"). I heard a tuba in there and there's some crazy sitar soloing.
"Mood" is like a Memphis soul groove for organ, bass, drums and horns with dashes of guitar and piano. It's a bit funky and a bit slinky, a bit like The Meters in the middle and like The Mar-kays on both ends. There's a bit of Herb Alpert's sound in there too.
The second half of the record consists of alternate versions of these pieces: three more arrangements of "Il Dio Serpente", three "Drums and Drums", two more "Beryl's Tune", another "Djamballa" and so on.
---
Here's one more old picture of me, but an important one. During the notorious Dim Sum Clip Job "Gates of Hell" tour, we found ourselves in Hollywood and I was able to check in with one of my favorite people.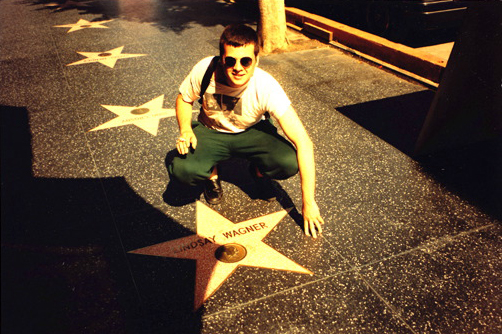 Sweatpants again, of course, and sunglasses because, you know, it's Hollywood. (I'm also wearing my Game of Death t-shirt but that won't mean anything to most people.)
---
Now I've got See Hear on the brain. Here are two photos of me on the job at that venerable institution.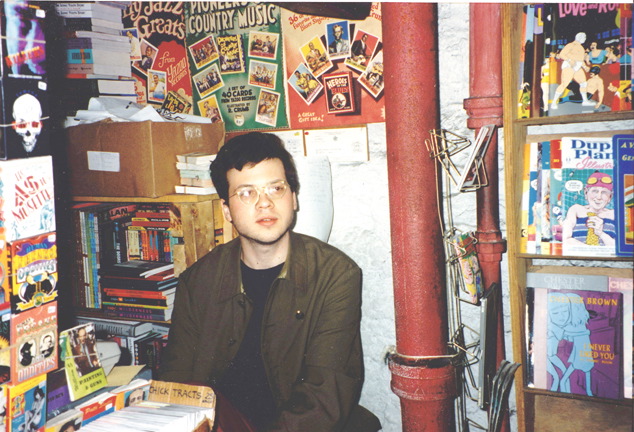 Places like See Hear basically were websites back in those days. As much of a bonanza as the internet is these days, I miss making pilgrimages to cool shops with obscure stuff. (There are still places like that in Japan, cash only and therefore not online.)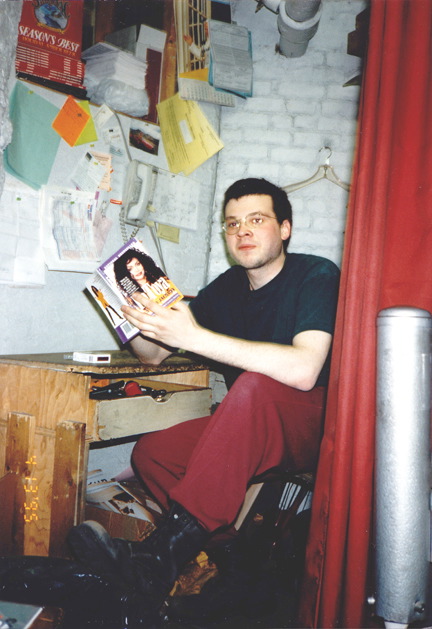 The first photo showed me behind the register, but here I am at the other side of the retail store. (The wholesale/distribution business that was a big part of See Hear was run from a room in the back.) I'm wearing sweat pants, as I did every day for years in the mid '90s. In case you're wondering, I'm reading La Toya Jackson's autobiography and that's a pack of Silk Cut on the desk (because I had been a Hellblazer fan).
---
The 221st Soundtrack of the Week gets me feeling nostalgic. It's Vladimir Ussachevsky's Film Music and it sends me back to the mid 1990s, when I was working at See Hear, playing in Dim Sum Clip Job and having a really good time in the last days of a world without web.
Working at See Hear put me in touch with a lot of new music. Lots of musicians came in, of course: Matt Shipp just about every day, William Parker, John Zorn, Fred Frith. Andrea Parkins lived across the street, as did Chesley Hicks, brilliant writer who, at that time, assiduously covered a music beat for Sound Views magazine. (Dim Sum Clip Job was one issue's cover story, written by my friend Jon Dixon, who has a book out you should buy a few copies of. When Chesley's book comes out I'm going to buy at least ten copies.)
It's funny, I took Chesley's job when she went on a cross-country road trip. Reuben Radding was manager of the store then. When he quit to become a full-time musician, I took his job and Chesley got her old job back. Chesley and I became and remain great friends.
Working with Reuben was great, though, not least because he had hundreds of tapes of stuff that I'd never heard but needed to. He introduced me to John Lee Hooker, Curtis Mayfield, John Cage, lots of stuff, including Vladimir Ussachevsky. I think that this very record was one Reuben had on tape back in those days.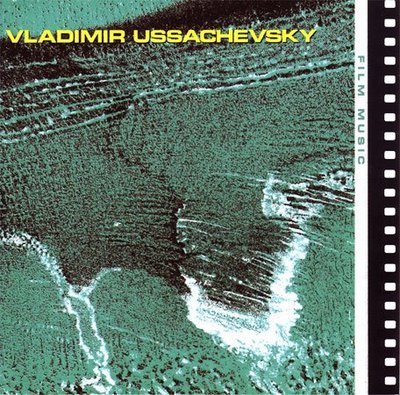 The first six tracks comprise a suite of music from No Exit.
The first track begins with strange metallic sounds, like a submarine being crushed by water pressure, or maybe what robot whales could sound like. There are weird, skittering and keening noises on top.
Track two sounds like a loop of mostly percussion with something like a melancholy organ part on top. After the "organ" or whatever it is, something that sounds like an electronically processed choir come is.
The third track features long tones fading in and out. Some sound backwards. It has a sci-fi feel and there are some wind-like noises.
Track four starts with a loop you can tap your foot to—I think it's in 2/4—then has noises of destruction and metallic clanging.
Track five sounds like a simple loop that's sped up and slowed down (or otherwise pitch-shifted) over a steady pulse.
The suite concludes with sounds of laughter manipulated then replaced by machine gun-like noises. After this come ethereal electronic textures followed by spaced out ringing tones. These alternate with more sustained figures.
The second half of the CD presents seven tracks of music from Line of Apogee.
The first number has a voice saying "The answer? Only the truth disguised in a dream". There are effects that sound like electronic insects, electric fire, electric wind. Halfway through there's a burst of conventional piano playing, also an alarm clock noise and what sounds like manipulated recordings of bird songs. At the end there's a female voice humming a pretty song and laughing.
The next track has more wind noise, then a choir that gets manipulated. There's a percussive electronic part, then more or less straight piano playing. "Aren't you in the wrong class?" says a woman.
More wind in the next track, then slow, marching snare drum and manipulate choir. Bubbling percussion and breaking wood plus bursts of odd sounds at the end.
The next track begins with yet more wind noise and high tones that fade in and out. There are fast percussive noises and big, industrial sounds. The smaller, fast sounds come back and build in density. A few seconds of a drum groove are followed by more ethereal electronic sounds.
Track 11 on the CD begins with what sounds like recordings of bells and organ that have been altered. These are blended with a manipulated recording of an opera singer. There's a weird mixture of sounds, like a musical traffic jam with Varèse in the middle, then almost a comic bit of electronics followed by frantic bubbling. Finally you hear a church organ with what could be the sound of bells far off in the distance.
The next piece begins with a sound that I call spaceship hum. Then there are various noises, perhaps including manipulated recordings of babies making vocal noises (crying and laughing). I also heard sounds like thin metal being quivered along with waves of noise and long, weird tones fading in and out. Then there's something that sounded like video game nightmare music to me and vaguely Outer Limits-like sounds. The video game nightmare music returns again but is interrupted by a burst of horns and timpani (or other large drums). Then there are various sounds such as whistling and bubbling, some sounding very organic and some soundling like dial-up modem noises. It ends with lullaby-like bells and cuts to industrial noise that begins the final track.
After almost a minute of the industrial noise, some frantic electronic sounds come stampeding in. Then there's more wind sound, followed by ethereal and meditative tones and a woman's voice. "Darkness is difficult, pathfinders are few," she says. "You have ended your quest that you may begin anew. You have found yourself that you may be reborn beyond yourself. Come into the light. I am with you. I am waiting." Then a male voice says, "The answer, only the truth disguised in a dream". Fade out on long, swelling tones.
---
Here's another Dim Sum Clip Job photo. In this one we're playing at A-1 Records in Anderson, Indiana, part of our legendary Gates of Hell tour. (That's how we came to think of it, anyway.) This show was on July 12, 1996.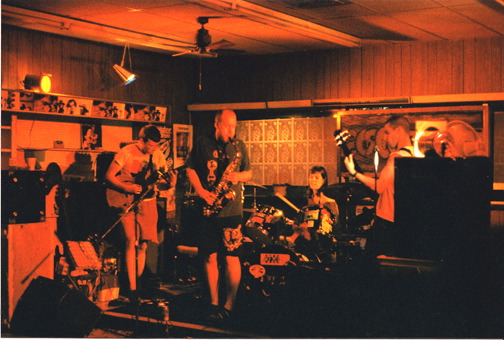 The band is now me, Dorgon, Laura and Jay, from left to right.
Want to know how crazy the tour was? Here's the list of shows we played. Look at the dates and locations and then look at a map.
1996 Dim Sum Clip Job tour:
13 June — Barristers, Memphis, TN
14 June — Monaco Bob's, New Orleans, LA
16 June — Sunnyside Music Garden, Morgantown, WV (didn't happen)
18 June — Sluggos, San Antonio, TX (didn't happen)
20 June — The Attic, El Paso, TX
21 June — Luna Loca, Tucson, AZ
25 June — Spaceland, Los Angeles, CA
27 or 28 June — warehouse party, San Francisco, CA (not scheduled)
29 June — John Henry's, Eugene, OR
30 June or 1 July — Suburbia, Portland, OR (not scheduled)
02 July — Nightbreak, San Francisco, CA (not scheduled)
04 July — Thee O, Portland, OR (not scheduled)
05 July — Lake Union Pub, Seattle, WA (not scheduled, didn't happen)
05 July — Uncle Rocky's, Seattle, WA (not scheduled)
06 July — Neurolux, Boise, ID
08 July — Club Soda, Kalamazoo, MI (didn't happen)
11 July — Fallout Shelter, Grand Rapids, MI
12 July — A-1 Records, Anderson, IN
14 July — Fireside Bowl, Chicago, IL
16 July — a sidewalk, Muncie, IN (not scheduled)
17 July — another sidewalk, Muncie, IN (not scheduled)
19 July — Upstairs at Nick's, Philadelphia, PA
20 July — some record store, Wheaton, MD
Shows that weren't scheduled were shows we picked up ourselves at the last minute—like playing on a sidewalk in Muncie, twice.
Note that just because a show didn't happen doesn't mean we knew in advance it wasn't going to happen. We actually drove from New Orleans to West Virginia in time to play that show that didn't happen. We were halfway from West Virginia to San Antonio when we found out that that show wasn't going to happen.
Excerpt from my tour diary:
Day 7
6/18/96
West Virginia — no gig. The owner of the club was drunk and the place was closed because no one could find the key. There'd been no promotion. The bartender says he hasn't been paid in 5 weeks and may shoot the owner that night.

Memphis - We didn't have a show booked, but the Ass Baboons [of Venus: awesome band we were touring with] arranged for us to crash the Flat Duo Jets show. No promotion. Don't get paid but sell $58 in merchandise, mostly to the people who work at the club. The handful of people in the audience seem to like us and two of them give us a place to stay.

New Orleans - The local band (Evil Nurse Sophie, I think they're called) cancels their appearance, so there's no promotion. The bar where we're playing has a capacity of maybe 50, but believe me, it wasn't an issue. The owner shows up, tells us we can have all the well drinks and tap beer we want for free, turns on the sound system and leaves.

After driving 2 days and a night straight to WV for no reason, we head for our next show in San Antonio, TX. En route we find out that there was a big fight at the place we were supposed to play, the PA is destroyed, the joint is trashed, and the promoter is in the hospital. We're also told that the show in Kalamazoo has been canceled and the booking agent, located in San Francisco, has been unable to get us shows in San Francisco, Portland or Seattle.
Furthermore, according to my journal, I read these two Mission: Impossible TV tie-in paperbacks and they were "both terrible".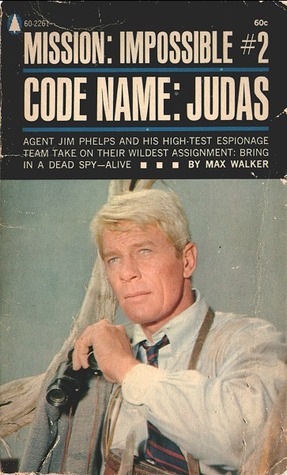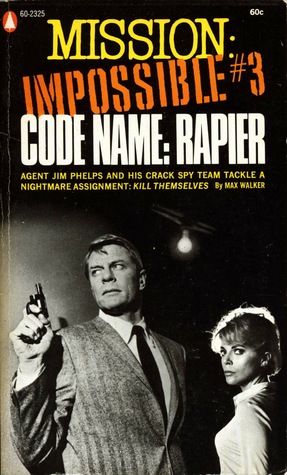 I was just looking at those on my bookshelf a while ago and thinking I should read them someday, but apparently I already have.
---
More from the archives: Dim Sum Clip Job performing at ABC No Rio on February 24, 1995.
From left to right: me on guitar, Jen Gilleran on conga, Laura Cromwell on drums, Mr. Dorgon on alto and Briggan Krauss on alto. Behind Briggan is Jay Brown on bass.
---
The 220th Soundtrack of the Week is Angelo Badalamenti's Twin Peaks Music: Season Two and More.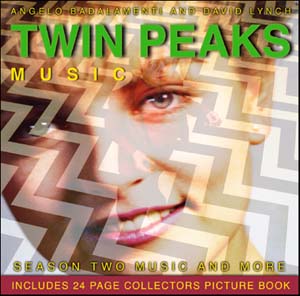 Television shows and movies often need music to get across the story, the mood, the idea. Angelo Badalamenti's music for Twin Peaks did a lot more work than most scores. Without it, the show would have been destroyed by its flaws, balanced as they were by its strengths, very quickly.
However you add up the positives and negatives of Twin Peaks, the music is pure gold. This CD is the third release of music from this dramatic world, following a first television soundtrack album and a release of music from the Twin Peaks feature film. Ron Carter and Grady Tate are among the top-notch musicians who animate Badalamenti's cool, smoky, dark and beautiful ideas.
Keyboard suggests and ominous atmosphere in "Love Theme Intro", with brushes on snare way up front in the mix. It cross fades into the memorable series theme.
The second track, "Shelly", is probably my favorite. It begins with a slow bass and drums groove and features a beautiful melody played on electric piano or some other keyboard instrument.
"New Shoes" is a quiet piece in 12/8 for a trio of keyboard, bass and drums. The keyboard sounds like it might be going through a Lesley amp and Grady Tate's drumming reminded me of Connie Kay.
"High School Swing" is a 1950s rock-style piece with wonderfully crystalline electric guitar. "Hayward Boogie" is solo boogie-woogie piano.
"Blue Frank" is the only piece not written by Angelo Badalamenti. It's credited to David Lynch and begins with a slow stomp, similar to some of what you hear on the Twin Peaks: Fire Walk With Me soundtrack. Bass is played arco and there's a dialogue between clean and dirty guitar sounds.
"Audrey's Prayer" is driven by typically lush keyboard sounds and is similar to some of Badalamenti's music for Blue Velvet.
12/8 is the meter again for "I'm Hurt Bad", which begins with a wailing keyboard that's abruptly cut off and replaced by a quiet, dark atmosphere and what sounds like a baritone guitar playing with lots of space.
The mood is upbeat, sprightly and jazzy for "Cop Beat" while "Harold's Theme" is soapy and romantic. "Barbershop" is just like it sounds, a barbership quartet singing without words.
"Night Bells" features echoey, tremolo electric guitar in a Tom Verlaine-sort of mood.
"Just You" is another 1950s pop sort of song, this time with lyrics: "Just you and I / Just you and I / Together forever / In love." It sounds like there's slapback on the vocals.
Albert Collins's guitar playing comes to mind when listening to "Drug Deal Blues", though Freddie King is quoted in this uptempo instrumental guitar blues.
I always liked Audrey the best and I like "Audrey" also, a great theme with active drumming under moody keyboard textures. It's a wonderful study in contrasts—as was Audrey.
"Josie and Truman" is a romantic, late-night jazz/blues ballad, a bit similar to John Barry's Body Heat music.
1950s pop/rock is recalled again with the Duane Eddy-like "Hook Rug Dance". "Packards' Vibration" begins with solo vibes that get replaced by a somewhat menacing keyboard part.
"Half Heart" is a tender love theme with sax taking the melody. It's a bit similar to "My Secret Love" and has great guitar playing.
"Laura's Dark Boogie" sounds like you'd expect, with unsettling arco bass playin while keyboards lay down blocks of dread and sax plays forlorn lines.
After this comes the longest track on the record, the nine minute "Dark Mood Woods/The Red Room". It begins with an eerie synth solo and then bass and electric guitar create an atomspheric, jazzy mood. It sounds like there's arco and plucked bass at the same time.
Finally there's "Love Theme Farewell", a reprise of the first track but more despairing and with feedback or some instrument that sounds like howling wind.
---
From the Gutbrain archives, here are some photos of Naked City that very few people have ever seen. They were taken by a fellow named Mike Miller, with whom I became friends through two of my roommates. I have no idea where he is today. I haven't seen him in over fifteen years.
These photos were taken in September, 1993, at the Knitting Factory (still in its original location on East Houston Street) during the month-long celebration of John Zorn's fortieth birthday. Note the fan in the last two photos. I can't remember but that might have been the extent of the original Knitting Factory's "air conditioning".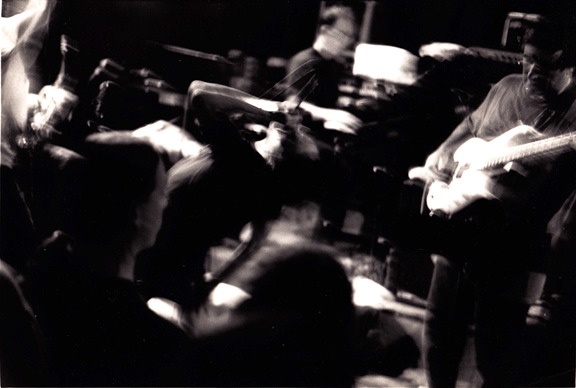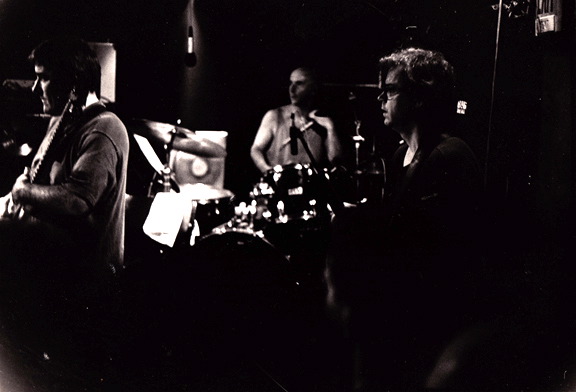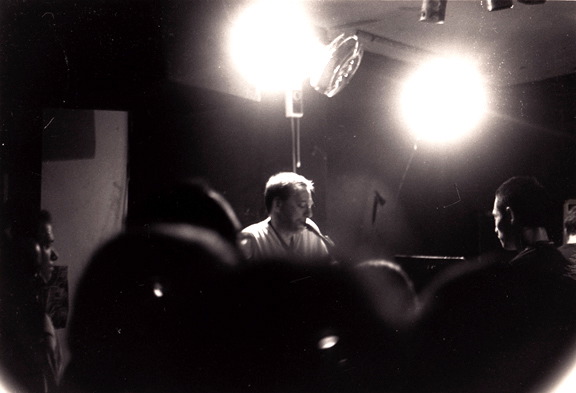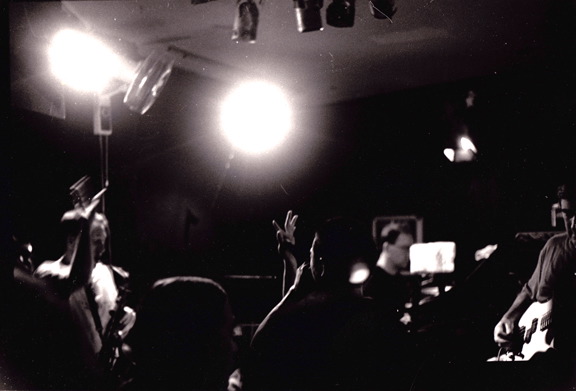 ---