2012 June 25 • Monday
Ennio Morricone's score for Il serpente is the 223rd Soundtrack of the Week.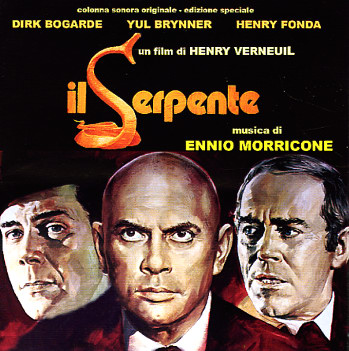 I borrowed this movie from the library once but didn't watch more than the first twenty minutes or so. It didn't seem that interesting. The music is great, though.
The first ten tracks on the CD present the original soundtrack album. Additional music from the film is hearf on eleven additional tracks.
"Canzone lontana" has a tense piano intro but is a sensitive piece for organ and strings and features the unmistakable voice of Edda dell'Orso.
"Nadine" is a rocking, organ-driven freak out, similar to music Morricone contributed to Violent City and Garden of Earthly Delights.
The third track, "Tema per una donna sola", also features the organ but is a lush, romantic piece. This is followed by solo church organ for "Orazione".
After that is an instrumental take on "Canzone lontana", featuring piano. "Parata militare" has the bombastic feel the title suggests.
Tension is the dominant mood in "Assassinio sul lago". Dissonant strings and odd percussion provide a background for the pianist to play the inside of the piano. Then rhythmically bowed string statements with percussion accents take over, followed by strings sounding like a swarm of insects.
"Astrazione con ritmo" sounds like it could be a free improvisation with odd, spare percussion, electric guitar and some other electriconic stuff. It's very cool and occasionally creepy.
"Il serpente" is a long piece, almost seven minutes, which starts quietly and builds intensity. The strings set the mood and then weird electronic noises take over.
More weird percussion, electronics and playing the inside of the piano are the features of "Esplicitamente sospeso", the final album track/
Next are two pieces of source music, heard in the movie coming out of a radio. The first is a laid-back jazz/pop groove with vibes, organ and electric piano. The secend is an unusual shake with very dark wah=wah rhythm guitar and rocking piano.
Then there's another arrangement of "Canzone lontano", this time for acoustic guitar and organ with lush strings. The remaining tracks appear to be alternate takes or different edits of what we've already heard.
---