2012 June 11 • Monday
The 221st Soundtrack of the Week gets me feeling nostalgic. It's Vladimir Ussachevsky's Film Music and it sends me back to the mid 1990s, when I was working at See Hear, playing in Dim Sum Clip Job and having a really good time in the last days of a world without web.
Working at See Hear put me in touch with a lot of new music. Lots of musicians came in, of course: Matt Shipp just about every day, William Parker, John Zorn, Fred Frith. Andrea Parkins lived across the street, as did Chesley Hicks, brilliant writer who, at that time, assiduously covered a music beat for Sound Views magazine. (Dim Sum Clip Job was one issue's cover story, written by my friend Jon Dixon, who has a book out you should buy a few copies of. When Chesley's book comes out I'm going to buy at least ten copies.)
It's funny, I took Chesley's job when she went on a cross-country road trip. Reuben Radding was manager of the store then. When he quit to become a full-time musician, I took his job and Chesley got her old job back. Chesley and I became and remain great friends.
Working with Reuben was great, though, not least because he had hundreds of tapes of stuff that I'd never heard but needed to. He introduced me to John Lee Hooker, Curtis Mayfield, John Cage, lots of stuff, including Vladimir Ussachevsky. I think that this very record was one Reuben had on tape back in those days.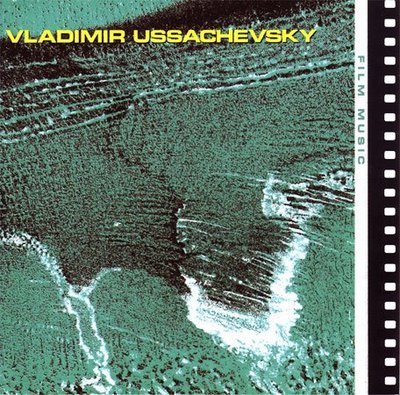 The first six tracks comprise a suite of music from No Exit.
The first track begins with strange metallic sounds, like a submarine being crushed by water pressure, or maybe what robot whales could sound like. There are weird, skittering and keening noises on top.
Track two sounds like a loop of mostly percussion with something like a melancholy organ part on top. After the "organ" or whatever it is, something that sounds like an electronically processed choir come is.
The third track features long tones fading in and out. Some sound backwards. It has a sci-fi feel and there are some wind-like noises.
Track four starts with a loop you can tap your foot to—I think it's in 2/4—then has noises of destruction and metallic clanging.
Track five sounds like a simple loop that's sped up and slowed down (or otherwise pitch-shifted) over a steady pulse.
The suite concludes with sounds of laughter manipulated then replaced by machine gun-like noises. After this come ethereal electronic textures followed by spaced out ringing tones. These alternate with more sustained figures.
The second half of the CD presents seven tracks of music from Line of Apogee.
The first number has a voice saying "The answer? Only the truth disguised in a dream". There are effects that sound like electronic insects, electric fire, electric wind. Halfway through there's a burst of conventional piano playing, also an alarm clock noise and what sounds like manipulated recordings of bird songs. At the end there's a female voice humming a pretty song and laughing.
The next track has more wind noise, then a choir that gets manipulated. There's a percussive electronic part, then more or less straight piano playing. "Aren't you in the wrong class?" says a woman.
More wind in the next track, then slow, marching snare drum and manipulate choir. Bubbling percussion and breaking wood plus bursts of odd sounds at the end.
The next track begins with yet more wind noise and high tones that fade in and out. There are fast percussive noises and big, industrial sounds. The smaller, fast sounds come back and build in density. A few seconds of a drum groove are followed by more ethereal electronic sounds.
Track 11 on the CD begins with what sounds like recordings of bells and organ that have been altered. These are blended with a manipulated recording of an opera singer. There's a weird mixture of sounds, like a musical traffic jam with Varèse in the middle, then almost a comic bit of electronics followed by frantic bubbling. Finally you hear a church organ with what could be the sound of bells far off in the distance.
The next piece begins with a sound that I call spaceship hum. Then there are various noises, perhaps including manipulated recordings of babies making vocal noises (crying and laughing). I also heard sounds like thin metal being quivered along with waves of noise and long, weird tones fading in and out. Then there's something that sounded like video game nightmare music to me and vaguely Outer Limits-like sounds. The video game nightmare music returns again but is interrupted by a burst of horns and timpani (or other large drums). Then there are various sounds such as whistling and bubbling, some sounding very organic and some soundling like dial-up modem noises. It ends with lullaby-like bells and cuts to industrial noise that begins the final track.
After almost a minute of the industrial noise, some frantic electronic sounds come stampeding in. Then there's more wind sound, followed by ethereal and meditative tones and a woman's voice. "Darkness is difficult, pathfinders are few," she says. "You have ended your quest that you may begin anew. You have found yourself that you may be reborn beyond yourself. Come into the light. I am with you. I am waiting." Then a male voice says, "The answer, only the truth disguised in a dream". Fade out on long, swelling tones.
---