2012 June 04 • Monday
The 220th Soundtrack of the Week is Angelo Badalamenti's Twin Peaks Music: Season Two and More.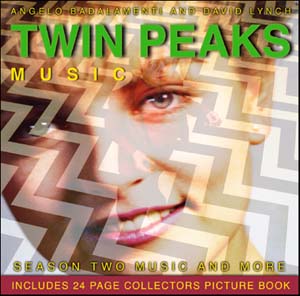 Television shows and movies often need music to get across the story, the mood, the idea. Angelo Badalamenti's music for Twin Peaks did a lot more work than most scores. Without it, the show would have been destroyed by its flaws, balanced as they were by its strengths, very quickly.
However you add up the positives and negatives of Twin Peaks, the music is pure gold. This CD is the third release of music from this dramatic world, following a first television soundtrack album and a release of music from the Twin Peaks feature film. Ron Carter and Grady Tate are among the top-notch musicians who animate Badalamenti's cool, smoky, dark and beautiful ideas.
Keyboard suggests and ominous atmosphere in "Love Theme Intro", with brushes on snare way up front in the mix. It cross fades into the memorable series theme.
The second track, "Shelly", is probably my favorite. It begins with a slow bass and drums groove and features a beautiful melody played on electric piano or some other keyboard instrument.
"New Shoes" is a quiet piece in 12/8 for a trio of keyboard, bass and drums. The keyboard sounds like it might be going through a Lesley amp and Grady Tate's drumming reminded me of Connie Kay.
"High School Swing" is a 1950s rock-style piece with wonderfully crystalline electric guitar. "Hayward Boogie" is solo boogie-woogie piano.
"Blue Frank" is the only piece not written by Angelo Badalamenti. It's credited to David Lynch and begins with a slow stomp, similar to some of what you hear on the Twin Peaks: Fire Walk With Me sound